America will not achieve President Obama's goal of 1 million electric cars on the road by 2015. This is despite large subsidies from the federal government and many states for making batteries and vehicles as well as additional subsidies for purchasing these vehicles. Very few consumers are interested in expensive cars with limited range and the anxiety of not knowing if the battery charge will last for their entire journey. As a result, manufacturers are dropping prices in order to sell the vehicles they are forced to produce. First Nissan slashed prices of its plug-in vehicles early this year, then Ford, Honda, Daimler and GM cut their electric vehicle prices and/or leases in order to entice consumers to purchase them even while losing money on each vehicle sale.[i]
Manufacturer Price Reductions
Nissan Leaf. Earlier this year, Nissan lowered the price of its 2013 model Leaf to $28,800, a reduction of $6,400 (18 percent) when it introduced a new, stripped-down model. Nissan sold 1,863 Leafs in July–almost five times as many as a year ago. Within the past year, to reduce costs, Nissan started production of the Leaf in the United States. The company has the capacity to build up to 200,000 Leaf battery packs a year at a factory in Smyrna, Tennessee.
GM Chevy Volt. GM just announced plans to cut the selling price of the lowest-cost 2014 Volt by $5,000 (13 percent), from $40,000 to $35,000 and its lease price to $299 per month. GM sold 1,788 Volts in July, 3 percent less than a year ago, despite lowering the price by up to $5,000 on 2012 models and $4,000 on 2013 models last month. The total number of Volts GM sold last month was less than the average number of its large pickups sold in a single day.
The Volt has to compete with cars like the fuel efficient Chevy Cruze which sells for $17,000 compared to $34,000 for the Volt. The more expensive electric vehicles coupled with their limited driving range make them attractive to only a small niche market, despite the fact that GM extended the Volt's range to 380 miles by using a gasoline motor.
Electric vehicle sales have not met the targets set by their manufacturers. GM set a sales goal of 10,000 Volts in 2011 and around 45,000 last year, but sold only 23,461 Volts last year. Through the end of July, GM has sold 11,642 Volts, 9.2 percent more than the same period last year. The company has about 105 days' worth of older-model Volts on dealer lots at the end of July that it needs to clear out before the 2014 model arrives.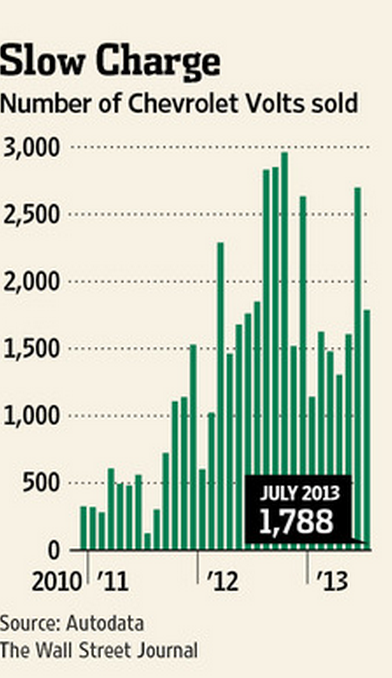 Source: https://id.wsj.com/auth/proxy/refresh?url=http%3A%2F%2Fonline.wsj.com%2Farticle%2FSB10001424127887324653004578649951845301298.html%3Fmod%3DWSJ_hps_MIDDLE_Video_Third
Ford Focus Electric. Last month, Ford dropped the sticker price of its 2014 Focus by $4,000 to $35,200 (10 percent).
Honda Fit EV.  Honda cut the monthly lease on its Fit EV to $259 from $389 in June (33 percent).
Daimler 's Electric Smart Car. Daimler reduced its three-year lease on the electric version of its Smart car to $139 a month, down from $199 a month (30 percent).
Reduced Manufacturing Costs
Many of the electric vehicle manufacturers have promised to reduce car battery prices as the cost of the underlying technology falls, particularly the lithium-ion batteries. GM, for example, noted that the next-generation Chevy Volt could be "thousands" less. In fact, according to GM Chief Executive Dan Akerson, manufacturing changes would reduce the cost to build the 2014 Volt by between $7,000 and $10,000.
Although car manufacturers are planning to pass manufacturing cost reductions to the purchaser, they are still losing money on each electric vehicle that they sell. It is estimated that it costs GM as much as $75,000 to build each Volt, which is nearly twice the base price. And, Fiat/Chrysler CEO, Sergio Marchionne, has publicly confirmed that the company will lose at least $10,000 for each of the Fiat 500e electric vehicles it sells.[ii]
Depressed Car Values
According to the National Automobile Dealers Association, price cuts on new plug-in vehicles are helping to depress the values of these cars as they age. The trade-in value of a 2012 Nissan Leaf today is 24.5 percent lower than the trade-in value of a 2011 Leaf a year ago. A one-year-old Volt is worth 21 percent less now than a one-year-old Volt was worth at this time a year ago.  In comparison, trade-in prices for used large pickup trucks, such as a Ford F-150 or the Chevrolet Silverado, are about 8 percent higher compared with similar age and model vehicles a year ago.
Subsidies and Mandates
The federal government subsidizes the purchase of an electric vehicle by $7,500 and several states also offer subsidies. California has quotas for zero emission vehicle sales and to meet the quota, manufacturers are offering lease deals as low as $199 a month. For some consumers, the low-cost leases make driving these vehicles almost free once government subsidies and fuel savings are included.
A California buyer, for example, can receive substantial discounts in order to purchase a Chevrolet Volt. The base price for the vehicle is $39,995 but buyers qualify for either $4,000 off on a 2013 model or $5,000 off on a 2012 Volt. They also get an extra $1,000 if they are currently leasing a non-GM vehicle. The federal government provides a tax credit of $7,500 and the state provides another tax credit of $2,500. Many of the purchasers, however, are quite affluent. For example, the average Chevy Volt owner has an annual income of $170,000.
Thus, California's tax credit added to that of the federal government brings the total tax credit up to $10,000. In Colorado, the total state and federal tax credit is $13,500, which is more than the base price of a brand new Ford Fiesta. In West Virginia, residents can receive a total credit of up to $15,000 for an electric-car purchase and up to $10,000 toward the cost of a personal charging station.
Other Federal policies are also contributing to the electric car market. Obama's corporate average fuel economy mandate requiring a doubling of new-car average fuel economy by 2025 has pushed manufacturers to accelerate the development of cars that use less fuel. And the Obama administration's program of loan guarantees to renewable energy and electric-car companies has helped a number of the electric car and battery manufacturers.  Some of those investments–the federal loan to Fisker Automotive Inc. and grants to battery maker A123 Systems Inc.—ended up costing the U.S. taxpayer when the companies fell into bankruptcy once the true demand for these vehicles did not materialize. Tesla, an electric car manufacturer, however, paid off its $465 million loan nine years ahead of schedule.[iii]
Another transportation company that received stimulus funds but may declare bankruptcy is ECOtality. The company received more than $100 million in federal funds for the construction of electric vehicle charging stations. It continued receiving federal funds even though it was under federal investigation for insider trading. It has also been under investigation by the Department of Labor for alleged violations of the Fair Labor Standards Act and the Davis-Bacon Act.[iv]
Niche Markets
Fully electric cars are still a niche product bought mostly by affluent drivers. Among the best selling of these cars is the luxurious Model S produced by Tesla Motors, which has been so successful that companies like GM are planning to manufacture high-end electric cars. Tesla's Model S has a 300-mile battery pack and a cost that can top $100,000. The demand for this high-end electric vehicle is so strong that Tesla dropped its least expensive model recently. According to the Autodata Corp., Tesla sells 1,470 cars a month in U.S. markets. GM is planning to provide competition to that market next year with an electric version of its Cadillac ELR.
Impact of Electric Vehicles on Greenhouse Gas Emissions
Dozens of think tanks and scientific organizations have provided studies about the environmental consequences of an electric vehicle market. Richard Pike of the Royal Society of Chemistry determined that electric cars, if widely adopted and given Britain sources of electricity, would lower Britain's carbon dioxide emissions by only 2 percent. A U.S. Congressional Budget Office study found that electric car subsidies "will result in little or no reduction in the total gasoline use and greenhouse-gas emissions of the nation's vehicle fleet over the next several years."
A study by the National Academies in 2010 provides a more comprehensive account of electric-car effects, including impact of vehicle construction, fuel extraction, refining, emissions, and other factors. For example, to lighten the weight of the vehicle to compensate for the very heavy battery packs (usually more than a third of the weight of the vehicle), manufacturers need to lighten the rest of the vehicle. The lightweight materials are energy intensive to produce and process.
In addition, the magnets in the motors of some electric vehicles contain rare earth minerals that are mainly exported from China because of the country's more lax environmental regulations on mining and processing them According to a group of MIT researchers, the global mining of two rare earth metals, neodymium and dysprosium, would need to increase 700 percent and 2600 percent, respectively, over the next 25 years to keep pace with various plans for green technology development. China has been restricting the amount it is willing to export of these metals. The materials used in batteries such as lithium, copper, and nickel must be mined and processed using energy and they can release toxic wastes. Battery disposal, if handled improperly, can also release toxic chemicals.
The National Academies concluded that the vehicles' lifetime health and environmental damages (excluding long-term climatic effects) are actually greater than those of gasoline-powered cars even if the car is fueled by gasoline obtained from Canadian oil sands. In terms of just greenhouse gas emissions, electric vehicles generally produce marginally fewer greenhouse gas emissions than their gasoline- or diesel-fueled counterparts when full life-cycle effects are analyzed. For example, the lifetime difference in greenhouse gases emitted from electric vehicles versus vehicles burning low-sulfur diesel was barely discernible.
Source: National Academies Press, http://spectrum.ieee.org/energy/renewables/unclean-at-any-speed
Other studies found similar results. A Norwegian study published in the Journal of Industrial Ecology evaluated acid rain, airborne particulates, water pollution, smog, toxicity to humans, and depletion of fossil fuel and mineral resources. It found that electric vehicles consistently perform worse or on par with modern internal combustion engine vehicles. Analysts from the University of Tennessee studied five vehicle types in 34 Chinese cities and came to a similar conclusion: the total negative health consequences of electric vehicles exceeded those of conventional vehicles.[v]
Conclusion
Obama's goal of a million electric vehicles on the road by 2015 won't be met. According to the Electric Drive Transportation Association, auto manufacturers sold around 7,442 battery-powered and plug-in hybrid vehicles in July, which is less than 1 percent of total light duty vehicle sales for the month. Clearly, electric cars still have a long way to go. Further, it is not clear what the benefits are, other than the government providing subsidies for rich people who can afford an expensive second car. Studies have found electric cars to be no better for the environment than their petroleum counterparts. Further, though heavily subsidized, they are still more expensive to drive and have significantly less range than gasoline and diesel fueled vehicles.
---