President Trump made a campaign pledge to remove the United States from the Paris Agreement on climate change.[i] As of now, he has yet to do so. His daughter, Ivanka, his Secretary of State, Rex Tillerson, others in the White House, and Exxon Mobil along with several other companies are urging him to break his pledge and stay in the deal, which President Obama negotiated and refused to send to the U.S. Senate for ratification.[ii]
Former President Obama pledged that the United States would reduce its greenhouse gas emissions by 26 to 28 percent by 2025 from 2005 levels in the Paris accord. To achieve this, his Environmental Protection Agency put forth the Clean Power Plan to reduce carbon dioxide emissions from the electricity sector by 32 percent by 2030, and increased the Corporate Average Fuel Economy Standards for automobiles, ramping the standard up to 54.5 miles per gallon by 2025. While President Trump issued an executive order to undo the Clean Power Plan and pledged to review the CAFE standards to ensure that they do not lead to job losses and factory closures[iii], he has not mentioned his position on the Paris Agreement since taking office.
The shear undoing of these regulations is insufficient to keep the United States from the total harm that the Paris agreement contains. The agreement promises much more than Obama's pledge for reductions in 2025. For example, an escalator clause requires more stringent cuts every five years, which could put future administrations in the driver's seat to heap onerous regulations upon the American people.[iv] These increasingly "ambitious" emission-reduction pledges are known as Intended Nationally Determined Contributions (INDCs) and require ever-more stringent regulations.[v]
The agreement also requires developed countries to pay billions in "climate finance"—foreign aid to subsidize "green energy" ventures in developing countries and to share any research and technology development that promotes the reduction of greenhouse gas emissions.[vi]
More recently, we learn that President Trump cannot offer a less ambitious plan than his predecessor put forth—he can only tighten it. Laurence Tubiana, France's climate ambassador during the 2015 summit that produced the agreement, claims that a country cannot negotiate a less rigorous target for solely political reasons. In Article 4.11, it states, "A party may at any time adjust its existing nationally determined contribution [NDC] with a view to enhancing its level of ambition." She claims a force majeure clause allowing for downward revisions kicks in only if a country undergoes an unavoidable hardship as Japan did when the tsunami hit. Despite other interpretations of the wording in the agreement, the language alone should cause pause if only because of future litigation potential.[vii]
Are Other Countries Complying?
China, the largest emitter of greenhouse gases, has not pledged any reductions in greenhouse gas emissions prior to 2030, and India, the third largest emitter of greenhouse gases, [viii] is justifiably more intent on getting energy to its population – many of whom suffer from energy poverty – and to continue to grow its economy.
Further, few European Union (EU) countries are complying with their stated targets. EU's commitment is a 40 percent reduction in its greenhouse gas emissions by 2030. According to a new study that ranks the EU states, only Sweden, Germany and France are pursuing environmental policies in line with promises made at the Paris climate conference. Further, when "loopholes" are taken into account, only Sweden's record was judged compatible with the Paris goals.[ix] (See chart below.)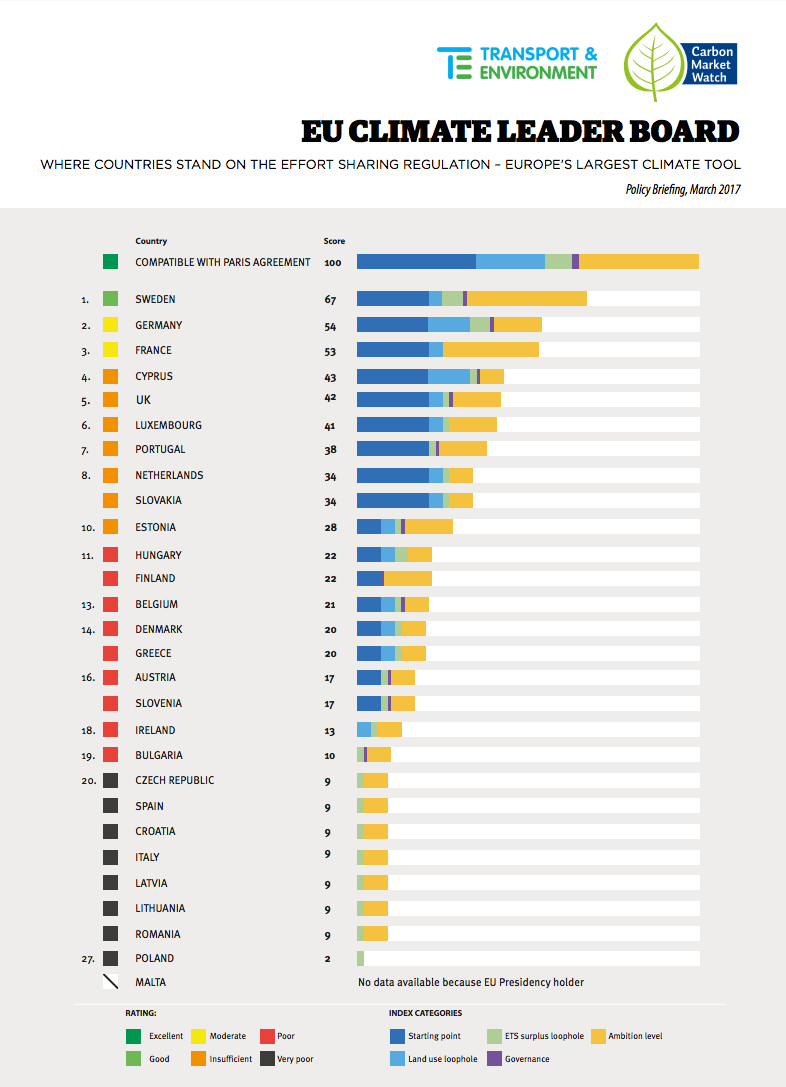 Source: http://carbonmarketwatch.org/wp-content/uploads/2017/03/EU-Climate-Leader-Board-Where-countries-stand-on-the-Effort-Sharing-Regulation-%E2%80%93-Europe%E2%80%99s-largest-climate-tool_final.pdf
Options for President Trump
The Paris accord has a four-year withdrawal provision: 3 years from the date that the agreement has entered into force, written notification can be provided for withdrawal, which will take effect one year from receipt of the written notification. That could leave future U.S. participation up to whoever wins the 2020 presidential race.
Another approach is to send the Paris agreement to the Senate for ratification because, in essence, it is a treaty. Unless the Senate ratifies it, under Article II, Section 2 of the U.S. Constitution, the United States is not a party, and not bound to the agreement's terms. Without Senate approval, Obama's climate pledges to the United Nations are just administration proposals, not commitments of the United States.
Lastly, the United States could withdraw from the voluntary 1992 United Nations Framework Convention on Climate Change (UNFCCC), which was ratified by the Senate as a treaty. This 1992 pact covered emissions until the end of the 1990s; the Senate indicated that it was not open-ended. The Paris agreement, in essence, extends the UNFCCC pact with mandatory promises of more stringent cuts, every five years in perpetuity and it does so without Senate advice and consent.[x]
Conclusion
Candidate Trump stated that the Paris agreement is "bad for U.S. business" and allows "foreign bureaucrats control over how much energy we use." President Trump's Environmental Protection Agency Administrator, Scott Pruitt, said the Paris climate agreement was "a bad deal" that should have been treated by the Obama administration as a treaty, instead of an executive agreement.[xi]
In keeping with these statements, President Trump needs to keep his campaign promise to rescind the Obama climate agenda and nullify the U.S. commitment former President Obama made to the Paris climate treaty. It is too dangerous for the United States to be a party to policies that will only hurt our economy and to be held hostage to wording that may be interpreted to offer no flexibility in reducing our commitment.
---
[i] https://www.youtube.com/watch?v=76_-2PezzcM&feature=youtu.be
[ii] The Hill, Oil exec: Trump should keep US in Paris climate pact, March 7, 2017, http://thehill.com/policy/energy-environment/322796-conocophillips-head-trump-should-keep-us-in-paris-climate-pact
[iii] Washington Post, Trump's review of car fuel standards could lead to fight with California, environmentalists, March 15, 2017, https://www.washingtonpost.com/news/innovations/wp/2017/03/15/trump-to-pull-back-epas-fuel-efficiency-determination-opening-the-door-for-reduced-standards/?utm_term=.871132ad7ca1
[iv] Washington Times, Nixing the Paris climate pact, March 7, 2017, http://www.washingtontimes.com/news/2017/mar/7/paris-climate-pact-should-be-abandoned/
[v] Competitive Enterprise Institute, The Paris Climate Agreement Is a Treaty Requiring Senate Review, February 24, 2016, https://cei.org/content/paris-climate-agreement-treaty-requiring-senate-review?gclid=CLm-ypnRgdMCFYSLswod3bUKuA
[vi] Paris Agreement, https://unfccc.int/files/meetings/paris_nov_2015/application/pdf/paris_agreement_english_.pdf
[vii] Climate Wire, Pact architect says 'text is very clear' — goals can't go down, May 4, 2017, https://www.eenews.net/stories/1060054040
[viii] BP Statistical Review of World Energy 2016, http://www.bp.com/en/global/corporate/energy-economics/statistical-review-of-world-energy.html
[ix] Guardian, Only Sweden, Germany and France among EU are pursuing Paris climate goals, says study, March 28, 2017, https://www.theguardian.com/environment/2017/mar/28/only-sweden-germany-france-pursuing-paris-climate-goals-study
[x] Washington Times, Nixing the Paris climate pact, March 7, 2017, http://www.washingtontimes.com/news/2017/mar/7/paris-climate-pact-should-be-abandoned/
[xi] Daily Caller, EPA Chief Calls Paris Agreement 'A Bad Deal' Amid Internal White House Struggle, March 9, 2017, http://dailycaller.com/2017/03/09/epa-chief-calls-paris-agreement-a-bad-deal-amid-internal-white-house-struggle/