New national survey finds that 70% of Americans oppose new energy taxes to combat global warming
IER President: "The American people are smarter than the political class in Washington think – they see this tragic accident playing out in the Gulf, and are overwhelmingly opposed to the Obama Administration's plan to capitalize on it politically by pushing a national energy tax."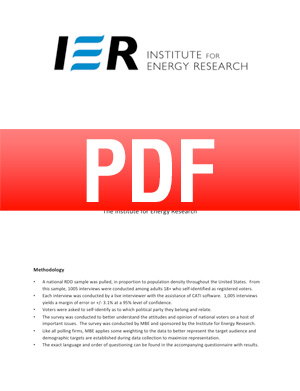 Washington, DC – The Administration's ongoing effort to use the unprecedented tragedy in the Gulf as "an opportunity" to restrict domestic energy production and push a national energy tax was dealt a major blow today, as new polling data released by the Institute for Energy Research (IER) finds that a vast majority of Americans oppose the underlying agenda that is currently costing thousands of jobs in the Gulf, and soon could be costing millions more across the country.
Some top-line findings in the attached report show that 70 percent of Americans oppose a new tax to address global warming. While consistent with historical trends, this number is somewhat surprising based given the president's recent investment of time and political capital in support of "pricing carbon" in the wake of the BP oil spill. The same percentage of respondents (70%) said that such a tax would also have no discernable effect on global warming.
In contrast, voters are very much more interested in creating jobs (38%) and reining in profligate government spending (31%) – which ranked high above new regulations for the oil industry (4%) or global warming (3%).  Nearly every (99%) American is somewhat familiar with the BP oil spill.
"The American people are smarter than the political class in Washington think – they see this tragic accident playing out in the Gulf, and are overwhelmingly opposed to the Obama Administration's plan to capitalize on it politically by pushing a national energy tax, " said Thomas J. Pyle, president of the Institute for Energy Research. "And while some in Washington are focused on ways to increase tax revenue on the backs of hardworking Americans, this poll shows once again the massive disconnect between Pennsylvania Avenue in Washington, and Main Streets all across America.
Pyle continued, "The American people want Washington to focus on cleaning up the gulf, creating an environment that puts folks back to work and reducing our federal deficit. That's it. There is no interest in pushing through a radical agenda in the name of global warming and there is no interest on the part of consumers to pay more at the pump for a gallon of gasoline.  It's time for Washington, DC to get serious about its priorities, and start getting back in line with those of the American people."
A majority of respondents believe things in this country are on the wrong track (59% wrong track, 34% right track) while two-thirds (68%) disapprove of the job being done by Congress. A slight majority (53%) approve of President Obama's job performance overall.
To view the complete survey, click HERE.
NOTE: This survey of 1005 respondents was conducted between June 17 – June 22, 2010 and has a margin of error of +/- 3.1 percent with a confidence level of 95 percent.
To speak with Mark Blankenship, the pollster that conducted this survey, please contact Patrick Creighton at [email protected] or 202.621.2947.
#####