Because coal is the most affordable technology for electric generation in many parts of the world, coal-fired capacity is still being built. According to the International Energy Agency (IEA) in its Southeast Asia Energy Outlook 2017, almost 100 gigawatts of new coal-fired generating capacity is expected to come online in Southeast Asia by 2040—more than doubling the region's current coal-fired capacity.[i]  (See graph below.) The agency expects Southeast Asia and India to account for the majority of the new coal demand as those economies continue to grow and their demand for electricity increases. Despite some countries shuttering coal-fired power plants and cancelling new plants, IEA expects global coal-fired capacity to increase by about 50 percent over today's levels by 2040.[ii]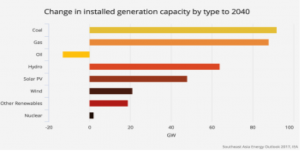 Source: https://www.thegwpf.com/massive-new-coal-boom-to-fuel-southeast-asian-rise-to-power/
Asia's Demand for Coal
The energy demand of the ten countries of the Association of Southeast Asian Nations (ASEAN)[1] grew by 60 percent over the past 15 years, and IEA expects it to grow by almost two-thirds by 2040. With almost 100 gigawatts of new coal-fired capacity expected to come online, Southeast Asia's coal-fired generating capacity will total 160 gigawatts by 2040. Indonesia, the largest consumer of coal in Southeast Asia, is expected to construct 40 percent of the new coal capacity, and Vietnam, the second-largest consumer of coal in Southeast Asia, is expected to become the region's largest importer of coal by 2040.
Coal is expected to account for 40 percent of the region's generation mix by 2040; 70 percent of the new coal-fired capacity is expected to use high efficiency supercritical or ultra-supercritical technologies. Coal is expected to overtake natural gas in the electricity sector where it currently has a 43 percent share. Demand for natural gas is expected to increase by about 60 percent by 2040 due to electricity and industrial demand, but its share of the generation mix is expected to be reduced to 28 percent. According to the IEA, "Coal maintains a strong foothold in [Southeast Asia's] projected consumption, not only because it is markedly cheaper than natural gas, but also because coal projects are in many cases easier to pursue as they do not require the capital-intensive infrastructure associated with gas."[iii]
The Southeast Asia region has now achieved a 90 percent electrification rate and is expected to reach full electrification by the early 2030s, using a wide range of fuels and technologies, including renewable energy, as well as both centralized and decentralized solutions.
Despite being producers of oil, natural gas and coal, the region is expected to become an importer of fossil fuels by 2040. According to Wood Mackenzie, a UK-based research and consulting firm, Southeast Asia is expected to more than double its thermal coal imports, reaching 226 million metric tons by 2035—almost 3 times the 85 million metric tons it imports today. Other parts of Asia are expected to increase their coal imports as well. Pakistan, Bangladesh, India and other South Asia economies are expected to increase their coal imports, reaching 284 million metric tons by 2035—an increase of 72 percent.
Because China's economy and electricity demand are growing slower than in the past, it is cancelling some of its planned coal-fired power plants. Despite those cancellations, China is the largest consumer and importer of coal in the world. Further, Chinese companies are either building or planning to build over 700 new coal-fired power plants worldwide. According to Urgewald, a German environmental group, over 1,600 coal-fired power plants were either under construction or being planned in 62 countries, increasing global coal-fired generation capacity by 43 percent over today's levels.
Global coal demand has increased U.S. exports of coal. For the first seven months of 2017, U.S. coal exports were 62 percent higher year over year. The Energy Information Administration expects them to be 24 percent higher in 2017 than in 2016 as their demand is expected to dampen during the latter part of this year.[iv]
Conclusion
Regions of the world realize that coal is one of the least expensive, readily available and most easily maintained sources of electricity. That is why Southeast Asia will be constructing almost 100 gigawatts of coal-fired capacity by 2040 and China is building over 700 coal-fired power plants around the world.
---
[1] The ten countries of ASEAN are Burnei, Cambodia, Indonesia, Laos, Malaysia, Myanmar, Philippines, Singapore, Thailand, and Vietnam.
[i] International Energy Agency, Southeast Asia Energy Outlook 2017, October 2017, http://www.iea.org/publications/freepublications/publication/WEO2017SpecialReportSoutheastAsiaEnergyOutlookExecutiveSummaryEnglish.pdf
[ii] The Global Warming Policy Forum, Massive New Coal Boom to Fuel Southeast Asia's Booming Economies, October 27, 2017, https://www.thegwpf.com/massive-new-coal-boom-to-fuel-southeast-asian-rise-to-power/
[iii] Power Magazine, IEA Says Southeast Asia Will Keep Coal Demand High, October 26, 2017, http://www.powermag.com/iea-says-southeast-asia-will-keep-coal-demand-high/
[iv] Ibid.