There is currently only one operational liquefied natural gas (LNG) export terminal in the United States; it has been operating since early 2016. Cheniere Energy is exporting LNG at its Sabine Pass facility with three trains and a capacity of about 2 billion cubic feet per day. Its total capacity is expected to be 3.5 billion cubic feet per day when all 5 trains are completed. Cheniere is in the process of getting contracts and financing for a sixth train.
There are five additional LNG projects under construction with a total capacity of about 7.5 billion cubic feet per day that will come online in 2018 and 2019, making total U.S. LNG export capacity about 10 or 11 billion cubic feet per day within just a few years. Four more projects with a capacity of almost 7 billion cubic feet per day are approved but not yet under construction. These terminals will make the United States one of the top three LNG exporters in the world; the other two major exporters are Australia and Qatar.[i] Australia is expected to overtake Qatar as the world's largest LNG exporter by 2020.[ii]
Between 2016 and 2020, the United States is expected to account for about half of the 20 billion cubic feet per day of new LNG export capacity worldwide. (Worldwide LNG demand is now around 37 billion cubic feet per day.) The Energy Information Administration expects that U.S. LNG exports will exceed 3 billion cubic feet per day in 2018 and over 12 billion cubic feet per day by 2035. (See graph below.) LNG exports are expected to support up to 452,000 new jobs and add $73 billion to the U.S. economy by 2040.[iii]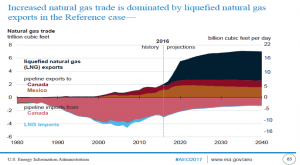 Source: EIA, https://www.eia.gov/outlooks/aeo/pdf/0383(2017).pdf
Below is a description and status of the LNG export facilities under construction and the date when they are expected to come online.
Sabine Pass, Louisiana
Currently, Sabine Pass is the only active LNG export terminal in the United States. It has three operational trains, and a fourth train expected to be operational this month. Also, a fifth train is expected to be completed in August 2019. The construction of a sixth and final train is subject to the availability of commercial contracts and financing. Each train has a capacity of 0.7 billion cubic feet per day.
Cove Point, Maryland
The Cove Point terminal is expected to be operational by the end of this year. It was constructed by Dominion Energy as an import terminal but is being retooled as an export terminal. Its capacity will be 0.82 billion cubic feet per day.
Cameron LNG, Louisiana
Cameron LNG owned by Sempra Energy is scheduled to begin operation in 2018. It has three trains currently under construction. The first train is expected to begin operation in early 2018, and the second and third trains are expected to start up during the second half of 2018. The three trains will have a capacity of 2.1 billion cubic feet per day.
Sempra Energy is also in the permitting stage of constructing an expansion to the facility, which would add a fourth and fifth train. Project completion for the expansion is expected sometime in 2019.
Elba Island, Georgia
Elba Island is a relatively small-scale facility owned by Kinder Morgan with a capacity of 0.35 billion cubic feet per day. It was originally constructed as a regasification plant for imports of LNG and it is being retooled as an export facility. The project will use ten small scale liquefaction units, constructed in two phases. The first phase will begin service in mid-2018, while the second will come online in early 2019.
Freeport LNG, Texas
Freeport LNG is a larger facility with three trains currently under construction, which will begin operation between the end of 2018 and the third quarter of 2019, with a combined capacity of 2.14 billion cubic feet per day. A fourth train is under development.
Corpus Christi, Texas
Corpus Christi is the sixth facility currently under construction on 1,000 acres owned or controlled by Cheniere Energy. It is being designed for five trains and is located on the La Quinta Channel on the northeast side of Corpus Christi Bay, about 15 nautical miles from the coast.[iv] Construction on the first and second trains began in May 2015. The first train is expected to begin operating in the first half of 2019. About 5,000 construction workers are working on the first three trains which will have a combined capacity of 2.14 billion cubic feet per day. The facility is currently 70 percent complete.[v]
Global LNG Demand
As countries look to diversify their fuels, natural gas is becoming a fuel of choice mostly for industrial and electric power uses. It is expected that LNG trade, which increased by 22 percent in the last three years, will increase another 21 percent by 2020. There are currently 170 LNG tankers supplying foreign ports—20 more than a year ago. And, making it easier to supply Asia, the Panama Canal was widened to handle larger LNG vessels.[vi]
There are now floating LNG facilities that cost less than on-shore facilities to construct, are built more quickly and can be moved to where they are needed most. Currently, there are 25 floating facilities worldwide—the first of which came online in 2005.
In 2005, only 15 countries imported LNG. That number has more than tripled in twelve years.[vii] But, the bulk of the demand growth is expected to come from Asia. Asian LNG prices are their lowest in more than a decade. Favorable prices along with low U.S. transport costs to Asia have increased Asia's demand for LNG and for U.S. LNG exports. U.S. exports of LNG to Asia increased 12 times during the first seven months of 2017. [viii]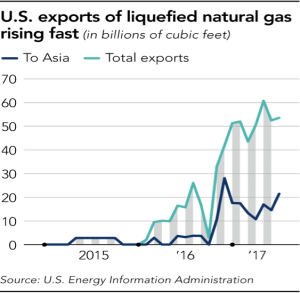 Source: https://asia.nikkei.com/Politics-Economy/Economy/Rising-US-energy-exports-could-prompt-seismic-shift-in-Asian-market
China is planning to increase its share of natural gas in its energy mix from a targeted 10 percent by 2020 to 15 percent by 2030.[ix] While China's natural gas consumption and production have both increased over the past decade, a supply gap has widened substantially since 2009. In the first half of 2017, China's natural gas consumption increased 15 percent over the prior year reaching 115 billion cubic meters. To supply the gap, China gets natural gas both via pipeline imports and LNG. Its demand for LNG increased more than 40 percent over the past year.[x]
In the first seven months of 2017, the United States exported $139 million of LNG to China, surpassing its 2016 exports by two percent ($137 million).[xi] As part of the US-China 100-Day Action Plan, the United States and China agreed to allow Chinese buyers to secure long-term contracts and purchase LNG supplies from the United States directly rather than through third parties.[xii]
But China is not the only Asian country to want to increase its LNG usage. East Asia's demand for LNG is expected to double by 2030 and some $80 billion in infrastructure is needed to meet that demand.[xiii] Japan has been making significant investments in LNG terminal infrastructure since LNG is helping to replace the country's nuclear power. Recently, Japan has announced that it will invest $10 billion in a public-private initiative to support the expansion of Asia's LNG markets.[xiv]
Conclusion
The United States is poised to become one of the top 3 LNG exporters along with Australia and Qatar. LNG export facilities are under construction and in the next few years the United States will have 10 or 11 billion cubic feet per day of LNG capacity. Countries are looking toward U.S. LNG as a secure supply of natural gas as they plan to use more of the fuel to decrease emissions and diversify their fuel mix.
---
[i] Federal Energy Regulatory Commission, North American LNG Import/Export Terminals Approved, May 1, 2017, https://www.ferc.gov/industries/gas/indus-act/lng/lng-approved.pdf
[ii] Hydrocarbon Report, An LNG Horse Race, August 25, 2017, http://hydrocarbonreports.com/archives/866608/866608
[iii] Gas to Power Journal, LNG exports could add up to $73bn to U.S. economy by 2040, October 5, 2017, https://gastopowerjournal.com/markets/item/7783-lng-exports-could-add-up-to-73-billion-to-u-s-economy-by-2040
[iv] Corpus Christi LNG, http://www.cheniere.com/terminals/corpus-christi-project/
[v] Corpus Christi, Cheniere LNG plant 70 percent complete, October 24, 2017, https://www.101corpuschristi.com/news/cheniere-lng-plant-70-percent-complete
[vi] New American, U.S. Natural Gas Exports to Add 500,000 Jobs, $73 Billion to Economy, October 16, 2017, https://www.thenewamerican.com/tech/energy/item/27141-us-natural-gas-exports-to-add-500-000-jobs-73-billion-to-economy
[vii] New York Times, Boom in American Liquefied Natural Gas Is Shaking Up the Energy World, October 16, 2017, https://www.nytimes.com/2017/10/16/business/energy-environment/liquified-natural-gas-world-markets.html?_r=0
[viii] NIKKEI Asian Review, Rising US energy exports could prompt seismic shift in Asian market, October 27, 2017, https://asia.nikkei.com/Politics-Economy/Economy/Rising-US-energy-exports-could-prompt-seismic-shift-in-Asian-market?page=1
[ix]JWN Energy, US LNG exports to China to surge, October 12, 2017, http://www.jwnenergy.com/article/2017/10/us-lng-exports-china-surge/
[x] Gulf Times, U.S. gas traders want to know about LNG exports, October 1, 2017, http://www.gulf-times.com/story/565728/Forget-weather-US-gas-traders-want-to-know-about-L
[xi] Global Trade, US Coal and LNG Exports to China Surge, October 11, 2017, http://www.globaltrademag.com/global-trade-daily/us-coal-lng-exports-china-surge
[xii] Global Trade, Initial Results of the US-China 100-Day Economic Action Plan Released, May 12, 2017, http://www.globaltrademag.com/global-logistics/initial-results-us-china-100-day-economic-action-plan-released
[xiii] Asian Review, East Asia needs $80bn in infrastructure to meet LNG demand, September 28, 2017, https://asia.nikkei.com/Politics-Economy/Economy/East-Asia-needs-80bn-in-infrastructure-to-meet-LNG-demand
[xiv] Platts, Japan offers $10 billion to support Asian LNG growth, October 18, 2017, https://www.platts.com/latest-news/natural-gas/singapore/japan-offers-10-billion-to-support-asian-lng-26823387