Historically, harnessing the power of the wind as an energy source has freed man from manual labor for centuries. Windmills were first broadly used to mill grain by turning stones, and later as an efficient means of pumping water into storage for later use on demand. Today, wind power is turned into electricity by converting the rotation of turbine blades on windmills into electrical current.
Wind power is typically generated by large-scale wind farms which are located either on land or just off shore where they are connected to power grids that distribute their electricity to end users. Some small consumers of power also employ wind power where construction of transmission lines is expensive or prohibited.
Today, wind power provides 1.9 percent of all the energy consumed in the United States. Though wind power has increased substantially since 1970, it constitutes only a small fraction of U.S. electricity supply. In 2015, wind power accounted for 4.7 percent of all electricity generated in the U.S.
Wind power can be viable for companies in areas where prevailing conditions are favorable, especially if the government compels the production of renewable energy.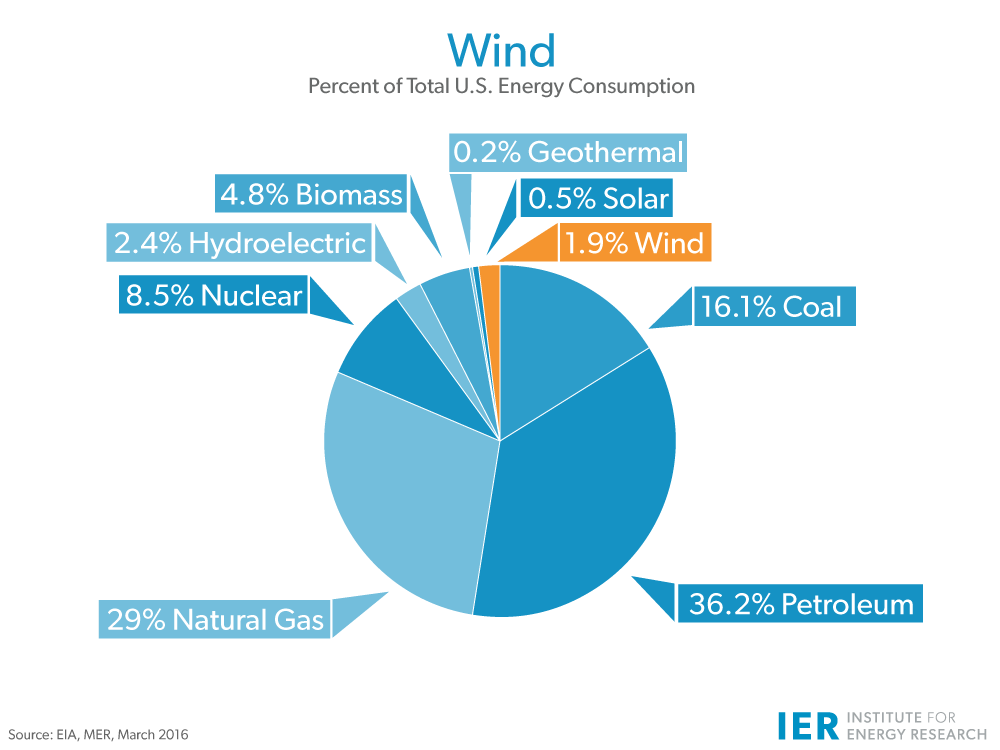 However, sufficient wind for economically generated power is not always available. For example, according to the Energy Information Administration, relatively few areas in the eastern half of the United States are rated as having "class six" winds—15.7 mph at a height of 33 feet—or "superb" for wind power generation. Other areas of the country hold great promise for expanding wind power generation, but in many instances opposition has grown just as the industry has approached commercial viability.
Like solar power, wind power requires an extensive amount of land or, in the case of near-shore power generation, sea. For comparison purposes, and taking into account capacity (or load factors), the land area covered by a wind power station of the same energy output as a nuclear power station would be about 2,000 times as great.
Recent technological and efficiency gains have led to more sophisticated wind units, capable of producing over 3 megawatts each, and trading surface disturbance for the larger, higher and more visible newer units.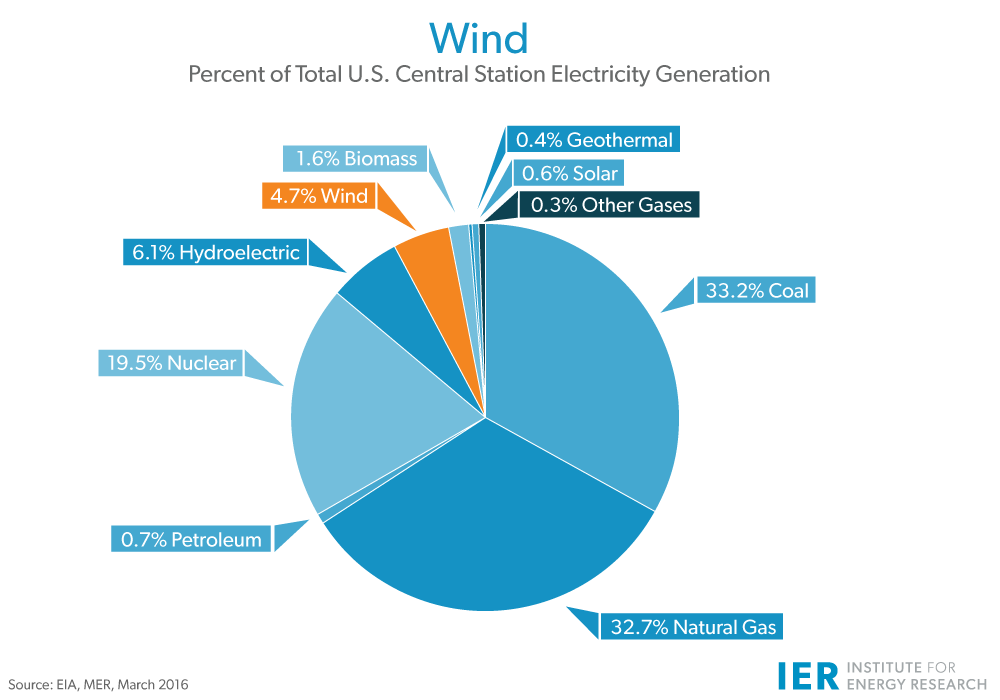 Though wind farms release no emissions into the air, they have their own set of environmental problems. Rotating wind turbines can injure or kill birds and bats. They also strike some individuals as aesthetically degrading to the landscapes and seascapes they occupy. Some complain of noise. Others have objected to the transmission lines necessary to transmit electricity from remote locations to the electricity consumers.
Wind power has seen substantial growth in recent years, aided by tax subsidies and state government mandates to purchase renewable energy through establishment of "renewable portfolio standards," or RPS. Many utilities mandated by the government to sell a certain amount of their electricity from renewable sources have turned to wind power as one of the less expensive renewable power sources.
The Federal Government has extended the production tax credit (PTC) for wind several times since it was first introduced as part of the Energy Policy Act of 1992. The American Taxpayer Relief Act passed on January 1, 2013 extended the production tax credit through 2013, but with definitional differences that make the tax credit more expensive for taxpayers than its original incarnation. While the original PTC stipulated that the wind unit must begin operation in the year of the credit, the extension that was passed indicates only that the project must begin construction in 2013 with no specific date for beginning operation. It is therefore a significant expansion of the current law. Further, the Internal Revenue Service upped the credit from 2.2 cents per kilowatt hour to 2.3 cents per kilowatt hour. It is paid on electricity generated for the first 10 years of operation of the wind unit. More recently, Public Law No. 113-295 extended the PTC through 2014, and in December 2015, Congress extended it for 5 years in the Omnibus Bill. The new legislation retroactively extended the PTC for 2015, leaving the incentive at its 2.3 cents per kilowatt hour level through 2016 and phasing it down at 80 percent of its present value in 2017, 60 percent in 2018 and 40 percent in 2019. The rules allow wind projects to qualify as long as they start construction before the end of the period.
In lieu of the production tax credit, President Obama's economic stimulus signed into law in February 2009 made a 30 percent investment tax credit available to wind farms. Previously, wind farms were allowed under the section 1603 grants to take that 30 percent as an immediate rebate of their investment cost instead of taking the 30 percent over time as a tax credit. The 1603 program expired at the end of 2011.
Besides the subsidies that wind power receives, more than half the states have renewable portfolio standards requiring a certain percentage of their electricity to be generated from qualified renewable energy technologies. These standards have helped to develop onshore wind energy as it is the least expensive qualifying renewable technology. No offshore wind farms have been built to date, though there are proposals for offshore wind farms along the Atlantic coast and in the Great Lakes. Offshore wind is more than 2.5 times more expensive than onshore wind, according to the Energy Information Administration.