Former President Obama's signature regulation to comply with his goals for the Paris agreement was the so-called Clean Power Plan that required a 32-percent reduction in carbon dioxide emissions from U.S. power plants from 2005 levels by 2030. The Clean Power Plan was put on hold by the Supreme Court in February 2016. President Trump removed the United States from the Paris agreement in June 2017 and now his Environmental Protection Agency (EPA) has announced its proposed replacement to the Clean Power Plan, called the Affordable Clean Energy Rule. The new rule would direct states to inventory their power plants and determine a plan to regulate their greenhouse gas emissions and to set efficiency targets for their plants. The Affordable Clean Energy Rule incentivizes power plant owners to increase their plants' heat-rate efficiency, thereby reducing the amount of carbon dioxide produced per unit of power. The proposed rule is expected to create new jobs and eliminate burdensome government regulations, while still reducing carbon dioxide emissions. Further, the U.S. power sector has already reduced its carbon dioxide emissions by 28 percent from 2005 levels—just 4 percentage points from the Obama administration goal—making the Clean Power Plan unnecessary.
Coal's Role in the U.S. Power Sector
Coal has long been the primary source of power in the United States, generating 50 percent of the nation's power just a decade or so ago. Coal's share of the generation market, however, has declined to 30 percent, ranking second in generation to natural gas, which has enjoyed a renaissance due to the hydraulic fracturing and horizontal drilling that have reduced prices and increased availability dramatically. Power generation from coal declined 5 percent from January to April this year compared to the same time period in 2017, while natural gas generation increased 16 percent.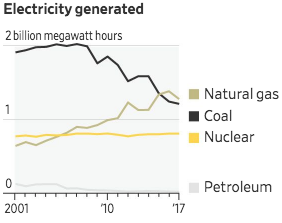 About 40 percent of the nation's coal-fired power plants have shut down or announced plans to close, including a dozen coal-fired power plants slated for retirement by the end of 2019. Coal-fired power plants began to retire with the implementation of the Obama Administration's Mercury and Air Toxics Standard. Along with the coal capacity retirements, the coal-mining workforce declined by 41 percent—to 53,000 workers from a recent peak of 90,000.
Coal is very competitive in certain parts of the United States, however, including in the coal areas of Appalachia and the Powder River Basin in Montana and Wyoming. Without the flexibility in the proposed rule, states with a large amount of coal-fired generation would see significant cost increases in their electricity rates.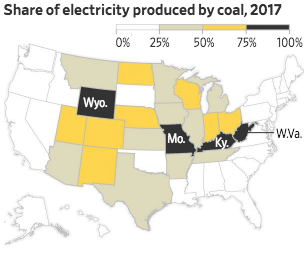 Misleading Death Rate Quote
The New York Times indicates that rolling back Obama's Clean Power Plan, as this proposed rule does, could lead to an additional 1,400 deaths per year by 2030 from an increase in emissions of fine particulate matter. But, the New York Times does not indicate that the EPA estimates premature deaths based on epidemiological studies that are still the subject of debate and that other studies provide lower estimates. (The Trump Administration has also proposed to stop using so-called "secret science" studies in which the underlying data and information are not available to the public.)
EPA's regulatory analysis for the Affordable Clean Energy Rule provides three scenarios for how coal-fired power plants can comply with the proposed regulations, including increasing heat-rate efficiency to lower emissions. Most of the benefits from reducing air pollution come from estimated avoided deaths from less PM2.5, and not from decreased emissions of carbon dioxide. For the proposed rule, EPA laid out different methods of estimating premature deaths from PM2.5 in 2030. The Times based its reporting on just one of those estimates based on a 2012 study and using a linear no-threshold model. The linear no-threshold model is used by EPA and other regulatory agencies to set air quality standards, but it's long been challenged by some scientists who say it is not accurate.
Using a 2009 study, the estimated PM2.5 deaths is more than halved—from between 470 and 1,400 using the 2012 study to between 280 and 550 using the 2009 study. The agency also estimated mortality based on the assumption of no deaths below the "lowest measured levels" (LML) in the 2012 and 2009 studies.
Conclusion
The Affordable Clean Energy Rule will provide individual states with the authority to set goals and to regulate emissions from coal plants as they see fit. EPA's proposed regulatory framework focuses on improving heat-rate efficiency at individual coal-fired power plants, making it easier for plants to upgrade their equipment and giving states more authority over regulating emissions. With states having their power produced at different levels of coal-fired generation (see map above), this flexibility is important to maintain affordable electricity rates throughout the nation, yet still reduce carbon dioxide emissions in the power sector.