West Virginia is among the poorest states in the nation, with a median household income of just under $40,000, about $13,000 less than the national median. Compared to its neighboring states, its median household income is more than $20,000 less than that of Virginia and more than $30,000 less than Maryland.  Coal mining jobs in West Virginia are some of the highest paying jobs in the state, at more than twice the average wage of all industries, but due to the Obama Administration's regulations, these jobs are imperiled.
West Virginia has more estimated recoverable coal reserves at producing mines than any other state except Wyoming. It is the second largest producer of coal, also second to Wyoming. As a result, it generates more than 95 percent of its electricity from coal-fired power plants, and it supplies coal to the East Coast states and the Midwest, as well as exporting electricity to other states.
The state produces unconventional shale gas from the Marcellus shale formation, adding to its natural gas production from conventional sources. The industrial sector dominates West Virginia energy consumption, and its per capita energy use ranks 16th among the states.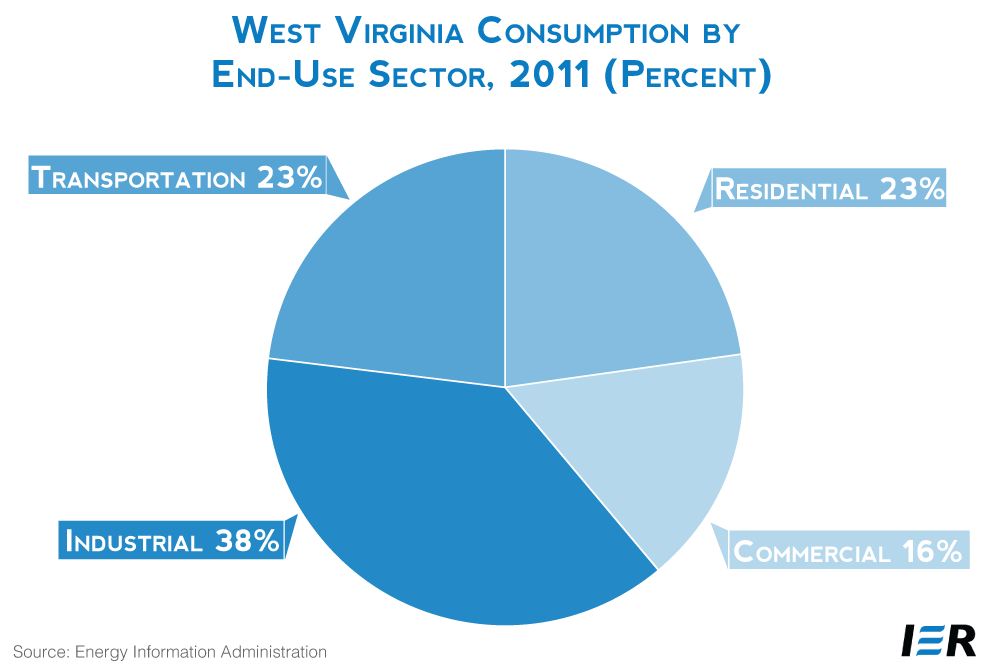 Source: Energy Information Administration, http://www.eia.gov/state/data.cfm?sid=WV#ConsumptionExpenditures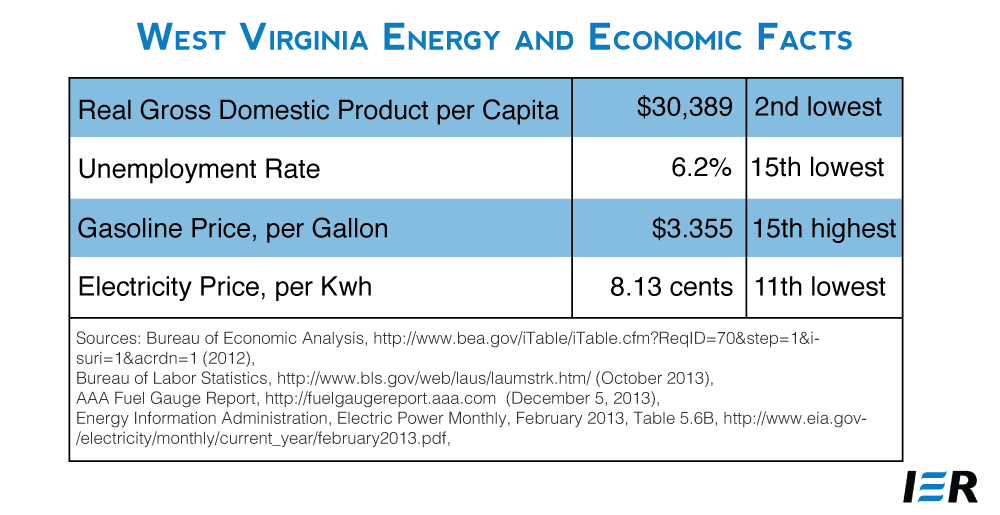 West Virginia's  State Rankings
In 2011, West Virginia ranked 5th among the states in total energy production, producing 3,821 trillion Btu of energy.
In August, 2013, West Virginia ranked 20th in oil production, producing 378 thousand barrels.
In 2011, West Virginia ranked 10th in natural gas production, producing 394,125 million cubic feet.
In 2011, West Virginia ranked 2nd in coal production, producing 134,662 thousand short tons.
In August 2013, it ranked 22nd in electricity production, producing 6,457 thousand megawatt hours of electricity.
In 2012, West Virginia had the 11th lowest average electricity retail price in the United States.
In 2011, West Virginia ranked the 16th highest in total energy consumed per capita, consuming 390 million Btu per person.
In 2010, West Virginia ranked 21st in carbon dioxide emissions, emitting 98.9 million metric tons of carbon dioxide.
Coal
West Virginia is the second largest coal-producing State, after Wyoming. It accounts for over one-tenth of total U.S. coal production and 30 percent of U.S. coal production east of the Mississippi River. In 2011, the state produced 134.7 million short tons from 273 mines. West Virginia's recoverable coal reserves total 2.076 million short tons, 10.8 percent of the nation's total, and second to only that of Wyoming. Coal deposits are located in the Central and Northern Appalachian Basins, which underlie all but the eastern edge of the State.
West Virginia leads the Nation in coal production from underground mines, which account for about 62 percent of the state's production.  Between 2010 and 2011, underground coal production in West Virginia declined by 1.4 percent (1,149 thousand short tons) due to low cost natural gas and an unfriendly climate in Washington, where mine permits have become more difficult to obtain. West Virginia's coal is bituminous with varying sulfur content across the state–coal produced in southern West Virginia is low in sulfur, while coal produced in northern West Virginia is high in sulfur.
Large shipments of coal move in and out of the state mainly by rail and barge. West Virginia delivers coal to 25 states, most of which are on the East Coast and in the Midwest. Most of the coal consumed in West Virginia (over 95 percent) is used for electricity generation, while the rest is primarily consumed in its industrial sector.
Natural Gas
In 2011, West Virginia produced 394,125 million cubic feet of natural gas, almost 2 percent of the total natural gas output in the United States. That represents an increase of almost 50 percent from 2010 levels, and more than twice what the state was producing a decade ago. (See chart below.) The EIA estimates that the state has 10.3 trillion cubic feet of proven gas reserves, 3.1 percent of total U.S. proven reserves of natural gas. The Central and Northern Appalachian Basins, which underlie all but the eastern edge of the state, hold conventional natural gas reserves. Unconventional shale gas is found within the Appalachian Basin's Marcellus shale formation. West Virginia's Marcellus shale region has experienced markedly increased development over the past few years. However, compared to the State's total natural gas production, shale gas production still remains a small percentage.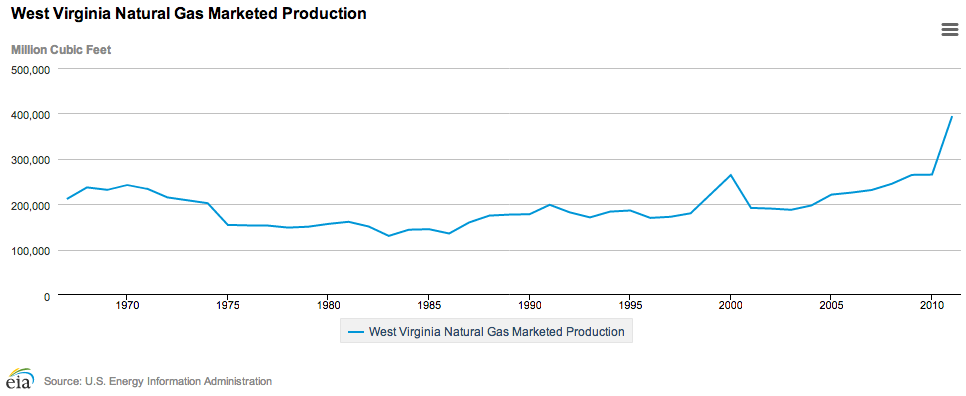 Source: Energy Information Administration, http://www.eia.gov/dnav/ng/hist/n9050wv2a.htm
West Virginia's underground natural gas storage capacity, including more than 30 facilities developed in depleted oil and gas fields, accounts for almost 6 percent of the U.S. total. Because of this storage capacity, West Virginia is an important gas supplier to the Northeast region during the winter months when natural gas demand peaks for home heating.
The industrial sector is West Virginia's leading consumer of natural gas (followed closely by the residential and commercial sectors), accounting for 33 percent of the State's natural gas consumption. Over two-fifths of West Virginia households use natural gas as their primary fuel for home heating.
Petroleum
In 2012, West Virginia produced 2,573 thousand barrels of oil, 0.1 percent of total U.S. output. Much of the State's crude oil output is derived from stripper wells (wells producing less than 10 barrels of oil per day). West Virginia's oil reserves total 21 million barrels, 0.1 percent of total U.S. oil reserves.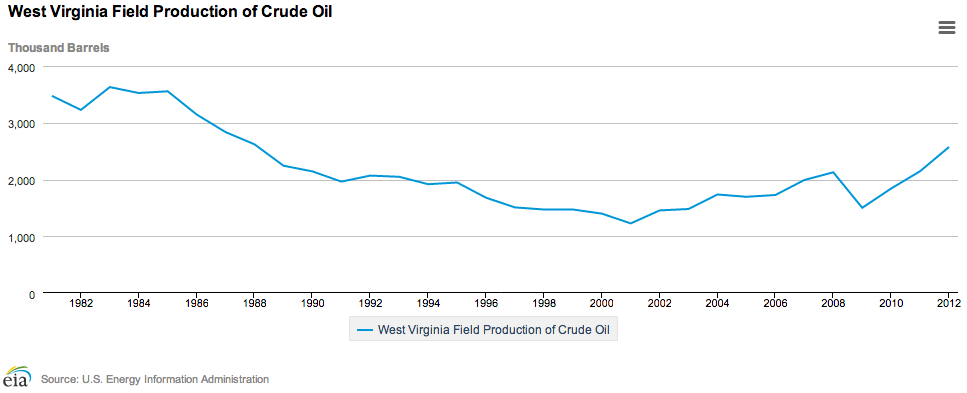 Source: Energy Information Administration, http://www.eia.gov/dnav/pet/hist/LeafHandler.ashx?n=PET&s=MCRFPWV1&f=A
West Virginia has one refinery with a capacity of 20,000 barrels per day that processes the majority of the crude oil produced in the State and the Appalachian Basin.  It is located in Newell in the far north of the State's panhandle.  The Newell refinery produces motor gasoline and diesel, and specializes in lubricants and process oils.
West Virginia relies on barge deliveries of petroleum products since there are no petroleum product pipelines that serve West Virginia markets. The Ohio River, on the State's western border, serves as a major petroleum product transportation route.
West Virginia is one of the few states that allow the statewide use of conventional motor gasoline. (Most states require the use of specific gasoline blends in non-attainment areas due to air-quality considerations.)
Electricity and Renewable Energy
Coal-fired plants account for nearly all (over 95 percent) of West Virginia's electricity generation. Several small hydroelectric facilities on rivers flowing from the Appalachian Mountains account for almost another 2 percent of power production and wind accounts for almost another 2 percent. (See chart below.)
Due to regulations promulgated by the Environmental Protection Agency (EPA), more than 2,860 megawatts of coal-fired power plants in West Virginia will be prematurely retired by 2016. The majority of those retirements are announcements from the operators of the units; a few unit retirements are estimates from EPA models.
West Virginia electricity production is high, and, although more than 40 percent of West Virginia households use electricity as their primary source for home heating, state electricity consumption is low. West Virginia ranks second in the nation after Pennsylvania in net interstate electricity exports.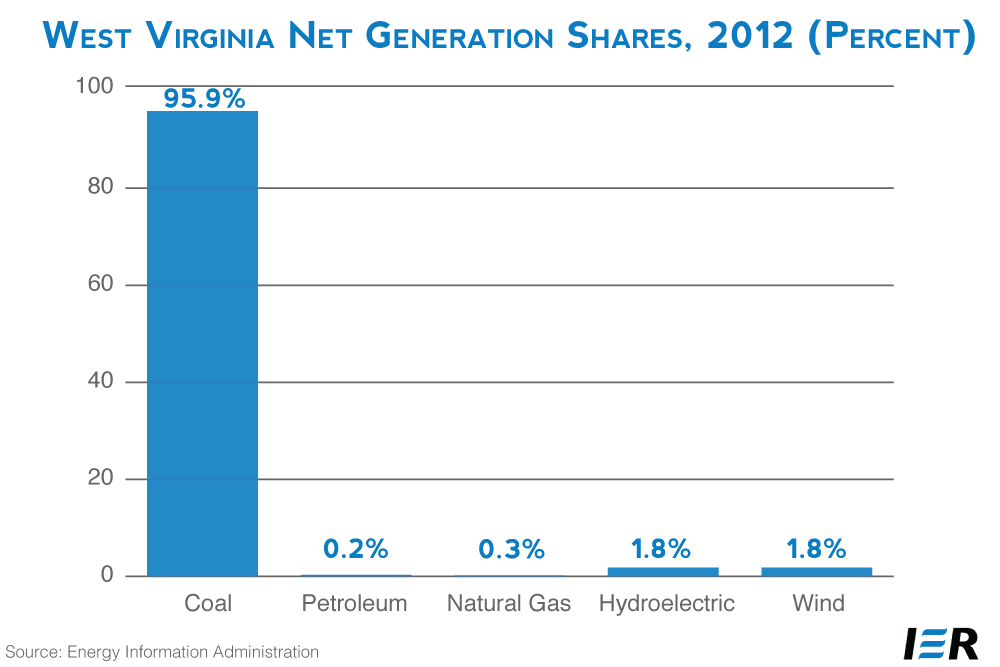 Source: Energy Information Administration, Electric Power Monthly, February 2013, http://www.eia.gov/electricity/monthly/
West Virginia Regulatory Environment
Below are some facts about West Virginia's regulatory environment that are likely to affect the cost of energy or the cost of using energy. Although affordable energy is a vital component of a healthy economy, regulations frequently increase energy costs.
West Virginia does not provide a cap on greenhouse gas emissions and it is not a member of a regional agreement to cap greenhouse gas emissions.
In June 2009, West Virginia enacted an Alternative and Renewable Energy Portfolio Standard that requires investor-owned utilities with more than 30,000 residential customers to supply 25 percent of retail electric sales from eligible alternative and renewable energy resources by 2025. While this law contains some provisions similar to those found in renewable portfolio standards (RPSs) adopted by other states, West Virginia's standard does not require a minimum contribution from renewable energy resources. It is feasible, therefore, to meet the standard by using only alternative resources without using renewable resources.
The standard sets the following minimum benchmarks for electric utilities based on their annual electricity sales: 10 percent from 2015 to 2019, 15 percent from 2020 to 2024, and 25 percent by January 1, 2025.
Alternative energy resources  include coal technology, coal bed methane, natural gas, fuel produced by a coal gasification or liquefaction facility, synthetic gas, integrated gasification combined cycle technologies, waste coal, tire-derived fuel, pumped storage hydroelectric projects, and recycled energy (through June 2010).
Renewable energy resources include solar-electric, solar thermal energy, wind power, run-of-river hydropower, geothermal energy, fuel cells, and certain biomass energy and biologically-derived fuels. S.B. 350 enacted in April 2010 changed "recycled energy" from classification as an alternative energy resource to a renewable energy resource (effective in June 2010).
To qualify, electricity produced by alternative and renewable resources must be generated or purchased from a facility in West Virginia or in the PJM Service Territory (the regional transmission organization which serves the state). Projects that reduce or offset greenhouse gas emissions and certain demand-side or efficiency projects may be certified and counted towards meeting the standard.
Compliance is based on alternative energy credits. A credit is equal to a megawatt-hour of alternative or renewable electricity generation. Credits are awarded based on the technology type with renewable energy resources generally receiving more credits than generation from alternative energy resources. Electric utilities, however, may meet no more than 10 percent of the standard with credits obtained from electricity generated from natural gas.
The West Virginia State Fire Commission is responsible for adopting and promulgating statewide construction codes for buildings. Local jurisdictions must adopt the statewide requirements in order to enforce them at the local level, but adoption is voluntary. If local jurisdictions do not adopt the statewide codes, contractors, builders, and architects are responsible for complying with the provisions of the codes. The Fire Commission recently updated the voluntary building energy codes with the residential code taking effect on November 30, 2013, and the commercial code taking effect on September 1, 2013. The residential code is based on the 2009 International Energy Conservation Code (IECC) and 2009 International Residential Code (IRC). The code for commercial buildings is based on the 2009 IECC and the ASHRAE 90.1-2007. The IECC and the IRC, developed by the International Code Council, are model codes that mandate certain energy efficiency standards.  ASHRAE 90.1 is another model code that mandates certain energy efficiency standards and was developed by the American Society of Heating and Refrigeration and Air Conditioning Engineers.
In March 2012, West Virginia enacted the Green Buildings Act, which applies to all new construction of public buildings, buildings receiving state grant funds, and buildings receiving state appropriations. To comply, buildings must be designed and constructed according to the ICC International Energy Conservation Code, and the ASHRAE Standard 90.1-2007.
Net metering in West Virginia is available to all retail electricity customers. Systems that generate electricity using "alternative" or "renewable energy" resources are eligible for net metering, including photovoltaics, wind, geothermal, biomass, landfill gas, run of the river hydropower, biofuels, fuel cells, and combined heat and power. System capacity limits vary depending on the customer type and electric utility type. Net excess generation may be carried over to a customer-generator's next bill as a kilowatt-hour credit at retail rate and may be rolled over, indefinitely. The credits may only be applied to the energy portion of the bill (not fixed costs or demand charges).
West Virginia does not allow electric utilities or natural gas utilities to "decouple" revenue from the sale of electricity. Decoupling allows utilities to increase their revenue by selling less electricity and natural gas.
West Virginia does not require gasoline to be mixed with renewable fuels nor does it impose automobile fuel economy standards, which include attempts to regulate greenhouse gas emission from new vehicles.
Conclusion
West Virginia is the second largest state producer of coal in the country, behind Wyoming. Coal generates almost 96 percent of the state's electricity, the highest share in the country. As a result, West Virginia has the 11th lowest average retail electricity price in the nation, 18 percent less than the nation's average electricity price. Unfortunately for its economy and job market, the state's coal production, particularly from underground mines, is declining because of competition from natural gas in the generation market and because of onerous regulations that the Environmental Protection Agency is promulgating.