Presidential candidate Joseph Biden's official campaign plan would "ban new oil and gas permitting on public lands and waters," which would stop the government from issuing approvals for drilling through the duration of a lease, even if the lease was issued before Biden took office. According to the National Ocean Industries Association, the proposal would cost almost 200,000 jobs, deny the U.S. government billions of revenue dollars, and push offshore production to other countries. Despite almost all U.S. offshore drilling occurring in the western and central portions of the Gulf of Mexico, jobs that support the offshore oil and gas industry—which is capital-intensive and reliant on the manufacturing of associated equipment such as pipes, valves, and motors—are in nearly all 50 states.
The study focuses on restricting oil and gas development in the Gulf of Mexico, which accounts for 15 percent of the nation's oil production and 3 percent of the nation's natural gas production.
The study assumes the government would issue no new drilling permits beginning in 2022, but that permits already approved for companies with existing leases would be unaffected. Leases for oil and gas development in the deep waters of the Gulf of Mexico usually last 10 years, but producers must get periodic approval from the government during that time for drilling permits.
According to the study, the impact of no new drilling permits for offshore oil and gas production in the Gulf of Mexico would be that:
Average combined oil and natural gas production between 2022 and 2040 would decline from around 2.5 million barrels of oil equivalent per day to 1.1 million barrels of oil equivalent per day—an over 55 percent decline. In 2040, combined oil and natural gas production is projected to be around 323 thousand barrels of oil equivalent per day compared to 1.96 million barrels in the Base Case where offshore drilling is permitted.
Average annual employment is projected to decline to 179 thousand jobs from around 370 thousand jobs nationally—a 52 percent decline.
Average annual contributions to GDP are projected at $14.2 billion—a 55 percent reduction compared to contributions of $31.3 billion in the Base Case.
Government revenues are projected to average around $2.7 billion per year—a 61 percent reduction from the $7 billion per year projected in the Base Case.
State revenue sharing under the Gulf of Mexico Energy Security Act is projected to fall to an average of $273 million per year, compared to $374 million in the Base Case—a 27 percent reduction.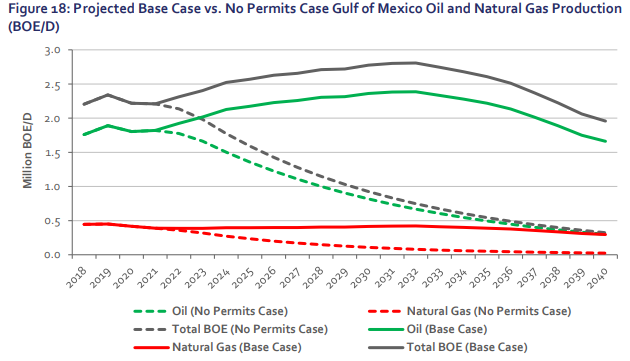 Conclusion
Despite the downturn in oil demand due to the lockdowns from the coronavirus pandemic, global oil demand will revive as the world returns to normal operations. Transportation patterns will resume as well as manufacturing processes that use oil and natural gas. Natural gas has been the fuel that has reduced greenhouse gas emissions in the United States as it has become the major generation fuel for electricity production, making the United States the country that has reduced carbon dioxide emissions the most since 2005. President Trump's plan of energy dominance has made the United States the largest oil producer in the world and has provided reliable and affordable energy to Americans. All this will be lost if Biden institutes his bans on U.S. oil and natural gas drilling on federal lands, and the United States has to resort to importing more and more foreign oil to move our economy.