For Immediate Release
January 23, 2012
WASHINGTON DC — Last week President Obama announced his rejection of the Keystone XL pipeline permit, an act that IER President Tom Pyle called "unconscionable" given the economic consequences. Within the next 24 hours, President Obama's decision will result in $5 billion eventually going overseas to purchase oil from unstable petroleum regimes, and the amount grows by $70 million per day.
"Since his original delay, President Obama has now ensured that American consumers to spend nearly $5 billion on overseas oil when we could be developing and utilizing our own vast resources in North America. With more than 1.7 trillion barrels of recoverable oil under our soil, we have enough oil to fuel our present needs for the next 250 years," IER President Tom Pyle noted.
In its analysis, the Institute for Energy Research has scored the economic value of the President's decision to kill Keystone XL. Consider the following:
The Obama administration approved $6 billion last year in voluntary dues to the United Nations.
The Obama administration continues to fund the International Clean Technology Fund, which will cost U.S. taxpayers upwards of $3.3 billion dollars to help China with their own energy research and development.
The Obama administration has requested $1.4 billion to fund its global climate change agenda at the State Department, USAID, and the Treasury.
The Obama administration funded the Office of Energy Efficiency and Renewable Energy with $9.1 billion in 2010. These funds went to provide for various solar power projects, to deploy wind and other "green" technologies, and to facilitate research on the conversion of plants into fuel.
The Obama administration sought and received $3 billion dollars for 'Cash for Clunkers,' a one-month program that cost U.S. taxpayers approximately $20,000 per car.
The Department of Interior is projected to spend more than $2.3 billion over the next ten years to purchase additional federal lands, despite the fact the federal government already owns approximately 650 million acres. Most of this land is blocked from energy development due to federal regulations and governmental indifference.
Last month, IER released a Keystone XL Pipeline Tracker that provides real time estimates of the dollars that U.S. consumers are forced to send overseas because of the President's decision: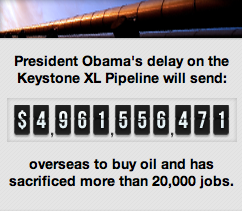 To track the cost of Obama's Keystone failure, 
click here
.
###