As lockdowns ease and parts of the world reopen for business, driving has emerged as the social- distancing transportation mode of choice. Oil demand is rebounding in China, Europe, and the United States as residents are driving rather than using mass transit over fears of the coronavirus. In China, oil demand dropped by about 20 percent when the country went into lockdown in February, but consumption of gasoline and diesel has recovered as factories reopen and commuters drive rather than use public transport. In the United States, demand in the last week of April rebounded 22 percent from the lowest overall week of gasoline demand in April (April 5 to April 11). In Berlin, Germany—one of the first European cities to relax its lockdown—public transit use is down 61 percent while the number of people driving has increased to 28 percent below normal. In Madrid, Spain, public transport is down 87 percent, while driving is 68 percent below normal levels—up from about 80 percent in April.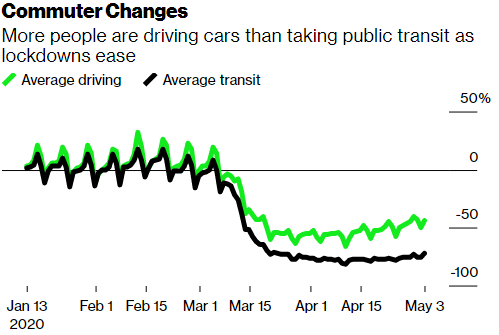 China
Chinese cities are already seeing traffic jams on a par with pre-coronavirus times. On the streets of Beijing, Shanghai, and Guangzhou, morning traffic is now higher than 2019 averages while subway use is well below normal. Volume on Beijing's metro system is 53 percent below pre-virus levels. Subway usage in Shanghai and Guangzhou is down 29 percent and 39 percent, respectively. During the five-day Labor Day holiday in May, car trips in Beijing increased 15 percent over the first four days of the holiday, while trips by plane and train in and out of the city fell 76 percent and 86 percent, respectively.
Executives and traders who monitor China's oil consumption indicate that recent numbers show it at about 13 million barrels a day, just shy of the 13.4 million barrels a day of May 2019 and 13.7 million barrels a day of December 2019. A lower number is expected because jet-fuel demand is running well below a year ago.
Diesel demand is also recovering strongly as China's government encourages farmers to plant more to guarantee the country's food security and as industrial consumption recovers. Increased consumption of gasoline and diesel has prompted state and independently-owned refiners to increase run rates to convert more crude oil into fuel, reducing crude oil stockpiles.
The country's independent refiners, known as teapots, are processing crude at a record of nearly 75 percent of their capacity, much higher than 60 percent a year ago. The teapots have a combined refining capacity of about 4 million barrels a day, making up a quarter of China's total. Sinopec, the state-owned and largest refiner in the country with about 5.8 million barrels a day of capacity, is also increasing the amount of crude it is processing. As a result, China's crude oil imports in April increased to 9.84 million barrels per day.
United States
In the United States, gasoline consumption is coming back from record lows, increasing by 400,000 barrels a day during the week ended May 1. In Florida cities, fuel sales have rebounded to 30 percent below normal levels, from 50 percent weeks ago. Changes are being made to the way people vacation, which can also help gasoline's recovery.  Demand for long-haul recreational vehicles has picked up as people opt for road trips over air travel. Bookings in some areas have more than doubled compared with last year.
Fuel demand typically increases throughout the months of March and April as more Americans drive due to the warmer weather. Year-over-year benchmarked fuel demand shows that the coronavirus influenced a peak drop in demand of 41 percent the week of March 29 compared to the same week last year. Despite April fuel demand being down significantly compared to pre-coronavirus levels, gasoline gallons purchased in the last three weeks of the month indicate that benchmarked demand moved closer to 2019's seasonal rise—down only 31 percent from last year.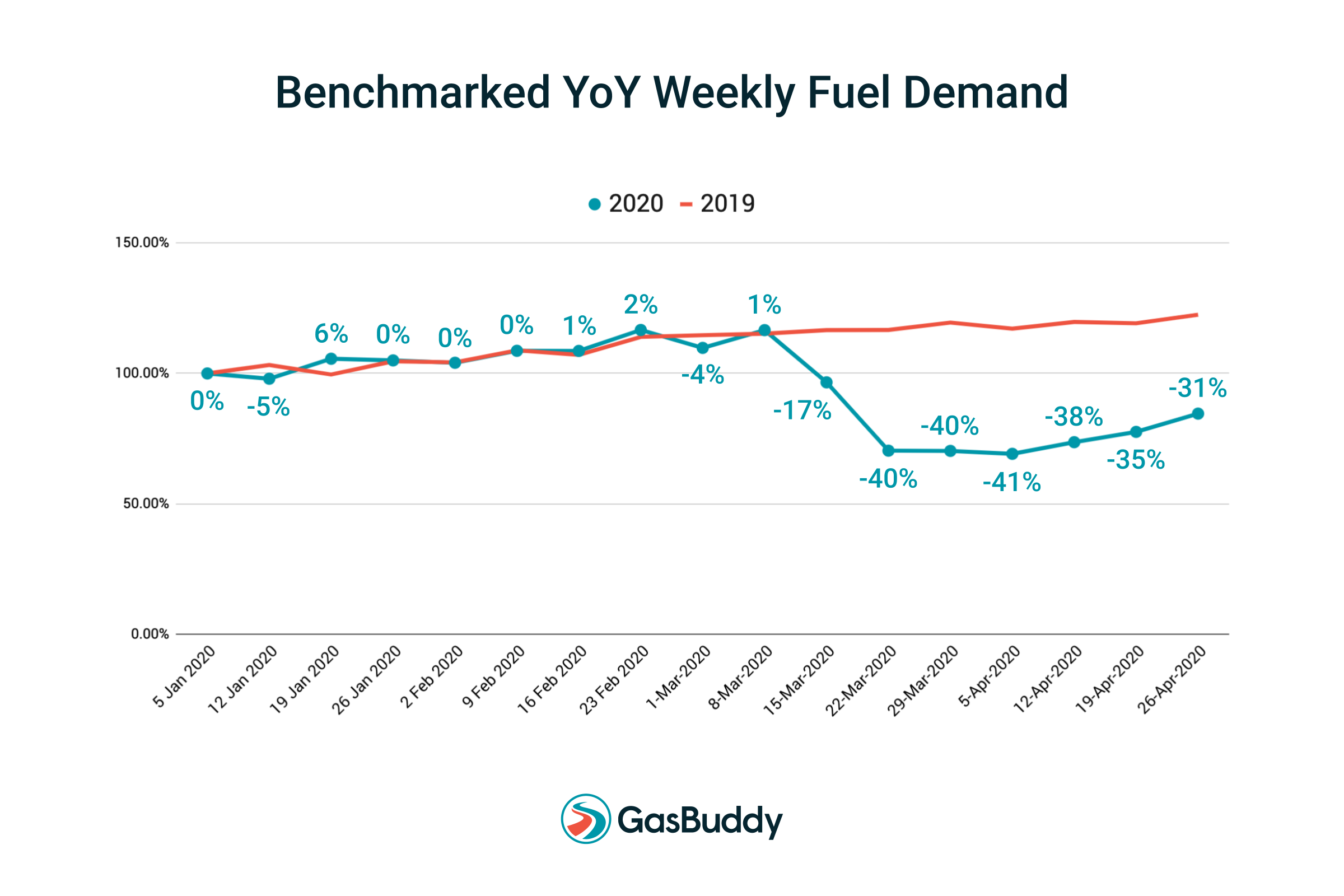 As states continue to reopen and employees return to work, it is likely that oil demand could increase throughout the summer. According to GasBuddy's 2020 Summer Travel Study, 31 percent of Americans are planning to take at least one road trip this summer—down 44 percent from last summer, 18 percent are not planning on taking a road trip, and 51 percent are undecided.  The study, however, indicates that Americans are taking a "wait-and-see" approach, and that travel may pick up later in the summer.
Germany 
According to a survey conducted by the German Aerospace Centre, the coronavirus crisis has led German people to opt for private cars at the expense of public transport. Almost all respondents said they felt as or more comfortable in a car than in pre-coronavirus times. Around a third of respondents from households who did not own a car said they missed one, and six percent said they were thinking about buying one. Nine percent of all respondents said they considered buying a bicycle or electric bicycle.
Largely due to the coronavirus crisis, German railway service Deutsche Bahn has an 11-billion-euro hole in its budget. Despite train cars being largely empty, Germany's federal transport ministry instructed the company to operate around 75 percent of its long-distance trains. The situation has left the company with an expected loss of between 11 and 13 billion euros by 2024.
Conclusion
Due to the coronavirus pandemic, people around the world are feeling more comfortable driving to work than using mass transit. That should help gasoline and diesel demand rebound to pre-coronavirus levels soon, particularly if China is any indication of the future trend.