The Potential Gas Committee announced that the amount of producible natural gas in the United States increased by about 20 percent since its last assessment two years ago and is the highest assessment in the organization's 54 year history. Total recoverable natural gas resources are 3,374 trillion cubic feet—enough to sustain current levels of U.S. natural gas consumption for over a century. The increase from its last assessment is 557 trillion cubic feet, or about the energy equivalency of almost 100 billion barrels of oil. Changes in the total assessment are due primarily to the evaluation of recent drilling, well-test and production data. When adding in estimates of proved gas reserves from the Energy Information Administration (EIA), the future U.S. gas supply totals 3,838 trillion cubic feet—22 percent higher than the year-end 2016 assessment.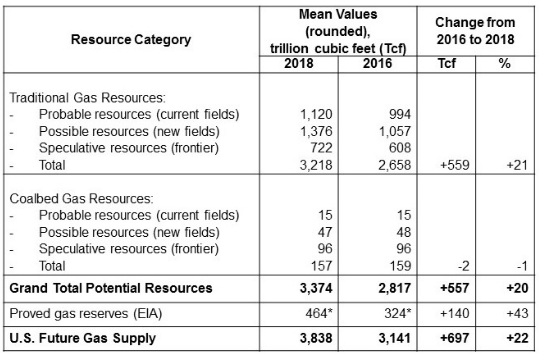 The Atlantic area ranks as the country's richest gas resource area with 41 percent of total U.S. traditional resources, followed by the Mid-Continent with 19 percent, the Gulf Coast (including the Gulf of Mexico) with 16 percent, and Rocky Mountains with 16 percent. The Atlantic area saw the largest regional gains by volume, increasing by 264 trillion cubic feet from 2016 estimates due to new drilling and production in the Marcellus and Utica shale plays. In the midcontinent region, which includes the Permian Basin, recoverable gas volumes increased by 67 percent to 615 trillion cubic feet in year-end 2018 due to intensive developments of conventional, tight, and shale reservoirs in the Permian Basin in West Texas and parts of New Mexico.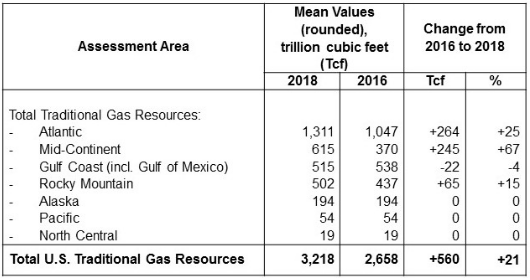 The importance of shale gas in the United States is evidenced by the fact that the PGC's mean total assessed shale gas resource of 2,107 trillion cubic feet for year-end 2018 accounts for approximately 62 percent of the country's total potential resources. The growth of shale gas resources from year-end 2016 to year-end 2018 was 310 trillion cubic feet (17 percent). P95 in the table below represents a 95-percent probability of at least the amount tabulated; other P values are defined similarly.

The Natural Gas Resource Assessment
The Potential Gas Committee reports its natural gas resource assessments in three categories of decreasing geological certainty—probable, possible, and speculative. For each category, a minimum, most likely, and maximum volume is assessed in each of 90 onshore and offshore provinces in the Lower 48 States and Alaska. Based on new exploration results, drilling and production information and various other data that become available, resources may be reclassified at the province level from one category to another and into proved reserves.
September EIA Short-Term Forecast
EIA's Short-Term Energy Outlook was also recently released, showing increased consumption and production of natural gas in the United States. The agency expects the share of utility-scale electricity generation from natural gas-fired power plants to increase from 34 percent in 2018, to 37 percent in 2019, and 38 percent in 2020, pushing coal-fired generation lower with projected shares of 25 percent in 2019 and 22 percent in 2020 from 28 percent in 2018.
During the first half of 2019, the average cost of natural gas delivered to power generators was 9 percent lower than the same period in 2018. Due to the abundance of natural gas, EIA expects the delivered cost of natural gas during the second half of 2019 to be 31 percent lower than last year. With lower natural gas delivered prices, EIA expects lower wholesale electricity prices in 2019 compared with 2018.
EIA forecasts that dry natural gas production will average 91.4 billion cubic feet per day in 2019, 8.0 billion cubic feet per day higher than in 2018, which was a record high for production. EIA expects monthly average natural gas production to grow in late 2019 and then decline slightly during the first quarter of 2020 as the lagged effect of low prices in the second half of 2019 reduces natural gas drilling. EIA forecasts that growth will resume in the second quarter of 2020, and natural gas production in 2020 will average 93.2 billion cubic feet per day.
Conclusion
The future is bright for U.S. natural gas as an abundance of resources and low-cost production keep gas prices low. Add to this the latest assessment of the Potential Gas Committee with natural gas resources increasing by 20 percent and one can see why the nation can have affordable natural gas for well over a century.