Seemingly daily, President Biden or senior members of his administration have issued calls for the Organization of Petroleum Exporting Countries (OPEC) to increase oil production to address rising gas prices. The implication of these calls is that OPEC supply limits are to blame for rising oil prices. However, the actual data contradicts this narrative. OPEC production has already returned close to pre-coronavirus pandemic levels, it is production in the United States, the world's largest oil producer, that has not recovered.
OPEC Rebounding, US Stagnant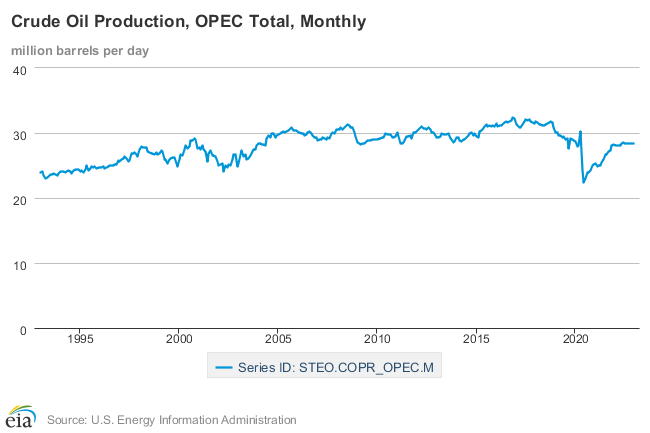 In the first three months of 2020, OPEC crude oil production averaged just over 28 million barrels per day (bpd), down somewhat from the 2019 average. In October, OPEC produced around 27.5 million bpd, with additional scheduled production increases by December that would increase production well past 28 million bpd.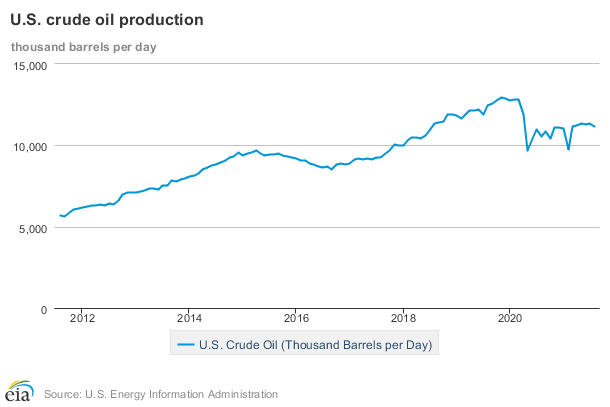 In contrast, in the first three months of 2020, US oil production averaged around 12.8 million BPD, close to record high production. For the most recent month available, US oil production in August 2021 was only 11.1 million BPD, and EIA estimates put October production at just 11.4 million BPD. EIA forecasts US production to increase to only 11.9 million BPD by 2022, which is still a million BPD below US pre-pandemic production.
It's a Policy Choice
The stagnation in US domestic production is no accident, the Biden administration has intentionally implemented policies seeking to reduce or eliminate domestic oil production. The administration instituted a moratorium on leasing on federal lands which was rejected by the courts, but continues to slow-walk permitting and approvals. The administration has limited exploration in Alaska, has announced swinging regulations on methane and water regulation, and has proposed new taxes and deduction limitations targeting the oil and gas industry. Other planned regulations from the administration are expected to impact the oil and gas industry as well.
Some of these policy choices directly suppress domestic production, others make domestic production more expensive, but the outcome for both is the same: reduced investment in domestic oil and gas production. Thus, the failure of US oil production to recover is not an accident, it is the deliberate policy choice of the current administration.
If More Oil is Needed, Produce it Here
As the CEO of Occidental Petroleum recently noted, if President Biden wants more oil to be produced to ease gas prices, he doesn't need to call OPEC, he can make a local call. The United States, still the world's largest oil producer, has plenty of reserves and production capacity. Short-term actions like releasing oil from the Strategic Petroleum Reserve won't do anything for oil prices, but more domestic oil production certainly would. If the administration wants to lower oil prices, they should get out of the way of domestic producers.