New Fortress Energy is planning to make liquefied natural gas (LNG) at a proposed facility in Wyalusing, Pennsylvania, northwest of Scranton, using natural gas from the Marcellus Shale Basin and ship the LNG by road or by rail to Gibbstown, New Jersey where it would be loaded onto ships and either exported overseas or barged to domestic customers. In its filings for a rail permit, New Fortress said it would move several 100-car trains of LNG a day to Gibbstown to fill waiting vessels, or up to 700 tractor-trailer trucks a day. New Fortress would liquefy and ship about 300 million cubic feet per day of gas.
This project would be the first time in the United States that LNG is produced away from the port it is to be exported from and transported by rail or truck to the export port. Most U.S. LNG export production facilities are near deep water ports, and the LNG is loaded directly from the LNG facility onto vessels. The project has been through extensive environmental and regulatory review processes and has received approval from multiple federal, state, and local agencies. The project will provide job opportunities and significant growth to the local tax base in Pennsylvania and on property that once hosted a DuPont dynamite factory in New Jersey.
Besides exporting LNG, the N.J. port is being designed to receive imported automobiles and serve as a potential staging area for companies to erect and service wind turbines off New Jersey's shore.
LNG is produced by super-cooling natural gas to minus-260 degrees until it turns into a liquid. It must be stored and transported in insulated tanks to remain in a liquid state.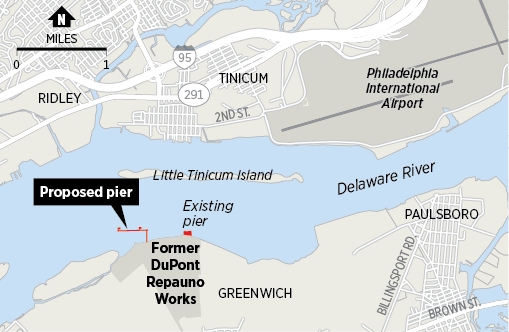 Federal Regulations
Currently, LNG moves in tanker trucks on highways, but federal regulations allow shipments by rail only with special permits. In 2019, President Donald Trump directed the Secretary of Transportation to allow for the movement of LNG by rail. Last December, the U.S. Pipeline and Hazardous Material Safety Administration (PHMSA) approved a special permit for a New Fortress affiliate, Energy Transport Solutions LLC, to haul LNG by rail from Wyalusing to Gibbstown. In June, the agency published a rule allowing for nationwide rail shipments of the material in special double-lined tank cars, known as DOT-113 tank cars. Currently, there are 405 DOT-113 tank cars in service in North America, including 67 of the type that would transport LNG.
According to PHMSA, the DOT113 railcars had a "demonstrated safety record" for over three decades to transport super-cooled, or cryogenic liquids, including ethylene. PHMSA said that from 1980 to 2017, there were only 14 accidents involving damage to DOT-113 tank cars, and no injuries or fatalities were reported as a result of the accidents. LNG transportation has a good safety record, with minimal maritime, facility, and motor carrier incidents relative to other flammable liquids. In other countries, LNG has been transported safely by rail with no incidents to date.
PHMSA's final rule calls for thicker steel in the outer tanks of the railcars and remote monitoring of the pressure and location of LNG tank cars. The rule requires railroads to employ multiple locomotives in the middle or at the end of trains that contain larger numbers of LNG tank cars, a practice known as distributed power, which enhances braking.
Conclusion
The Department of Transportation's new rule lays out key operational safeguards to provide for the safe transportation of LNG by rail to more parts of the country where this energy source is needed. With pipeline limitations in New England and the Jones Act prohibiting foreign vessels from U.S. ports, moving LNG by rail and barge may be an answer to natural gas shortages that have resulted in LNG being imported from Russia to a terminal in Massachusetts.