Democratic candidates for president in 2020 are proposing to ban oil and gas production on federal lands in contrast to President Trump, who is providing greater access to our nation's natural resources, increasing revenues, and promoting energy independence and national security. He has made it a priority to speed permitting and reduce regulation to increase the production of oil, natural gas, and coal on public lands. In fiscal year 2018, the United States approved 36 percent more oil and gas drilling permits on public lands than it did in fiscal year 2017 by using increased automation and flexible staffing, making decisions more quickly and reducing the backlog of applications.
The Department of the Interior's Bureau of Land Management (BLM) approved 3,388 drilling permits on federal lands (excluding Indian lands) in fiscal year 2018, up from 2,486 in fiscal year 2017. The average time to process an application to drill on federal and Indian lands was cut almost in half to 63 days in fiscal year 2018 from 120 days in fiscal year 2017. The 63-day approval time was also less time than in the previous 9 fiscal years and sharply less than the previous 5 fiscal years.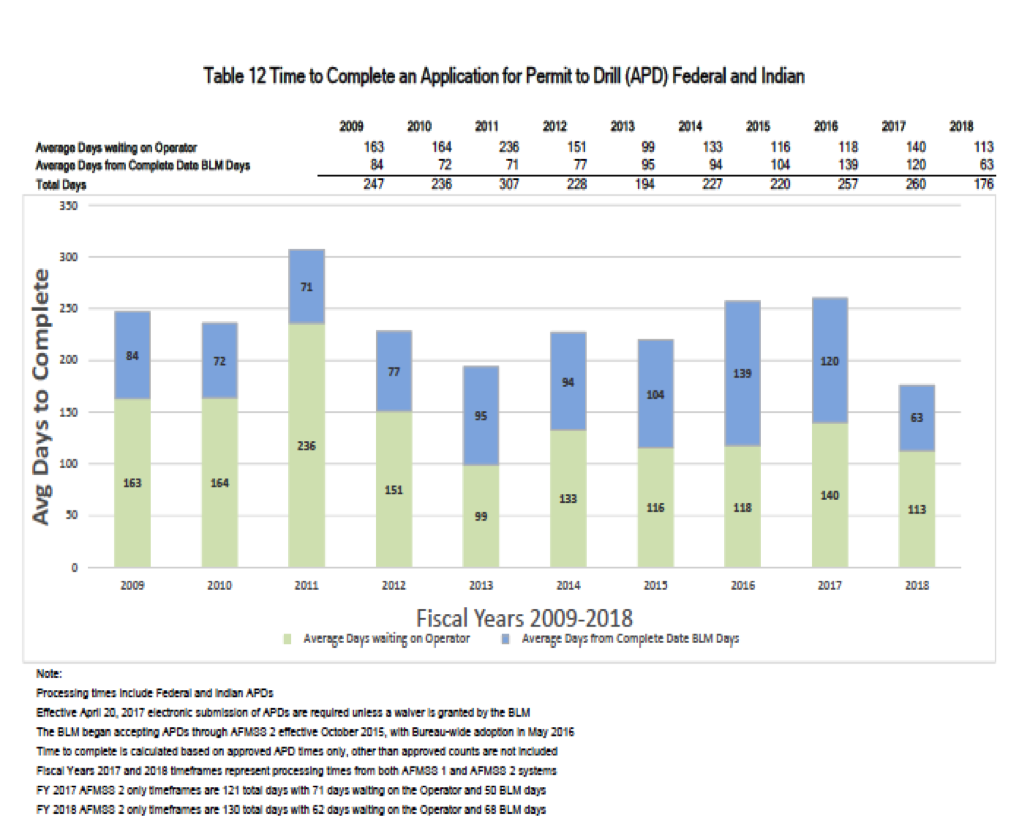 New Lease Sales
The number of new federal leases in fiscal year 2018 increased by 156 percent to 1,333 from 520 in fiscal year 2016—a low for the Obama years, but a continuation of the downward trend experienced during that Administration since fiscal year 2011.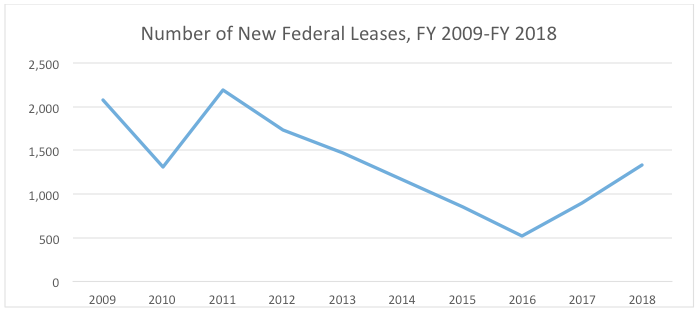 Revenues and Disbursements
Department of the Interior energy revenues soared in fiscal year 2019 to $12 billion—nearly doubling since fiscal year 2016—the end of the Obama Administration. Total revenues collected increased by 31 percent, continuing an upward trend. Energy revenues are often the second-highest generator of federal income after taxes.
The Department of the Interior's Office of Natural Resources Revenue disbursed $11.69 billion in Fiscal Year 2019 from energy production on federal and American Indian-owned lands and offshore areas, which represents a $2.76-billion increase compared to fiscal year 2018, and is nearly double the disbursements allocated at the end of the Obama Administration at $6.23 billion for fiscal year 2016.
Energy revenue disbursements are a critical source of funding to states, American Indian Tribes and individual Indian mineral owners, and to the Land and Water Conservation Fund, Reclamation Fund, Historic Preservation Fund, and the U.S. Treasury. The disbursements paid to states and tribes from energy development revenues go back to the communities where the energy was produced, providing funding for schools, public services, conservation improvements, and infrastructure projects. Indian tribes use the revenues to provide healthcare and education, to develop infrastructure, and to support other critical community development programs, such as senior centers, public safety projects, and youth initiatives.
New Lease Areas
The Trump administration opened new oil-drilling leases on federal land in California, mostly around petroleum-rich Bakersfield but also in less-obvious spots in the state. Under the plan, the Bureau of Land Management will offer new oil and gas leases across more than one million acres between Bakersfield and Santa Barbara. The leases will be the first made available on federal land in the region in five years.
President Trump signed legislation to open up Alaska's 19-million-acre Arctic National Wildlife Refuge to energy exploration. Plans to allow the lease sales were completed and approved by Congress in late 2017. Government studies in the 1990s estimated as much as 11 billion barrels of recoverable oil in the 1.5 million acres of the refuge's coastal plain—the area that could be opened to drilling.
Conclusion
Energy on federal lands produces revenues that are used for critical projects within the producing states, Indian tribal lands, and for the federal Treasury. Often, these revenues are second only to income taxes. Under the Trump Administration, the number of new leases and the revenues from leases on federal lands have grown from an extreme low during the last year of the Obama Administration to respectful levels, bringing prosperity, energy independence, and national security to the United States. Under the Trump Administration, they will continue to grow even larger as new areas are open to exploration and development.