Oil prices are rising as U.S. production remains stunted from 2019 levels, despite prices 50 percent higher.
Estimates are that the United States has foregone between 1.2 and 3.5 billion barrels of oil due to Biden's policies.
Biden has made it costlier to develop domestic oil, while reducing costs on heavily subsidized renewable energy and coddling petro-states where he has looked to for increased supplies.
Brent oil prices are holding around $90 a barrel and gasoline prices are headed back up to $4 a gallon due to President Biden's anti-oil and gas policies. One study estimates that the United States would have produced between 1.2 and 3.5 billion more barrels of oil since Biden came into office if he not reversed President Trump's pro-oil and gas drilling policies. The chart below shows high and low estimates for oil production if those policies had continued. The United States could have completely neutralized the OPEC and Russian voluntary oil output cuts of 1.3 million barrels a day now driving up oil prices. Instead, Biden policies are for net zero carbon or, in other words, net zero fossil fuels, which is an energy scheme that would impoverish America while pouring billions of dollars into the reserves of the Saudis and the Russians. Biden and the Democrats in Congress have provided at least 150 ways to hurt the productivity of the U.S. oil and gas industry with the most recent being the revoking of leases in the Arctic National Wildlife Refuge and proposing to place more prime oil and gas lands off-limits for drilling in the National Petroleum Reserve-Alaska. The value of the oil production lost due to this war on American energy and the reduced drilling ranges from $104 billion to $396 billion — so far.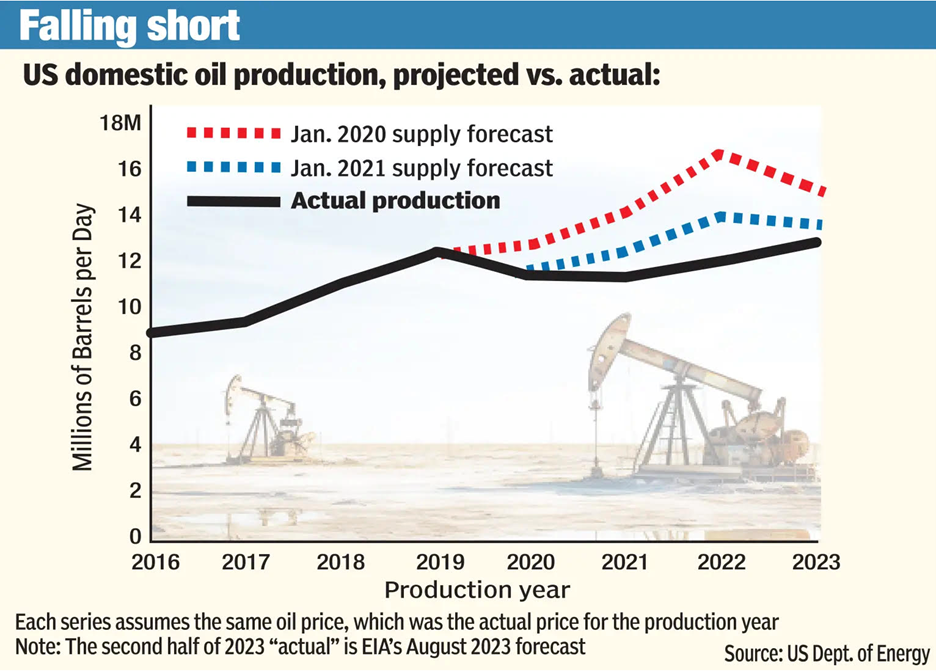 Biden's actions against the domestic oil and gas industry is also a national security issue, given the geopolitical importance of oil and gas production. Further, Biden has depleted the U.S. Strategic Petroleum Reserve (SPR) of 260 million barrels of oil, placing it at a 40 year low. This is an emergency reserve that other Presidents have used for actual emergencies, not for political purposes as Biden did to lower gasoline prices before the mid-term election last year. His Energy Department has yet to refill the oil it sold, citing prices too high or oil bids of the wrong quality. The SPR oil purchases this year do not even cover the additional sale of oil from the SPR that was mandated by Congress for fiscal year 2023.  And he has made it harder to fill because he has leased fewer federal acres for oil and gas than any president since WWII.
President Biden has already removed 11 million acres of rich oil resources from the Gulf of Mexico and has essentially killed new oil and gas pipelines as permits are being held hostage. Permitting reform is clearly needed as evidenced by the data. The Energy Information Administration (EIA) reported that interstate natural gas pipeline capacity additions reached a record low in 2022 based on data collected over 27 years. In 2022, 897 million cubic feet per day of interstate natural gas pipeline capacity was added from five projects, with only one project adding a relatively small amount of new pipe. The 2022 gas pipeline capacity additions were just 3 percent of the record amount added (28,040 million cubic feet per day) in 2017. Regulatory hurdles are clearly stymying growth in pipeline capacity and thus to natural gas production, which points to much-needed permitting reform for interstate pipelines and other energy infrastructure.
The Mountain Valley pipeline is a good example of why permitting reform is needed. The Mountain Valley Pipeline is a 303-mile pipeline from northern West Virginia, through Southwest Virginia, and connecting with an existing pipeline near the North Carolina line. It was originally set for completion in 2018 and is now 94 percent complete. Permitting delays and court action have increased the pipeline's cost from the original estimate of $3.5 billion to $6.6 billion—costs that will be factored in consumer bills. If all goes well in court and with obtaining remaining permits, Equitrans Midstream Corp., the lead partner in the project, hopes to have the remaining work done in time for the pipeline to begin transporting natural gas by the end of this year. West Virginia needs new outlets for its growing natural gas business and this pipeline would assist in that goal. Mountain Valley pipeline alone would add more than double the capacity of total U.S. interstate pipeline additions last year.
Biden has also proposed new regulations that would effectively ban the sale of new gas cars. His Environmental Protection Agency has proposed tailpipe emission standards that would result in forced sales of electric vehicles, reaching two-thirds of the market in 2032. His Department of Transportation has proposed Corporate Average Fuel Efficiency Standards that amount to the same result, effectively removing fuel choice from American car purchases. Further, to achieve those levels of sales, auto makers are already cutting back on sales of gas-powered vehicles as the standard requires increasing efficiency improvements over time. The results are stunning. Ford reported it is losing nearly $60,000 per electric vehicle it sells.
Biden has also proposed removing oil and gas tax deductions and raising royalty rates and fees on the oil and gas industry — even as he is spending over $300 billion in tax money for his green energy transition, which some believe is over 3 times that amount–well over $1 trillion. He keeps hiking additional costs on oil and gas production and reducing them on his preferred renewable energy sources, on top of the enormous subsidies they already have.
The White House and the media claim that under Biden the United States is now producing more energy than ever. But the 12.3 million barrels a day of current oil production is still below the 13 million barrels per day produced in November 2019 when the price was roughly $60 a barrel, not $90 a barrel. Biden's path to "net zero" emissions means a complete cessation of all oil and gas drilling, which he is doing all he can to achieve, while keeping gasoline prices below $4 a gallon. But, the tools may have run out. He is now conspiring with Iran and Venezuela to put more oil on the global market despite sanctions on both countries. He has even released $6 billion in frozen funds to Iran as part of his prisoner swap negotiations.
Biden is re-engineering the entire energy system in the United States under color of climate, and though the results are barely in, it is failing on many fronts.  American consumers, their national security and quality of life may very well be the victims of his relentless attacks on affordable and reliable American energy.