In February, Ford announced plans to build a $3.5 billion factory in Michigan producing electric vehicle batteries with technology licensed from Chinese manufacturer Contemporary Amperex Technology Co. Ltd. (CATL). Ford's reliance on CATL shows the difficulty of decoupling EV supply chains from China. Ford wants to capitalize on incentives for domestic battery manufacturing in the Inflation Reduction Act (IRA), despite its partner having close ties to the Chinese government. Ford insists that IRA benefits would not accrue to CATL, but some in Washington dispute that. However, the goal of IRA was to reduce dependency on China and this partnership does the opposite.
______
Fast Facts
Ford is coordinating with Chinese battery maker CATL to build an EV battery factory in Michigan that will manufacture lithium ferrous phosphate (LFP) batteries.
Congressional lawmakers are concerned that the Ford-CATL linkage will strengthen China's control over EV batteries, in which they dominate the world.
Ford insists that CATL will not receive incentives from the Inflation Reduction Act, which now are expected to exceed $1 trillion, but there is growing concern that many of those benefits may go to China.
______
The U.S. Congress is finding it imperative to decouple U.S. car manufacturing from China for the nation's economic well-being and national security. As such, Ford's CATL alliance has become a hot political topic. Senator Marco Rubio introduced legislation in March to block tax credits for batteries produced using Chinese technology. He called for an immediate review of the Ford deal by the Treasury Department's Committee on Foreign Investment in the United States.
Ford/CATL Relationship
In the Ford-CATL partnership, Ford will control a 100 -percent ownership stake in the plant and license the lithium ferrous phosphate (LFP) battery technology from CATL, which could make Ford eligible to receive benefits from the Biden administration's Inflation Reduction Act (IRA). IRA provides U.S. automakers with federal subsidies in exchange for domestic production of EV batteries. The subsidies are so lucrative, they are believed to cost the U.S. taxpayer $1.2 trillion—3 times higher than initially expected. Ford's battery plant is expected to create 2,500 jobs and open in 2026.
China's Role in EV Batteries
Chinese companies currently dominate the battery technologies that U.S. automakers need. LFP batteries, which are the focus of the Ford-CATL partnership, are cheaper and easier to produce than nickel cobalt aluminum (NCA) and nickel manganese cobalt (NMC) batteries and are projected to gain a majority market share in coming years.  Chinese battery makers command over 60 percent of the world's overall EV battery market and lead in the development of LFP. Along with Ford, six other companies have committed $14.3 billion in future LFP manufacturing facilities in the United States with others, including Tesla and Rivian, reportedly considering similar investments.
In addition to its dominance of LFP technology, China dominates other components of the EV supply chain. China holds substantial leads in material processing and refining, cell component and battery manufacturing, and EV production, despite not controlling most of the world's reserves for mining critical minerals. That means that countries that do hold critical mineral reserves have to send their ores to China for processing, including the U.S.'s only rare earth mineral mine, Mountain Pass in California. China plans to continue its lead on the EV supply chain. For example, China's share of the world's announced manufacturing capacity expansion plans of anode and cathode materials to 2030, is 98 percent and 93 percent, respectively.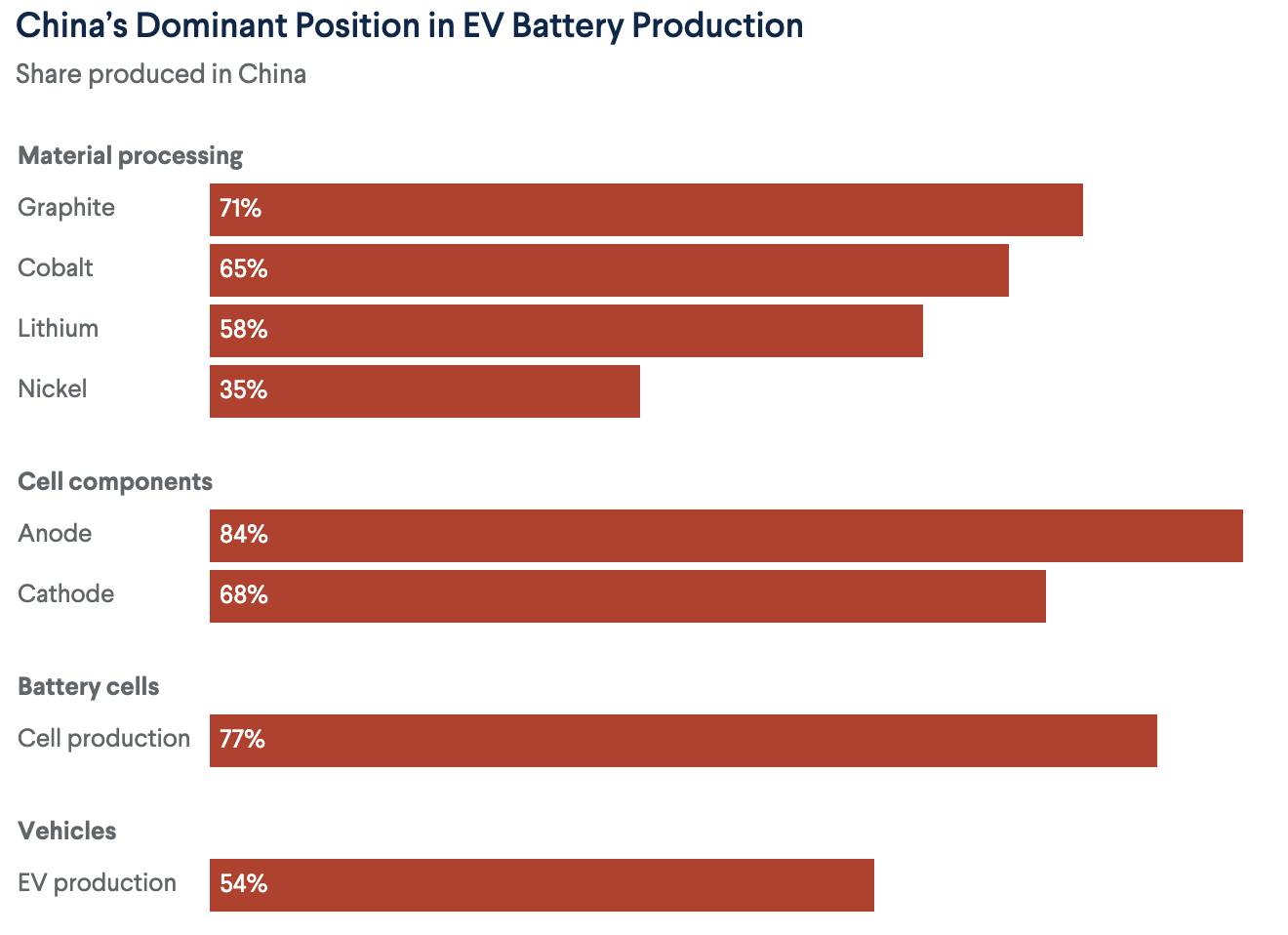 China's EV Market
China's EV market is larger and has grown at a faster pace than in other countries. In 2022, over 6.8 million alternative energy vehicles were sold in China compared to about 800,000 sold in the United States—8.5 times more. Beginning in 2009, China enacted a large number of government policies, including subsidies, tax breaks, and procurement contracts, that enabled Chinese automakers to quickly mature, refine their EV-related technologies, and increase their manufacturing scale. From 2009 to 2022, China spent over 200 billion RMB ($29 billion) on relevant EV subsidies and tax breaks. Those policies had their indented effect with the more than 6.8 million electric vehicles sold in China in 2022, accounting for over half of global EV sales.  China has also provided similar benefits to foreign EV manufacturers such as Tesla, which intensified competition and spurred increased innovation among domestic brands.
China's EV industry arose as a way for it to reduce its oil consumption since it is much more dependent upon foreign oil than the United States, which reached energy independence in 2019. China is able to use its coal resources and inexpensive coal-generating plants to process the minerals needed for electric vehicles and their batteries and to manufacture them.
Issues Identified By Congressional Legislators
Congressional legislators of both parties met with U.S. auto manufacturers to discuss issues regarding a domestic EV industry and linkages with China. One issue discussed deals with regulations governing the testing of autonomous vehicles, including caps on the number of exempt testing vehicles per manufacturer. Chinese companies are testing alternative vehicles in the United States, but China does not allow U.S. companies to test vehicles in China. Other issues deal with permitting reform for critical minerals needed for electric-vehicle batteries, supporting growth in the domestic manufacturing workforce, and the need for greater predictability from the Federal government on the U.S.-China relationship.
Conclusion
Ford's arrangement with CATL appears to be a loophole in the IRA rules regarding battery components manufactured or assembled by a "foreign entity of concern." The Biden Administration's loose interpretation of the IRA rules opens the door for companies tied to China to profit off American taxpayers. "Green" energy incentives in the IRA are projected to cost upwards of $1 trillion, at least three times the original projection. Independent analysis shows that IRA subsidies will flow to foreign countries and major corporations instead of moving America's supply chain out of China's control. The United States should do more to support American businesses in the EV sector if it continues its drive for electrification of transportation. It should also innovate to reduce its dependence on Chinese supply, including removing loopholes in the IRA that the Biden administration is allowing that support autocratic countries such as China. Otherwise, the United States may end up with China in control of its transportation system.