In 2022, fossil fuels accounted for 82 percent of global energy consumption, up 1 percent from 2021, as record renewable energy growth did not shift the dominance of fossil fuels, according to the UK-based Energy Institute, who, with consultancies KPMG and Kearney, put together what was BP's statistical review of world energy since the 1950s. Renewable capacity increased by a record 266 gigawatts led by solar, greenhouse gas emissions increased by 0.8 percent reaching a new high of 39.3 billion metric tons of carbon dioxide equivalent, coal made up 35.4 percent of power generation, and renewables, including hydroelectric, accounted for about 7.5 percent of global energy consumption and 12 percent of global power generation, taking away from nuclear, which fell 4.4 percent, despite not emitting greenhouse gases.
Oil Production and Demand
Global oil consumption increased in 2022, rising by 2.9 million barrels per day to 97.3 million barrels per day, a smaller increase than was seen between 2020 and 2021, but remained 0.7 percent below 2019 pre-COVID levels. Most of the growth in oil consumption came from jet fuel and kerosene, which grew by 0.9 million barrels per day, and diesel, which grew by 0.7 million barrels per day. Diesel and gasoline made up over half of total global oil demand. Demand for gasoline in 2022 was similar to pre-pandemic levels, while demand for naphtha, diesel, fuel oil and other oil products were above their pre-pandemic levels. Although aviation-related oil demand exhibited the strongest pre-pandemic recovery relative to 2021, it remained more than 1.7 million barrels per day below 2019 levels. Regionally, OECD and non-OECD consumption increased by roughly same amount–1.4 million barrels per day for OECD consumption and 1.5 million barrels per day for non-OECD consumption, as China was in its zero COVID status, dampening its demand.
Global oil production increased by 3.8 million barrels per day in 2022, with OPEC+ accounting for more than 60 percent of the increase. Among all countries, Saudi Arabia (1,182,000 barrels per day) and the United States (1,091,000 barrels per day), saw the largest oil production increases. Nigeria reported the largest decline in production (184,000 barrels per day) with production in Libya declining by 181,000 barrels per day.
Refining capacity increased slightly by around 534,000 barrels per day in 2022 driven by an increase in capacity in non-OECD countries.
Oil prices rose by about 40 percent, with Brent oil ending the year averaging around $101 per barrel in 2022, its highest level since 2013.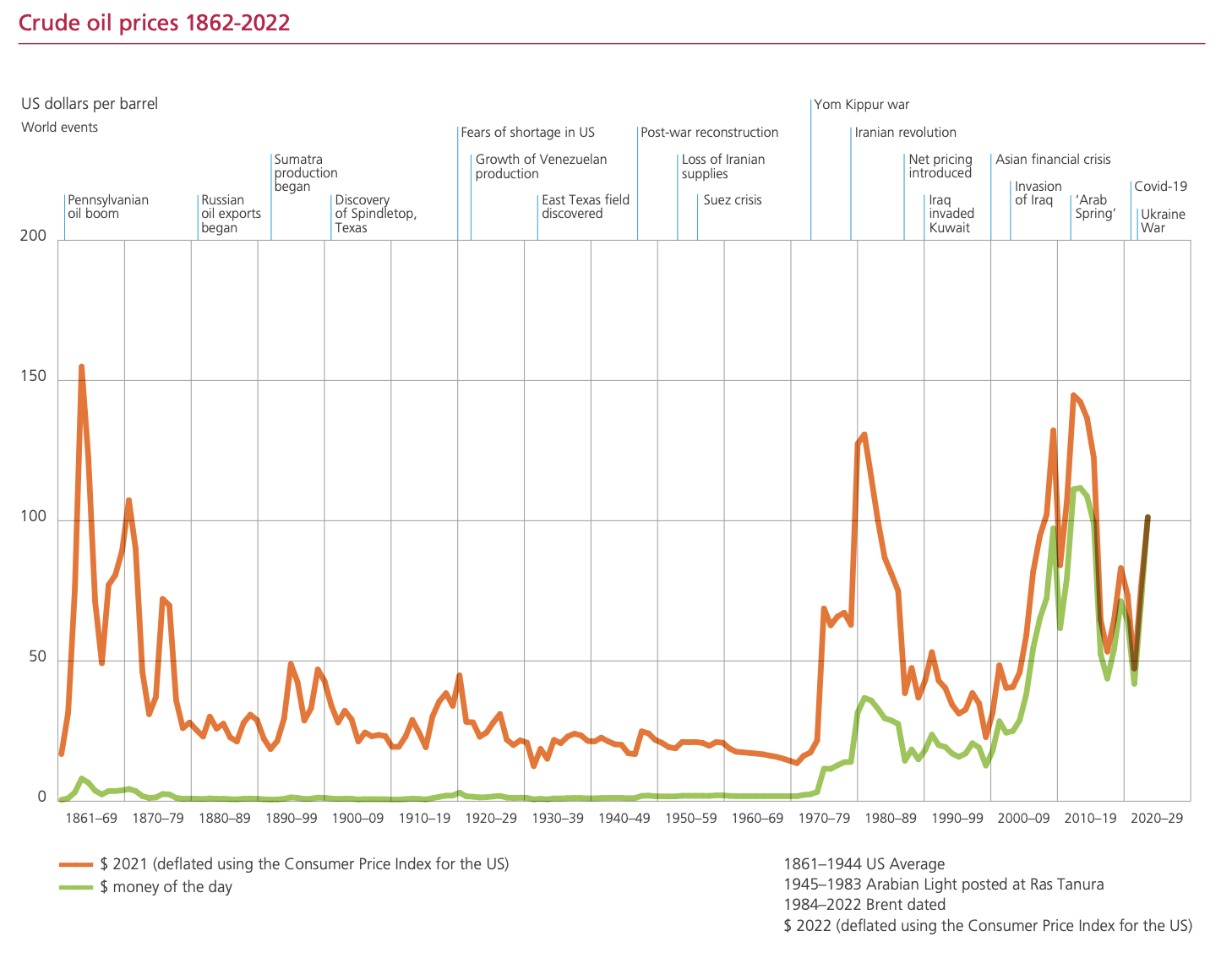 Natural Gas
Global natural gas demand declined by 3 percent in 2022 dropping just below the 4 trillion cubic meter mark achieved in 2021. Its share of primary energy consumption decreased slightly to 24 percent from 25 percent in 2021. Global natural gas production remained relatively constant compared to 2021.
LNG supply grew 5 percent (by 26 billion cubic meters) to 542 billion cubic meters in 2022, similar to 2021. LNG supply increases came mostly from North America (10 billion cubic meters). The increase in global LNG demand was triggered by Europe (62 billion cubic meters) in 2022. Countries in the Asia Pacific region reduced their LNG imports by 24 billion cubic meters and those in South & Central America by 11 billion cubic meters. Japan replaced China as the world's largest LNG importer and accounted for close to 60 percent of global LNG demand growth in 2022. The Asia Pacific region accounted for around 65 percent of global LNG demand but fell 6.5 percent compared to 2021. Europe increased its LNG imports by 57 percent as it attempted to wean itself from Russian natural gas in the wake of its invasion of Ukraine.
Overall natural gas pipeline net trade fell by about 15 percent globally in 2022 (78 billion cubic meters). European pipeline imports fell by 35 percent (82 billion cubic meters), almost entirely from Russia. Russian total pipeline exports fell 38 percent. The Middle East increased its pipeline exports by 12 percent. China increased its pipeline imports by 5 billion cubic meters.
Natural gas prices reached record levels in Europe and Asia in 2022, increasing nearly threefold in Europe to around $37 per million Btu and doubling in the Asian LNG spot market. U.S. Henry Hub prices rose over 50 percent to average $6.5 per million Btu in 2022 – their highest annual level since 2008.
Coal
Global coal consumption increased in 2022, rising 0.6 percent on 2021–the highest level of coal consumption since 2014. China and India both increased their coal demand—China by 1 percent and India by 4 percent while coal consumption in both North America and Europe declined by 6.8 percent and 3.1 percent, respectively. In 2022, OECD consumption was around 10 percent less than its 2019 pre-COVID level and non-OECD coal consumption over 6 percent higher.
Global coal production increased by over 7 percent compared to 2021, reaching a record high. China, India, and Indonesia accounted for over 95 percent of the increase in global production.
Coal prices also saw an increase with Northwest Europe marker price increasing by 142 percent to $294 per metric ton.
Renewables
Global renewable power (excluding hydro) increased 14 percent in 2022, which was slightly below the previous year's growth rate of 16 percent. Solar and wind capacity continued to grow globally in 2022 recording a record increase of 266 gigawatts. Solar accounted for 72 percent (192 gigawatts) of the capacity additions, while global wind capacity doubled since 2016. The largest portion of solar and wind growth was in China accounting for about 37 percent and 41 percent of global capacity additions, respectively. Hydroelectric generation increased by 1.1 percent in 2022.
Electricity
Global electricity generation increased by 2.3 percent in 2022, which was lower than the previous year's growth rate of 6.2 percent. Wind and solar reached a record high of 12 percent share of power generation with solar recording 25 percent and wind power 13.5 percent of the growth in output. The combined generation from wind and solar (14 percent) in 2022 surpassed that of nuclear energy (9 percent), which fell by 4.4 percent. Coal remained the dominant fuel for global power generation in 2022, with a share of 35.4 percent, marginally down from 35.8 percent in 2021. Natural gas-fired power generation remained stable in 2022 with a share close to its 10-year average of 23 percent. Renewables (excluding hydro) met 84 percent of net electricity demand growth in 2022.
Global Carbon Emissions
Carbon dioxide emissions from energy use, industrial processes, flaring and methane (in carbon dioxide equivalent terms) continued to increase to a new high growing 0.8 percent in 2022, with emissions from energy use rising 0.9 percent.  Carbon emissions from energy consumption contributed 87 percent of total global carbon emissions. Carbon dioxide emissions from flaring decreased by 3.8 percent and emissions from methane and industrial processes decreased by 0.2 percent.
Asia has some of the world's largest greenhouse gas emitters, beginning with China, which accounted in 2022 for 31 percent of the world's total carbon dioxide emissions. In 2022, the U.S. share was 14 percent, Europe's was 11 percent and India's was 8 percent.
Conclusion
Climate advocates and countries pushing net zero programs are not making much progress as global demand for fossil fuels remains strong representing 82 percent of global supply. While intermittent renewable energy is growing and widening its share of the electricity market, it is pushing out nuclear power, which does not emit greenhouse gases, while coal and natural gas continue to represent almost 60 percent of the global electricity market.
While Western countries are pushing wind and solar power, Saudi Aramco CEO Amin Nasser warns against all transition eggs being in the new energy basket. Countries interested in growth appear to be using more energy of all kinds. Numerous nations have been ramping up their capabilities to import LNG to replace coal as Malaysia Prime Minister Anwar Ibrahim indicates that net-zero emissions targets should not come "at the expense of economic growth or vice versa."