President Biden is encouraging U.S. investment in rare earth minerals in Vietnam to counter China's world domination of the minerals.
Vietnam has the 2nd largest known reserves after China.
Vietnam plans on reopening a mine closed when China manipulated prices to squeeze out potential competitors.
Vietnam plans to restart its biggest rare-earths mine next year that could rival the world's largest mines as part of a push to reduce China's dominance of these minerals, which are needed for advanced technologies in the transition to net zero carbon dioxide emissions. The move includes developing the capacity to refine ores into metals that are used in magnets for electric vehicles, smartphones and wind turbines. Recently, President Biden visited Vietnam and signed an agreement to increase Vietnam's ability to obtain investors for mining its rare-earth reserves. The United States agreed during Biden's visit to help Vietnam better map its rare-earth resources and "attract quality investment", according to a White House fact sheet, which could encourage U.S. investors to bid for Vietnam's mining endeavors.
Vietnam intends to launch tenders for multiple blocks of the Dong Pao mine before the year's end. The proposed restart of Dong Pao comes as countries worry about their vulnerability to supply disruptions from China, who dominates the supply of strategic minerals and has had disputes with the United States and its allies. Earlier this year, China imposed export curbs on minor metals used in semiconductors, which a Chinese policy adviser warned was "just a start".
Vietnam has the second-largest rare-earth deposits, second to China, but they have remained largely untapped, with investment discouraged by low prices that are set by China due to its dominance of the global market. Dong Pao's estimated deposits may change if reassessed using modern methods. According to investors, the strategy could make Vietnam a viable player while easing strategic worries, even if China remains the dominant player. The mineralized area is adjacent to China.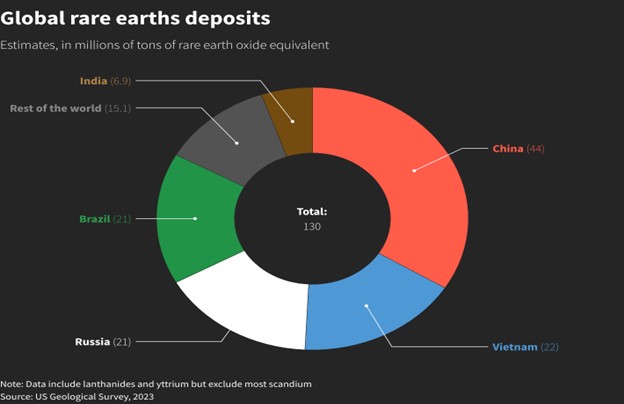 The Dong Pao mine has been dormant for at least seven years, and its reopening would push Vietnam into the top league of rare-earths producers. Refining rare earths is complex, with China controlling many processing technologies. Rare earths at Dong Pao, however, are relatively easy to access and are mostly concentrated in bastnaesite ores, which are typically rich in cerium, used in flat screens, and lanthanides, such as praseodymium and neodymium, which go into magnets.
Australia's Blackstone Minerals Ltd plans to bid for at least one concession, whose investment in the project would be worth around $100 million if it wins. The company is talking to potential clients, including electric car makers VinFast and Rivian about possible contracts with set prices that would shield suppliers from fluctuations and guarantee buyers a secure supply chain. Sealing such deals would address an obstacle faced by previous developers in Vietnam. Some Japanese investors had to abandon projects at Dong Pao after China ramped up supply, making prices plummet. Despite the focus on derisking, it is unclear whether clients would pay a premium for Vietnam since the market in general is opaque.
Vietnam Rare Earth JSC (VTRE), the country's main refiner and Blackstone's partner in the project, hopes to win a concession that would allow it to extract about 10,000 metric tons of rare-earth oxide (REO) equivalent a year, roughly one-third of the mine's expected annual output. Production could start around the end of 2024, putting Dong Pao's output slightly below that of California's Mountain Pass, one of the world's largest mines, which produced 43,000 metric tons of REO equivalent in 2022.
Vietnam also plans to develop additional mines. In July, Hanoi set a target to produce up to 60,000 tons of REO equivalent a year by 2030. China set a domestic quota of 210,000 tons last year. Vietnam's goal would have it produce 5 percent to 15 percent of China's projected output by the decade's end.
Recent U.S. attempts to gain a foothold in the Vietnamese industry did not succeed as a plan involving VTRE collapsed this year. That plan would have involved the shipment to the United States of rare earths refined by VTRE and possible future investment in Vietnam of $200 million. Instead, in April, VTRE announced a deal to supply 100 metric tons of rare-earth oxides this year to Australian Strategic Materials. Blackstone, which is a partner in that deal, operates a nickel mine in Vietnam and has determined that its processing facility in the country could handle ore from Dong Pao.
Ultimately, VTRE plans to play a role in the whole rare-earth industry from ore extraction to the final products, according to shareholders, which is not an easy feat due to China's dominance depicted below. The United States currently exports its rare-earth ores to China for processing, lacking its own facilities. Processing of the minerals is key, and environmentalists who advocate for renewables have been opposed to refineries or smelters being built in the United States.  China has filled the vacuum created by them and their political allies.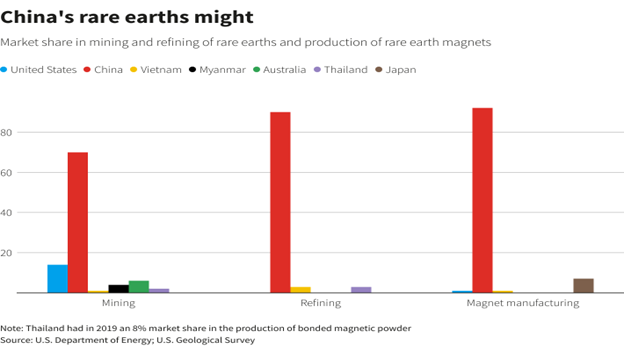 An existing VTRE factory in northern Vietnam specializes in separating rare-earth oxides from the extracted ore. The plant has capacity to process 5,000 tons of REO a year but the company plans to triple that to accommodate input from Dong Pao. Once separated, oxides are turned into metals for use in magnets and other industrial applications. The metallization process is controlled by China, which produces 90 percent of rare-earth metals.
VTRE is running a pilot project to build a metallization factory with South Korea's Setopia. The initial combined investment would be around $4 million, mostly from Setopia, with a plant possibly ready next year. In the downstream industry, South Korean and Chinese magnet firms are set to open factories in Vietnam.
Conclusion
With the right investors, Vietnam has the resources, the mining and processing expertise to provide alternatives to China's dominance of rare earth minerals. Vietnam's rare earth minerals rank second in abundance to China's deposits. Vietnam, however, needs investors in order to reduce China's dominance of the global market and President Biden's recent visit to Vietnam was to spur interest. Biden is looking to produce minerals anywhere but the United States as he has revoked leases, delayed permits and removed lands from consideration in the United States.