Just before the Memorial Day holiday, President Biden released more info on his budget. The Biden budget proposal released May 28 eliminates specific tax provisions that are targeted to the fossil fuel industry and projects that eliminating them will generate $35 billion over the next decade. However, eliminating those tax provisions will result in adverse effects to the American public by reducing investment in U.S. oil and gas development, making the United States more dependent on oil imports, and promoting sales of oil from OPEC and Russia. Also, helping to advance the revenues of hostile regimes are recent court cases in the European Union and the United states against big oil companies in which Shell, Exxon, and Chevron are being told to take a more active role in reducing greenhouse gas emissions. These decisions are being made despite the world still being dependent on fossil fuels for 84 percent of their energy needs and large investments in renewable energy resulting in just a 5 percent market share for those fuels.
Russia is using Biden's policies to promote energy development and infrastructure enhancements for Russian fossil fuel exports. With Biden reducing sanctions on Russia, the country is completing its construction of Nord Stream 2, which will supply Russian natural gas to Germany and other European countries. Russia is also constructing a massive project in the Arctic that will produce 25 million tons of oil annually by 2024 and 115 million tons by 2030 and is spending more than $10 billion on railroad upgrades that will enable it to increase its exports of coal to Asia.
Biden's Proposed Tax Changes
Among the tax provisions Biden wants to cut are provisions for enhanced oil recovery and "intangible" costs like wages, repairs, supplies and other expenses that promote oil and gas drilling, and elimination of deductions on well revenues. These tax provisions are mainly targeted to small independent oil and gas producers, not to the big oil companies. The idea of eliminating these tax provisions is to discourage oil and gas development in the United States by making it more expensive, which will result in the need for more imports from OPEC and elsewhere.
Under former President Trump, the United States could claim energy independence, but the Biden budget and his other policies against the oil industry will likely reverse that development. The Biden budget, if passed, will result in increased taxes on fossil fuels, which will hurt economic recovery and job creation, push natural gas and oil investments overseas and result in less government revenue.  This supports his promise in 2019 to "end fossil fuel."
Russia's Energy Resources Will Benefit
The United States became the largest oil and gas producer in the world before the coronavirus pandemic reduced the demand for these fuels. But Biden's policies will change that ranking and Russia will be gaining mightily. According to Statista, Gazprom's Nord Stream 2 will add $3.3 billion to Russia's annual GDP. Not only will Russia be bypassing Ukraine when the Nord Stream 2 natural gas pipeline is completed, obtaining revenues from western European countries, but it will be increasing its power over oil and coal exports as well.  Increased revenues from Nord Stream 2 will also help other Russian investments in energy development.
Russia dropped off around 20,000 tons of construction materials to begin building what will be the Arctic's biggest oil terminal off the coast of the Taymyr Peninsula in Siberia. The project is called Vostok Oil and is owned by Rosneft, which is controlled by the Russian government but has a number of private investors. Rosneft also began drilling in a new license area this month as part of the project. The company expects to export 25 million tons of oil a year by 2024, 50 million tons by 2027, and 115 million tons by 2030, and will make 15 entirely new towns for the 400,000 workers needed for the project.
According to Rosneft, oil that will be produced from the Vostok project will be "environmentally friendly," supposedly having "a very small hydrocarbon footprint" due to "environmentally friendly" drilling fluids that the company is developing, and powering the oil extraction with wind turbines.
Russia also has a project to modernize and expand railroads that run to Russia's Far Eastern ports to enable fossil fuel exports. The Russian government is betting that coal consumption will continue to increase in Asian markets like China. The government is investing more than $10 billion on railroad upgrades and it will use prisoners to help speed the work.
The 720 billion ruble ($9.8 billion) project to expand Russia's two longest railroads — the Tsarist-era Trans-Siberian and Soviet Baikal-Amur Mainline that link western Russia with the Pacific Ocean— will increase cargo capacity for coal and other goods to 182 million tons a year by 2024—up from 144 million tons under a 520 billion ruble modernization plan that began in 2013.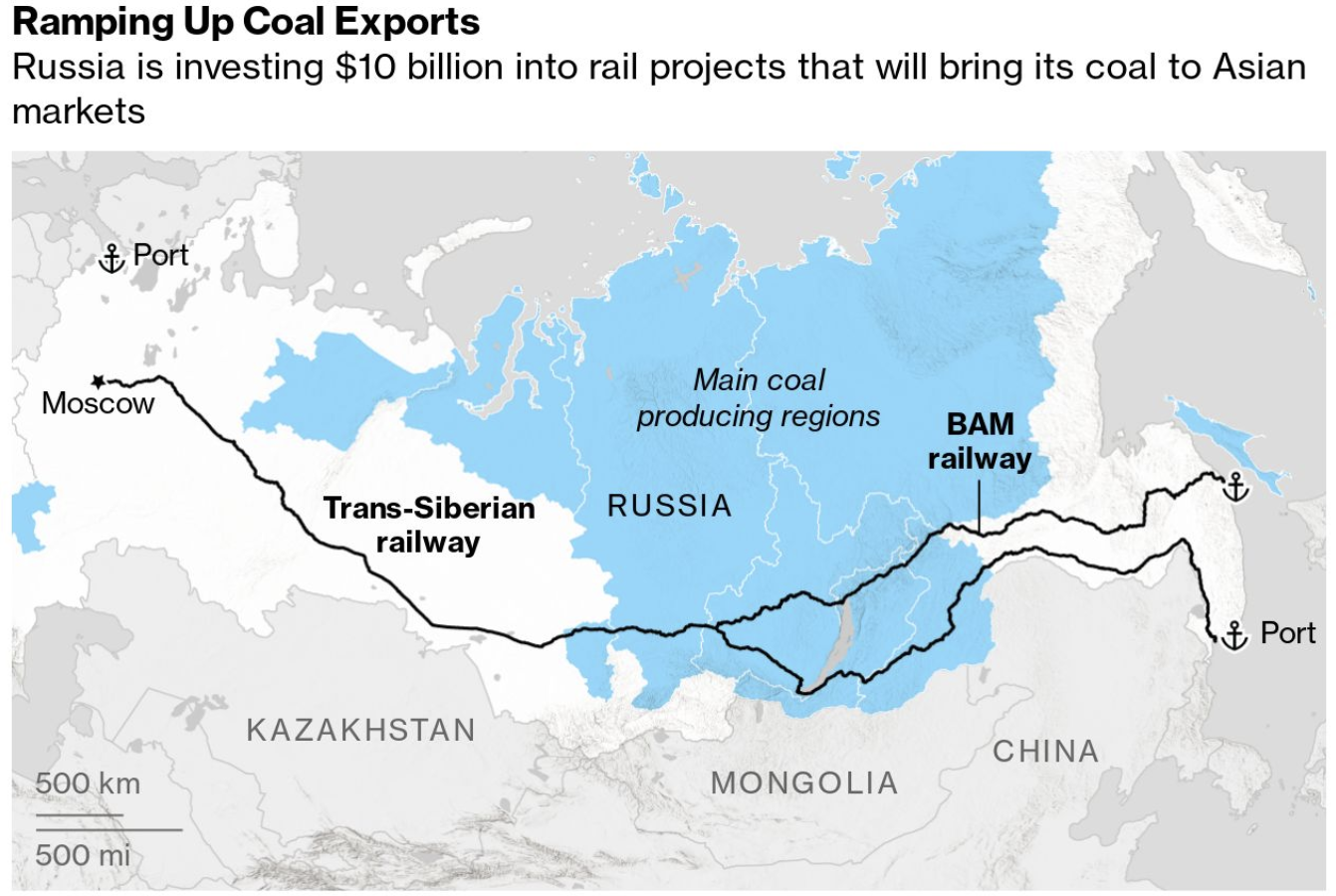 A coal strategy approved by the Russian government last year expects a 10 percent increase in coal production from pre-pandemic levels by 2035 under the most conservative scenario, based on increasing demand from China, India, Japan, Korea, Vietnam and maybe Indonesia despite the latter country indicating it will not build new coal plants. Because Russia's coal has a relatively low sulfur content, it has an edge over other coals in Korea, which has tightened pollution laws in recent years.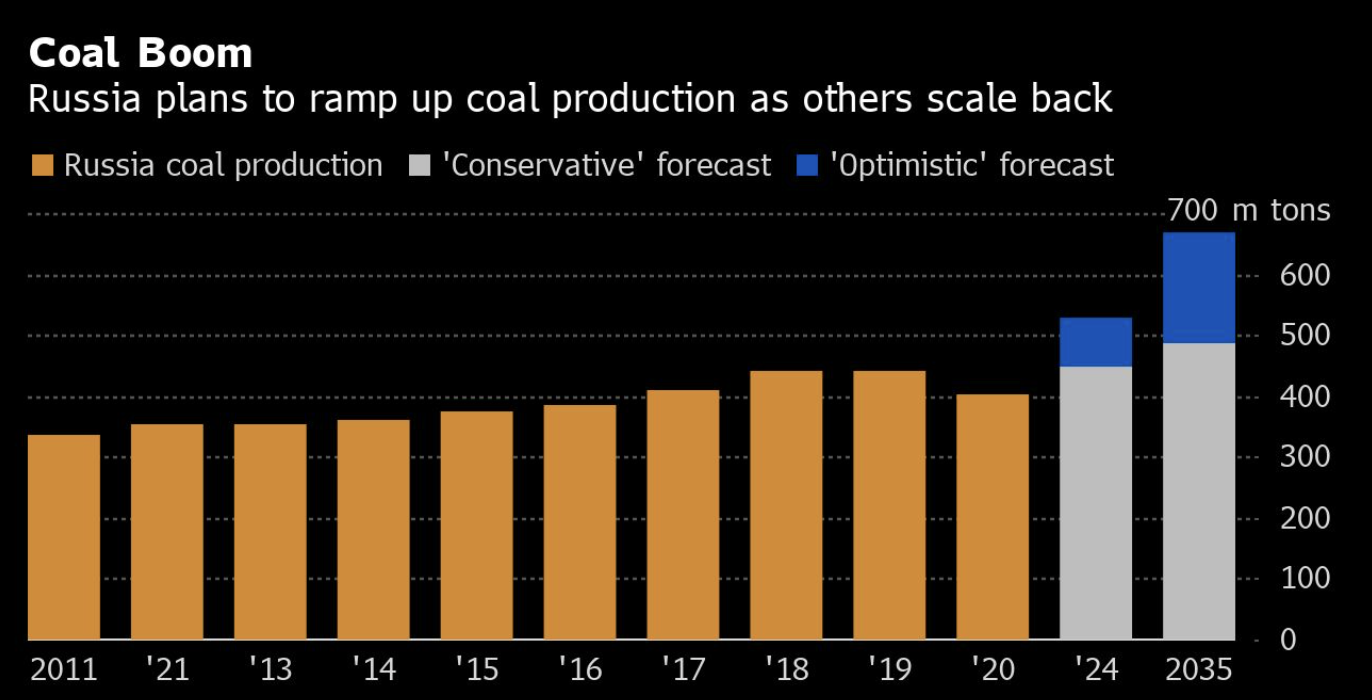 The Russian coal industry drives the local economies of several Russian regions that are home to about 11 million people. The country's biggest coal producers are privately run, and are not facing the kind of financing problems being encountered by companies that need financing from banks. Suek Plc, owned by billionaire Andrey Melnichenko, and Kuzbassrazrezugol OJSC, controlled by Iskander Makhmudov, are both planning to increase production.
Russia also plans to increase coal production for steel making because it believes demand for metallurgical coal in Asia Pacific will remain high over the next five years. A-Property, owned by Russian businessman Albert Avdolyan, bought the Elga coal mine in Russia's Far Eastern region of Yakutia last year and plans to invest 130 billion rubles to expand output to 45 million tons of coal by 2023–up from the current 5 million tons. A third stage of Russia's railroad expansion project will focus on increasing infrastructure for shipping coal out of Yakutia.
Conclusion
Western Europe and the United States are adhering to their commitments to the Paris climate accord by shuttering coal plants and limiting oil and gas development, but other countries are not following those same commitments. And, OPEC and Russia are expected to gain revenues from energy exports of fossil fuels to those countries. The revenue gains will come from Russian natural gas exports to Germany via the Nord Stream 2 pipeline, oil exports to multiple areas from both OPEC and Russia, and Russian coal exports to Asia.
Biden's budget and the environmental court cases against big oil companies will likely result in the United States losing its ranking as the world's largest oil and gas producer and enable Russia and OPEC to garner huge revenues and the economic benefits which the United States has recently enjoyed. Now that Biden has signaled that the United States has abandoned the energy dominance objective, expect other countries to fill the vacuum.