A 1,800-mile, $55 billion pipeline is delivering Russian natural gas to China. The project is a feat of energy infrastructure and political engineering. The pipeline deal was signed in May 2014 by President Putin of Russia and President Xi of China, for a 30-year, $400 billion gas supply. Under the agreement, Russia will supply about 1.4 trillion cubic feet of natural gas a year to China—about equal to the annual gas consumption of the state of Pennsylvania. The agreement benefits both Russia, which has the world's largest proven natural gas reserves, and China, which needs the gas to continue to grow its economy with less pollution than coal. Russia has 20 percent of the world's natural gas reserves and produces 17.3 percent of the world's natural gas.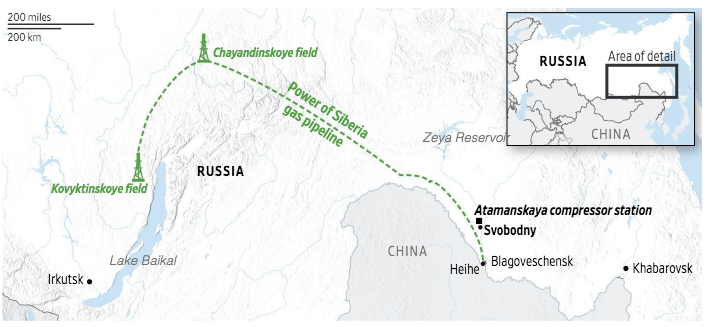 The Power of Siberia Pipeline
The Power of Siberia project, built and operated in Russia by state-owned Gazprom, connects Siberian gas fields with China's northern industrial hubs, running through very poor terrain—swamps, mountains and permafrost, in temperatures as low as minus 80 degrees Fahrenheit. The construction of the pipeline involved 130,000 pipes and 10,000 workers. The pipeline has a diameter of 4 feet 9 inches and runs almost 1,865 miles from gas fields in Irkutsk and Yakutsk in Siberia to the Chinese border.  In China, the pipeline will run 3,175 miles from Heilongjiang province in the northeast to Shanghai, for a total length of about 5,000 miles.
The natural gas is pressurized at the Atamanskaya compressor station, 90 miles from China. The project will begin exporting about 5 billion cubic meters of natural gas next year and gradually ramp up to 38 billion cubic meters by 2025, which is equivalent to Brazil's annual gas consumption.
Beijing has invested billions of dollars in Moscow's big gas projects in the Arctic to the north of the Power of Siberia pipeline. China's biggest ocean carrier, Cosco Shipping Holdings Co. entered a joint venture with its Russian state-owned counterpart, PAO Sovcomflot, to operate a fleet of ice-breaking gas tankers to move natural gas from Siberia to Western and Asian markets.
China's Natural Gas Demand and Imports
China's natural gas demand is expected to reach 307 billion cubic meters this year, an increase of 10 percent from 2018, but slower than the annual growth in 2018 of almost 18 percent. China produced 162 billion cubic meters of natural gas last year and imported 121.3 billion cubic meters, of which 74.3 billion cubic meters was liquefied natural gas. China is currently the world's second-largest importer of liquefied natural gas after Japan.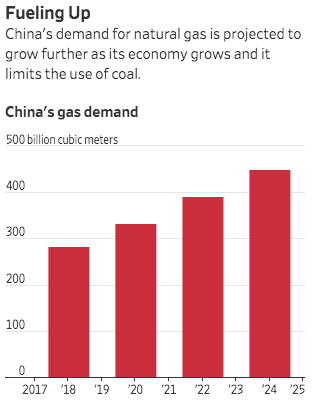 China is expected to become the world's largest natural gas importer next year and accounts for over 40 percent of global gas demand growth through 2024. With Power of Siberia, Russia could fulfill nearly 10 percent of China's gas demand by 2024. Natural gas is expected to provide 15 percent of China's energy mix by 2030, compared to 7 percent in 2018.
China, last year and this year, imposed tariffs on imports of liquefied natural gas from the United States. Access to Russian natural gas gives China leverage in the trade war with the United States by making China less reliant on America's liquefied natural gas. Imports of U.S. liquefied natural gas were growing rapidly until China introduced a 10 percent import tariff last year. After Beijing raised the tariff to 25 percent in May, natural gas deliveries from the United States stopped.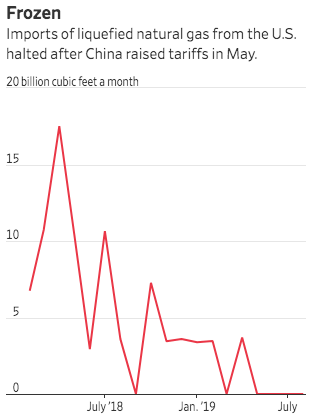 Conclusion
The Power of Siberia natural gas pipeline from Russia to China will help China increase its natural gas usage, without relying on liquefied natural gas imports from the United States. Those imports have essentially stopped because China instituted tariffs on U.S. natural gas supplies as a result of the trade war between the two countries.
The Power of Siberia pipeline is an engineering feat, having to cross over poor terrain and freezing temperatures in Siberia. The gas pipeline will also help Russia, providing badly needed cash after sanctions were imposed by the United States and the European Union when Russia annexed Ukraine's Crimean Peninsula. It also further cements the relationship between Russia, the world's largest nation with abundant energy and mineral resources, with China, the world's most populous nation and the largest consumer of energy.