As of the end of 2017, China had over half of the world's total ownership of new energy vehicles (NEV)—those powered by fuels other than petroleum. The vehicle tally reached 1.8 million due to preferential policies and manufacturing power that China used to position itself at the forefront of global efforts to electrify transportation. Electric vehicles are both being produced and sold at historic highs in China. Electric vehicle production in China attained its highest market share of 5.4 percent in September 2018. (See graph below.) The rapid growth of electric vehicles in China is not a market choice but a result of China's government policies and subsidies.
Vehicles Produced Monthly in Millions and Electric Vehicles as a Proportion of Total Vehicles Produced (right axis)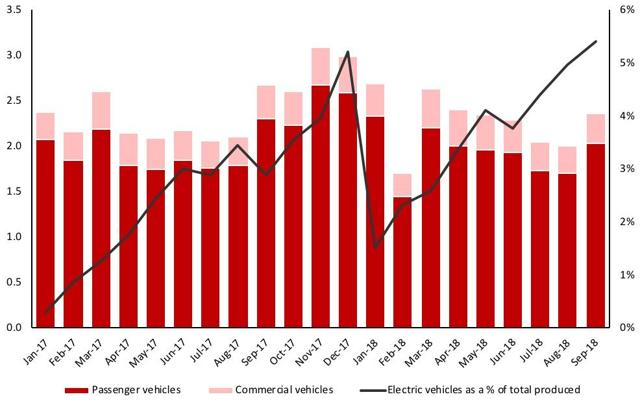 Electric vehicle sales were just shy of the December 2017 high in September 2018. (See graph below.) Sales increased 88 percent in the first eight months of 2018, reaching 601,000 units.
 Vehicles Sold Monthly in Millions and Electric Vehicles as a Proportion of Total Vehicles Sold (right axis)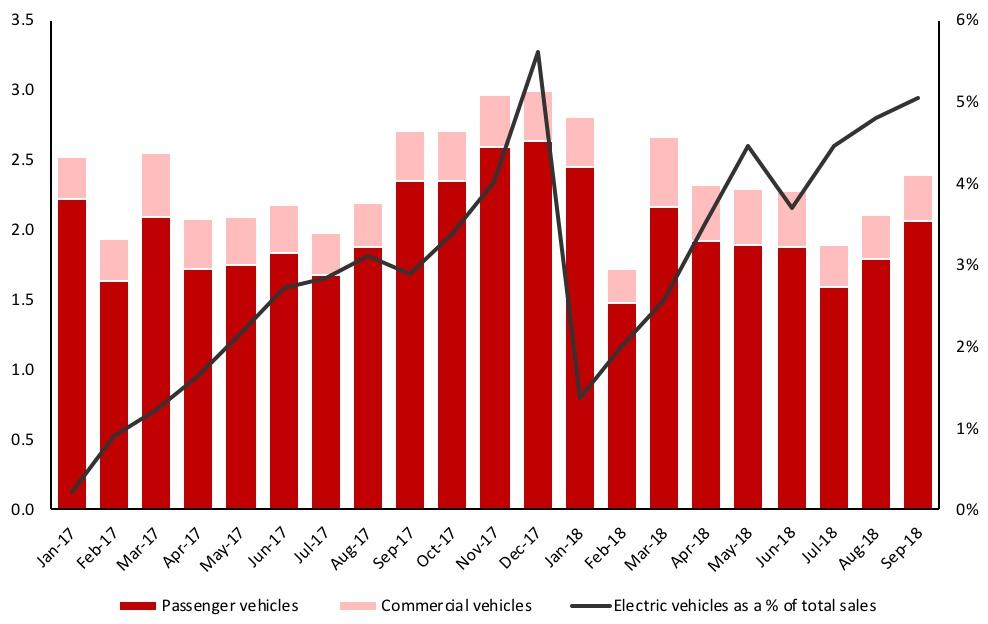 China's Subsidies for Electric Vehicles
To encourage the growth of the electric vehicle industry, China provided manufacturing incentives to electric vehicle companies, as well as subsidies to consumers who purchase electric vehicles. Government subsidies on the purchase of an electric vehicle with a range of 250 kilometers (150 miles) or greater was about $10,000. In addition to consumer subsidies, many cities provide favorable policies such as the assured issuance of a vehicle license and increased access to carpool lanes to electric vehicle purchasers. Licenses are not automatically issued in China and a lottery system is used in some cities to distribute many of them. At an average subsidy of $10,000 per vehicle, China's central and local governments spent $7.7 billion on electric vehicle subsidies in 2017.
Beginning in 2019, China is instituting a rule change that effectively transfers the burden of subsidizing the development of its electric vehicle industry from the government to the auto companies. The new rules require automakers that sell 30,000 cars or more annually in China to produce fleets with a fleet average fuel economy of 42 miles per gallon by 2020, and 54.5 mpg by 2025. Original equipment manufacturers that fail to meet the quota will acquire negative credits, which, if allowed to accumulate, must be offset by either buying positive credits from other companies or cutting the production of fuel-burning cars. Prices of non-credit vehicles will have to increase to offset the companies' requirement to produce electric vehicles.
It also intends to reduce, and ultimately eliminate, the consumer subsidies for electric vehicles. However, in order to encourage the development of electric vehicles with longer ranges and greater battery pack densities, the government's new policy, which went into effect on June 12, increases subsidies on vehicles with a range per charge of 180 miles; decreases subsidies on electric vehicles with a range from 90 to 180 miles; and eliminates subsidies for cars with a range less than 90 miles.
As part of the new program, the above subsidies are adjusted based on battery pack density. Battery pack densities of over 140 watt hours per kilogram receive up to 20 percent more subsidy, while battery pack densities below 120 receive 40 percent less and vehicles with battery pack densities under 105 receive no subsidy.
Compared to the previous consumer subsidies of approximately $10,000 per vehicle, the central government subsidies for electric vehicles will range from $2,256 to $9,022 per vehicle, depending upon range and battery density.
China's Glut of Electric Vehicles
The electric vehicle market in China is now at overcapacity, as is the case with many other Chinese industries, which are backed by local governments and supported by risky loans. Over the years, China has had to take action against supply gluts in industries such as steel, coal, and solar panels.
China's new vehicle market is distorted by subsidies granted to inefficient and poorly performing firms. In July, China's industry ministry published a list of 428 recommended designs for new energy vehicles built by 118 enterprises throughout the country. It included established carmakers such as FAW Group and Geely Automobiles, as well as small, new entrants such as Greenwheel, Wuhu Bodge Automobiles, and Jiangsu Friendly Cars. Due to the glut, China noted that it would "plan and arrange the new energy vehicle industry scientifically," and block new production capacity in regions where utilization rates are less than 80 percent.
Besides overcapacity, regulators are concerned about "blind development." As subsidies are cut, smaller start-ups that arise need to develop a competitive edge through innovative strategies. Automagic, for example, was founded in 2015 by former engineers from IBM and Geely; has a staff of twenty and is talking with partners to bring its models to the market. It is focusing on small, short-distance family vehicles rather than large-scale cars built by the larger, more established companies such as BYD. It is also seeking better ways to produce, recharge and recycle batteries. The company is focused on cutting weight and making cars smaller so battery use can be reduced, making the vehicles more energy efficient.
The Lithium Battery Market
Electric vehicles are powered by lithium-ion batteries. Lithium-ion batteries are produced from lithium ore—the lightest metal known. China is dominating the lithium-ion industry by buying into companies that produce the lithium ore, effectively controlling about 50 percent of the market. Tianqi Lithium, a Chinese company, recently paid over $4 billion to become the second-largest shareholder in Sociedad Química y Minera, a Chilean mining company. While China has large reserves of lithium ore, it is not the world's largest producer; the industry leaders are Australia, Chile, and Argentina.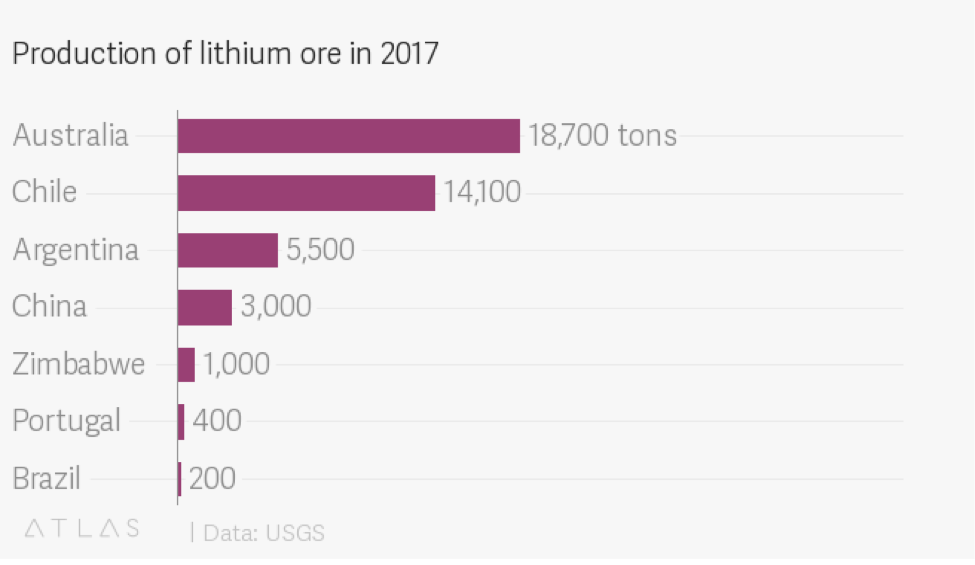 China sold over 750,000 electric cars in 2017, over 50 percent more than in 2016. And, it expects electric cars to make up 20 percent of the new cars sold in 2025, up from 3 percent in 2017. As more electric cars are produced and sold, analysts expect the lithium-ion battery market to grow at a very high rate—19 percent per year.
China's Ganfeng was formed in 2000 and its expertise is in processing lithium raw materials—which typically come from South America or Australia—into the chemical products that can be used in lithium-ion batteries. Ganfeng's share of refined lithium output jumped from about 6 percent in 2013 to an estimated 11 percent this year. It accounts for about a quarter of battery-grade lithium hydroxide—the material most sought after by electric automakers. Since August, Ganfeng signed new agreements with Tesla Inc., BMW AG, and battery producer LG Chem Ltd.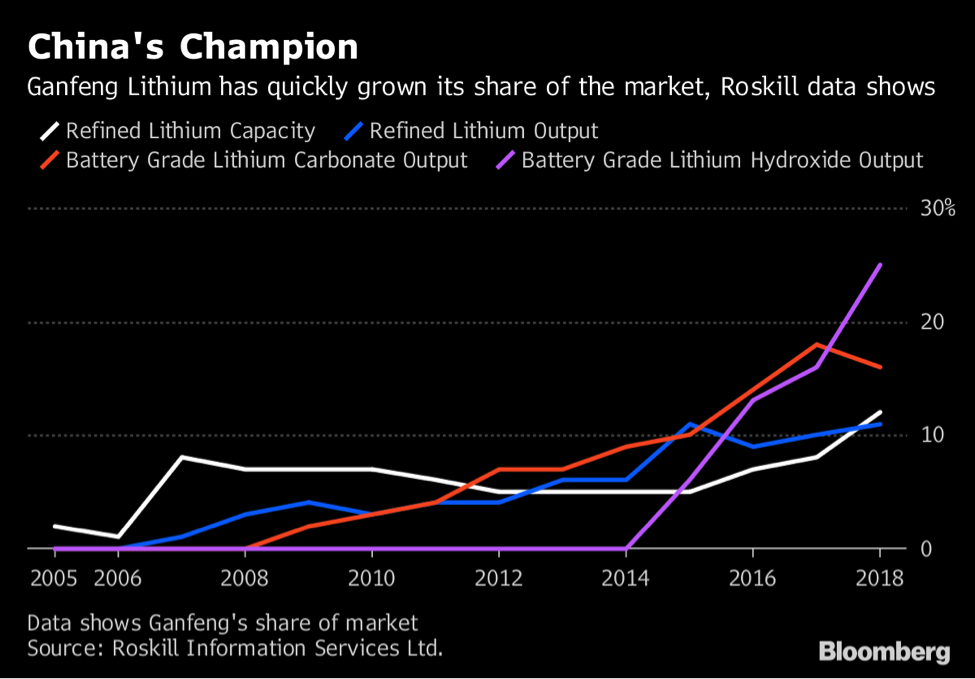 Conclusion
China has the largest electric vehicle fleet in the world due not only to its large population but also to subsidies and manufacturing prowess. Its electric vehicle market is at overcapacity as a result of government policies, but it sees the overcapacity as a way to spur innovation. China is also rich in lithium ore needed for producing lithium-ion batteries for electric vehicles and effectively holds claim to about 50 percent of the world market through part ownership in foreign companies that mine lithium ore.