President Biden met with China's President Xi before the G20 meeting in Bali, Indonesia. Xi agreed to reopen climate negotiations that had been frozen in recent months despite his delegation to the Conference of the Parties (COP27) indicating that China plans to add additional coal capacity to its coal-generating fleet, making its coal fleet larger than the entire generating fleet of the United States. China claims this is a short-term Band-Aid to address energy security concerns and does not represent a shift in climate policies.
New coal plants are being planned in China to address a series of high-profile electricity shortages in recent years while providing a buffer to global energy markets that have become more volatile following Russia's invasion of Ukraine, according to interviews with three of China's delegates at the climate meeting in Egypt. However, China's statement is not a Band-Aid because adding to its coal fleet is simply a continuation of China's policies. An executive from China's top energy engineering firm expects China to add 270 gigawatts of new coal plants through 2025–more than the entire coal-generating fleet in the United States. China has also expanded its long-term coal supply contracts for 2023 to all coal mines and asked power utilities to source more of their demand through these contracts to ensure market supply and stabilize prices. China is serious about coal.
A climate change and energy professor at Tsinghua University indicated, "We need an energy transition that's high-quality and secure so it can be sustained. We don't want to be like Europe and transform at the cost of energy security. They are now declaring that they are taking a step back in order to take two steps forward later."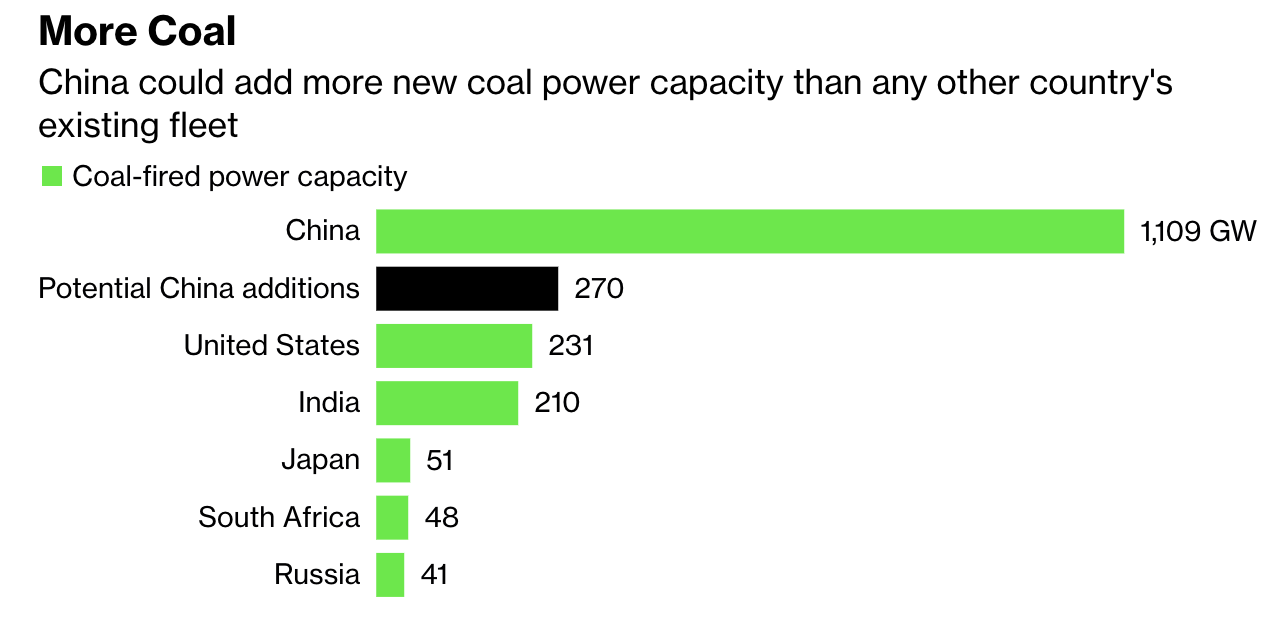 Other Issues from Biden/Xi Meeting
Mr. Xi supposedly rebuked Mr. Biden for economic policies meant to boost American manufacturing at China's expense, including issuing rules meant to prevent China from buying and manufacturing certain kinds of advanced semiconductors. The Chinese description of the meeting suggested that those policies and others meant to redirect American supply chains away from China "completely violate the principles of market economy and undermine the rules of international trade."
China dominates the processing and in many cases the mining of critical minerals needed for renewable energy technologies and for electric vehicle batteries. Biden's climate/tax bill (the so-called Inflation Reduction Act) reduces the value of the electric vehicle tax credit if the battery or its components are not produced in the United States or by its allies. Biden invoked the Defense Production Act to spur the mining of critical minerals in the United States, but, at the same time revoked federal leases for the Twin Metals mine in Minnesota and withheld or delayed permits for other mines to please environmentalists.
A new surprise has brought China further into the thicket of the critical mineral mining sector. Biden gave the U.S. military hundreds of millions of dollars to implement the 1950 Defense Production Act's expansion into the domestic mining sector. Canada, however, has, for decades, belonged to the U.S. military-industrial base and is also entitled to the funds. The Canadian government provided the United States with a list of 70 projects that could warrant U.S. funding because of its reserves of cobalt, manganese, lithium and copper.
But, China has built up stakes in more than two dozen Canadian mining companies, including some of the industry's biggest companies. At least 27 public companies including Teck Resources Ltd., Ivanhoe Mines Ltd. and First Quantum Minerals Ltd. have shareholders with ties to China. Chinese firms have been involved in 89 announced acquisitions and investments in Canadian metals and mining companies in the past decade with a value of $14 billion. Many deals involve companies tied to the 31 critical minerals identified by Canada.
Teck, which produces copper and zinc at mines in North and South America, lists sovereign wealth fund China Investment Corp. as its top shareholder. Ivanhoe Mines, founded by billionaire mining magnate Robert Friedland, counts China's Zijin Mining Group Co. and a unit of state-owned Citic Metal Group among its biggest holders. Among smaller firms, the largest investor in Lithium Americas Corp. is a subsidiary of China's Ganfeng Lithium Group Co., and Fission Uranium Corp.'s biggest shareholder is tied to state-owned China General Nuclear Power Corp. Vancouver-based Nickel North Exploration Corp. lists Sinotech Hong Kong Corp. as its top investor.  It looks as though off-shoring minerals production to Canada to escape the wrath of Biden's green comrades here in the United States will only result in more concentration of our growing mineral dependency in the hands of China.
Conclusion
Biden met with China's President Xi and encouraged joint meetings on climate change to continue. While China said yes, it continues to pursue its energy policy of coal use adding 270 gigawatts of coal capacity and expanding coal contracts to ensure security of supply in its energy sector. More importantly, Xi gave Biden a lesson in trade economics and told Biden that redirecting American supply chains away from China "completely violates the principles of market economy and undermines the rules of international trade."
China dominates the world in critical mineral processing and in many cases mining. Metals such as lithium, copper, nickel and cobalt are essential for electric-vehicle batteries, solar panels and wind turbines, and securing access is key in reducing risks of supply bottlenecks and shortages. To develop the U.S. mining sector for critical minerals, Biden invoked the Defense Production Act and provided the military with funds to implement it. But, that implementation includes Canada where China has stakes in some of the largest mining companies. What a small world and how uninformed is the U.S. President!  His current policies are rushing the United States headlong into energy sources over which China exerts world market domination. Instead of producing our abundant energy here at home, he is off-shoring it to foreign nations at great costs to consumers as well as to our national security.