China is considered a developing country for purposes of the Paris Accord and certain trade treatments, despite it being the second largest economy in the world. As such, China, the largest emitter of greenhouse gases in the world, pledged to increase its greenhouse gas emissions until 2030, at which point they would begin to decrease, according to the Paris agreement. Recently, China indicated, it would be carbon free by 2060. Despite these comments from China's government, the country is constructing 250 gigawatts of coal-fired generating capacity—more than the entire coal fleet in the United States and adding it to the over 1,000 gigawatts of coal capacity it already has—about the size of the entire generating capacity in the United States including all technologies. And, now China is taking advantage of the low oil prices resulting from the demand destruction from the coronavirus lockdowns by building storage capacity and importing crude oil.
China, the world's second largest oil consumer, has already pumped an extra 310-600 million barrels of oil into storage this year—more than a month's usage. Private refiners and storage operators are expected to put about another 100 million barrels of new tanks to use in 2021. The planned new tank builds for 2021 compare with expanded tank space of about 110 to 140 million barrels this year. The new tank space is concentrated in China's eastern refining hubs in Shandong and Zhejiang, and in northeastern Liaoning. Tanks can be leased to refiners and traders, which helps to smooth the supply chain inside China after heavy congestion at some key ports this year delayed tanker unloading.
China is expected to import 339.5 million barrels of crude oil in November—a new record—compared to 293.1 million barrels in October and 293.8 million barrels in November 2019. China's crude oil imports are expected to grow between 6 percent and 8 percent in 2021, following 10 percent growth in the first 10 months of 2020, to about 12 million barrels per day.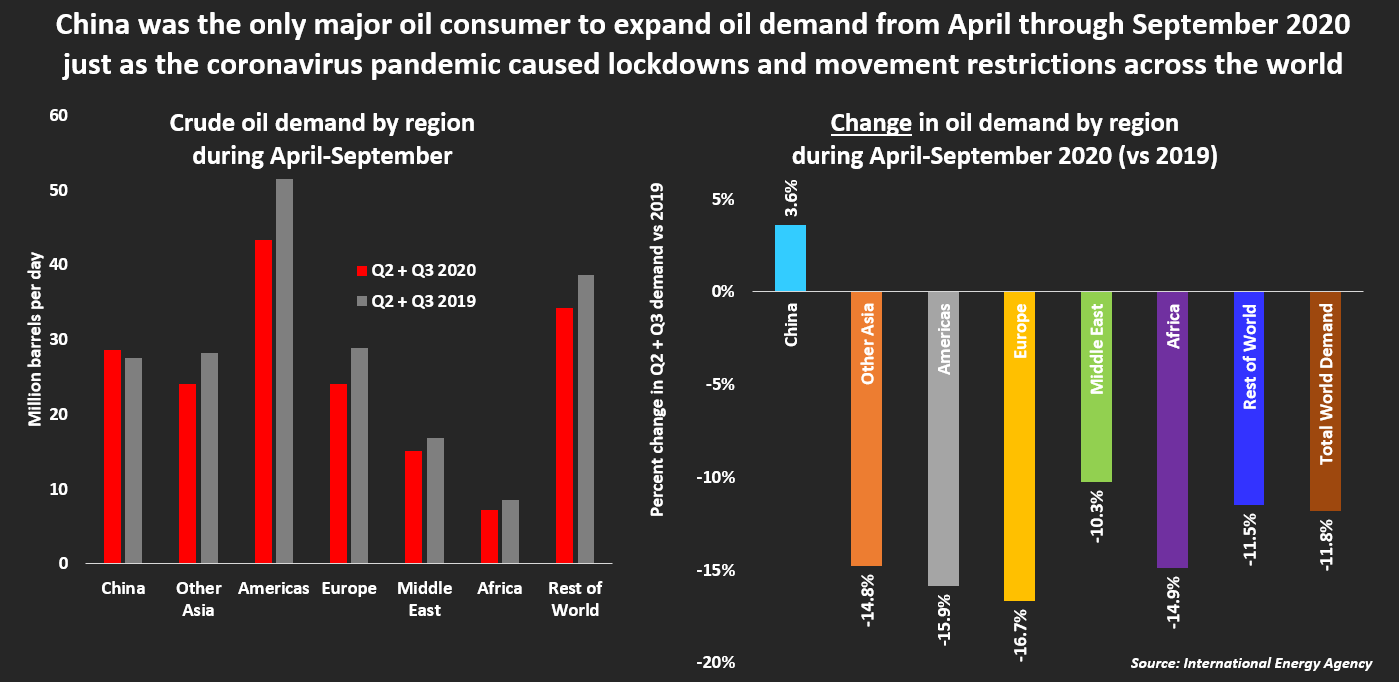 Private Refiners 
China's oil storage has traditionally been owned by state companies and the country's Strategic Petroleum Reserve (SPR), but over the past four years, private firms have taken a larger role after they were allowed to import oil. Private refiners, storage firms and port authorities accounted for nearly half of this year's inventory build. That trend is expected to continue as the government lowers thresholds for private firms to participate.
Increase in Storage Capacity
Satellite images comparing 2020's storage facilities at specific locations to the same site in 2018 show how tank capacity has increased in China. Shandong Hongrun Group is currently China's single largest storage operator with nearly 82 million barrels. (See satellite photo below.)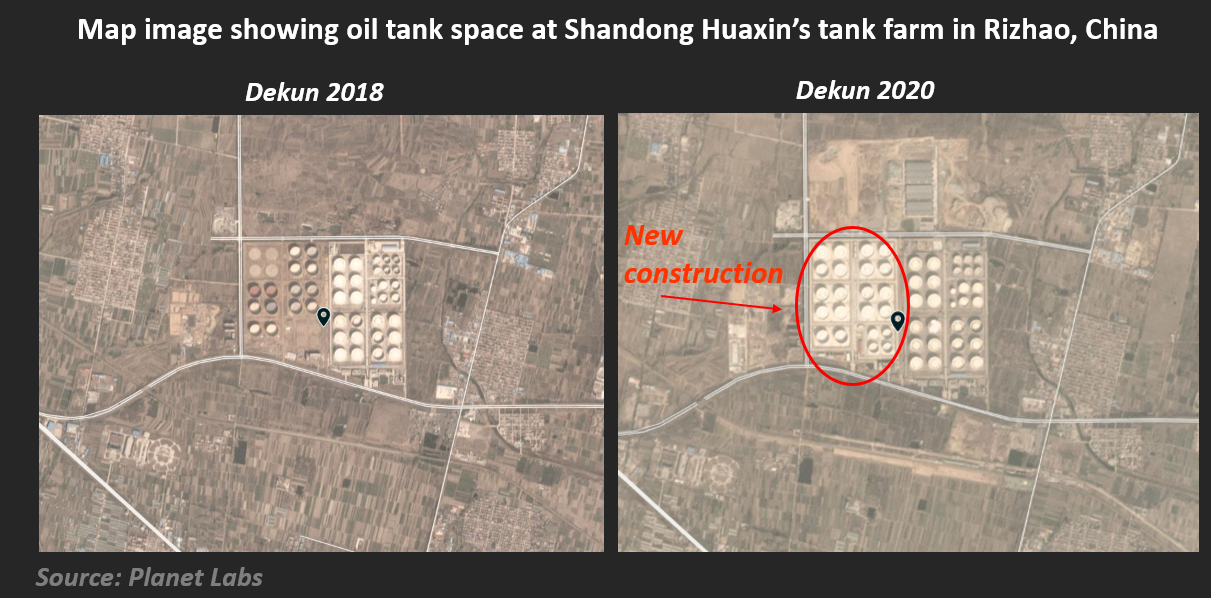 Hengli Petrochemical more than doubled its storage space in 2020 to 43 million barrels.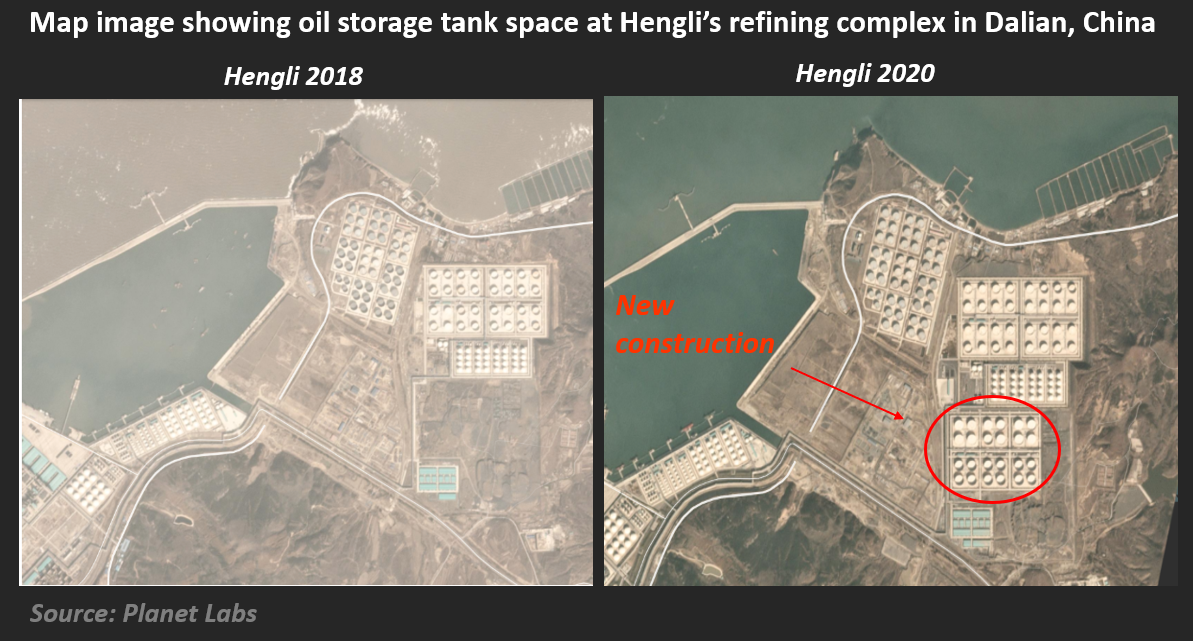 Shandong Hongrun added 22 100,000 cubic meter tanks this year and plans to add another 28 next year, totaling 17.6 million barrels.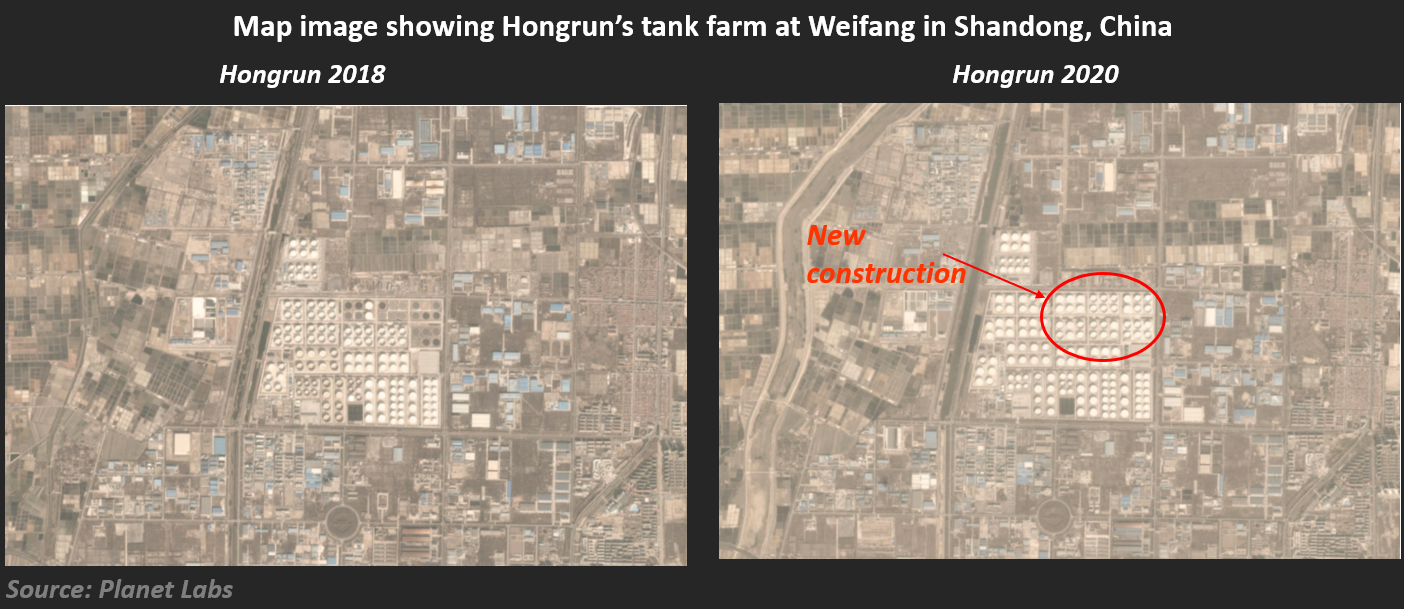 Yantai port expects to build an additional 7.6 million barrels of storage by August next year, while Qingdao port is planning an additional 3.8 million barrels after building 10 million this year.
China's 2019 Crude Oil Imports
China is the world's top crude oil importer, having surpassed the United States in 2017. China's crude oil imports increased in 2019 due to its new refinery capacity and strategic inventory stockpiling, and fairly flat domestic oil production.
In 2019, 55 percent of China's crude oil imports came from countries within the Organization of the Petroleum Exporting Countries (OPEC)–the smallest share since 2005. China's crude oil imports from Saudi Arabia increased by over 0.5 million b/d in 2019 to 1.7 million barrels per day—16 percent of total crude oil imports.
Russia was the largest non-OPEC source of China's crude oil imports in 2019, averaging 1.6 million barrels per day—15 percent of total crude oil imports. Brazil was the second-highest non-OPEC source of China's crude oil imports, increasing by less than 0.2 million barrels per day to average 0.8 million barrels per day for the year.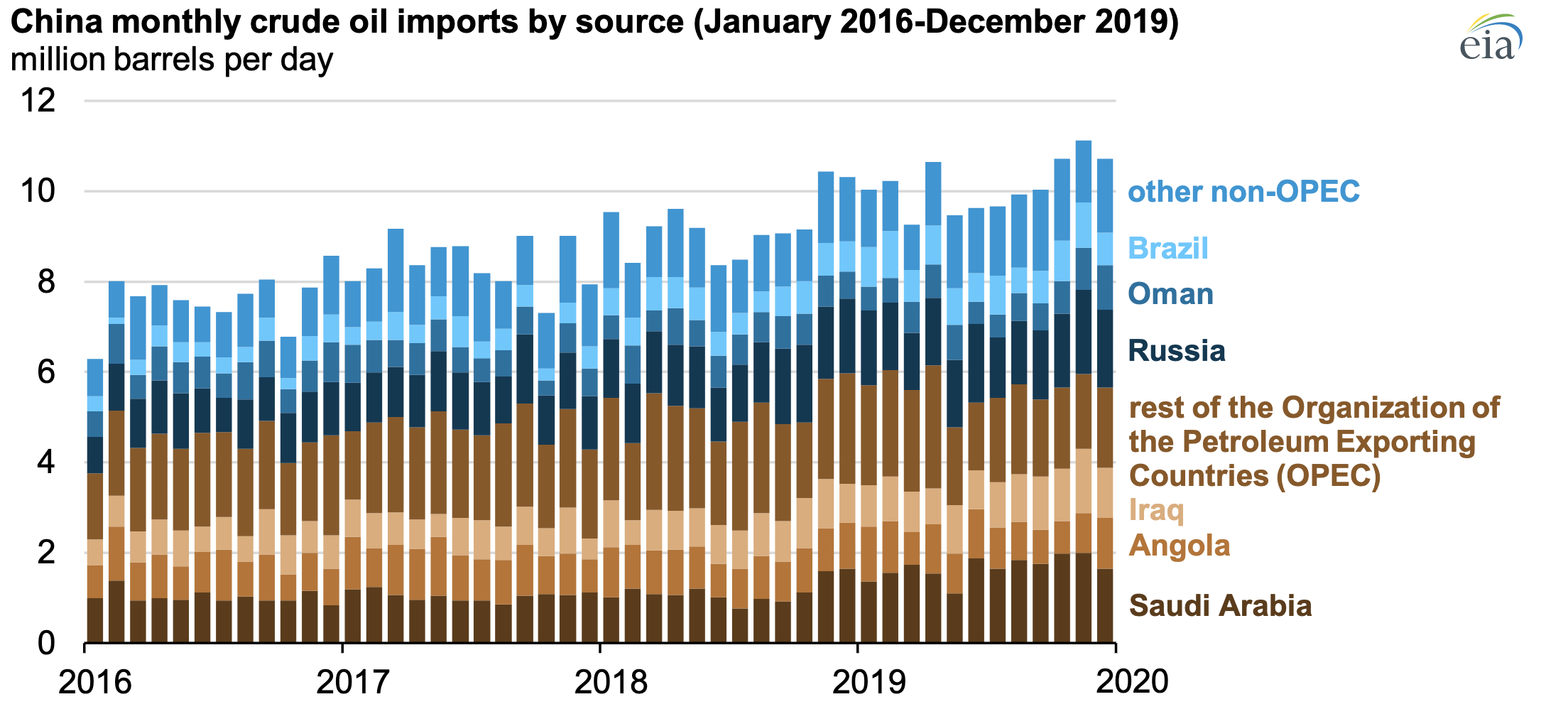 U.S. Crude Oil Exports to China
U.S. exports of crude oil and petroleum products hit a high in May 2020 of almost 40 million barrels (1.3 million barrels per day), according to the Energy Information Administration. The latest data, which is for August 2020, shows these exports to have dropped to 17.7 million barrels (0.6 million barrels per day). In 2019, the United States exported almost 50 million barrels (137,000 barrels per day) of crude oil to China. (See figure below.)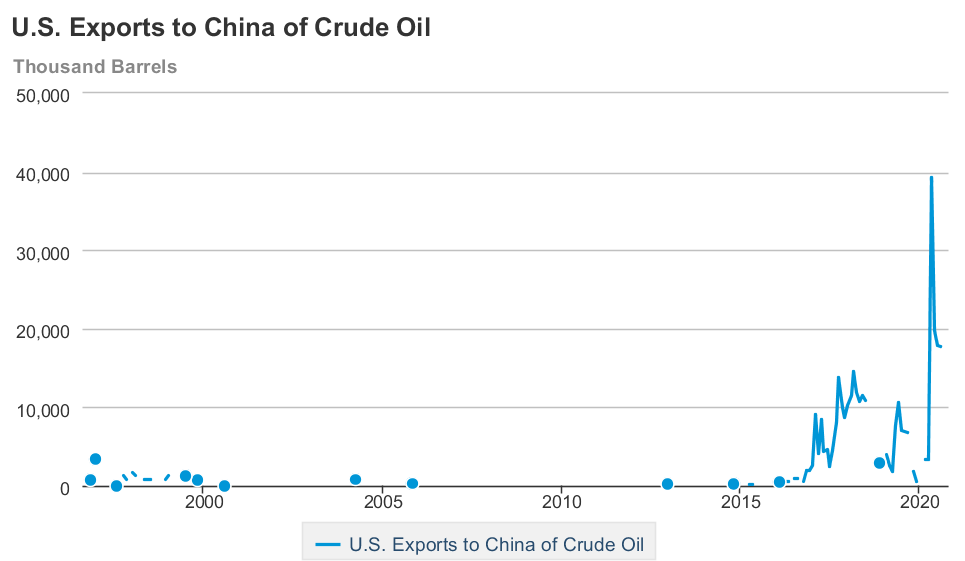 Conclusion
China is not acting like it is on a carbon-free venture because they are building coal-fired power plants and stockpiling crude oil, which they are getting at low prices due to the demand destruction from the coronavirus lockdowns. They have diversified their sources of crude oil imports getting them from OPEC, Russia, Brazil, and now the United States, as the ban of exporting crude oil was lifted by Congress in December 2015.  China appears to be readying its economy for sustained growth by building the infrastructure necessary to provide the ample energy supplies necessary for such growth.