China is building an enormous coal-fired fleet—more than the entire generating fleet of the United States from all sources, despite no demonstrated need for the power and despite calling for a zero-carbon economy by 2060. But China's auto sales are beginning to skyrocket again despite the coronavirus pandemic and China is pushing what it calls new-energy vehicles—electric vehicles, fuel cell cars, and plug-in hybrids—which get special treatment from the Chinese government, including easy registration and no lottery as required for internal combustion engines in large cities. In Shanghai, for example, it costs $13,000 for a license plate for a vehicle with a combustion engine whereas registration plates are free for electric vehicles. According to Elon Musk, an all-electric vehicle fleet worldwide will double the global demand for electricity.
China's Auto Sales Returning; Pushes New Energy Vehicles
Despite the pandemic, China's auto sales increased 12.5 percent year over year in October (2.6 million). Passenger vehicle sales increased 9 percent with some automakers booking double-digit growth, while commercial vehicle sales increased 30 percent. Sales of new energy vehicles increased 105 percent to 160,000, and are expected to increase to about 1.1 million units this year, according to the China Association of Automobile Manufacturers. Electric vehicle deliveries in China are expected to grow to 3.5 million in 2023, 5.1 million in 2025, and 13.3 million in 2035.  China is the world's largest importer of oil, but the country can generate lots of electricity at home by consuming 52 percent of the world's coal.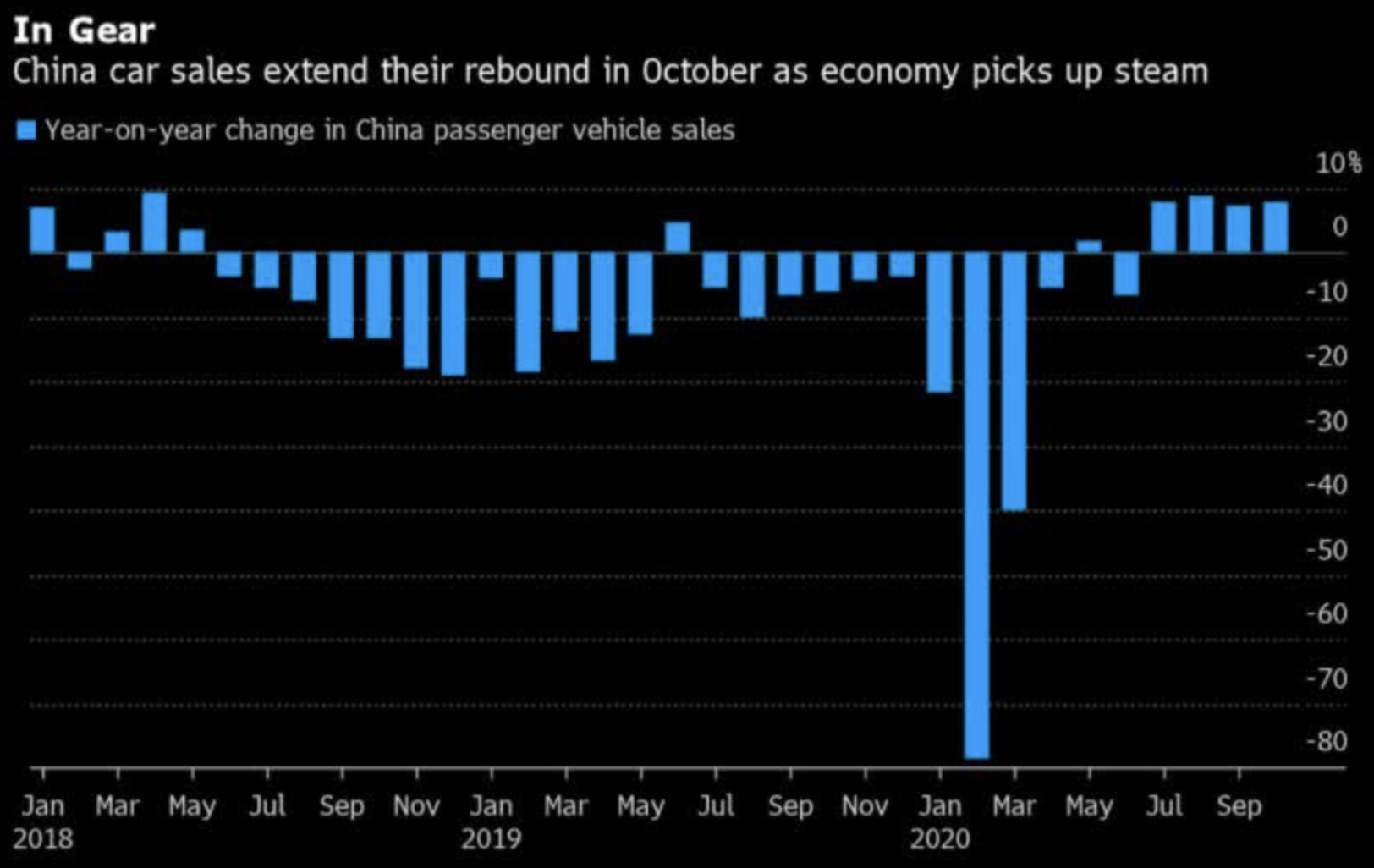 In November, China's auto sales increased 11.6 percent over a year earlier to 2.3 million, according to the China Association of Automobile Manufacturers. Total vehicle sales, including trucks and buses, rose 12.6 percent to 2.8 million, holding steady at October's growth rate.  Wholesale sales of new-energy vehicles soared 128 percent. The top two electric vehicle sellers during the month were a $4,300 electric vehicle called the Hongguang Mini produced by Wuling and General Motors, and Tesla's Model 3. The Mini, for example, is 115 inches long, with a 76 inch wheelbase and sports a 27 horsepower electric motor.  Many of China's electric vehicle sales are "micro EVs" sold in rural areas with low speeds and minimal regulations and they are very inexpensive.
Monthly Automobile Sales in China, October 2019 through October 2020 (1,000 units)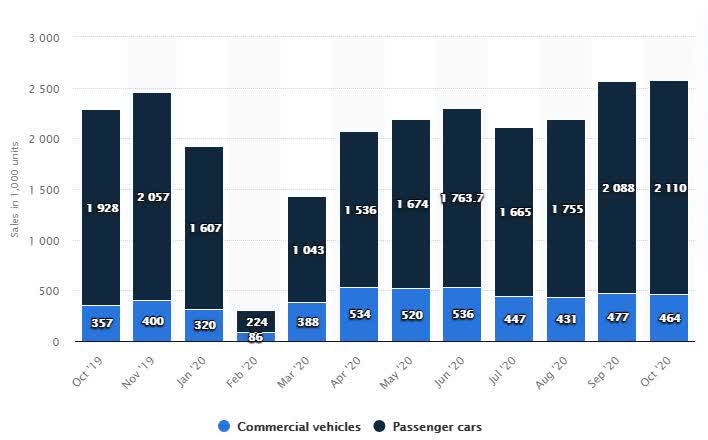 Sales of electric, plug-in hybrid, and hydrogen-powered vehicles in China, the world's biggest auto market, are forecast to rise to 20 percent of overall new car sales by 2025 from 5 percent now, according to the State Council. Sales of new energy vehicles, which include battery-electric, plug-in hybrid, and hydrogen fuel-cell vehicles will increase as the industry improves their technology and competitiveness, according to the State Council, China's cabinet, in a policy paper as part of the country's 14th five-year plan through to 2025.
The Council advocated for significant improvements in the technologies of China's electric vehicle components and building more efficient electric vehicle charging and battery swapping networks to make electric vehicles more convenient. The Chinese government will also improve the green car quota system so that automakers will produce more indirectly environmentally-friendly vehicles after new energy vehicle subsidies end in two years and boost new energy vehicle sales for public uses in buses and trucks.
China's central government is pushing provincial governments to subsidize sales of light trucks and small cars in rural areas. Local governments are being encouraged to subsidize rural residents' purchases of trucks that weigh up to 3.5 tons and passenger vehicles with engine displacements up to 1.6 liters, according to a notice from the State Council. Local governments are also asked to roll out scrappage programs to encourage rural residents to ditch older vehicles for new energy vehicles.  This is akin to President Obama's "cash for clunkers" program that paid drivers to trade older vehicles in to purchase new vehicles. The central government is also pressing cities that limit new-car sales to "optimize" restrictive policies and expand license plate quotas. These efforts are to spur consumer demand, following higher government outlays on construction and infrastructure projects, which has spurred a rise in commercial truck sales.
China's Commitment to Coal Generating Technologies
In the recent climate summit, China offered up a minimal change in its commitment to the Paris Accord, to cut greenhouse gas emissions per unit of GDP by more than 65 percent from 2005 levels by 2030, slightly raising the previous target of cutting emissions per unit of GDP by 60 percent. Despite this change, China plans to build 250 gigawatts of coal-fired generating capacity to add to its current coal-fired fleet of over 1,000 gigawatts. These units can easily operate efficiently for 40 to 60 years. Given China's interest in developing an electric vehicle manufacturing industry and the increase in electricity demand that will result from an all-electric fleet, China may well need these coal-fired units to satisfy that increasing demand, which may, in turn, negate its proposal of being carbon-free by 2060. China is well-poised to become a major electric vehicle manufacturing center, since it dominates the supply chain for minerals critical to modern technology,  including electric vehicles. For example, China dominates the global lithium battery market.
Conclusion
China is recovering from the coronavirus pandemic with a growing economy that now supports increasing sales of automobiles. China is pushing new energy vehicles that include electric vehicles—a manufacturing market it hopes to dominate. It is well on its way, already dominating the global lithium battery market. Elon Musk of Tesla believes a global electric fleet will double the demand for electricity. If so, China will be prepared because it is building an expansive coal-fired generating fleet that can operate for 40 to 60 more years and satisfy that demand. How it will affect China's commitment to the Paris Accord to be carbon-free by 2060 is unknown, but certainly, some analysts are dubious about that commitment. Electrification of their vehicle fleet will allow them to reduce the need for oil imports while stimulating their own coal industries as well as their electrical generation industry.