Norway's new car sales are now mostly electric vehicles despite rising electricity prices. Almost two-thirds of new cars sold in Norway were electric in 2021, and most of the rest were electric-and-gasoline hybrids, with just 8 percent being petroleum-based internal combustion engines. Norway's electric vehicle market share of new car sales increased from 20 percent in 2015. The share grew because Norway's government provides benefits that make electric vehicles much more affordable and offers perks to electric car owners such as skipping certain fees for parking and toll roads. Also, Norwegians who buy new electric cars do not have to pay the country's very high taxes on new vehicle sales, which can double the price of a car.
Norway is on its way to meet its deadline to end gasoline and diesel powered car sales by 2025. Overall new car sales in Norway increased by 25 percent in 2021 to a record 176,276 cars, of which 65 percent were fully electric. This market share was up from 54 percent in 2020. Industry representatives expect electric vehicle sales to increase to 80 percent of the total market in 2022, but that is highly dependent on supply chain availability.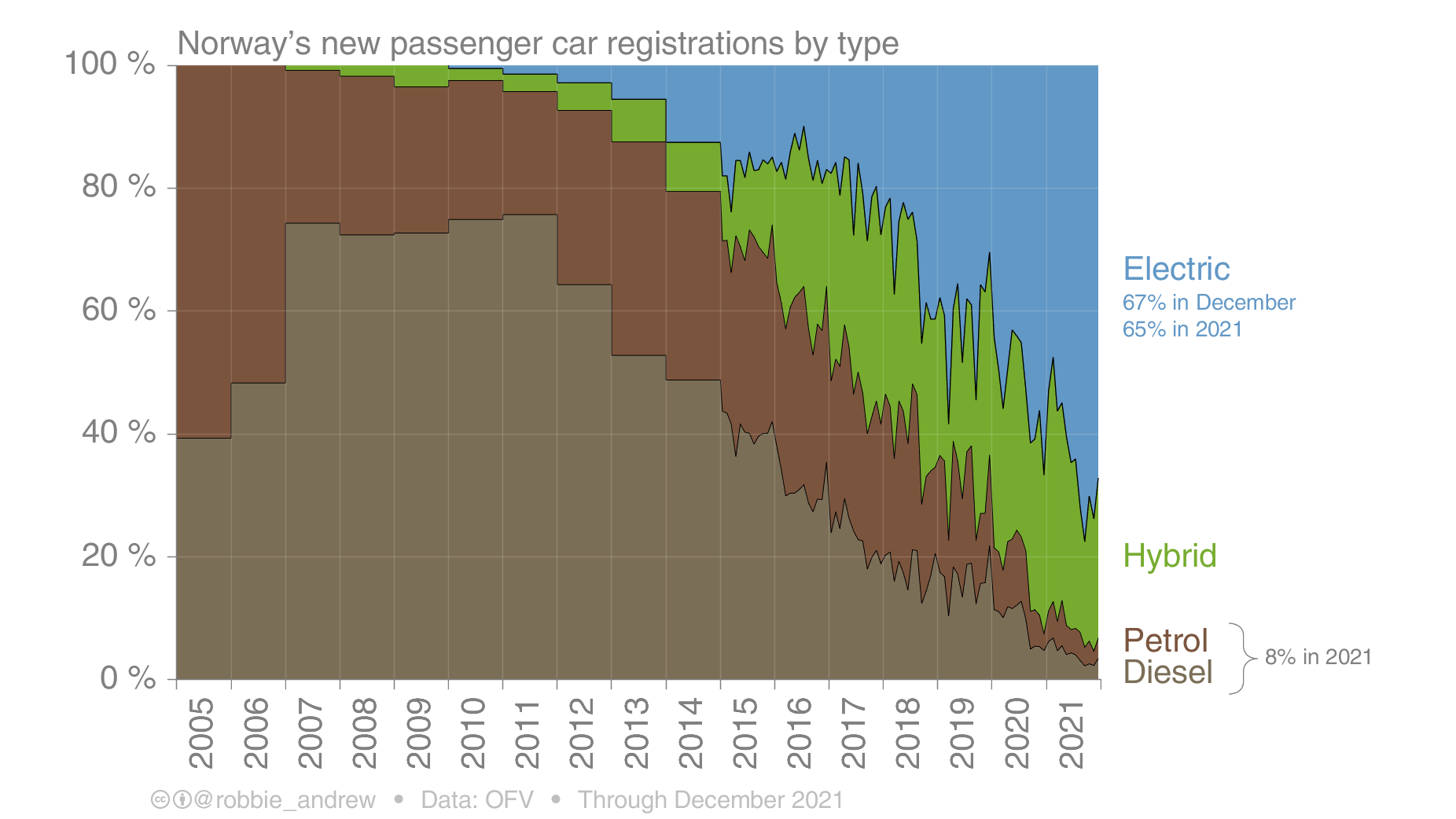 But Norway, despite its large hydropower base, is experiencing rising electricity prices such that the government is now subsidizing electricity bills. Skyrocketing energy costs are hitting European consumers due to a global shortage of natural gas and Nordic power prices surged to record levels in past weeks after some of the region's biggest hydroelectric plants were forced to cut output. Hydropower supplies over 90 percent of Norway's electricity production, but a dry year depleted reservoir levels, which were 62.2 percent full in December, compared with a median 20-year filling level of 75.8 percent. Electricity prices in southern Norway were around 305.50 euros ($343.69) per megawatt hour in late December. On an hourly basis, prices rose as high as 451.07 euros ($507.46) per megawatt hour for the sixty minutes.
In December, the Norwegian government proposed a short-term subsidy for power bills to help households with the higher expenditures. Norway's government would pay 55 percent of the portion of power bills above the prices of 0.70 Norwegian crowns per kilowatt-hour. The cost of the proposal could amount to 5 billion Norwegian crowns ($560 million) combined for the four months from December 2021 to March 2022. The government's compensation is deducted directly from the bill from the network company or the electricity supplier. Later, the Norwegian government increased the compensation level to 80 percent for January, February and March. Households receive support for power consumption of up to 5,000 kilowatt hours of their monthly consumption. Norway is able to pay for this and electric vehicle subsidies because of their vast oil and gas production, which has allowed them to establish a sovereign wealth fund worth $250,000 per resident.
Norway Supplies Power to Other European Countries
Southern Norway is a landing point for several subsea power cables connecting Norway with continental Europe and Britain, where prices are higher than Norway's due to high natural gas prices, nuclear outages in France and low wind power generation. The longest and most powerful of these cables was recently laid across the North Sea, from a hydroelectric plant in Norway's rugged mountains to Blyth, an industrial port in northeast England. It was completed last year and it stretches 450 miles—about the distance from New York to Toronto. The twin cables, each about five inches in diameter, can carry enough power for nearly 1.5 million homes. The rapid growth of intermittent renewable energy sources, wind and solar, whose output varies with the breeze and sunshine, makes such interconnectors essential as they help Europe and other regions to operate as a larger and more diverse power system that can use surpluses of electricity in one area to offset shortages in others.
National Grid Ventures built the Norway link with Statnett for 1.6 billion euros ($1.8 billion). The direction of flow can switch one or more times in a day, sending power to whichever market has the higher prices. The operators make money on the differences in pricing between the two systems. Britain's interconnectors earned £1.2 billion ($1.65 billion) in revenues in 2021, which was split with partners like Statnett. The National Grid interconnectors are regulated by a system that guarantees the company a minimum return on its investment but caps profits.
Coastal communities have raised objections to the electrical equipment necessary at both ends of cables. To avoid large losses of power over long distances, the electricity must be converted from alternating current to direct current, and then back again at the other end. At Blyth, these converter facilities and other electrical equipment are housed in facilities that cover 12 acres. In September, a fire at a National Grid installation on Britain's south coast where a cable comes in from France knocked out an interconnector. As many as 12 fire engines responded to the blaze, which had been triggered by equipment failure. Power through that interconnector is not scheduled to be fully restored for 6 to 12 months.
Conclusion
Norway, which is reliant on hydropower for the majority of its electricity, is seeing higher electricity prices due to low reservoir levels and its interconnections with the rest of Europe where carbon prices, a natural gas shortage, low wind output, and nuclear outages have escalated electricity prices even more. Norway is using short term subsidies to help with the higher electricity prices for the 4 month period from December through March. Low electricity prices and subsidy and benefits to electric vehicle owners have increased those sales to 65 percent in 2021 and is expected to reach 80 percent this year if supply chains allow. Norway plans to sell only electric vehicles by 2025, even though the price for electricity has been skyrocketing lately.