Record cold temperatures have hit parts of Europe and Asia causing electricity prices to spike as the normal generating supplies of electricity could not keep prices in check. Spain registered its coldest temperature on record, at -35.6 degrees Celsius, and several areas of the country, including Madrid, are under 18 inches or more of snow and may get record-breaking snowfalls. The electricity price in Spain soared to nearly €95 ($116) per megawatt hour—up 123 percent from prices the previous week and nearly three times higher than the 2020 average. Frigid temperatures, as low as -10 degrees Celsius, are gripping much of Japan and electricity prices jumped to record highs of 222.30 yen ($2.13) per kilowatt hour. (For comparison, average electricity prices in the United States in October 2020 were 10.64 cents per kilowatt hour.)
Europe
The surge in Spain's electricity prices results in an increase of 27 percent in the average user's electricity bill. Factors that have driven up the costs to heat and power households include reduced output of renewable energy from the cold and stormy weather and the evolution of the natural gas market at a global level, which recently sustained a price shock. As a result, Spain has dipped into its subterranean natural gas reserves, which is 80 percent full.
In Germany, day-ahead power prices hit the highest level in two years with temperatures in Berlin dropping close to freezing; prices could increase further with temperatures expected to dip as low as minus 6.9 degrees Celsius by Sunday (January 17) in the German capital. Residential electricity prices in Germany are already 3 times the average cost in the United States owing to their rapid adoption and subsidization of renewable wind and solar energy.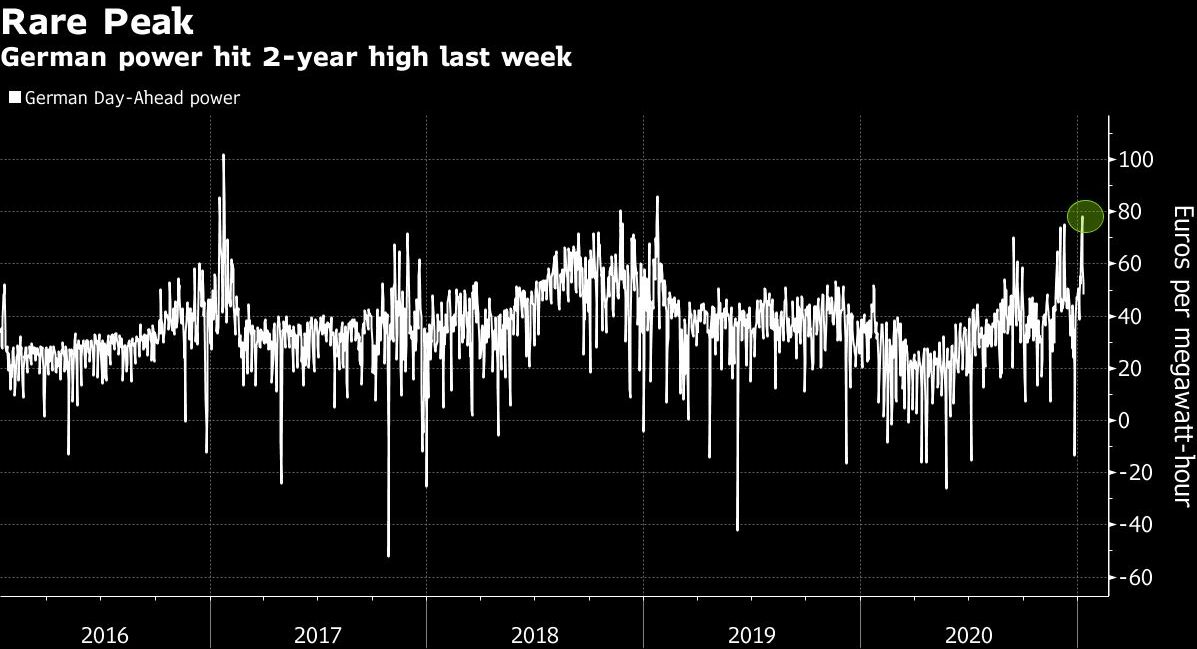 A sub-zero blast is expected to worsen conditions in Europe with a weather phenomenon known as a sudden stratospheric warming. The event can disrupt the polar vortex, the winds that usually keep cold air contained in the far north, and allow freezing weather to head south. The calm conditions associated with it are expected to stifle Europe's wind generation, causing dependence on its thermal energy.
Cold conditions in Europe are expected between January 17 and 22 that will push the number of heating degree days for that period 11 percent above the 10-year average. The cold spell is expected to last at least a week and possibly into the start of February. The cold arctic air flow has led to a surge in power demand and has lowered gas storage levels sending prices to the highest in two years. When margins tighten and renewable output is low, more expensive-to-operate thermal plants are needed to increase supply, which pushes up prices on the day-ahead and intraday power markets. The market is also exposed to risks of price spikes when units are unexpectedly turned off, forcing system operators to activate reserve power plants or ask industry to cut consumption to keep the grid stable.
France usually exports excess power from its nuclear units to neighboring countries, but scheduled nuclear plant maintenance is adding to the power supply shortages and to the strain from the cold. France also has a much higher level of electric heating than most other European nations, making its own electric demand more sensitive to cold weather.
French nuclear generation is below the five-year average

Asia
China recorded temperatures of -16 degrees Celsius on January 7 in Beijing—the lowest since 1967 as a cold wave is sweeping through areas of China. The cold weather and a manufacturing boom are expected to result in record electricity demand this winter. An historic peak load came as extreme cold weather increased demand for electricity-powered heating facilities, which account for 48.2 percent of total load. Natural gas demand also surged in northern parts of China, where gas is now a dominant heating fuel for more than 20 million homes, with prices touching multi-year highs last month despite the country importing record levels of LNG cargoes.
The cold wave also snagged transportation in the north, adding more pressure on the overwhelmed logistics system, and ice stalled many vessels at port. Qinhuangdao port, one of the largest coal transporting hubs, recorded the biggest number of vessels waiting in anchorage on Thursday since September 2018 due to the harsh weather. As a result, China is prioritizing shipments of coal on its state railroads. The ice could also affect offshore oil and gas production in China.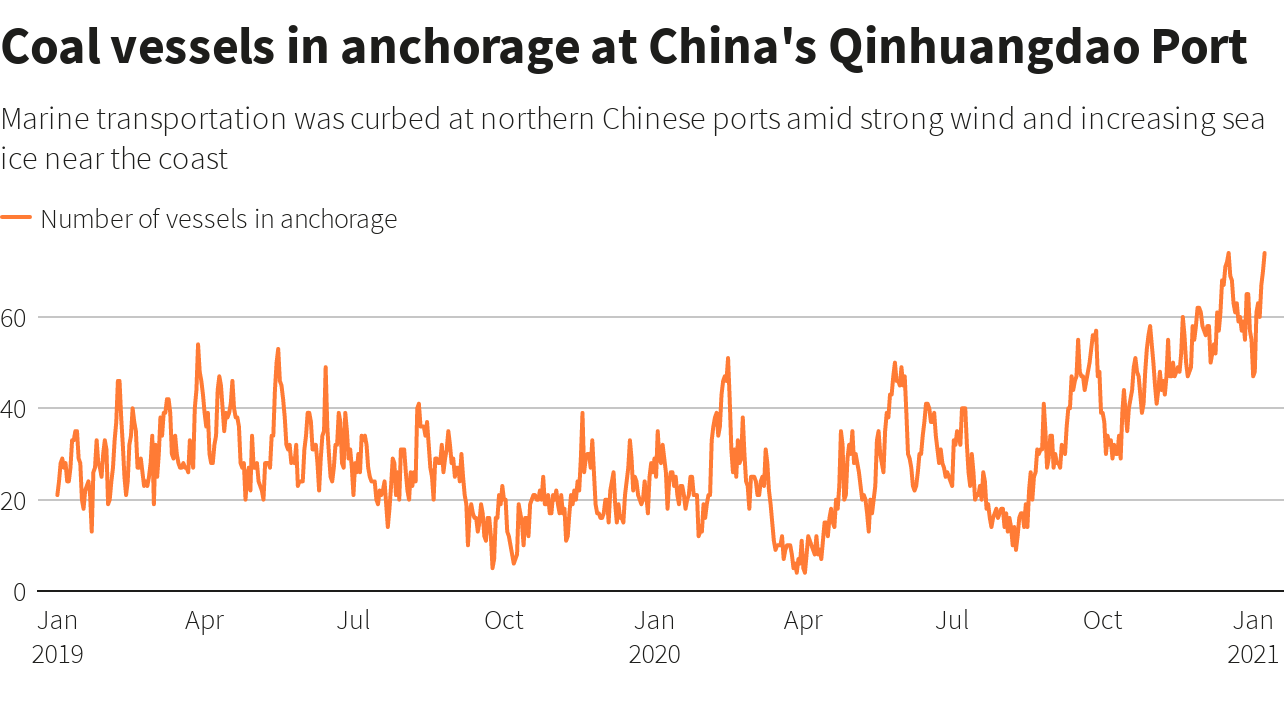 Japan's gripping temperatures had its utilities calling on the public to save power as electricity generators resorted to using fuel oil, instead of coal, to meet surging demand for heating. They also asked industrial users to help supply the grid. The country's utilities are also trying to source more LNG, where they are competing with China. Electric Power Development (J-Power), which mainly runs coal and hydro plants, is switching a coal power station to only fuel oil. Frigid weather across north Asia has caught utilities and LNG importers off guard as the demand for electricity reduced fuel inventories.
The cold weather along with other issues has resulted in an unprecedented shortage of liquefied natural gas tankers, making them the most expensive ships to ferry commodities. Spot rates have more than tripled in the past month, with BP Plc last week paying $350,000 a day to charter an LNG tanker to pick up a cargo from the United States. The previous high for a commodity carrier occurred in late 2019 when a crude supertanker was booked for daily earnings of $308,000.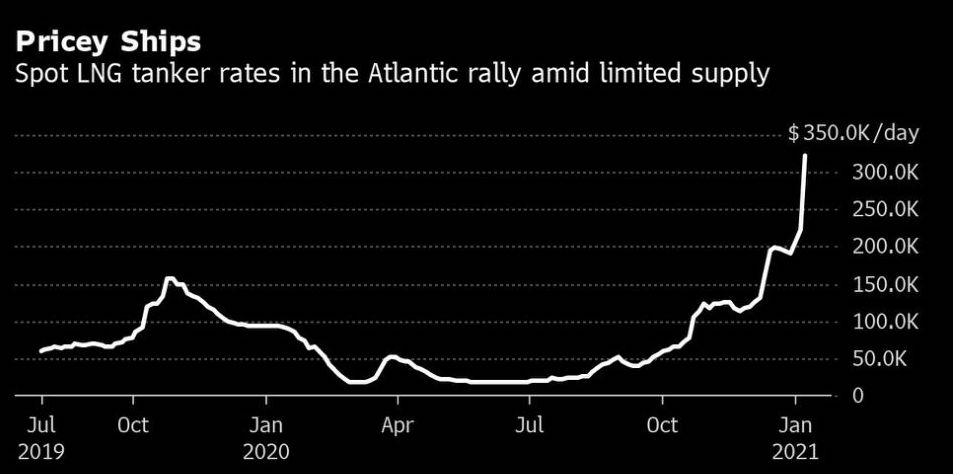 The factors affecting the LNG shipping market are the robust Asian spot gas demand due to the cold winter, record-high exports from U.S. projects and delays to traverse the Panama Canal, causing vessels to take longer routes to Asia, increasing transport time and significantly curbing the amount of available vessels in the Atlantic. Spot LNG tanker rates in the Atlantic basin increased to a record $322,500 a day on January 8—up $99,000 from January 5. The Pacific spot tanker rates increased to $221,750 a day.
Conclusion
Extremely cold weather has hit parts of Europe and Asia, setting record temperature lows in some areas and spiking electricity prices. In Europe, output from renewable energy is down due to the cold weather and snow storms, resulting in thermal capacity having to be used to supply the electricity needed to heat homes and other buildings. In Asia, the extreme temperatures also resulted in electricity supply shortages, requiring the use of oil in Japan and requests to curb power demand. Japan and China are competing for LNG supplies, and LNG tanker prices have spiked due to the higher demand, record exports from the United States and delays traversing the Panama Canal. Policy makers would be prudent to study these other nations to ensure that the benefits of U.S. energy independence are enjoyed and not squandered away through bad policy choices.