Natural gas prices in Asia and Europe have escalated due to scarce supplies. Hampering supply are China's strong demand for LNG, a drought in Brazil that has curtailed power output from hydroelectric dams, heat in Canada and the Pacific Northwest, and Russia limiting pipeline supplies to Europe. Pipeline exports of natural gas from Russia's Gazprom to Europe have dropped about one-fifth in 2021 compared to pre-pandemic levels despite a sharp rebound in demand and low stockpiles of natural gas that have helped send natural gas prices in Europe to the highest levels since 2008.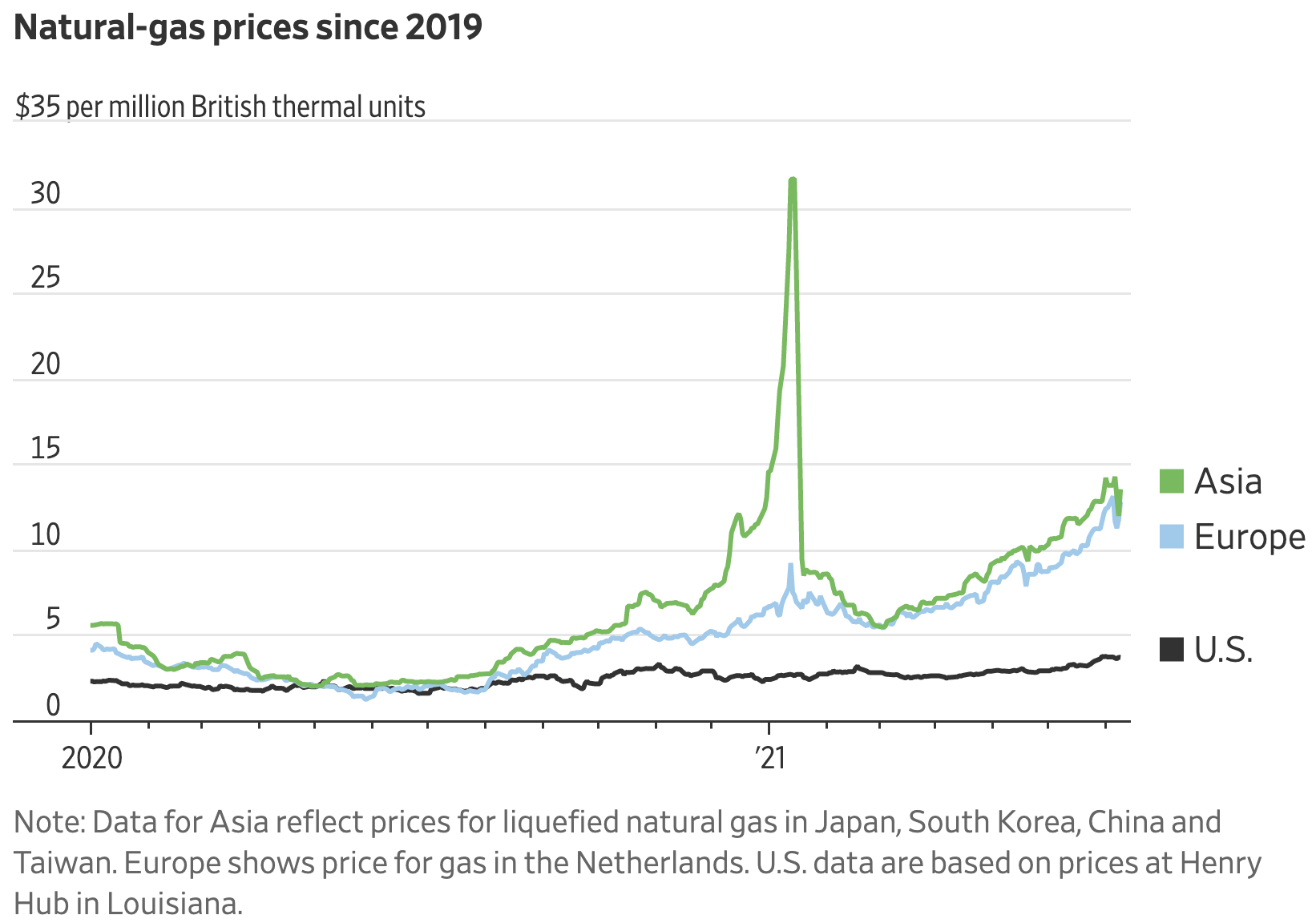 High prices for natural gas, coal and emission permits in Europe have increased electricity prices. In Germany, power prices in July increased to about €83.67, equivalent to around $99.26, a megawatt-hour—close to their highest level since 2000. U.K., Spanish, and Italian power prices have increased to record highs. Prices for thermal coal have more than doubled over the past year and are at their highest level in a decade.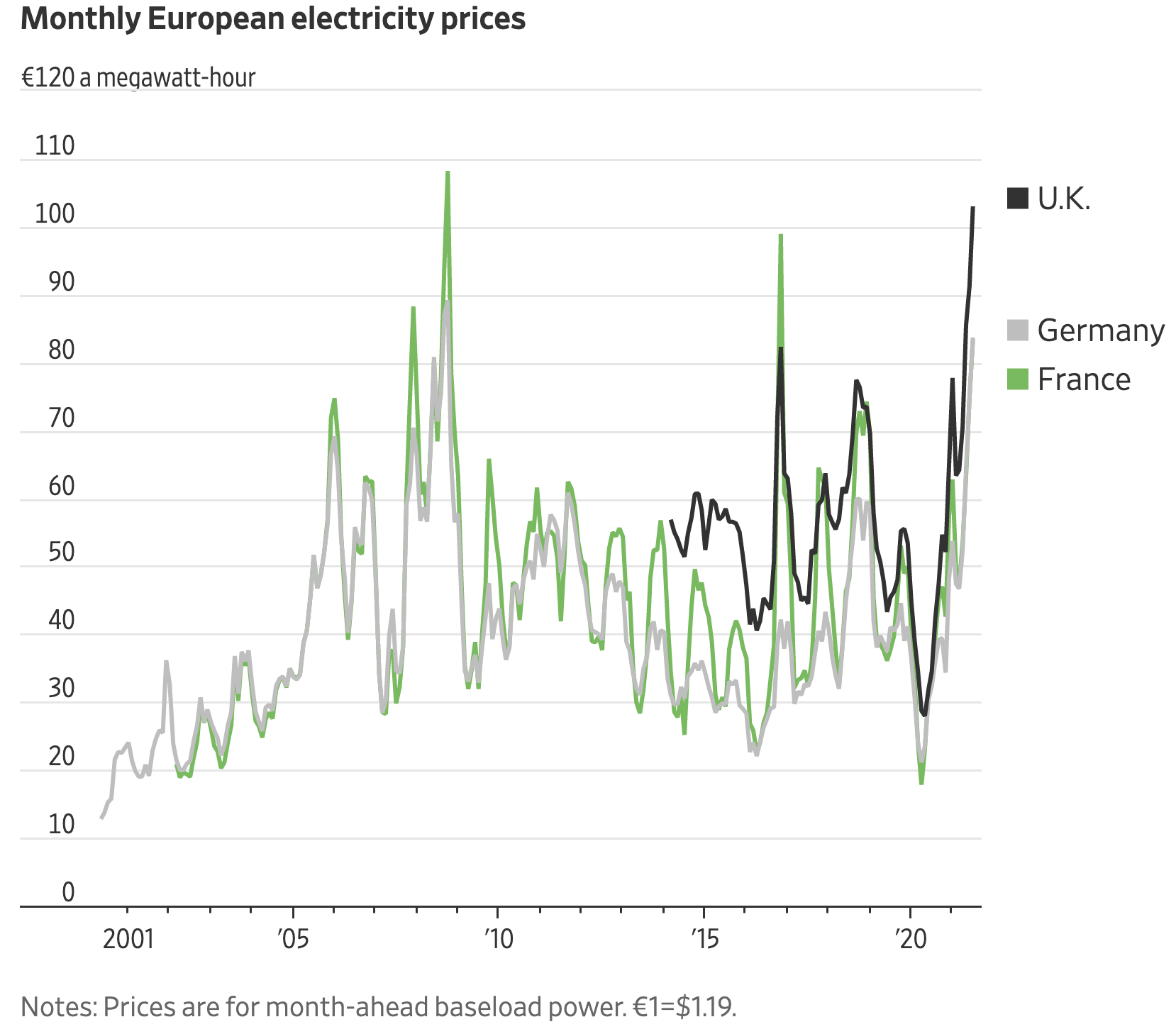 Natural Gas
Natural gas inventories in Europe are 25 percent below their 5 year average. Dutch gas futures have more than doubled over the past year—including a sharp rise since February—to multiyear highs. In Asia, imported liquefied natural gas is priced at more than five times its price last June. High LNG prices have lifted U.S. LNG exports to record levels in recent months.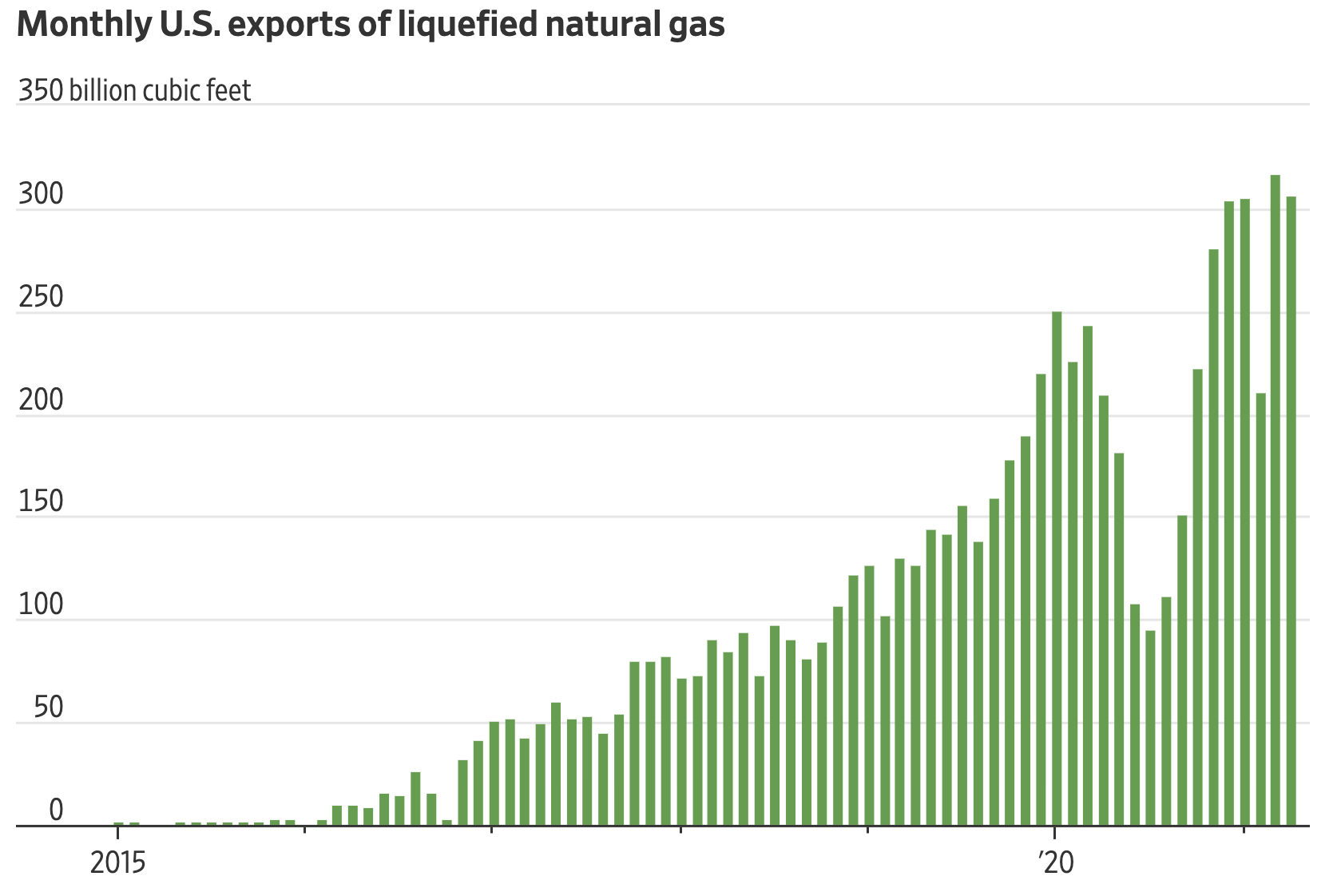 Russia's Nord Stream 2
Russia was limiting natural gas pipeline supplies to Europe as a means to pressure EU authorities to approve the dual-pipeline Nord Stream 2 project through the Baltic Sea and into Germany. On May 19, President Biden lifted U.S. sanctions on the company working to complete the pipeline that would bypass the Ukraine. He also lifted sanctions on the executive of the company, a close ally of Russian President Vladimir Putin. More recently, the United States and Germany made an agreement that the United States would waive its opposition to Nord Stream 2 and Germany would assist Ukraine in energy-related projects and diplomacy. Under the four-point agreement, Germany and the United States would invest $50 million in Ukrainian green-technology infrastructure, encompassing renewable energy and related industries.
On June 4, Russian President Vladimir Putin indicated that Gazprom was ready to fill the first string of the Nord Stream 2 pipeline with natural gas after completing all construction work. The entire first line, including the offshore section, was completed. About 100 kilometers of the two-string pipeline remained to be laid and would be completed in time to begin flowing gas by the end of this summer. Nord Stream 2 will allow for up to 55 billion cubic meters (1942 billion cubic feet) per year of Russian gas to flow directly to Germany to add to the 55 billion cubic meters per year capacity of the existing Nord Stream pipeline.
Coal
A shortage of natural gas, rebounding electricity usage and drought in China that reduced hydroelectric output have increased the demand for thermal coal. A closed coal mine in Colombia, flooding in Indonesia and Australia and distorted trade flows caused by a Chinese ban on Australian coal over Australia's international inquiry into the origins of COVID-19 have resulted in less supply, causing coal prices to increase. Coal delivered into northwest Europe in June hit its highest price since November 2011, increasing 64 percent in 2021. Prices for coal exported from Newcastle in Australia, most of which goes to Asia, have increased 56 percent. The upswing in fuel markets has contributed to higher electricity prices in Europe.
German utilities are expected to have produced 35 percent more electricity from coal and lignite in the first half of this year than in the same period last year.
Carbon Permits
European coal prices have increased alongside a surge in the continent's market for carbon offsets. Prices for European Union emission allowances have increased 69 percent to over €50 a metric ton (about $60 a ton), and recently hit a series of all-time highs. High offset prices should reduce the demand for thermal coal because it produces more than twice as much carbon per unit of electricity as natural gas. Instead, coal consumption increased because of the increase in natural gas prices, irrespective of the carbon price.
Conclusion
Europeans are seeing higher natural gas, coal, and electricity prices this year due to surging demand as countries lift lockdowns from the coronavirus. The cause of the higher fuel prices are various from drought in certain areas of the globe to Russia limiting natural gas supplies to Europe in order to pressure the European Union into allowing Nord Stream 2 to be completed to China's ban on Australian coal. Added to higher fuel prices in Europe are higher carbon permit prices that are factored into the price of electricity.
Many politicians in Europe seem not to care about the cost of energy to their constituents, as evinced by their endorsement of a new plan to control carbon dioxide emissions. The new plan, called "Fit for 55," would reduce carbon dioxide emissions by at least 55 percent from 1990 levels by 2030, but already faces backlash. The European Union plans to ban sales of new internal-combustion cars by 2035, subject aviation to the EU's emissions-trading system, spend vast amounts to increase energy efficiency, further renewable energy,  and implement a carbon tariff, which will put a carbon price on imports of a targeted selection of products. Since Europe is doing many of the same things being considered by the Biden administration, it would behoove policy makers to study the lessons of Europe closely, lest Americans end up with the same policies and results.