The International Energy Agency (IEA) in its Oil 2023 medium-term market report forecasts that global oil demand will increase by 6 percent from 2022 to reach a peak level of 105.7 million barrels per day in 2028 due to demand from the petrochemical and aviation sectors. The agency expects global oil demand growth will come nearly to a halt in the coming years with Chinese consumption set to slow down after an initial pent-up recovery. IEA is forecasting that China's "pent-up" oil consumption will peak mid-2023 after a 1.5 million-barrels-per-day rebound but lose momentum to just an average of 290,000 barrels per day year-on-year from 2024 to 2028. Annual global demand growth is forecast to decline from 2.4 million barrels per day this year to 400,000 barrels per day in 2028. The shift is occurring, according to IEA, because of the "clean energy transition" as electric vehicles, energy efficiency and other technologies advance. This IEA forecast updates its prediction in October that oil demand would plateau by the mid-2030s.
______
Fast Facts
IEA predicts that peak oil will occur in 2028 at 105.7 million barrels per day, 6 percent higher than last year's demand, moving the peak date up from the mid-2030s in its earlier forecast.

IEA points to the "green energy transition" as the cause of oil demand plateauing—a concept it has been cheerleading on behalf of OECD governments.

IEA assumes that electric vehicles will represent one out of four vehicles by 2028 world-wide. 

IEA predicts an 11 percent increase in investment in new oil exploration and production this year, which illustrates a gulf between IEA and those in the oil business. 
______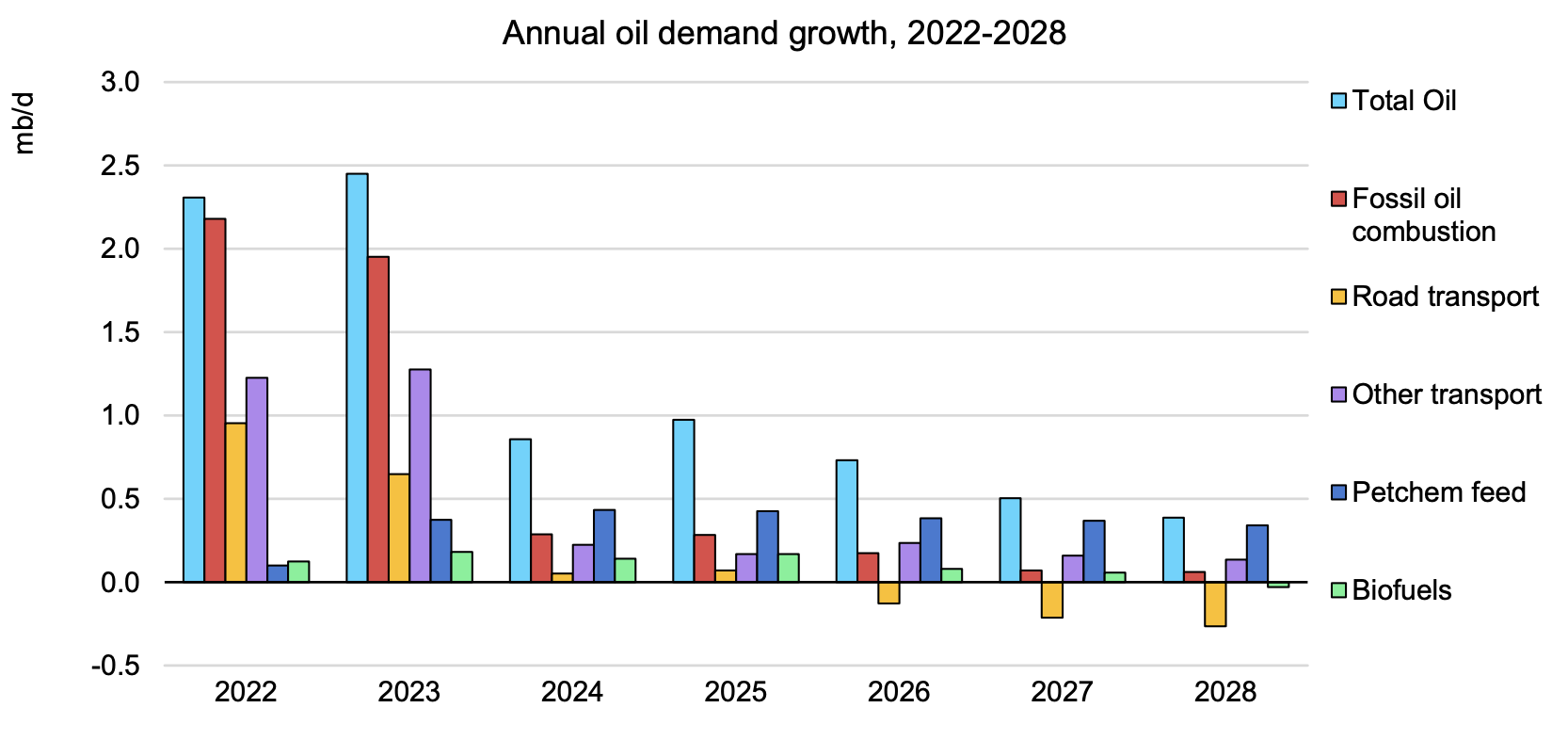 The adoption of tighter efficiency standards by government regulators, structural changes to the economy and the increasing penetration of electric vehicles are expected to moderate annual growth in oil demand throughout the forecast. The IEA assumes more than one in four cars in 2028 will be an electric vehicle, with sales near 25.9 million. The use of gasoline for vehicles is expected to decline after 2026, given increased adoption of electric vehicles, biofuel mandates and improving fuel economy.
Non-OECD Asia leads oil demand growth in IEA's forecast between 2022 and 2028. China has strong gains at the start of the forecast, but India overtakes China beginning in 2027. The OECD demand growth declines beginning in 2024.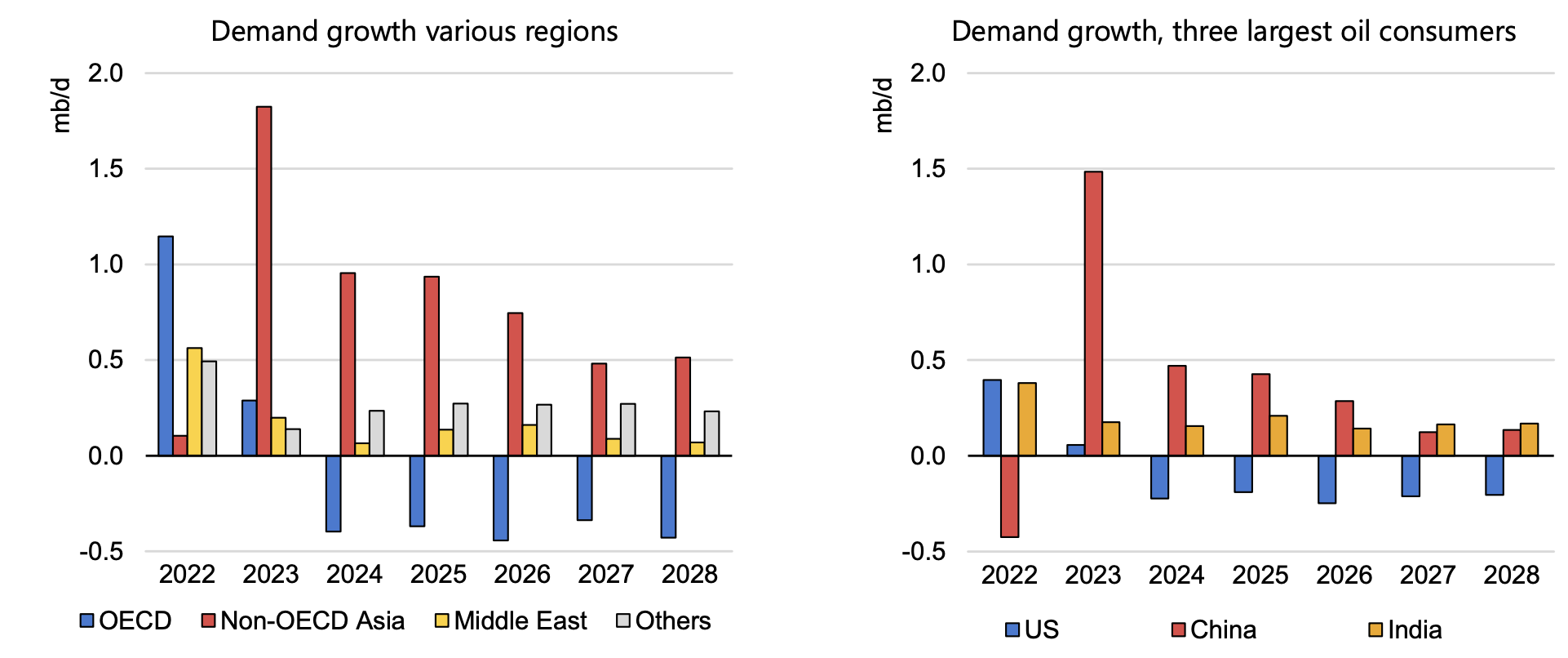 Oil Supply
On the supply side, the IEA expects oil producers outside the Organization of the Petroleum Exporting Countries and its allies — known as OPEC+ — to "dominate medium-term capacity expansion plans," including the United States, Brazil and Guyana. Global supply capacity is expected to increase by 5.9 million barrels per day to 111 million barrels per day by 2028, and result in a spare capacity cushion of 3.8 million barrels per day, mainly concentrated in the Middle East, particularly Saudi Arabia and the United Arab Emirates.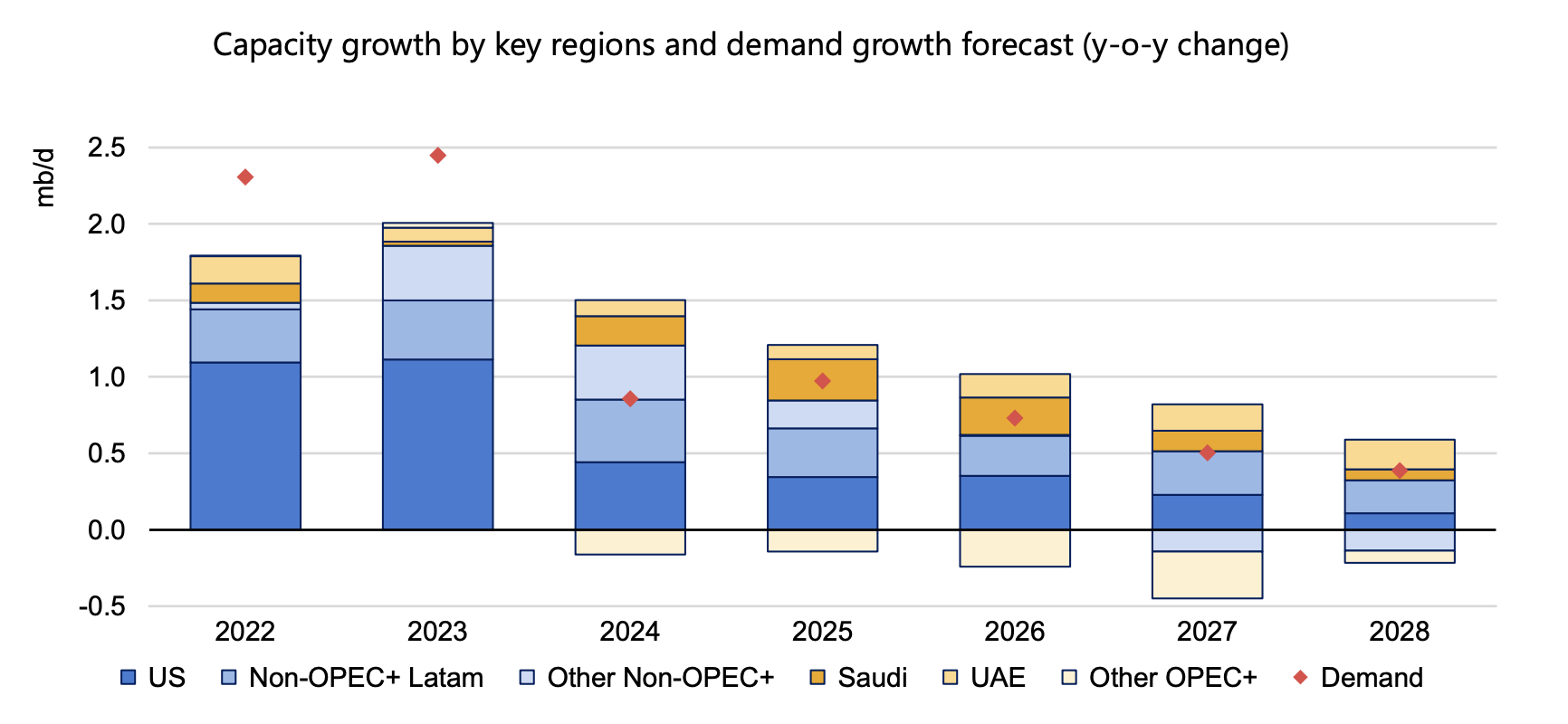 Russian output remains "clouded," with the IEA predicting declines as a result of sanctions on Moscow's seaborne oil and petroleum products exports since the end of last year, along with the departure of Western companies that facilitated production. The IEA expects Russian supplies to ease by a net 710,000 barrels per day for the six-year forecast period to 2028.
Refining
In the refining sector, global capacity has been reduced by facility closures, conversions to biofuel plants and project delays since the pandemic. This reduction combined with a drop in Chinese oil product exports and an upheaval of Russian trade flows, resulted in record profits for the industry last year. IEA expects global refinery capacity to expand by 4.4 million barrels per day over the six-year period, with a 6 million barrels per day increase offset by planned closures.  IEA warns that while the amount of net refinery capacity additions by 2028 is expected to outpace demand growth for refined products, diverging trends among products could result in a repeat of the 2022 tightness in middle distillates such as diesel and jet fuel.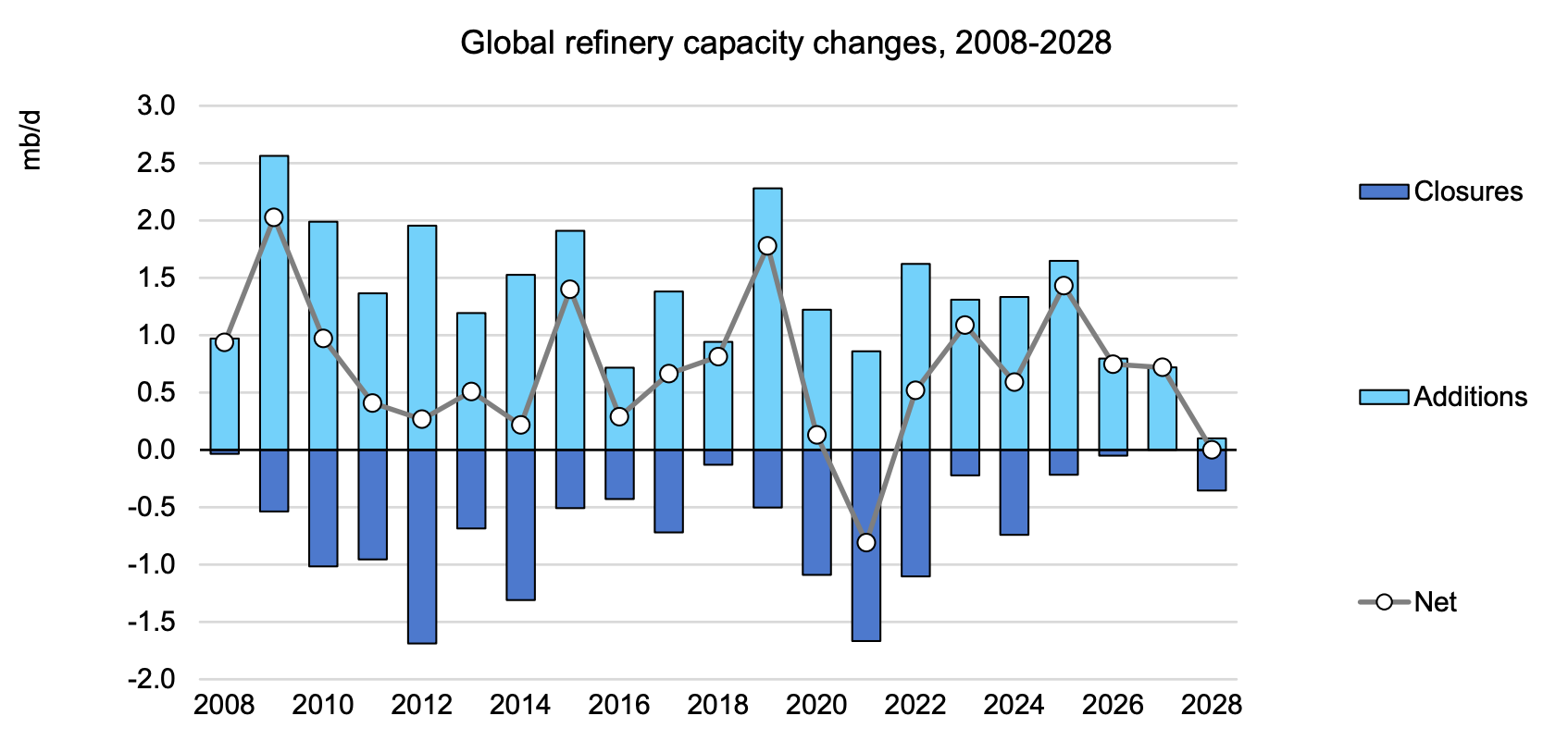 Investment
IEA predicts that ongoing upstream oil investment will reach its highest level since 2015 at $528 billion in 2023 (11 percent increase), surpassing the amount that would be needed in a world that gets on track for net zero carbon emissions. Shell recently announced that it planned to keep its oil output steady until 2030, revising an earlier plan to cut production by between 1 percent and 2 percent a year over that period. BP announced earlier this year that it would scale back its targets to cut production, slashing oil output by 25 percent by 2030 from 2019 levels, where it previously planned to cut output by 40 percent. Both Shell and BP, however, still say that they plan to reach net-zero carbon emissions by 2050.
IEA notes a number of factors that could affect market balances over the medium term – including uncertain global economic trends, the direction of OPEC+ decisions and China's refining industry policy.
Conclusion
IEA sees the global oil market growing through 2028, where it is expected to peak due to the "clean energy transition" to electric vehicles, biofuels and improved vehicle efficiency. Oil supply growth is expected mainly in the United States, Brazil and Guyana with a spare capacity cushion in the Middle East, particularly in Saudi Arabia and the United Arab Emirates. For supply growth, investment must continue and IEA is forecasting an 11 percent increase year over year, reaching its highest level since 2015. The agency cautions that a number of issues could affect the market balances it is projecting.