China needs electricity to fuel its manufacturing industry, including producing electric vehicles and their batteries, and coal will be the primary fuel used to generate that electricity. Expanding coal-fired power is China's "only real option in the short term" to meet rising electricity demand, including from electric vehicles, according to ANZ, the Australia New Zealand Banking Group. China's power market is showing signs of strain as extremely low water levels reduced its hydropower generation—China's largest source of renewable energy. To counter the lower hydroelectric levels, China is raising domestic production and imports of coal. Power shortages are likely to emerge as the acceleration in the energy transition continues to put pressure on electricity networks. China is already the world's largest emitter of carbon dioxide, emitting about half the world's carbon dioxide emissions from coal as the graph below shows and that will likely only grow since China supplies the world with green technologies as it dominates those global markets. Ed Ireland address this in a recent blog post, "Electric vehicle boom may 'force' China to burn more dirty coal, says Bloomberg Green."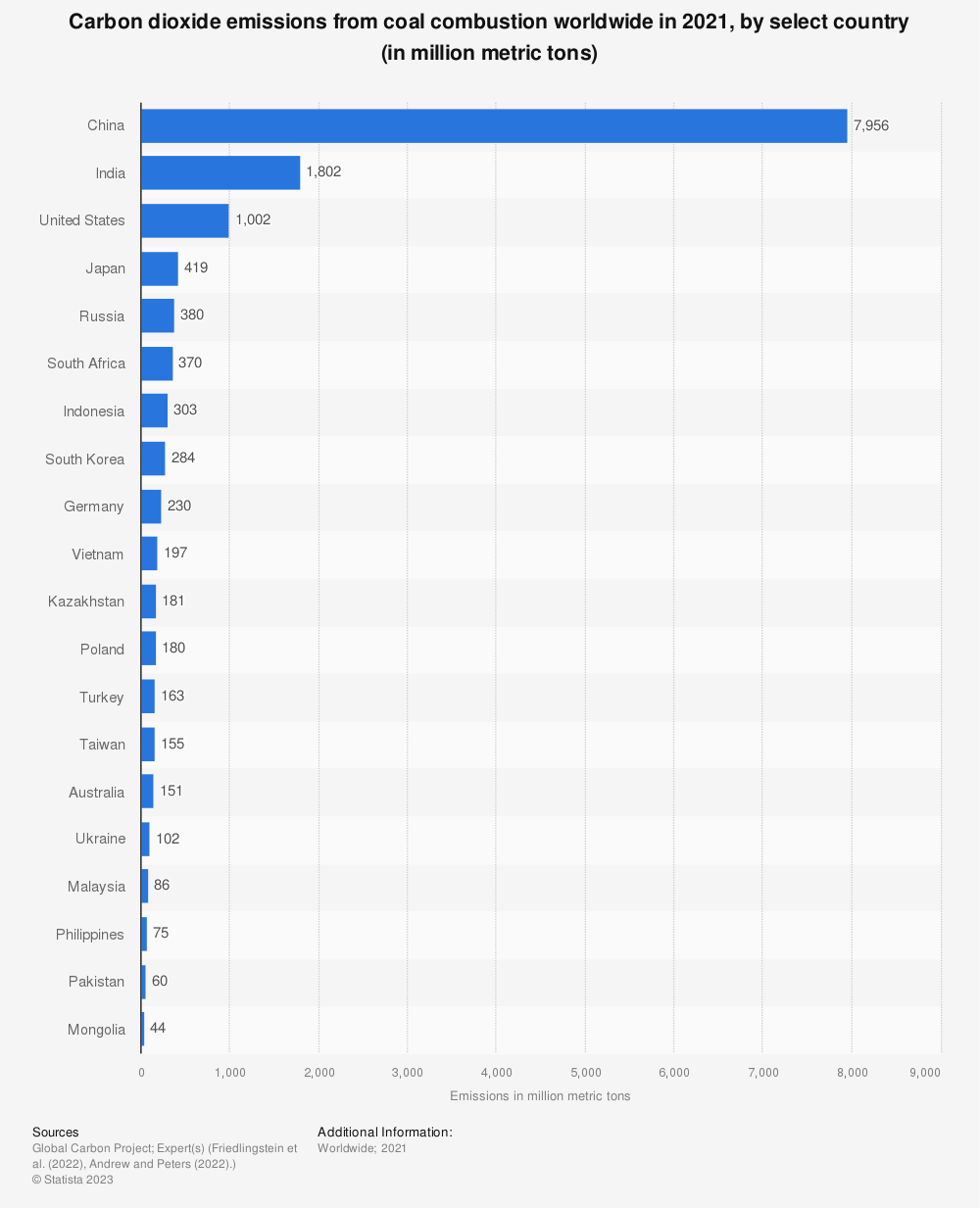 China has five times more coal-fired electric generating plants than the United States and is opening new ones at the rate of at least two per week. Based on carbon dioxide emissions from coal, China emits almost 4 1/2 times more carbon dioxide emissions from coal than India, the second largest coal burner, and nearly eight times more than the United States, the third largest coal burner, points out Ed Ireland in his blog. China and other developing nations are burning coal because it is cheap and available. The United States could close all its coal mines and shutter all its coal-powered generating plants, which is what Biden's Environmental Protection Agency (EPA) is after with its six new regulations affecting coal, and world carbon dioxide emissions would barely change.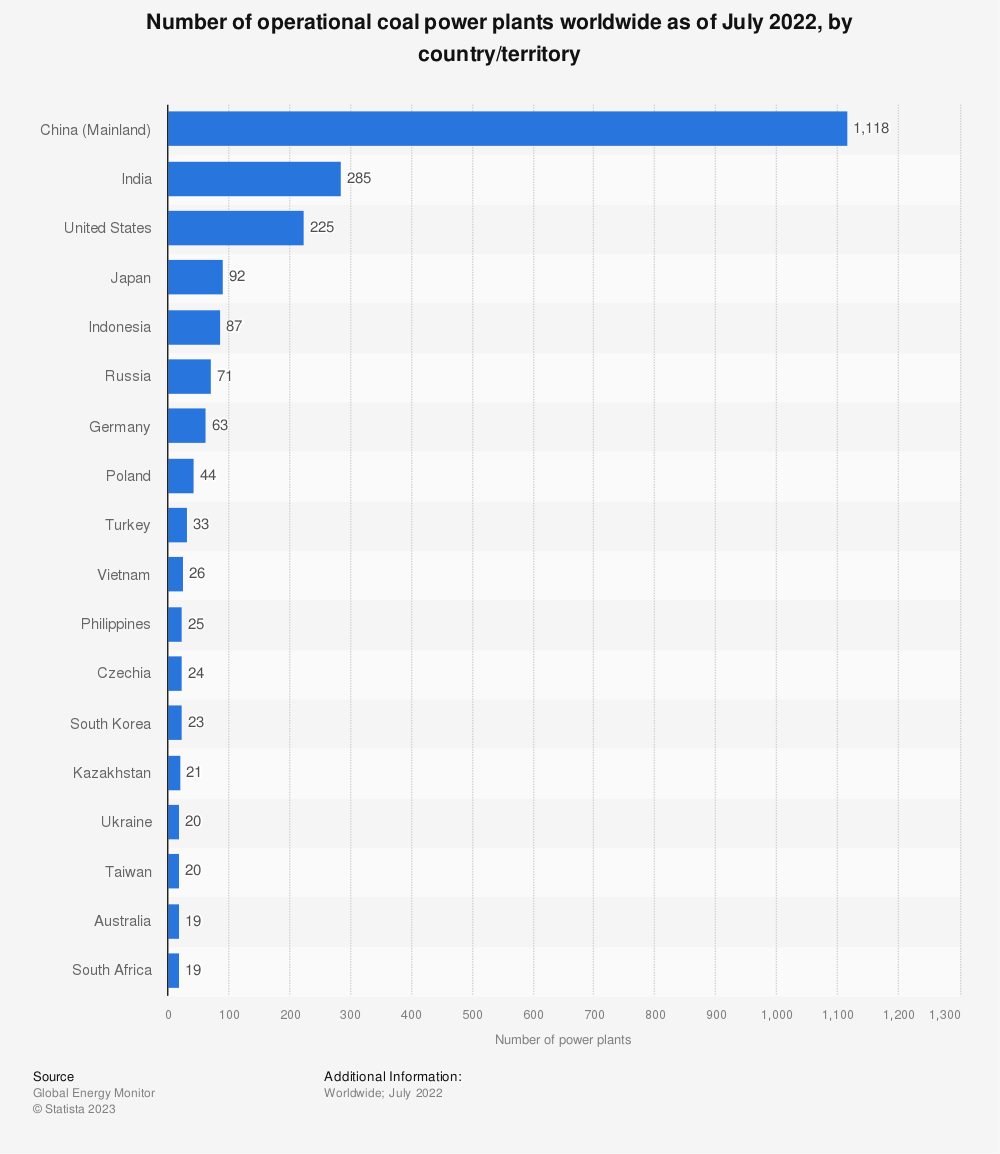 While most of existing U.S. coal plants have already paid off their capital costs, Biden's new regulations could make them pay for costly carbon dioxide control equipment, even though the United States has a remarkable record of clean air and clean-burning energy, or the coal plants would have to shutter. As these plants already are operating at less than full strength due to priority given to wind and solar plants on the grid, it is unlikely that many will be able to afford the cost of the equipment EPA is mandating and will be forced to close.
U.S. Electricity Issues
As the United States adopts policies such as the Inflation Reduction Act which subsidizes wind and solar power and regulations that force coal mines to close, U.S. power grids are warning of blackouts this summer  and power companies are warning of shortages of transformers., EPA proposed 6 regulations that will add costs to coal generating plants or force them to shutter and its proposed power plant rule also attacks natural gas plants. EPA also proposed mandating that two-thirds of automobiles must be electric by 2032, which depend on the power grid to charge their batteries.
Blackouts could be a frequent occurrence this summer as Biden's transition to "green energy" is affecting the electric grid and its capacity to supply energy. The North American Reliability Corporation's (NERC) summer reliability assessment forecasts that no less than two-thirds of the United States, including most everyone living west of the Mississippi River, could experience power outages. The major problem is that dispatchable generating resources (coal, natural gas and nuclear) are being forced into retirement far too quickly and in quantities that threaten the ability to keep the lights on, as insufficient wind and solar power are being added to replace the retirements.
Electric transformers are needed to connect homes to the power grid. They step up or step down electric power that passes through transmission and distribution lines. According to the American Public Power Association, 1 in 5 housing projects has been delayed or canceled owing to transformer shortage, which contributes to the housing shortage. President Biden's green-energy policies are increasing demand for transformers and the specialized electrical steel to manufacture them while creating enormous market uncertainty. The lack of transformers is exacerbating the country's housing shortage and causing longer and more-frequent power outages.
EPA released six new rules covering everything from carbon dioxide to coal ash, which are expected to trigger new coal plant retirements as the cost of keeping coal plants operational with the new regulations increases. Most of the existing coal plants have already paid off their capital costs, but these regulations could make them pay for costly equipment and retrofits even though the United States has a remarkable record of clean air and clean-burning energy. That increase along with less operating time to recover costs as more wind and solar plants come online driven by subsidies and mandates could make more coal plants uneconomic. According to President Biden, that is the plan. EPA's power plant rule mandates carbon capture and sequestration (CCS) technology on existing coal plants—a technology that is not currently economic—with only one such pilot plant operational in North America.
EPA's 681-page proposed power plant rule would also require natural gas plants to blend hydrogen into fuel to survive. Natural gas plants would have to co-fire with 30 percent hydrogen by 2032 and 96 percent hydrogen by 2038. But to be politically acceptable, that hydrogen would have to be produced from renewable electricity (green hydrogen), which is three to four times more expensive. If hydrogen produced from natural gas were allowed, which is generally the way hydrogen is produced today, it would defeat the purpose of the rule, which is to turn the electric sector "green".
The Environmental Protection Agency's (EPA) new emissions standards for vehicles require manufacturers to increase overall fuel efficiency by over 25 percent by 2026, effectively mandating that electric vehicles make up two-thirds of new car sales by 2032. The Western States Petroleum Association indicated that the electrification of California's transportation sector will increase demand by around 300,000 gigawatt-hours statewide, which would be equivalent to a doubling of present electricity demand. Charging an electric vehicle is like adding one or two air conditioners to a residence in terms of its energy demand increase, and many household have multiple vehicles. According to Elon Musk, for the United States to have only electric vehicles, electricity-generating capacity would have to basically double. To make matters worse, transmission will have to increase 2 to 5 times in order to make the electric system robust, an enormously expensive and time-consuming endeavor.
Conclusion
China is benefitting from the green energy transition of Western countries as it dominates the manufacture of the technologies or materials need for the "green" transition. Further, it is using abundant and affordable coal to generate the electricity to fuel the manufacture of those goods as its hydroelectric power—its major renewable energy–is at low levels. It has 5 times the amount of coal-fired capacity as the United States, and Biden's new regulations affecting coal are trying to force existing U.S. coal-fired power plants into retirement. Further, Biden's new regulations on vehicle efficiency will result in new levels of demand on the U.S. electric grid that could mean a doubling of its capacity. By Biden's climate rules, most new generating capacity will be forced to be solar or wind power that require very expensive battery back-up to their intermittency that will increase electricity prices for American consumers.
The absurdity is that while the United States is destroying its own power generation sector and economy due to Biden's climate agenda and desire to reduce U.S. carbon dioxide emissions, China is building more coal-fired power plants, increasing its carbon dioxide emissions and improving its economy and standard of living for its residents. Americans need to wake up to the U.S. energy demise before it is too late.