In India, a million electric rickshaws are being used by 60 million people a day. Their demand is so great that vehicle makers are not able to keep up with it. Nearly all of the electric rickshaws are powered by lead-acid batteries that lie underneath the passenger seats. They contain 2 batteries that are a foot high, five inches wide, and weigh 26 pounds each. In India, they are known as e-rickshaws and they started to gain popularity in 2011.  Passengers pay about 10 rupees, or 14 cents, for a ride.
In India's northern cities, e-rickshaws are supplanting auto-rickshaws that are fueled by diesel, gasoline, or natural gas. Although auto-rickshaws are safer and faster, a passenger pays three to 10 times more than the fare for an e-rickshaw. E-rickshaws are less expensive than auto-rickshaws because of their cheaper energy supply and their ability to hold four or more paying passengers compared to three passengers for the auto-rickshaws. In India, less than four million cars are sold annually. Two-wheelers, auto- and e-rickshaws, and buses are the dominant modes of transportation.
India's million e-rickshaws make up the second-largest collection of electric vehicles in the world—second only to China's fleet of several hundred million electric motorcycles and bicycles.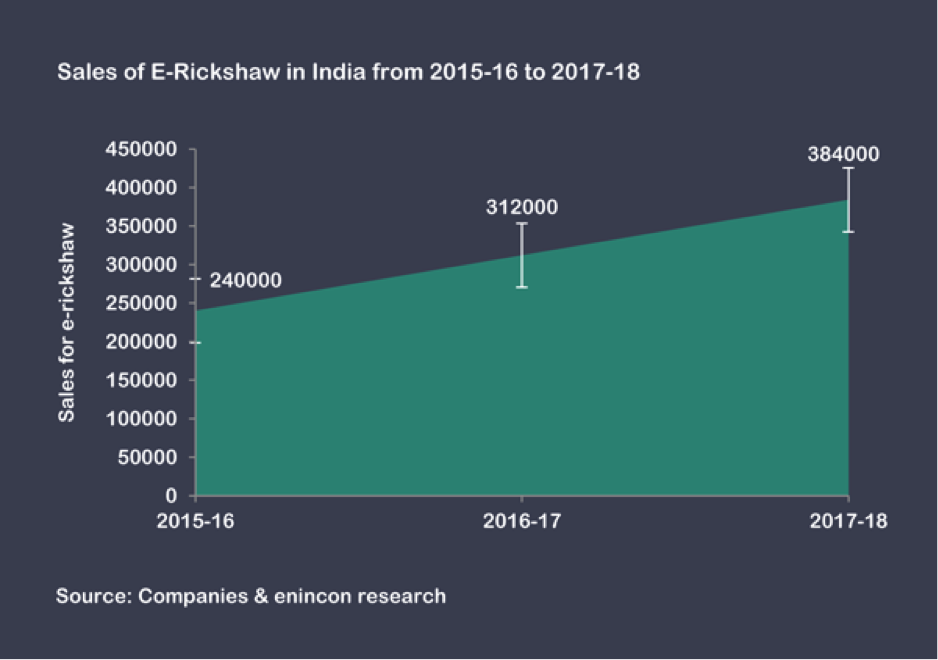 India's History in E-Rickshaws
The first e-rickshaws appeared about a decade ago when small manufacturers imported and assembled kits from China, where the electric rickshaws were used mainly to haul cargo. Their use was initially unregulated. In 2014, a 3-year-old child was knocked into a pot of hot oil by a driver who hit the boy's mother, resulting in the Delhi High Court ruling that the vehicles were illegal and banning them. In 2015, however, the national parliament legalized them and required owners to obtain licenses for them. But, many do not.
Because e-rickshaws reduce air pollution in large cities such as Delhi, officials there offer a subsidy of 30,000 rupees, or about $425, to drivers who buy new ones. New brands in the Delhi area have emerged, as well as a system of parts suppliers and neighborhood parking lots where drivers can store and recharge their vehicles overnight.
The central government wants its motorcycle and auto-rickshaw makers to go all-electric. It reduced taxes on electric vehicles and proposed subsidies for batteries and charging stations. It also is requiring that all new three-wheeled vehicles be electric by 2023 and two-wheeled vehicles by 2025.
Safety is a concern. E-rickshaws are slow, rickety, and prone to accidents. Drivers are supposed to avoid major roads but many do not. Utility companies complain about charging lots stealing power using illegal connections. Because of India's hot climate, e-rickshaws lose their charge more quickly than in cooler countries, and they can overheat and shut down.
India's E-Rickshaw Companies
Ola, an Uber competitor in India, is experimenting with e-rickshaws that can exchange lithium ion batteries quickly reducing downtime for drivers whose batteries lose charge or get overheated. Ola has a battery-swapping station just outside of Delhi. The company raised $250 million from the Japanese conglomerate SoftBank to invest in electric vehicle technology.
Mahindra & Mahindra, a producer of commercial vehicles, teamed up with SmartE, a start-up, to build a market for premium e-rickshaws that run on lithium-ion batteries. SmartE, whose approximately 1,000 e-rickshaws make up the largest fleet of electric vehicles, has a contract with Delhi's metro system to place its vehicles in prime locations. It also wants to standardize the country's e-rickshaw system. The company rents lithium-ion e-rickshaws to drivers, charging and maintaining them at its own lots. Drivers must follow routes set by a computer that assesses demand. SmartE encourages its drivers to wear company T-shirts for a more professional look and a quick advertisement for potential passengers.
A two-year-old joint venture between electric car maker Virya Mobility 5.0 and solar power company SUN New Energy Systems, SUN Mobility, is providing batteries to electric vehicle makers and retaining ownership of the batteries. When they run low, the driver exchanges the batteries for fresh ones, paying only for the electricity that is consumed. SUN Mobility has an agreement to provide bus manufacturer Ashok Leyland with batteries and charging services for 18 buses and will supply batteries for e-rickshaws to SmartE.
Conclusion
In India's congested and polluted cities, e-rickshaws serve as a low cost means of transportation to 60 million customers. The Indian government now recognizes their need and is providing subsidies for electric vehicles. Though the concept of swapping batteries was tried before and failed, companies are looking toward it as a viable business in India where batteries lose charge faster than in other countries due to its hot temperatures.