At a time when the coronavirus pandemic is putting added pressure on our medical system and equipment, which is highly dependent on the electric grid, the state of New York is shuttering the Indian Point nuclear power plant—a source of reliable and resilient electricity. By the end of this month, one of the two reactors at the 2,069-megawatt facility will stop producing power and the remaining reactor will be shuttered next April.  According to the Energy Information Administration (EIA), New York will become more dependent on natural gas and renewable energy to replace that power. Natural gas generation would need to increase from a 40 percent share in 2019 to a 46 percent share in 2020, while non-hydroelectric renewables would need to increase their combined share from 4.7 percent to 5 percent, according to EIA's Short Term Energy Outlook. Hydroelectricity would also need to pitch in to help alleviate the hole left by Indian Point, but the major burden would apparently fall on natural gas.
With the future of the state's generation in the hands of natural gas, it is incredible that Governor Cuomo has banned hydraulic fracturing, which would allow the state to produce its own natural gas from the Marcellus shale basin, and is holding up the construction of pipelines that could bring the natural gas from neighboring Pennsylvania. National Grid, N.Y.'s natural gas utility, has already indicated that it expects a supply shortage of natural gas and had placed moratoria on new natural gas hookups that were overturned by the state. Governor Cuomo is most likely expecting renewable energy to make up the shortfall and is calling the construction of wind and solar farms in the state essential if they are on-line by September 30, 2020, despite indicating most construction not essential because of coronavirus.
Natural gas is flexible, abundant and consumed in many sectors of the economy. It is used as a heating and cooking fuel in the buildings sector, as a feedstock and fuel in the industrial sector, and a generator fuel in the electricity sector. Like oil, natural gas is being affected by the coronavirus pandemic with very low prices and an industry in financial trouble. This is not a time for Governor Cuomo to be putting more demands on natural gas when the state is prohibiting its production and blocking its already limited infrastructure.
EIA's Forecast
EIA expects natural gas to mainly make up for the loss of Indian Point's nuclear power this year and next with some minimal help from renewable energy. While electricity generation from non-hydroelectric renewables is expected to increase by 51 percent between 2019 and 2021 in New York and natural gas generation is expected to increase by less—29 percent. The graph below shows that natural gas will be making up for most of Indian Point's loss of power, according to EIA's forecasts. That is, of course, if the state can obtain enough natural gas for the nuclear plant's replacement as well as meeting normal uses for the fuel given the state's bans on hydraulic fracturing and new gas pipeline construction.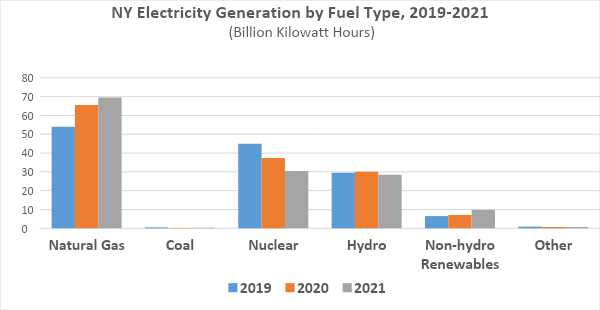 New Yorks's Ban on Hydraulic Fracturing
The New York Legislature codified a ban of hydraulic fracturing ("fracking") in New York State's 2021 state budget. Previously, Governor Cuomo and his predecessor had instituted a ban by gubernatorial initiative. The codification of such a ban into law means it would take an act of the State Legislature to reverse it—a much tougher process than reversing a gubernatorial ban. As a result, New York's Southern Tier counties of Broome and Chemung cannot produce their shale gas deposits that could bolster their economy.
New York's Block on Gas Pipelines
Using a little known section of the Federal Clean Water Act called the Section 401 Clean Streams Certification, Governor Cuomo blocked the construction of interstate gas pipelines preciously approved by the Federal Energy Regulatory Commission. Not only does this action hurt New York City's metropolitan area, but it hurts New England as well since pipelines are the cleanest and most efficient means of transporting natural gas. The ban on pipelines in New York means that natural gas cannot reach New England through the most direct route possible and that there may be insufficient natural gas to replace the power lost at Indian Point.
To try to limit future natural gas use given the ban on pipelines, New York's two largest utilities, Consolidated Edison and National Grid, declared moratoria on future gas hookups for new customers, only to have Governor Cuomo reverse the moratoria by threatening to revoke the utility's operating license. The utilities were concerned that placing new demands on a system already running close to its limits would require shutting off customers during high demand periods. Similar to New England, New York may be forced to rely on natural gas from Russia if a very cold winter should hit or if the state cannot replace the power lost from Indian Point, which currently provides about 25 percent of New York City's electricity.
Background on Indian Point
In January 2017, Entergy Nuclear and the state of New York reached an agreement to retire the two nuclear reactors at Indian Point, located in Buchanan, New York, about 25 miles north of New York City. Indian Point is one of four nuclear power plants in New York state and accounts for about 12 percent of total electricity generated from all NY electricity sources. Under the agreement, Entergy will retire one reactor in April 2020 and the other in April 2021.
Entergy had been seeking a 20-year license renewal for both reactor units from the U.S. Nuclear Regulatory Commission since 2007. Because New York State challenged the renewals as a result of environmental and safety concerns due to the facility's proximity to New York City, the license renewal was not approved. The announced closure dates could be postponed by four years given a mutual agreement between Entergy and the New York state government if electricity reliability in the region is significantly affected or if other emergency circumstances should occur.
Conclusion
Without Indian Point providing nuclear power and without new natural gas pipelines or in-state fracking providing natural gas, New York could be faced with some very expensive future energy bills and reliance on foreign energy because there is no way to get enough solar and wind capacity to replace Indian Point in time, as the EIA forecasts show. As the United States is now the world's top energy producer, there is no reason for a power or fuel shortage in New York. Consolidated Edison and National Grid moratoria are merely a taste of what may be coming. New York politicians need to take action before another crisis should hit, such as a second wave of the coronavirus, or even a very cold winter.  New York is becoming even more ill-prepared for a potential energy delivery problem with the closure of Indian Point.