Due to state economic lock-downs and stay-at-home policies, the amount of gasoline American drivers are consuming has dropped to levels not seen in over 25 years, according to the Energy Information Administration (EIA). Gasoline consumption dropped 48 percent in the week ending April 10, compared to the prior month. The current average price for a gallon of gasoline is $1.83, compared to $2.83 a year ago, according to AAA data, and the price is expected to plummet more. With gasoline demand down, U.S. gasoline stocks increased by 4.9 million barrels in the latest week to a record high of 262.2 million barrels. 
Refiners have cut crude oil purchases and processing, operating at just 69 percent of capacity nationwide—the lowest level since September 2008. The West Texas Intermediate oil price for May fell by 1.2 percent to close at $19.87 per barrel—the lowest settlement since February 7, 2002, as concerns over demand destruction continue to hamper the market.​ Crude oil storage tanks in the United States are nearly 65 percent full as the low oil prices and falling fuel demand caused by the coronavirus pandemic take their toll on the industry. According to EIA, there are 503.6 million barrels of crude oil in commercial tanks across the United States—6 percent above the seasonal average. The United States has an estimated capacity of 768.8 million barrels at refineries and commercial tank farms.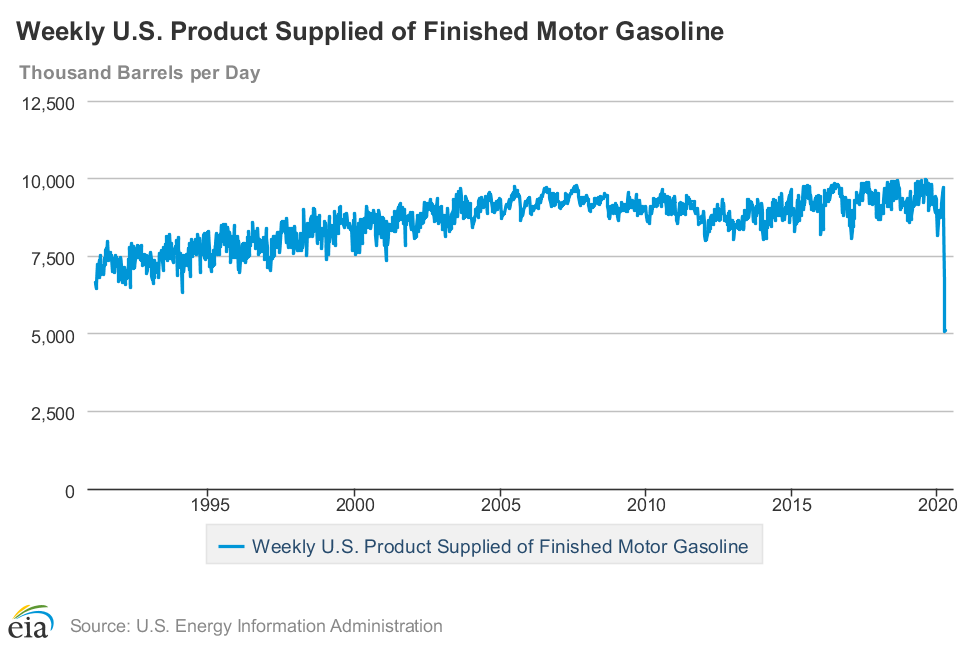 EIA's Forecast 
According to EIA's Short-Term Energy Outlook, gasoline demand is expected to drop by 25 percent during the second quarter and 9 percent for the year compared to the same time last year, and average 8.43 million barrels per day in 2020. The agency expects it to rebound by almost 7 percent next year to 9 million barrels per day. Gasoline prices are expected to average $1.86 per gallon in 2020 and $2.16 per gallon in 2021, with a low of $1.48 during the second quarter of this year. Both annual prices are lower than the average price of $2.60 in 2019. 
Lower prices at the gasoline pump typically encourage people to drive more. However, the usual is not working as the gasoline demand destruction came from the coronavirus outbreak, the resulting economic lock–downs and stay-at-home policies of states, and the closure of most businesses with only people working who are equipped to work from their homes. As a result, gasoline demand is plummeting.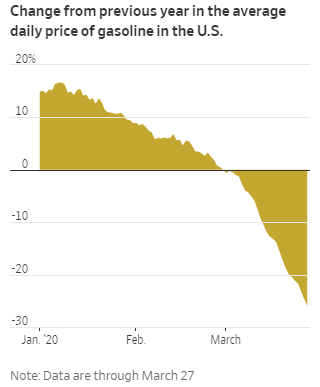 Refinery Margins 
 In the United States, gasoline has actually been worth less than crude recently despite West Texas Intermediate (WTI) oil priced as low as $20 a barrel. On the Gulf Coast, gasoline recently sold for as little as $16 a barrel—about $4 dollars below the WTI oil price. That means a barrel of crude oil cost more than the processed product. The erosion of profits increases the likelihood that refineries will need to shutter in coming weeks to balance supply and demand.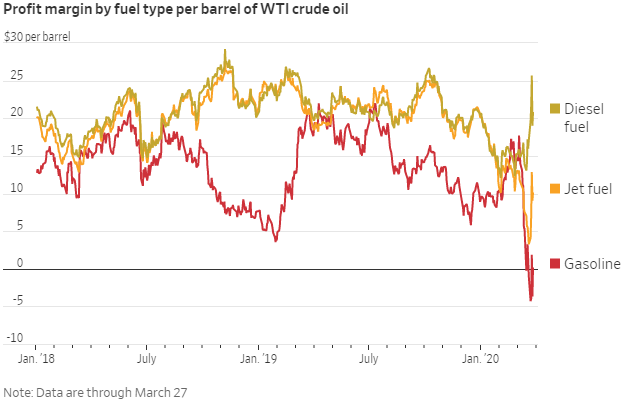 Phillips 66, the largest U.S. refiner by market capitalization, is planning to cut this year's capital spending by $700 million, to $3.1 billion, after domestic demand for gasoline fall about 20 percent in just one week and as much as 30 percent in some regions. According to the analytics firm IHS Markit, daily gasoline demand in the United States could be less than half of normal levels over the next four-to-six weeks, as people continue to isolate themselves. 
Conclusion 
Gasoline demand has plummeted because of state lock-downs and stay-at-home policies to encourage social distancing due to the coronavirus pandemic. As a result, gasoline prices have also plummeted and refinery margins have eroded, increasing the likelihood of refineries shuttering to balance supply and demand. Low gasoline prices are expected to last this year, and begin recovering next year, according to the EIA. The duration of refinery shutdowns will depend on how long people continue to isolate themselves and how much gasoline inventory builds up during that time.  The American economy runs on gasoline and other oil products. When the economy is not running and people are out of work in historic numbers because they have been told to stay home, gasoline demand evaporates along with everyone's freedom to travel.