The U.K. government has vastly underestimated how much it will cost to decarbonize heating in British homes—a necessary step in becoming carbon-free. The U.K. government underestimated the cost by a factor of 5. First, Britain's drafty homes need to be insulated before natural gas heating units can be replaced with heat pumps. The cost of improving energy efficiency could be as much as 18,000 pounds ($24,971) per household. Much of the cost is ultimately borne by consumers, who may not be able to afford such an expensive undertaking. Energy use in homes through heating, hot water and cooking account for about 30 percent of the country's energy use and  20 percent of the country's greenhouse gas emissions, which must be tackled if the U.K. is going to meet its carbon-free target by 2050.
About 19 million homes in Britain need improvement; the Department of Business, Energy and Industrial Strategy puts the cost between 35 and 65 billion pounds ($48 to $89 billion). The cost figure does not include the costs to insulate more difficult homes—properties with solid walls, or those in conservation areas, which could make energy efficiency installations more challenging, and does not include the cost of a heat pump.
U.K. Green Homes Grant Program
The Green Homes Grant program was launched in September 2020 to provide vouchers for homeowners to help pay for insulating their properties and switch to "low carbon" heating. Its budget was 2 billion pounds ($2.8 billion). U.K. ministers and officials are frustrated with the slow rollout of the work, partly blaming the pandemic, and its funding has been cut. The program achieved only 10 percent of its target in six months. The Green Homes Grant Voucher program was designed to provide a short-term economic stimulus as well tackling climate change. But, the prevalence of Covid-19 led to a reluctance by the public to allow tradespeople into their homes, and of homeowners reported having a 'poor experience' with the application process.
The government program provides funds that cover the cost of energy-efficiency measures such as insulation, solar thermal technology, biomass boilers and air-source or ground source heat pumps. There are two sets of vouchers available: the general program is worth up to £5,000 ($6,855) or two-thirds of the cost of eligible energy-efficiency measures, while a low-income program for households on a reduced income offers renovations for 100 percent coverage worth up to £10,000 ($13,710).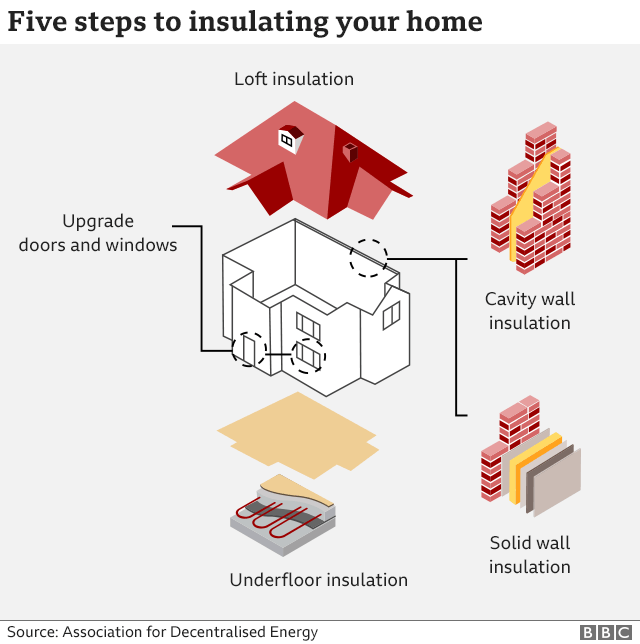 Officials had hoped the grants would help upgrade 600,000 homes and support more than 100,000 jobs as part of a government plan to stimulate the economic recovery from the pandemic. At the current rate it would take 10 years to fulfill the government's promise of the grants helping 600,000 householders implement the carbon reduction measures. The resurgent coronavirus infections resulted in the country being lock downed twice since the program was launched and the policy has stalled.
Despite over 27,000 vouchers totaling 115 million pounds ($158 million) being issued and another 320 million pounds ($439 million) being earmarked for the program in the next financial year, the program was still more than 1.5 billion pounds ($2 billion) short of the allocated budget.
It is the second time the U.K. government has struggled to make a domestic home-insulation program work. In 2015, ministers abandoned the Green Deal, which attached the cost of loan repayments onto a property after a low take-up.
Issues with Implementation 
Besides the pandemic lockdowns and the underestimation of costs, the program was faced with too few installers and there were also delays in the grant payments which left many installers out of pocket. The problems with implementation had devastating consequences on many of the builders and installers that can do the work, who have been left in limbo as a result of order cancellations and the time taken to approve applications.
Conclusion
Delivery of the U.K. voucher program has been poor for consumers and has led to perverse consequences for installers, and the program remains too short-term to have any prospect of achieving its initial targets.  Because funding has been cut and not rolled over into the next fiscal year, many in the renewable energy industry are angered. The U.K. net-zero 2050 strategy for insulating and "greening" housing is not working and has been improperly implemented. This should be a lesson for U.S. policymakers, who are ramming bill after bill and executive order after executive order upon the American people.
Americans should be aware that in the U.K., people are asking a legitimate question: "how much more of the government's net-zero 2050 strategy is just flashy public relations masking poorly thought out policies, making the goals simply impossible to achieve?" It may soon ring familiar to Americans if President Biden's plans pass into law.