President Biden's Environmental Protection Agency (EPA) announced a more stringent rule that would require passenger vehicles to travel an average of 55 miles per gallon of gasoline by 2026, from just under 38 miles per gallon today. It is the most significant climate action taken to date by the Biden administration and the highest level ever set for fuel economy. The tailpipe rule will take effect 60 days after it is published in the Federal Register and apply to model years 2023 to 2026. The purpose of the rule is to help meet Biden's goal of reducing nationwide emissions 50 percent from 2005 levels by 2030. It is more stringent than the standard set under President Obama where passenger vehicles sold by automakers would need to achieve an average of 51 miles per gallon by 2025. Under President Trump, the standard, called the SAFE rule, reduced Obama's standard to 44 miles per gallon by 2026 to ensure safer and less expensive vehicles by reducing automakers' costs for lighter and more expensive technology.
EPA's rule is based on grams-of-carbon-dioxide-per-mile emissions standards. Despite quoting its expected equivalent in miles per gallon above, EPA does not establish mile-per-gallon standards that most consumers are familiar with, which come from the Department of Transportation (DOT). DOT's standards are to work in conjunction with EPA's standards. For EPA's standard, starting in model year 2023, auto manufacturers would need to achieve a 9.8 percent improvement, followed by 5.1 percent for 2024, 6.6 percent for 2025, and 10.3 percent for 2026. In contrast, the Trump Administration's standards called for a 1.5 percent emissions reduction improvement per year starting with model year 2021 and going through model year 2026.
According to the EPA, greenhouse gases from transportation are the largest source of emissions by sector in the United States, accounting for 29 percent. Light-duty vehicles – passenger cars and light trucks – account for 58 percent of transportation-sector emissions. According to the most recent calculation by the EPA, the United States emitted more than 6,500 million metric tons of greenhouse gases in 2019, with about 1,900 million metric tons from transportation sources. The EPA's analysis on the final rule projects greenhouse gas emissions reductions of 3,125 million metric tons, which are less than half of the annual nationwide total spread over 28 years. The graph below shows the effect the final rule's projected reductions would have on the Energy Information Administration's (EIA) expected transportation sector emissions until 2050, and also compares it to EPA's proposed rule from August.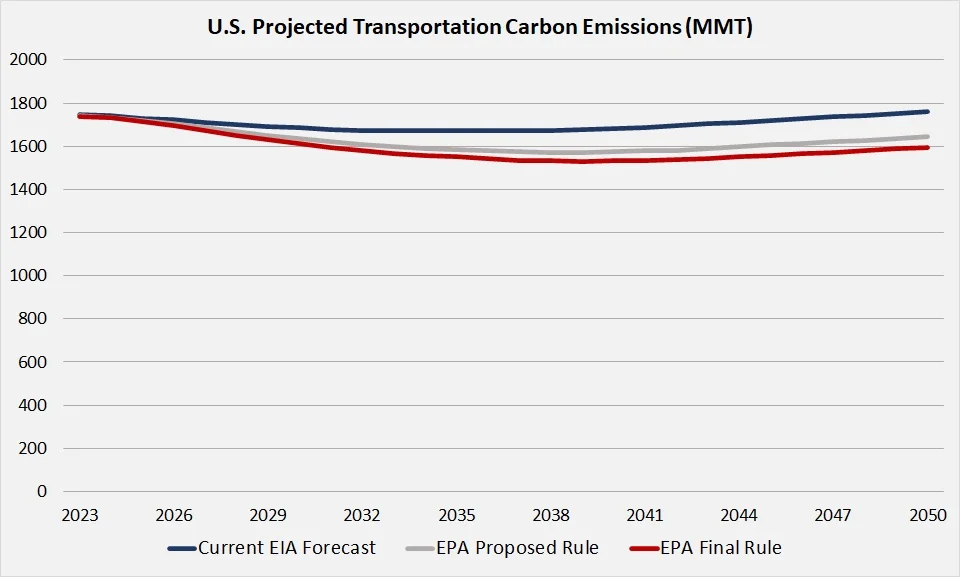 EPA estimates the cost of its rule at $180 billion through 2050 – which makes it one of, if not the most expensive rule ever in regulations. The agency projects net benefits of $120 billion once fuel consumption savings and expected "global climate benefits" are factored in. The costs are significant given the relatively modest emissions reductions, particularly when subsequent rulemakings will be needed with higher costs as deeper emissions reductions will need to be achieved to reach the administration's 2030 goal.
New Rule is Just a Start
The new EPA tailpipe rule is a first step in President Biden's push to rapidly shift American drivers from cars and trucks powered by the internal combustion engines to zero-emission electric vehicles. Biden set a goal for electric vehicles to make up 50 percent of all new car sales by 2030. But electric cars are on track to total just 4 percent of American sales in 2021. The recently passed infrastructure bill is expected to help by allocating $7.5 billion to build about 500,000 electric charging stations nationwide, plus more than $7 billion for investments in battery manufacturing, materials, and recycling to help supply chains needed to produce electric vehicles. President Biden's executive order requiring the federal government to purchase only zero-emission cars and trucks by 2035 is also expected to help spur electric vehicle adoption.
According to EPA, as its greenhouse gas standards get stronger over four years, sales of electric vehicles and plug-in hybrid vehicles are expected to grow from about a 7 percent market share in model year 2023 to about 17 percent in model year 2026. The regulations essentially force sales of electric cars on the American public by forcing manufacturers to produce vehicles that meet the standard.
EPA is working on a future regulation for vehicles built in model year 2027 and beyond to compel automakers to ramp up sales of electric vehicles even further. The plan is to publish a draft in 2022 and to complete it before the end of Biden's term. Autoworkers have expressed concerns over the electric transition because the production of an electric vehicle requires about one-third less human labor than a vehicle powered by an internal combustion engine. Meanwhile, the CEO of Stellantis (Jeep, Chrysler, Fiat) said that electric vehicles will raise costs 50 percent, making them too expensive for many middle class buyers.
Conclusion
EPA's final standards are the most ambitious vehicle emissions standards for greenhouse gases ever established for the light-duty vehicle sector in the United States and one of the costliest at $180 billion. It is expected to reduce greenhouse gas emissions by 3 billion tons, about half the total U.S. carbon dioxide emissions in 2019, but spread over 28 years. In fact, the modest improvement in emissions reductions compared to EIA's baseline raises questions whether these admittedly interim costs are warranted. Though, it is clear that the Biden Administration does not care what the cost is as long as this rule that forces Americans into electric vehicles gets closer to meeting President Biden's goal of a 50 percent reduction in nationwide greenhouse gas emissions from 2005 levels by 2030.