Global sales of pure electric and plug-in hybrid passenger vehicles in 2021 are expected to more than double to a record 6.2 million units, which is almost 9 percent of the global passenger vehicle market—up from less than 3 percent two years ago. The increase comes despite shortages of lithium-ion batteries and semiconductor chips and expensive safety-related recalls. The rapidly increasing demand, however, will be hampered by supply deficits and volatile prices for battery metals such as lithium, nickel and cobalt, which are mostly mined and refined outside the United States, as well as other supply chain constraints. Forecasts show global primary nickel supply facing a deficit of 128,000 metric tons in 2021, and a 1,800-metric ton shortfall in refined cobalt, with supplies tightening through 2025. For lithium carbonate, an estimated 30,000-metric ton shortage is expected by 2025.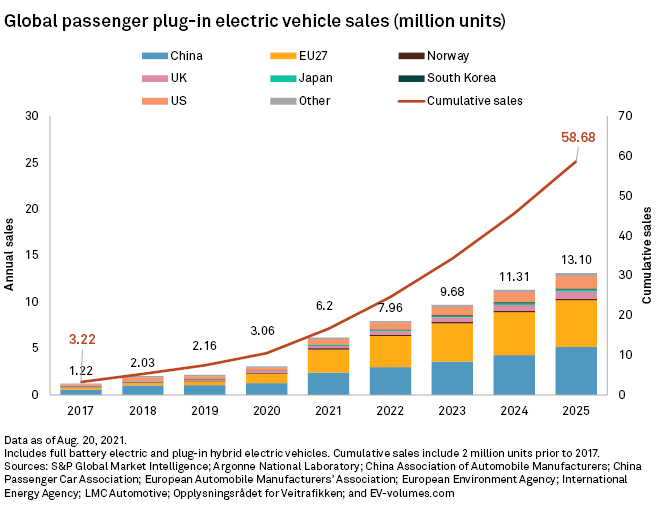 Lithium
While there is plenty of lithium in the world, converting it into battery-grade chemicals is a long, expensive ordeal, making prices very volatile. Even though commodities are a tiny part of total vehicle cost, they could contribute to rising average prices for lithium-ion battery packs, which would be the first such increase in at least a decade. Years of declining battery costs have made electric vehicles more competitive with gasoline-powered cars.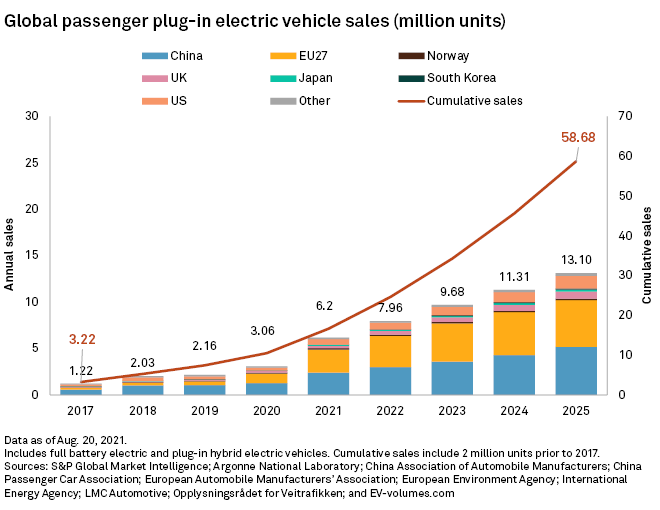 Most lithium currently comes from countries such as Australia or Chile in South America. There are two main sources: a salty brine that is pumped out of the ground and spodumene—a mineral contained in hard rocks. After extraction, chemical processes are needed to make battery-grade lithium compounds, where China dominates due to its low costs and industry expertise. In the United States, environmental opposition and permitting delays are obstacles for companies, including Lithium Americas in Nevada and Piedmont Lithium Inc., a North Carolina-based producer. Environmental fears help to buoy up prices.
Chilean mining company, SQM, the world's second largest lithium miner, expects average prices for the battery metal to rise close to 50 percent in the last three months of the year from the previous quarter, as strong demand for a major ingredient to make electric vehicle batteries continues to put pressure on the market. A sharp tightening of the market for lithium has made a benchmark index more than double in 2021 and prices in China hit records. There is little or no inventory in the system right now and demand is expected to more than triple by 2025.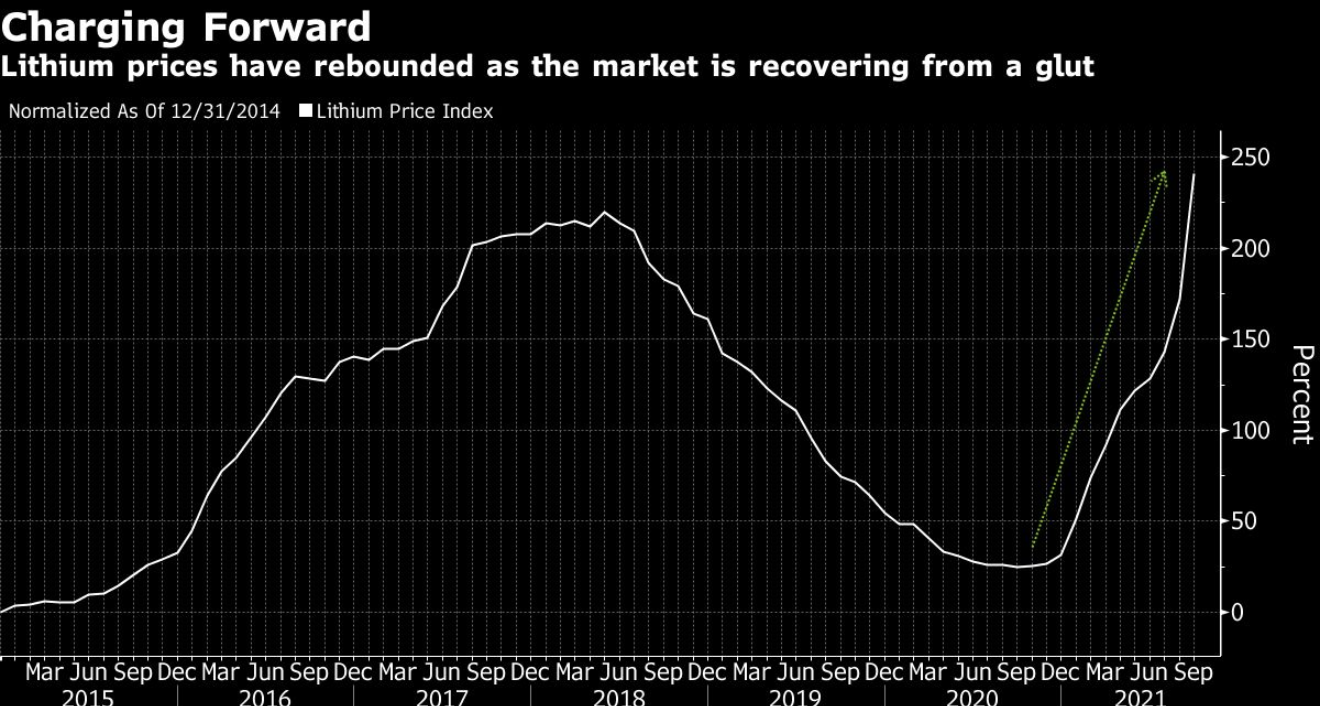 Chile was until 2018 the world's top lithium producer, when it lost first place to Australia. The country currently generates about 29 percent of the world supply, and plans to double production by 2025 to about 250,000 metric tons of lithium carbonate equivalent. Global demand, according to Chile's projections, will quadruple by 2030, reaching 1.8 million metric tons of lithium and available supply by then is expected to be 1.5 million metric tons.
Cobalt
European cobalt metal prices increased by 88.7 percent since the start of 2021 to $30 per pound—the highest level since December 2018, caused by tightening logistical bottlenecks that hampered trade flows and material availability. There are no signs that trade logistics are easing, with inland and port inefficiencies in South Africa exacerbated by a global vessel shortage, shipping delays, and higher fees. Much of the world's cobalt is sourced in the Democratic Republic of the Congo (DRC) and mined with child labor.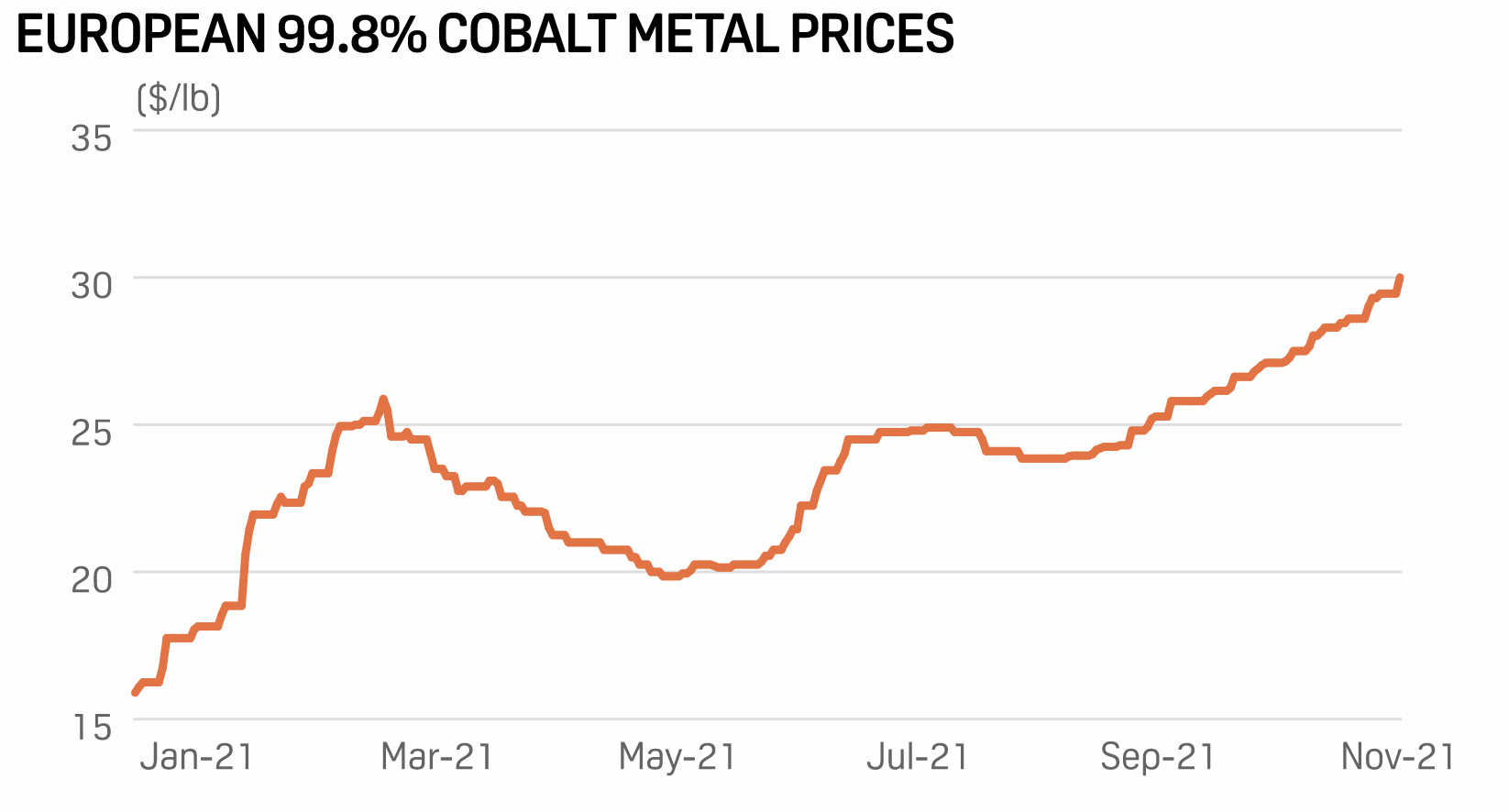 Nickel
The price of nickel, mainly used in producing stainless steel, dropped to $11,753 per metric ton in April 2020, from a peak of $17,673 in September 2019, due to the coronavirus pandemic. In the second half of 2020, China's rapid economic recovery became a major driver in increased nickel prices. In addition, a ban on nickel-ore exports from Indonesia to stimulate domestic processing, which came into effect on January 1, 2020, contributed to the metal's rally. In February 2021, nickel advanced to a nearly seven-year high above $19,000 per metric ton from around $17,000 early this year, as a result of China's strong economic growth and a shortage of supply.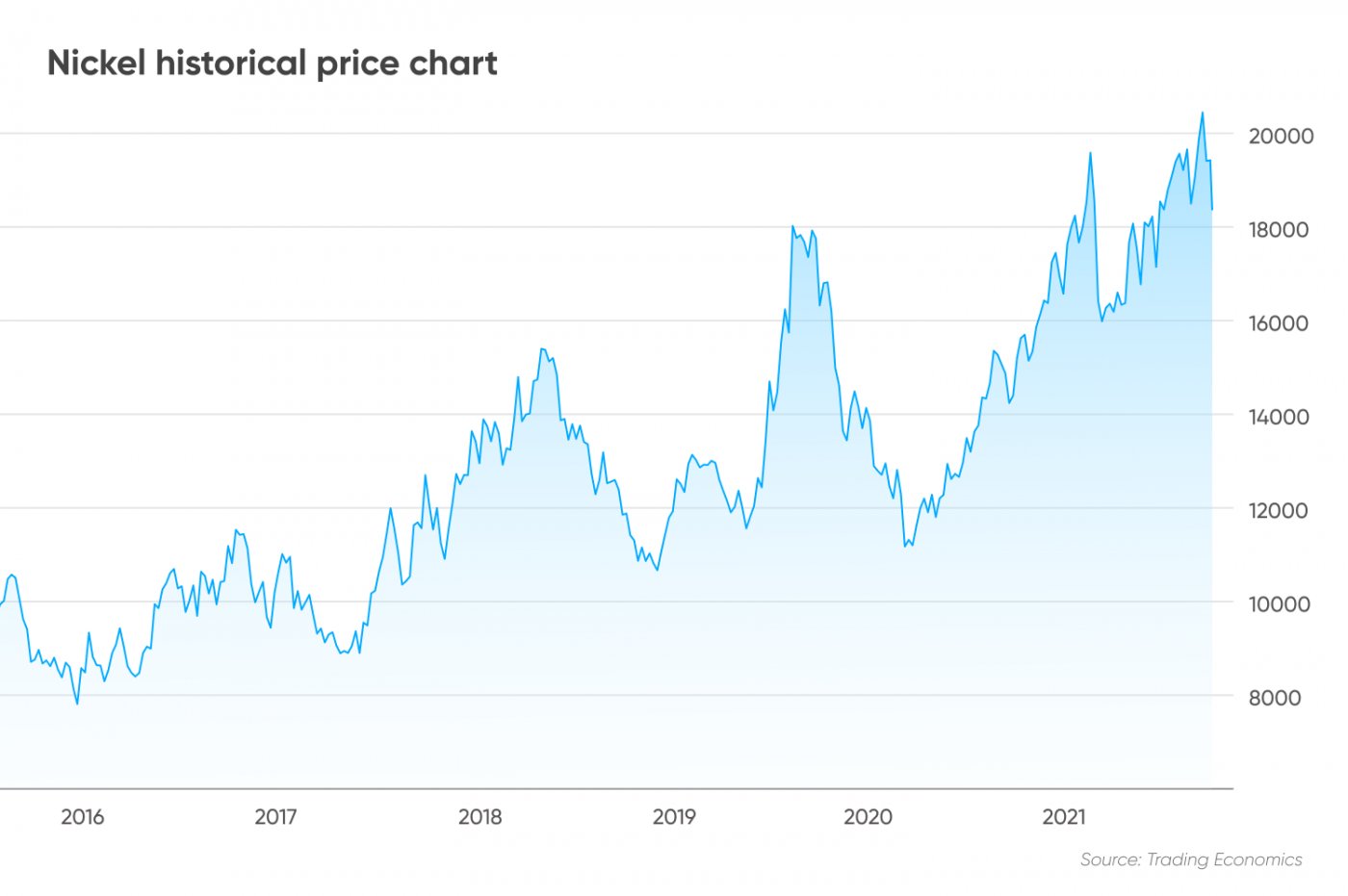 Conclusion
Electric vehicle sales are increasing as the price of batteries have come down. But recent increases in the price of metals needed for battery production may cause the trend of declining battery costs to reverse. Metal prices are increasing due to increasing demand, shortages in supply and supply chain issues caused by the coronavirus pandemic. Lithium—a key component in electric vehicle batteries—has seen prices more than double this year and lithium prices in China have hit a record. Since electric vehicle sales are linked to government policies and incentives, it will be interesting to watch if governments will match their demand for electric vehicles with policies that will ensure the minerals availability necessary to make their electric vehicle goals possible.