Ford has received a massive loan from the U.S. government, among other taxpayer subsidies, to fuel Biden's government-mandated electric-vehicle transition. Biden's Energy Department awarded Ford a $9.2 billion loan for three battery plants in the South, which ranks as the biggest "investment" in the loan program's nearly 20-year history. It is reminiscent of the Obama Administration's waste as it doled out billions to Solyndra, Fisker Automotive and A123 Systems, among other green businesses that went bankrupt. Ford's electric vehicle investments are squeezing its profits and forcing layoffs. Last year, Ford lost $3 billion on EV sales, but was bailed out by sales of its popular gas-powered trucks. In the first quarter of 2023, Ford's EV program posted a negative 102 percent operating margin, i.e. losses exceeded sales revenue.  Ford is losing around $30,000 per electric vehicle produced.
______
Fast Facts
Taxpayers will be on the hook for $9.2 billion the Department of Energy is offering in loans to Ford for EV battery plants at interest rates about half of market, along with Biden's subsidization of the batteries and the buyers and lessees of these expensive vehicles.
States are also pouring billions of dollars into attracting these plants, meaning that taxpayers would be providing low-interest financing for almost all of their cost, even though manufacturers are losing money on each electric vehicle they sell.
Ford is shrinking its workforce as EV manufacturing requires many fewer jobs.
______
The Energy Department provides loans at the U.S. Treasury rate that are far cheaper than in the private market. Because Ford has a speculative credit rating, it borrows from the government at about half the interest rate that private sources would charge. Ford will also receive manufacturing tax credits from Biden's Inflation Reduction Act (IRA), which cut a third off the cost of battery production. The IRA creates a new $45 per kilowatt battery production tax credit, which Ford CEO Jim Farley said would provide an estimated combined tax credit for Ford and its battery partners totaling more than $7 billion. The IRA battery production tax credit is estimated to cost taxpayers $152.8 billion—more than five times as much as Congress's Joint Tax committee estimated last year because so many auto makers will want to apply for it. IRA also provides up to a $7,500 consumer tax credit to consumers to purchase electric vehicles.
Kentucky and Tennessee are adding to the federal government's loan by providing $2.7 billion for the three factories and Michigan has offered Ford $1.7 billion in incentives for a "collaboration" with China's state battery company CATL to build a battery factory in Michigan. Ford and its partner South Korea's SK On announced in 2021 they would invest $11.4 billion to build a F-150 EV assembly plant and three battery plants in the United States with Ford investing $7 billion. That means taxpayers would be providing low-interest financing for almost all of the cost. Meanwhile, Ford's EV F-150 entry level Lightning has increased in price by over $20,000 since it debuted last summer—almost a 50 percent increase.
Ford has agreed to a union "neutrality" agreement at the battery factories that will make it easier for the United Auto Workers (UAW) to organize workers. But, UAW union President Shawn Fain criticized the Energy Department's plan to lend $9.2 billion to Ford and SK to build the three U.S. battery plants, calling the loan a massive "giveaway" with "no consideration for wages, working conditions, union rights or retirement security" that would help create low-paying jobs. He added, "Why is Joe Biden's administration facilitating this corporate greed with taxpayer money?" Fain will be renegotiating new UAW agreements with the auto companies that expire soon and is threatening to withhold the union's endorsement of Biden for reelection unless he backs a "just transition" to electric vehicles for union workers. Electric vehicles are estimated to require 40 percent fewer manufacturing jobs than conventional vehicles. While current workers are being laid off, the battery plants are expected to create 5,000 construction jobs in Tennessee and Kentucky, and 7,500 operations jobs once the plants are up and running.
The Biden Administration's emissions rules require electric vehicles to be 17 percent of new car sales in 2026 and two-thirds by 2032. Ford and other car makers want to make electric vehicles profitable through efficiencies from manufacturing scale. But until then, auto manufacturers want the government to subsidize electric vehicles as they are required to produce and sell them, despite losing money on them.
Ford Cuts More Jobs
Ford will lay off more workers, impacting mostly engineering jobs in the United States and Canada, as part of the Detroit automaker's move to exit unprofitable locations and cut headcount. Workers affected by the changes will be offered severance pay, benefits, and significant help to find new career opportunities, according to Ford's CEO. In August, Ford laid off about 3,000 white-collar and contract employees. Earlier this year, the automaker announced it was beginning a 3,800-person reduction in its European workforce. But, the company may not be done shrinking even after these layoffs are executed as it prepares for its EV transition. Last month, Ford indicated it expects to take up to $2 billion in restructuring charges, much of that to fund staff cuts.  Amid reports of further job cuts, Ford has been hit with a string of product recalls involving millions of vehicles including trucks and SUVs with missing information in the owners' manuals, to vehicles susceptible to engine fires, faulty seatbelts and airbags.
Energy Department (DOE) Loan History
Biden is using a program in the Energy Department for his green technology loans that first started under Obama administration, where several companies had failed as depicted below. The DOE program was mostly dormant during the Trump administration, as the United States became energy independent and gasoline prices were very low.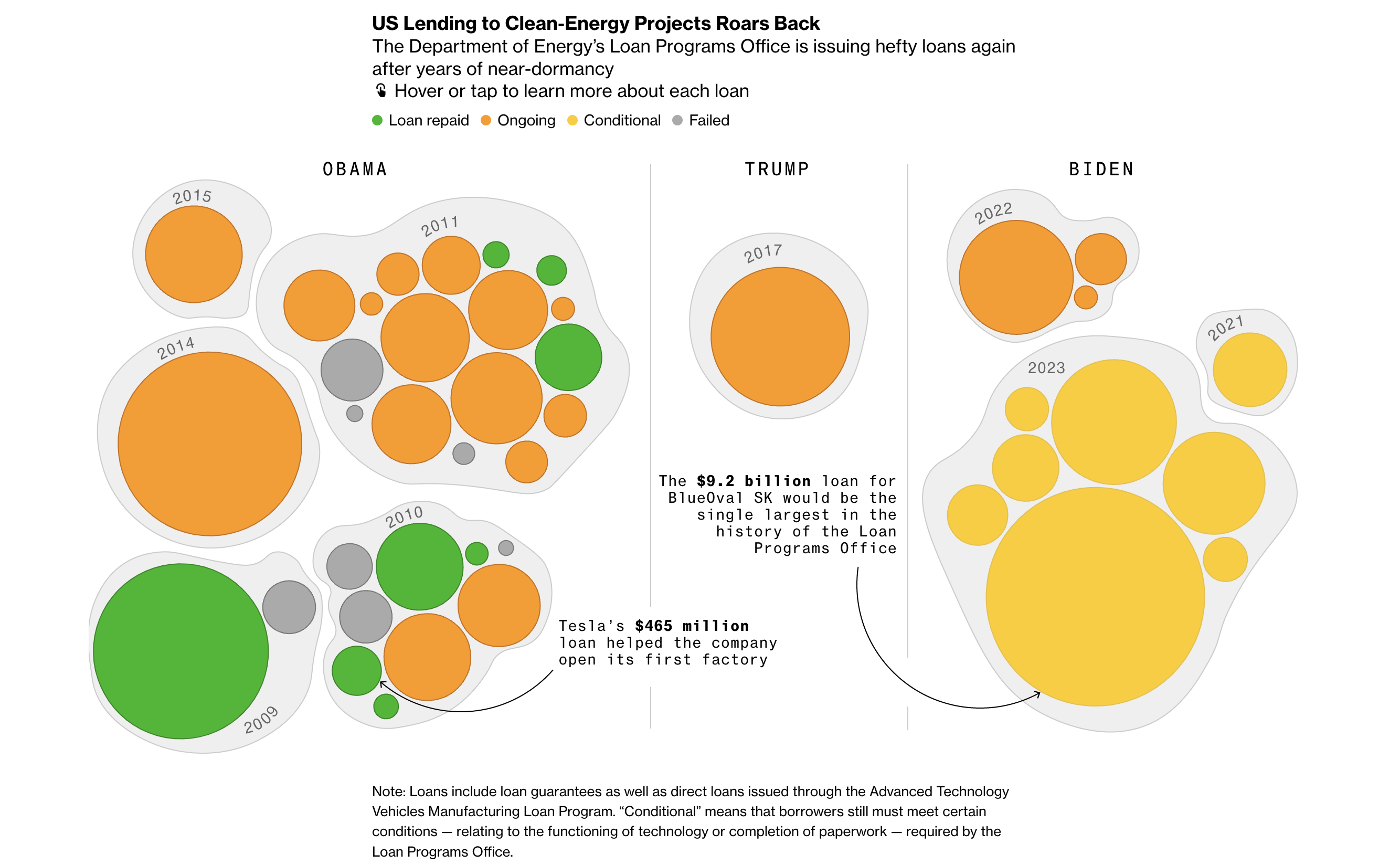 Conclusion
Ford is getting a sweet deal to build 3 battery factories in the South from the federal government's DOE loan program and the two states where the factories will be located. The loans will cover almost the entire funding needed at low interest rates compared to those in the private sector. The company will also get federal tax credits for producing batteries and its buyers will get tax credits for the purchase from Biden's Inflation reduction Act. While Ford is undertaking its transition to electric vehicles, it will be laying off more employees, despite already having laid off thousands. Biden is employing a loan program that is aimed at helping to attain his climate goals similar to the program during the Obama administration where a number of "green" companies that received loans went bankrupt, failing to return the loan amount covered by taxpayers.