Download Maryland's renewable electricity PDF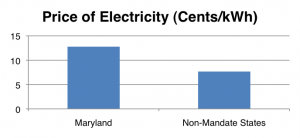 Renewable Mandate Status: Not on Track
2009 Qualified Renewable Generation: 4.19%[i]
2009 Renewable Mandate: 4.51%
2022 Renewable Mandate: 20%
Eligible Resources: Two tiered system:
Tier 1: Solar, wind, qualifying biomass), methane from the anaerobic decomposition of organic materials in a landfill or a waste water treatment plant, geothermal, wave/tidal, fuel cells powered by methane or biomass, poultry-litter incineration facilities, and small hydroelectric plants (systems less than 30 megawatts in capacity).[ii]
Tier 2: Hydroelectric other than pump-storage generation and waste-to-energy facilities.[iii]
Compliance schedule[iv]:
[table id=13 /]
Renewable portfolio history: RPS enacted in May 2004. S.B. 595 in April 2007 required 2% of energy to come from solar (in addition to the 7.5% requirement of Tier I materials). H.B. 375 in April 2008 more than doubled Tier I requirement and accelerated compliance schedule. S.B. 277 in May 2010 accelerated solar compliance schedule[v].
Credit Trading: Yes
Noncompliance penalty: Maryland law creates an alternative compliance fee schedule of 2.0¢/kWh for non-solar Tier 1 shortfalls (increasing to 4.0¢/kWh in 2011; 1.5¢/kWh for Tier 2 shortfalls; 40¢/kWh in 2009 through 2014, 35¢/kWh in 2015 and 2016, 20¢/kWh in 2017 and 2018 and continuing to decline by 5¢ bi-annually until it reaches 5¢/kWh in 2023. [vi]
Electricity Price Ranking: 11th Highest[vii]
12.78 cents/KWh in Maryland
7.67 cents/KWh in non-mandated states
---
[i] Maryland Public Service Commission RPS Report to the Legislature (Feb. 2010). 4.53% of Maryland electricity considered renewable (4.19% if not including state exemptions).
[ii] Maryland PUC C. §7-701 (l) (May 26, 2004), http://mlis.state.md.us/asp/web_statutes.asp?gpu&7-701.
[iii] Maryland PUC C. §7-701 (m) (May 26, 2004), http://mlis.state.md.us/asp/web_statutes.asp?gpu&7-701.
[iv] Maryland PUC C. §7-703 (b) (May 26, 2004), http://mlis.state.md.us/asp/web_statutes.asp?gpu&7-701.
[v] Database of state Incentives for Renewables and Efficiency, Maryland, http://www.dsireusa.org/incentives/incentive.cfm?Incentive_Code=MD05R&re=1&ee=1.
[vi] Maryland S.B. 277. http://mlis.state.md.us/2008rs/chapters_noln/Ch_126_hb0375E.pdf.
[vii] EIA, Electric Power Monthly, Table 5.6.B., Average Retail Price of Electricity, June 2010, Released Sept. 15, 2010, http://www.eia.doe.gov/cneaf/electricity/epm/table5_6_b.html.