Download South Dakota's renewable electricity PDF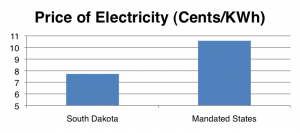 Renewable Goal Status: Not on Track

2009 Qualified Renewable Percentage: Effectively 0% (2,034 MW / 10,503,298 MW)[1]
2015 Renewable Goal: 10% of retail sales
Renewable portfolio history: In 2008, South Dakota passed HB 1123 that established a voluntary objective of 10% by 2015. However, Utilities must give annual reports on their progress.[2] For renewable and recycled energy, the objective is measured by qualifying megawatt-hours (MWh) delivered at retail or by certificates representing credits purchased and retired to offset non-qualifying retail sales. With conserved energy, the objective will be measured by methods established by the South Dakota Public Utilities Commission (PUC).[3]
Credit Trading: Yes
Noncompliance penalty: None
Electricity Price Ranking: 15th Lowest[4]
7.5 cents/KWh
10.58 cents/KWh in mandated states
---
[1] According to Brian Rounds of the South Dakota Public Utilities Commission, however, most utilities are "banking their credits for further use."
[2]South Dakota Legislature, 2009; Chapter 49-34A-104; http://legis.state.sd.us/statutes/DisplayStatute.aspx?Type=Statute&Statute=49-34A-104.
[3] [3] Database of state Incentives for Renewables and Electricity, South Dakota, http://www.dsireusa.org/incentives/incentive.cfm?Incentive_Code=SD02R&re=1&ee=1.
[4] EIA, Electric Power Monthly, Table 5.6.B., Average Retail Price of Electricity, June 2010, Released Sept. 15, 2010, http://www.eia.doe.gov/cneaf/electricity/epm/table5_6_b.html.