First Solar, an Arizona-based solar-panel manufacturer, expects to receive as much as $710 million this year—nearly 90 percent of its expected operating profit—from federal subsidies meant to encourage domestic renewable energy production. Those incentives could be worth more than $10 billion for the company over the next decade. The incentives were approved by a Democratic Congress and President Biden last year and taxpayers will be paying the bill. Ten billion dollars is 20 times more than Solyndra received from the federal government when Obama was President—a company that eventually went bankrupt, without any benefit to taxpayers.
______
Fast Facts
A solar company, First Solar, may average a billion dollars annually in subsidies over the next 10 years from President Biden's climate bill, the Inflation Reduction Act.
Over $1 trillion may be spent subsidizing energy under that bill.
China controls more than 80 percent of the global supply chain for solar panels by using cheap coal-generated electricity.
The United States has placed sanctions on Chinese manufacturing in Xinjiang due to labor abuses.
______
First Solar expects to have as much as a 60 percent share of the U.S. market for large-scale solar installations this year, as a result of the Inflation Reduction Act (IRA). The Biden administration's climate legislation, IRA, could provide $1 trillion for "clean-energy" projects, largely through tax credits tied to benchmarks such as the amount of wind power generated or solar panels produced. So far, about $110 billion has been announced for factories and other facilities to make "clean-energy" technologies such as wind turbines and battery components. Most of those projects involve overseas "clean-energy" companies.
Making solar panels is a low-margin business where companies vie for competitive prices, which is why factories were built in low-cost places such as China or Southeast Asia. In fact, China controls more than 80 percent of the global supply chain for solar panels. To compete with big Chinese solar-panel makers and their suppliers, First Solar makes solar panels using a technology called thin-film, where layers of photovoltaic chemicals are spread onto glass in a process that is faster, cheaper and simpler than the procedure for common silicon-based panels. Thin-film panels have strengths and weaknesses as explained here.
First Solar promised to spend more than $2.8 billion into new manufacturing and research facilities in the United States, including a recently announced new factory. It has built factories in cheaper locations such as Malaysia and Vietnam, where it hosted more than 80 percent of its manufacturing capacity as late as 2018. It has lobbied against cheap Asian imports, pushing for duties on solar components made by Chinese companies. The duties and pandemic shipping bottlenecks raised First Solar's U.S. sales. The company expects to provide more than half of the panels sold for large-scale solar installations in the United States this year, compared with around a third before the pandemic. First Solar estimates that 90 percent of the pieces that go into its newest panel are already made in America.
First Solar's lobbying efforts have primarily been aimed at securing a level playing field with cheap Chinese manufacturers that get subsidized by the Chinese government. China is focusing on energy security and the United States needs to do the same where we are most endowed in energy resources, but the U.S. government is choosing the path that the Chinese government wants with these subsidy incentives.
China Solar Supply Chain and Human Rights
Global supply chains for solar panels have been trying to shift away from a heavy reliance on China, in part because of a ban on products from Xinjiang, a region that produces polysilicon using Uyghur labor. However, the vast majority of solar panels made globally continue to have significant exposure to China and Xinjiang. Xinjiang produces about a third of both the world's polysilicon and its metallurgical-grade silicon, the material from which polysilicon is made.
The Solar Energy Industries Association, the industry's biggest trade association, has been asking companies to shift their supply chains and cut ties with Xinjiang. More than 340 companies have signed a pledge to keep their supply chains free of forced labor. Despite that, major global companies still have extensive exposure to Xinjiang, and potentially to forced labor. The world's five largest solar manufacturers — all with headquarters in China — have "high" or "very high" potential exposure to Xinjiang.  The area is so productive in the solar business that a single facility there has more onsite coal electrical generation than the nation of Kenya has from all sources.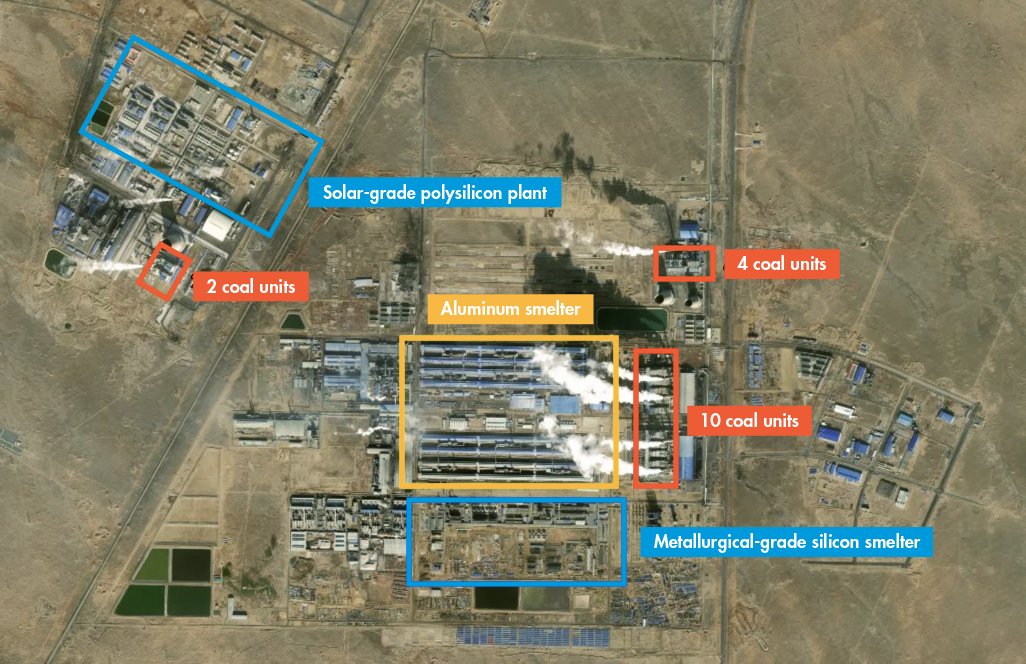 The Chinese government denies the presence of forced labor in the work programs it runs in Xinjiang, which transfer groups of locals to mines and factories. According to human rights experts, those who refuse such programs can face detention or other punishments. In June of last year, a U.S. law, the Uyghur Force Labor Prevention Act, was adopted that assumes any product with materials from Xinjiang is made with forced labor until proved otherwise. Since then, U.S. customs officials have detained $1.64 billion of imported products, including an unspecified volume of solar panels, to check them for compliance, causing installation delays in the United States.
Recently, the Biden administration added four Chinese companies, as well as several of their subsidiaries, to a special list of firms restricted from sending products to the United States because of their participation in receiving, recruiting or transporting forced labor or members of persecuted groups from Xinjiang. The companies supply products to the automotive, apparel, food, electronics and other industries.
As solar projects continue to escalate to meet President Biden's climate goals, it is likely that materials and equipment with ties to forced labor will grow. Over the next decade or so, the solar industry projects it will install double the amount it has in past years, with annual growth expected to average 11 percent. In the near term, the manufacturing capacity in the United States is sufficient to meet less than a third of national demand.
Walk Free, an international human rights group, estimates that 50 million people globally lived under forced labor conditions in 2021, an increase of 10 million from 2016. Part of that growth is due to the rapid increase in renewable energy pushed by Western countries due to their climate agenda.
Conclusion
U.S. taxpayers are paying dearly for President Biden's energy transition to carbon free energy. It is expected that incentives under IRA will top a trillion and solar manufacturers are part of the companies receiving those benefits. Unfortunately, many of these solar manufacturers are getting supplies from China, who controls 80 percent of the solar supply chain and uses forced Uyghur labor to produce polysilicon and other solar components. The United States has a law prohibiting the purchase of goods obtained using forced labor from China. However, it is difficult to determine the sources that U.S. solar companies use to obtain needed supplies, meaning that they may need and do rely on China. Unfortunately, the United States has fallen so far behind China in solar manufacturing that an enormous amount of work, capital and technical knowledge would be needed to catch up, costing Americans big bucks in incentives as well as in future energy costs.