"We can invest $15 billion a year in renewable sources of energy … to create 5 million new jobs, new energy jobs, all across [the] country, jobs that pay well, jobs that can't be outsourced," candidate Obama promised.[i]
President Obama spent $90 billion of his stimulus package on green energy projects, but according to the Labor Department, just 9,245 people landed new jobs in the "green energy" industry by the end of the third quarter of last year,[ii] well short of the 200,000 jobs that President Obama told the American people would be generated each year. In fact, according to the American Wind Energy Association, the wind industry has lost about 10,000 jobs since 2009[iii], even though it doubled its production since 2008.[iv]
What are Green Energy Jobs?
The Bureau of Labor Statistics (BLS) of the Department of Labor is responsible for defining green jobs under Title X of the Energy Independence and Security Act of 2007, signed into law by President George W. Bush. According to BLS, the "definition of green goods and services includes jobs in businesses that produce goods and provide services that benefit the environment or conserve natural resources. These goods and services are sold to customers, and include research and development, installation, and maintenance services." More specifically, the term includes jobs generated from:
Energy projects from renewable sources including wind, biomass, geothermal, solar, ocean, hydropower, and landfill gas and municipal solid waste.
Energy efficiency projects including energy-efficient equipment, appliances, buildings, and vehicles, as well as products and services that improve the energy efficiency of buildings and the efficiency of energy storage and distribution, such as Smart Grid technologies.
Pollution reduction and removal, greenhouse gas reduction, and recycling and reuse projects. These are products and services that reduce or eliminate the creation or release of pollutants or toxic compounds, or remove pollutants or hazardous waste from the environment, reduce greenhouse gas emissions through methods other than renewable energy generation and energy efficiency, such as electricity generated from nuclear sources, reduce or eliminate the creation of waste materials; collect, reuse, remanufacture, recycle, or compost waste materials or wastewater.
Natural resources conservation projects, including organic agriculture and sustainable forestry; land management; soil, water, or wildlife conservation; and storm water management.
Environmental compliance, education and training, and public awareness projects. These are products and services that enforce environmental regulations, provide education and training related to green technologies and practices, and increase public awareness of environmental issues.
BLS compiled a list of 333 industries that can be classified as green, and those who are employed in those industries can be counted as "green workers." Thus, the definition is extremely broad and includes both direct jobs and indirect jobs. Some examples of jobs considered to be green by this definition are[v]:
A person who sweeps the floor in a solar panel manufacturing facility
A driver of a hybrid bus
A school bus driver
An employee who fills the bus with fuel
An employee involved in waste collection or water and sewer operations
A clerk at a bicycle repair shop
A manufacturer of rail cars
An oil lobbyist whose company is engaged in environmental issues.
An employee of an environment or science museum.
Below are examples of industries that BLS has classified having "Green Goods and Services":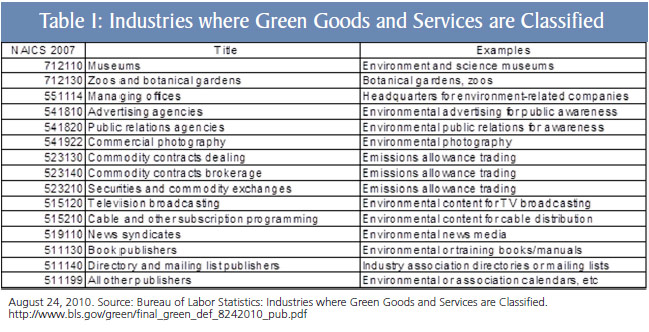 Source: http://www.manhattan-institute.org/html/ir_20.htm#.UE5ec7KPXSh
Therefore, it is not surprising that the 2010 data (2010 is the base year) show the total "green job" estimate to be 3.1 million, or over 2 percent of total employment. These 3.1 million jobs are primarily preexisting jobs that have been reclassified as "green". However, what is surprising is that through three-quarters of 2011 only 9,245 new "green" jobs were generated when the White House touts generating over 200,000 new jobs by 2010.
In 2008, Presidential Candidate Obama promised to create 5 million green energy jobs over 10 years by investing in solar, wind and other renewable energy sources. According to the White House by the end of 2010, just 225,000 green jobs had resulted from the stimulus program although a record $90 billion was spent on clean energy.[vi]
Green Job Expenditures
The definition of green jobs matter because money is involved in training, subsidies and other disbursements. For example, the American Recovery and Reinvestment Act provided the Labor Department with $500 million for grants in research and training for green jobs, awarded to state work force agencies, community colleges, and nonprofits. The grants were to train workers in green jobs such as hybrid- and electric-car auto mechanics, weatherization of buildings, and solar panel installation. But program success was not very good. For example, Jane Oates, Assistant Secretary at the Labor Department, reported that out of 53,000 people who participated in the green jobs training, only 5,400 (10.2 percent) were employed in those positions at the end of 2011.[vii]
Another example is the military's $510 million program to develop biofuels for ships and tanks. The biofuels are costing the American taxpayer almost 8 times that of conventional fuels ($27 per gallon compared to $3.50 per gallon) at a time when the Department of Defense's budget is being drastically cut. But, the program has created green jobs due to the production of these biofuels.[viii] According to President Obama, "We're making new investments in the development of gasoline and diesel and jet fuel that's actually made from a plant-like substance—algae. Believe it or not, we could replace up to 17 percent of the oil we import for transportation with this fuel that we can grow right here in the United States."[ix] That may be true, but at what cost?
The Obama administration also provided renewable manufacturers and consumers with a number of tax advantages. In January 2010, the Obama administration announced it had awarded $2.3 billion in Recovery Act Advanced Manufacturing Tax Credits to "clean" manufacturers. The 183 projects were to produce over 17,000 jobs and supported industries such as solar and wind energy, building efficiency and energy management, and smart grid technologies. In 2009, the federal government began offering consumers' tax credits up to $7,500 for purchasing electric plug-in cars, which did little to help the industry due to the high cost of the vehicles and problems with their operation–the Chevy Volt had a tendency to catch fire and the plug-in hybrid car's batteries caught fire after some government crash tests. In March 2012, General Motors announced a five-week suspension of the Volt's production due to low sales numbers.[x]
The National Renewable Energy Laboratory (NREL) tracked the Obama Administration's 1603 treasury grant program from its inception in 2009 through Nov. 10, 2011 in a report entitled, Preliminary Analysis of the Jobs and Economic Impacts of Renewable Energy Projects Supported by the 1603 Treasury Grant Program.[xi] They found that $9 billion in economic "stimulus" funds to solar and wind projects were distributed between 2009 and 2011 that created 910 "direct" jobs. That means that it cost about $9.89 million to establish each of those long-term jobs, covering the technologies' 20 to 30 year life. However, adding in the 4,200 to 4,600 "indirect" jobs that NREL indicated were created, the cost is lower–about $1.6 million per job. According to NREL's report, the $9 billion covered 23,692 photovoltaic and 197 large wind projects.[xii]
Conclusion
BLS has defined green jobs, as directed by legislation, and many of those jobs are a reclassification of existing jobs. Further, the classification of a green job can be rather murky. For example, a corn farmer counts as a green job if he sells his produce or a part of it to an ethanol plant, but is not green if the produce is sold as food. And, according to BLS, new "green" jobs seem to be extremely few despite the broad definition and the hoopla from the White House regarding the "green jobs" that its programs have created. Further, these green jobs are costing the American taxpayer dearly–the 1603 grant program, for example, cost the American taxpayer $1.6 million per job, according to NREL, a national laboratory of the Department of Energy.
---