DOWNLOAD PDF
| Select Economic and Energy Data† | Value | State Rank |
| --- | --- | --- |
| Real Gross Domestic Product, per capita | $48,088 | 4th highest |
| Unemployment | 9.5% | 18th highest |
| Gasoline Price, per gallon | $2.74 | 19th lowest |
| Electricity Price, per kWh | 15.53¢ | 4th highest |
Massachusetts has some of the most expensive electricity in the United States. More than half of the state's electricity is generated from natural gas, while the Pilgrim Nuclear Station produces another 13 percent. Massachusetts is the only state in New England that uses coal for a significant portion of its electricity supply, generating about a quarter of its electricity from coal delivered from Colorado and West Virginia. Massachusetts has several hydroelectric facilities and is one of the top generators of electricity from landfill gas and municipal solid waste. Combined, these resources account for about 6 percent of the state's overall electricity production.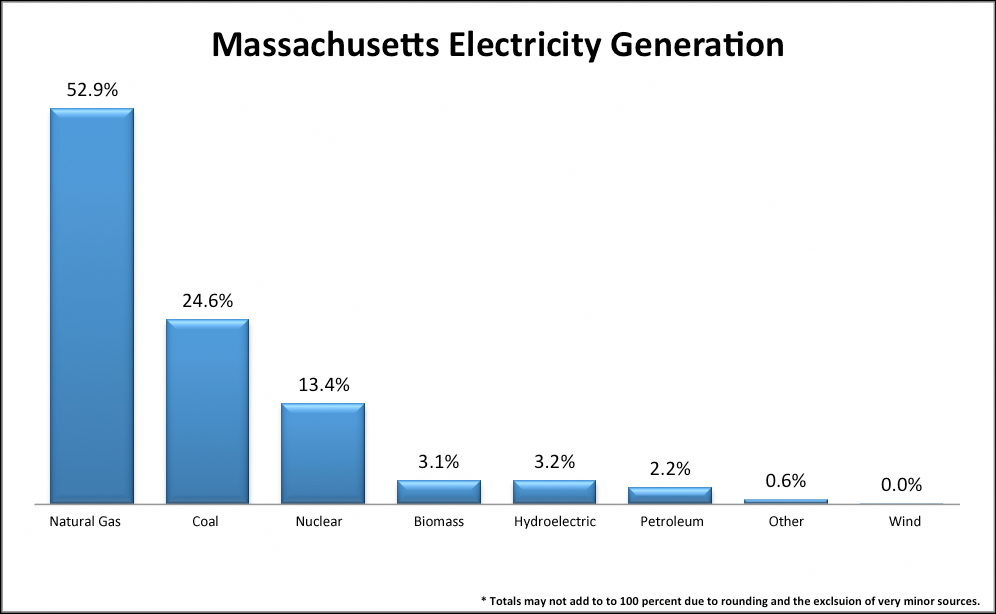 Massachusetts does not have fossil fuel resources, but the state has renewable energy potential. That includes wind energy off the Atlantic Coast and in the Berkshire Mountains, although wind now barely contributes to Massachusetts's energy supply. An offshore wind power project is proposed off of Cape Cod. Also, much of Massachusetts is covered with dense forest, offering possible biomass resources. However, controversy exists for both offshore wind and biomass in the State. Wood generation has been under attack because of pollution and truck haulage issues. Massachusetts is home to two of the nine liquefied natural gas terminals in the United States: Everett and Offshore Boston.
Regulatory Impediments to Affordable Energy
Although affordable energy is a vital component of a healthy economy, regulations frequently increase energy costs. Regulations imposed in the name of reducing carbon dioxide and greenhouse gas emissions are especially costly. Carbon dioxide is a natural byproduct of the combustion of all carbon-containing fuels, such as natural gas, petroleum, coal, wood, and other organic materials. Today, there is no cost-effective way to capture the carbon dioxide output of the combustion of these fuels, so any regulations that limit carbon dioxide emissions will either limit the use of natural gas, petroleum, and coal, or dramatically increase their prices.
Below are some facts about Massachusetts's regulatory environment that are likely to affect the cost of energy or the cost of using energy.
Massachusetts caps greenhouse gas emissions. Senate Bill 2540, passed in 2008, requires the Commonwealth to reduce its greenhouse gas emissions by 80 percent from 1990 levels by 2050.[i] As a member of the Regional Greenhouse Gas Initiative, it has also imposed a cap on greenhouse gas emissions from power plants.
Massachusetts is a member of the Regional Greenhouse Gas Initiative (RGGI), a regional agreement among ten Northeast states to limit greenhouse gas emissions. This agreement requires states to cap carbon dioxide emissions from the electrical generation sector and to reduce those emissions by 10 percent by 2018 through a cap-and-trade scheme.
Massachusetts requires utilities to sell a certain percentage of electricity from renewable sources. The state's renewable portfolio standard requires electric utilities to provide 15 percent of electricity sales from renewables by December 31, 2020, with one additional percentage point of renewable-generated electricity each year after 2020.[ii]
Massachusetts requires diesel to be mixed with renewable fuels. House Bill 4951, passed in 2008, requires that 5 percent of diesel be composed of biodiesel by 2013.[iii] It also grants a gasoline tax exemption to biofuels and requires the state to develop and enter an agreement with other RGGI states to implement a low-carbon fuel standard. Massachusetts also requires the statewide use of reformulated motor gasoline blended with ethanol.[iv]
Massachusetts imposes automobile fuel economy standards similar to California's, which include attempts to regulate greenhouse gas emissions from new vehicles. Massachusetts adopted California's vehicle emissions standards in 2006.[v]
Massachusetts requires new residential and commercial buildings to meet energy efficiency standards. Residential and commercial buildings must meet the 2006 International Energy Conservation Code (IECC) or an equivalent code.[vi] The IECC, developed by the International Code Council, is a model code that mandates certain energy efficiency standards. A new state code based on the 2009 IECC is under development. Public buildings must also meet energy efficiency standards. In 2007, Governor Deval Patrick issued Executive Order 484, requiring new state buildings and significant renovations larger than 20,000 square feet to meet the Massachusetts standard based on the U.S. Green Building Council's Leadership in Energy and Environmental Development standards.[vii] The executive order also instituted a variety of non-binding energy efficiency goals.
Massachusetts imposes state-based appliance efficiency standards. Those standards currently apply to medium-voltage dry-type transformers, metal halide lamp fixtures, residential furnaces and boilers, residential furnace fans, state-regulated incandescent reflector lamps, and single voltage external power supplies.[viii] Executive Order 484 also requires that new office equipment in public buildings must be Energy Star certified.
Massachusetts allows utilities to "decouple" revenue from the sale of electricity and natural gas. By decoupling revenue from actual sales of electricity and natural gas, the state has allowed utilities to increase their revenue by selling less electricity and natural gas.
---
† Data Sources: Real GDP per capita 2008: Bureau of Economic Analysis, News Release: GDP by State (June 2, 2009), http://www.bea.gov/newsreleases/regional/gdp_ state/gsp_newsrelease.htm; Unemployment: Bureau of Labor Statistics, Regional and State Employment and Unemployment–February 2010 (Mar. 10, 2010); Gasoline Prices: American Automobile Association, AAA Daily Fuel Gauge Report (Mar. 30, 2010); Electricity Prices: Energy Information Administration, Electric Power Monthly, Table 5.6.B., Average Retail Price of Electricity,  (March 15, 2010), http://www.eia.doe.gov/cneaf/electricity/epm/table5_6_b.html; Electricity Generation Data: Energy Information Administration, Electricity Generation 2009, http://www.eia.doe.gov/cneaf/electricity/epa/generation_state_mon.xls.
[i] An Act Establishing the Global Warming Solutions Act, Chapter 298 of the Acts of 2008, http://www.mass.gov/legis/laws/seslaw08/sl080298.htm.
[ii] Lawrence Berkeley National Laboratory, Renewables Portfolio Standards in the United States,  http://eetd.lbl.gov/ea/ems/reports/lbnl-154e.pdf.
[iii] An Act Relative to clean Energy Biofuels, Mass. Gen. Laws Chapter 206 (2008), http://www.mass.gov/legis/laws/seslaw08/sl080206.htm.
[iv] Energy Information Administration, Massachusetts, Apr. 8, 2010, http://tonto.eia.doe.gov/state/state_energy_profiles.cfm?sid=MA.
[v] Massachusetts Department of Environmental Protection, 310 CMR 7.40, http://www.mass.gov/dep/air/laws/levregs.pdf.
[vi] Building Codes Assistance Project, Code Status: Massachusetts, http://bcap-energy.org/node/74.
[vii] Mass. Exec. Order No. 484 (Apr. 18, 2007), http://www.mass.gov/Agov3/docs/Executive%20Orders/Leading%20by%20Example%20EO.pdf.
[viii] Database of State Incentives for Renewables and Efficiency, Massachusetts Appliance Efficiency Standards, http://www.dsireusa.org/incentives/incentive.cfm?Incentive_Code=MA09R&re=0&ee=1.