Like many European countries, South Australia is betting on renewable energy for its electricity, closing coal plants in favor of less carbon sources, with the outcome that its residents are becoming energy poor due to skyrocketing electricity prices. The region's reliance on subsidized, intermittent and unreliable wind and solar power has resulted in skyrocketing power prices. Over 100,000 Australian families had their power cut off last year, and another 100,000 are on payment plans with their power providers, making over 200,000 residents energy poor in one of the most energy-rich nations in the world. 109,000 Australian households had their electricity disconnected last year because they were unable to afford their electricity bills, which included over $3 billion in subsidies for Chinese- made solar panels and wind turbines. Electricity bills include the cost of generating power, transmitting it through high-voltage lines, distributing it to homes and businesses, and government subsidies provided to encourage development of renewable energy.
In Victoria, one of Melbourne's bayside pubs is rationing its heating and cooling and cutting down on staff because of power bills that have reached $24,000 a month. The pub will have to sell over 120 additional pots of beer each day to keep pace with power bills that have tripled from $8000 a month after last year's closure of the Hazelwood coal power plant. The closure of the 1600-megawatt Hazelwood plant in March 2017 resulted in the loss of over 20 percent of the state's generation capacity. The electricity company blames the closure of the Hazelwood plant for the tripling of the pub's power bill.
In Victoria, average retail household power bills increased almost 16 percent to $1275 compared to a year earlier. Average wholesale prices in 2017 increased 85 percent in Victoria (VIC) and 32 percent in South Australia (SA). Average wholesale prices in New South Wales (NSW) and Queensland (QLD) increased 63 percent and 53 percent, respectively.
Prior to the Hazelwood plant's closure, the plant's access to low-cost coal kept power prices among the lowest in the electricity market that supplies eastern Australia. Without the Hazelwood plant, the region became a net importer of electricity in the second half of 2017. To cope with the loss of coal-fired electricity, 500 percent more natural gas was used for power generation in 2017 and renewable energy surged, particularly roof-top solar as consumers looked to alternate sources rather than their power supplier.
Average Annualized Wholesale Electricity Prices, 2014-2018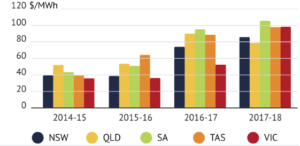 Source: The Sydney Morning Herald
Note: Annualized over 12 months ending in February
Conclusion
South Australia, Victoria, and other Australian states are suffering from high electricity prices and potential blackouts because of their unsustainable mix of intermittent renewable energy with insufficient back-up power. Because of high electricity prices and energy poverty, residents with the help of the government are looking towards solar rooftop panels and home storage batteries, which are also costly, to form a virtual power plant and hopefully lower prices.
The United States should learn from Australia's experience and not be too hasty at turning its generating sector over to intermittent renewable energy. Wind and solar power represent almost 8 percent of the current U.S. generating mix, which so far has not destabilized the grid. But, costly tax credits for wind power have caused negative electricity prices that have resulted in traditional technologies, at times, being uncompetitive.  Wind generators are awarded tax credits equivalent to cash from taxpayers for generating power even when there is no financial need for it. Without the proper back-up power and policies that support it, the United States could end up facing similar cost and unreliability issues and challenges as these Australian states.