IONITY, Europe's network for high-power-charging of electric vehicles, announced it will raise its charging prices by over 500 percent effective January 31, 2020. At that price, it will be three times more expensive than a Tesla supercharger in Europe, which average €0.25 ($0.28) per kilowatt-hour, and more than double the price of gasoline there. IONITY is a joint venture founded by the BMW Group, Daimler AG, Ford Motor Company, and Volkswagen Group with Audi and Porsche. Its objective is to build an extensive 350 kilowatt High Power Charging network for electric vehicles to facilitate long-distance travel in Europe. It currently has 202 charging stations in 17 countries and plans to double this to 400 locations in 24 countries this year.
Currently, IONITY charges a flat, fixed rate of €8 ($8.87) for a DCFC charging session—a good price if the battery is almost empty. For instance, a battery with 10 percent life remaining and 60 kilowatt-hours used during the charging session would result in a cost of about €0.13 ($0.144) per kilowatt-hour. Starting next month, however, IONITY will be charging users €0.79 ($0.88) per kilowatt-hour, which is over 500 percent more. So, using the Audi e-Tron battery as an example, "filling it up" with 80 kilowatt-hours of power will coat €63.20 ($70.10) to travel about 160 miles.
In comparison, in France, electricity costs about €0.19 ($0.21) per kilowatt-hour for residences, and €0.24 ($0.265) per kilowatt-hour at Tesla Superchargers. In Germany, electricity costs €0.30 ($0.33) per kilowatt-hour for residences, and €0.33 ($0.365) per kilowatt-hour at Tesla Superchargers. These electricity prices are higher than those for residential electricity prices in the United States, which averaged $0.13 per kilowatt-hour for the first 9 months of 2019.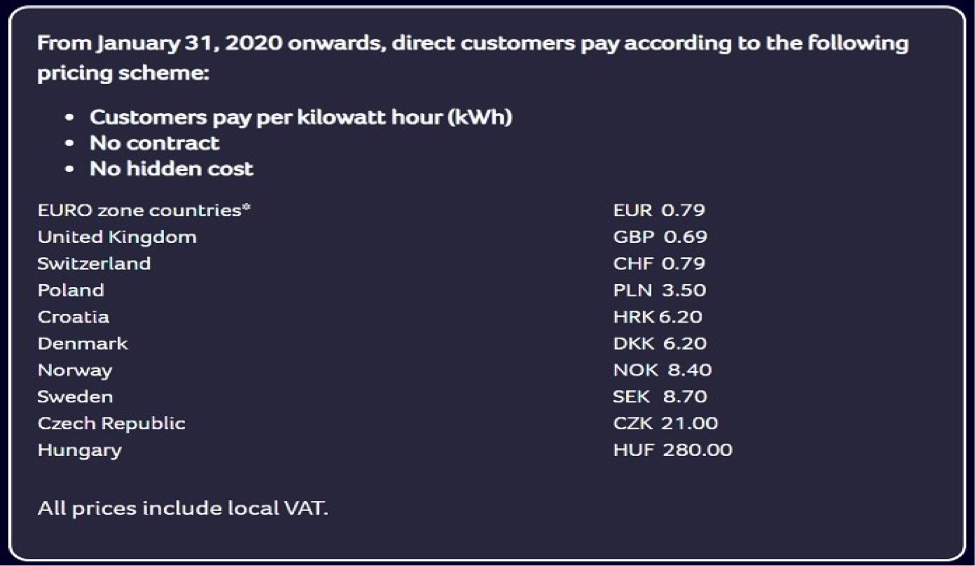 Norway's Reaction
Norwegians are in an uproar due to the price hike. Norway's power is cheaper than a number of other European countries due to its predominance of hydroelectricity, and it has many more electric vehicle customers, which the Norwegian electric vehicle industry believes should be reflected in the price of charging. Norway leads the world by market share in electric vehicle penetration with 56 percent of all cars sold in 2019 able to be plugged in.
Connected Mobility Service Partners
IONITY has supplier agreements with its car makers, referred to as "Connected Mobility Service Partners" (MSPs), which is a subscription service where the user receives a discounted price per kilowatt-hour, by paying monthly and generally agreeing to the terms of use. Under this service, the vendor is allowed to harvest data to enable other revenue streams for the vendor. IONITY does not provide a complete list of MSPs (prices) on its website.
Members of Connected Mobility Service Providers networks include Audi e-tron Charging Service, Mercedes me Charge, BMW ChargeNow, Porsche Charging Service and Volkswagen WeCharge. Mercedes me Charge announced that it will charge €0.29 ($0.32) per kilowatt-hour at IONITY chargers, with no annual subscription fee for the first year. Audi e-tron Charging Service will cost €0.33 ($0.36) per kilowatt-hour plus a monthly subscription of €17.95 ($19.84), and Porsche Charging Service will cost €0.33 ($0.36) per kilowatt-hour plus a basic annual fee of €179 ($198).
Conclusion
The price increase announced by IONITY effective at the end of this month is making the fuel cost for electric vehicles higher than that of gasoline- or diesel-powered vehicles in Europe where those fuel costs are double that of the United States—around $5.00 or $6.00 a gallon. When evaluating the total cost of ownership, rising power costs at public charge points underlines the need for electric vehicle drivers to be able to recharge their cars at home. It also suggests that service and maintenance is the only area where electric vehicles will have a long-term cost advantage over cars with combustion engines. This price hike may be a game-changer to European electric vehicle markets.