A recent study by NERA Economic Consulting, commissioned by the National Association of Manufacturers (NAM), examines the next big threat from EPA's regulatory agenda, a stricter ozone regulation. This means a lower limit on ground level ozone through the National Ambient Air Quality Standards (NAAQs) program from 75 parts per billion (ppb) to anywhere from 70 to 60 ppb. NERA contends that lowering the limit to 60 ppb "would be the most expensive regulation ever imposed on the American public" and says "barriers to energy production could severely limit economic growth and hinder the nation's manufacturing comeback."
EPA will propose this stricter limit by December 1st despite the fact they have not even fully implemented their current standard, which was updated in 2008. In fact, according to the non-partisan Congressional Research Service, as much as 40 percent of the population already lives in areas that are classified as being in "nonattainment" for the primary ozone NAAQs under the current standard. Of the 46 nonattainment areas for the 2008, 37 of these areas still do not meet the even less stringent 1997 ozone NAAQs.
When an area is in non-attainment they have to deal with "increased costs, delays, and uncertainties from restrictive permitting requirements."[1] Furthermore, if states' plans are not up to EPA's standards, those areas could suffer from a loss in highway and transit funding.[2]
Ozone
Ozone pollution forms in the atmosphere when volatile organic compounds (whose source include many household products such as paints, solvents, wood preservatives, repellents, etcetera[3]) react with nitrogen oxides (emitted by motor vehicles, power plants, and off-road equipment[4]) in the presence of sunlight.[5] Since ozone is not emitted directly by a pollution source, it is more difficult to control than other types of pollution. There are literally hundreds of millions of sources of pollutants that can contribute to ozone pollution.
The NERA study says "a significant portion of a given area's ozone concentration is made up of natural background ozone and ozone that has traveled from other states, and increasingly from overseas." Therefore setting the ozone limit too low could put areas that don't even have industry—like Yellowstone National Park—in nonattainment. The map below shows the land area that would be in nonattainment if a 60 ppb standard were mandated.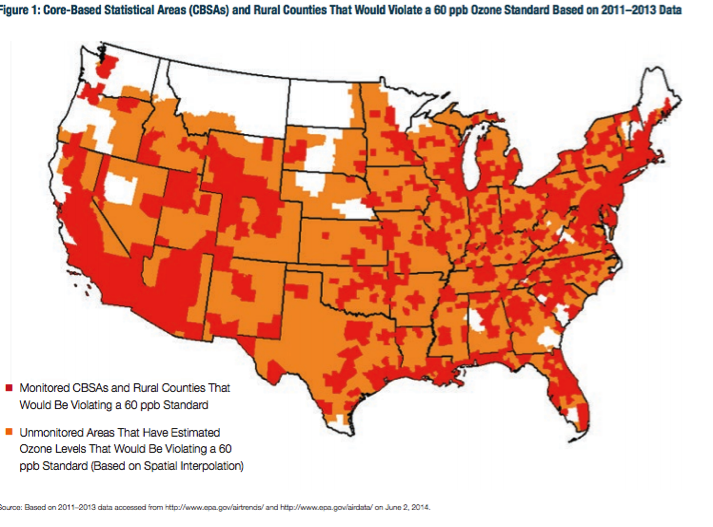 Why is this Regulation so Expensive?
EPA implements the NAAQs program under the authority provided by Congress in the Clean Air Act (CAA). The CAA requires that the Agency review the NAAQs every five years, which has triggered an increasingly stringent ozone level. Thus far the CAA has been very effective in reducing ozone levels, however all the "low hanging fruit" has been picked, which according to NERA leaves "few low-cost options as the ozone standard tightens."
First EPA regulated the power sector because they were the largest emitters of ozone precursors. However, since 1990, the power sector has already reduced their nitrogen oxide emissions by 73 percent.[6] Now the opportunity for further reductions from power plants is limited so several new sectors would have to pay for controls such as manufacturing, agriculture, commercial and residential buildings—at a higher cost because they are more dispersed sources of pollutants.
New Reductions would come from Unknown Controls
 The NERA study states "…EPA has identified only one-third of the controls needed to reduce the 3.9 million tons of NOx (a gas that reacts with sunlight to form ozone) to achieve a 60 ppb standard." Known costs are much cheaper than unknown costs. Furthermore NERA found "…in the EPA's 2010 analysis, the total costs for unknown controls were greater than the costs for known controls by a ratio of 19 to 1."
This means, "…some power plants, manufacturing facilities and vehicles, along with industrial, commercial, agricultural and even residential equipment, will have to be shut down or scrapped." When costs for controls are so high or simply not yet available, it makes many activities uneconomical.
Conclusion
Ozone levels have dramatically fallen since the 1970s. Now it is time to reassess whether the costs of further reductions justify the projected benefits. Under the current Clean Air Act, EPA has determined that it is necessary to push more stringent requirements every five years. This is no longer realistic given current technology and the sources of pollution. The United States has the opportunity to improve our economy, but economically burdensome regulations, with questionable benefits, like more stringent ozone restrictions threaten this opportunity.
[1] National Association of Manufacturers, Potential Economic Impacts of a Stricter Ozone Standard, NERA Economic Consulting, July 2014, http://www.nam.org/Issues/Energy-and-Environment/Ozone-Regulations/Ozone-Report-Executive-Summary-20140730/.
[2] James E. McCarthy, Ozone Air Quality Standards: EPA's 2015 Revision, Congressional Research Service, http://fas.org/sgp/crs/misc/R43092.pdf.
[3] Environmental Protection Agency, An Introduction to Indoor Air Quality: Volatile Organic Compounds, http://www.epa.gov/iaq/voc.html.
[4] Environmental Protection Agency, Nitrogen Dioxide, http://www.epa.gov/oaqps001/nitrogenoxides/basic.html.
[5] James E. McCarthy, Ozone Air Quality Standards: EPA's 2015 Revision, Congressional Research Service, http://fas.org/sgp/crs/misc/R43092.pdf.
[6] Environmental Protection Agency, Clean Air Markets Division, http://ampd.epa.gov/ampd/QueryToolie.html.