Illinois is the most populated and prosperous Midwestern state, ranking 5th in the nation in population. The state plays an important role in the nation's economy because of its central location and access to major waterways, and rail and aviation hubs. The state is a key transportation hub for crude oil and natural gas moving throughout North America. Illinois has substantial amounts of coal reserves and some crude oil reserves. It leads the nation in nuclear power, which supplies almost 50 percent of the state's electricity. Coal supplies over 40 percent of the state's electricity. But both nuclear and coal are imperiled by the state's renewable electricity mandate which requires that at least 25 percent of electricity comes from renewable energy after 2025, of which the majority is mandated to be wind power. Renewable mandates increase the costs of running nuclear and coal plants.
Illinois has more than 26 million acres of farm land, ranking 6th among the states in the market value of agricultural products sold. Corn is Illinois' most important crop and supplies the state's ethanol plants, making Illinois one of the top ethanol-producing states in the nation. The state also is a leading biodiesel manufacturer.
Although Illinois is a major energy-consuming state, its per capita energy consumption is below the national median. Industry is the largest energy-consuming sector with 31 percent of the state's energy consumption, followed by the residential and transportation sectors, consuming almost equivalent amounts of energy. Illinois has many energy-intensive industries including chemicals, food processing, machinery manufacturing, metal fabrication, and petroleum refining.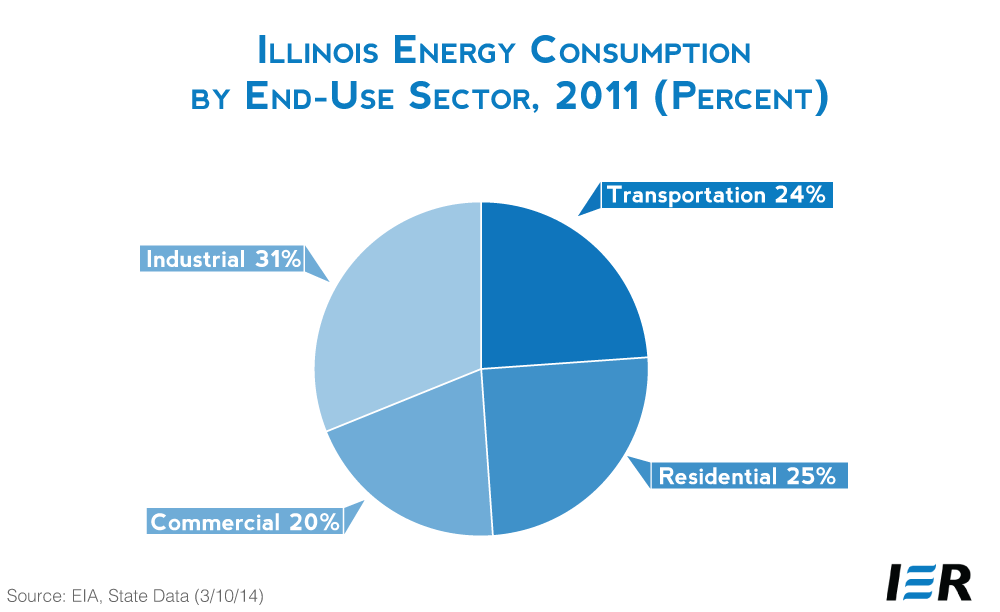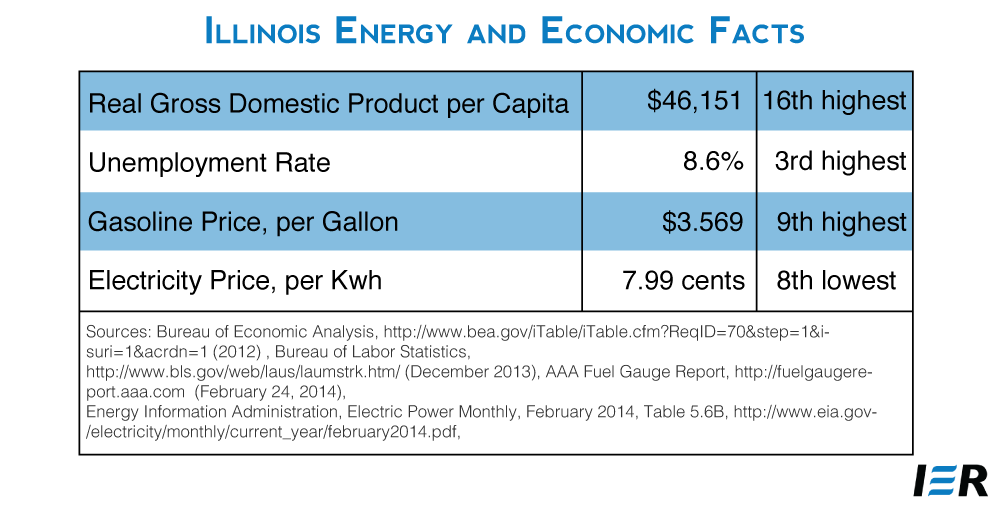 Illinois'  State Rankings
In 2011, Illinois ranked 11th among the states in total energy production, producing 2,200 trillion Btu of energy.
In November, 2013, Illinois ranked 15th in oil production, producing 773 thousand barrels.
In 2012, Illinois ranked 27th in natural gas production, producing 2,125 million cubic feet.
In 2012, Illinois ranked 5th in coal production, producing 48,486 thousand short tons.
In November 2013, it ranked 4th in electricity production, producing 16,448 thousand megawatt hours of electricity.
In 2013, Illinois had the 8th lowest average electricity retail price in the United States.
In 2011, Illinois ranked 27th in total energy consumed per capita, consuming 309 million Btu per person.
In 2010, Illinois ranked 6th in carbon dioxide emissions, emitting 230.4 million metric tons of carbon dioxide.
Coal
Illinois has the nation's second largest estimated recoverable coal reserves, greater than any other state east of the Mississippi River,  and 22 percent of the nation's demonstrated coal reserve base. Illinois ranks fifth in coal production among the states producing from 24 active mines. The state produces almost 5 percent of the nation's coal, primarily from a geologic formation known as the Illinois Basin. Most of the coal is bituminous.
Because of the high-sulfur content of Illinois coal, the state's coal sales are in competition from low-cost, low-sulfur western coal. To meet the requirements of the Clean Air Act, most electric utilities burn Illinois coal in combination with lower sulfur coal from other regions. Coal from Illinois is shipped by river, rail, and truck to 18 states, and by truck within the state. About one-seventh of the coal produced in Illinois is exported.
The electric power sector is the largest coal-consuming sector in the state, generating over 40 percent of the state's electricity. Nine-tenths of the coal received in Illinois comes from Wyoming by rail and is used almost exclusively for electric power generation. In-state shipments of Illinois coal are split almost equally between the electric power sector and industrial users.
Natural Gas
Illinois produces a very small amount of the nation's natural gas from a few natural gas wells. The state, however, is a hub for natural gas, having more than a dozen interstate natural gas pipelines, two natural gas market centers, and 28 natural gas storage fields with a total combined capacity at just less than 1 trillion cubic feet of natural gas. Natural gas enters Illinois from the west and south primarily by way of Iowa and Missouri, and more than two-thirds of it moves on to Indiana on its way to eastern markets.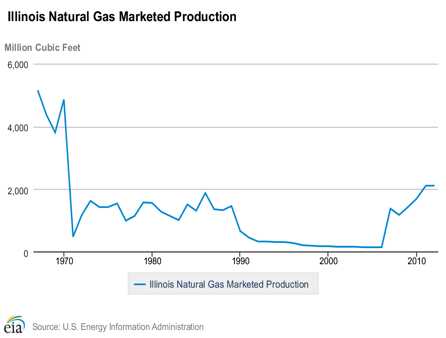 Source: Energy Information Administration, http://www.eia.gov/dnav/ng/hist/n9050il2a.htm  
Illinois is one of the major natural gas-consuming states in the nation, behind Texas, California, Louisiana, Florida, and New York.  The state consumes almost 1 trillion cubic feet of natural gas per year; the residential sector consumes the largest share. Almost 80 percent of Illinois households use natural gas for home heating, a much higher percentage than the national average, which is around 50 percent.  Illinois' second largest natural gas consuming sector, the industrial sector, uses about 25 percent of the natural gas delivered for end-use consumption in the state. About one-tenth of the natural gas consumed in Illinois in 2012 was used for electric power generation.
Petroleum
Illinois accounts for 0.4 percent of U.S. crude oil production and 0.2 percent of U.S. proven oil reserves located in the southern half of the state. Oil exploration in the state began in the 1850s with commercial production beginning in 1905. Tens of thousands of oil wells have been drilled in the Illinois Basin since then. Oil production in Illinois peaked in the middle of the 20th century. Currently, most of the productive oil wells in the state are stripper wells, producing less than 2 barrels of crude oil per day.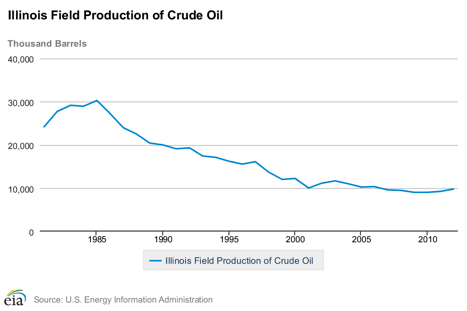 Source: Energy Information Administration, http://www.eia.gov/dnav/pet/hist/LeafHandler.ashx?n=PET&s=MCRFPIL1&f=A
Illinois has the largest crude oil refining capacity in the Midwest (952,100 barrels per day) and ranks fourth in the nation with 5 percent of the nation's refining capacity after Texas, Louisiana, and California. The state's refineries process both domestic and foreign crude oil. The largest refinery in the state, the Wood River refinery in Roxana, Illinois near St. Louis, has a capacity of 311,000 barrels per day. The state has two crude oil import sites at Chicago on Lake Michigan and at Peoria on the Illinois Waterway connecting Lake Michigan to the Mississippi River. Petroleum products, primarily asphalt and road oil, are also handled at the Chicago port. Illinois has several crude oil and petroleum product pipelines.
Illinois is among the top 10 petroleum-consuming states, and the transportation sector is the largest consuming sector. Almost one-half of the petroleum consumed in the state is motor gasoline. Illinois requires reformulated gasoline with ethanol to be used in the Chicago area and near St. Louis to the southwest. More than 200 stations in Illinois sell E85, a blend of 85 percent ethanol and 15 percent gasoline, more than any of the neighboring states, and second in the nation after Minnesota.
Electricity
Illinois leads the nation in nuclear power generation, producing almost 50 percent of the state's electricity and about one-eighth of the nation's nuclear power generation. Illinois has 6 nuclear power plants containing 11 nuclear reactors. Most of the remainder of Illinois' electricity generation comes from coal-fired power facilities, generating 41 percent of the state's electricity in 2012. Due to onerous regulations promulgated by the EPA, 689 megawatts of coal-fired capacity in Illinois either have been prematurely retired or will be retired this year. The majority of those retirements are announcements from the operators of the units; a few unit retirements are estimates from EPA models. Natural gas and renewable resources, primarily wind and biomass, provide about 10 percent of the state's generation.
Growth in renewable generation in Illinois has increased over the past decade. Wind generation is the primary renewable resource for electric power generation, contributing almost 4 percent of the state's generation in 2012. The state ranks 4th in the nation in wind generating capacity with over 3,500 megawatts. Illinois' wind resource potential is ranked 15th in the nation. Biomass generation from municipal landfills provides 0.3 percent of the state's electricity. The state's hydroelectric potential is limited by its relatively level terrain despite its many rivers, and only a miniscule amount of the state's electricity is generated by hydroelectric power.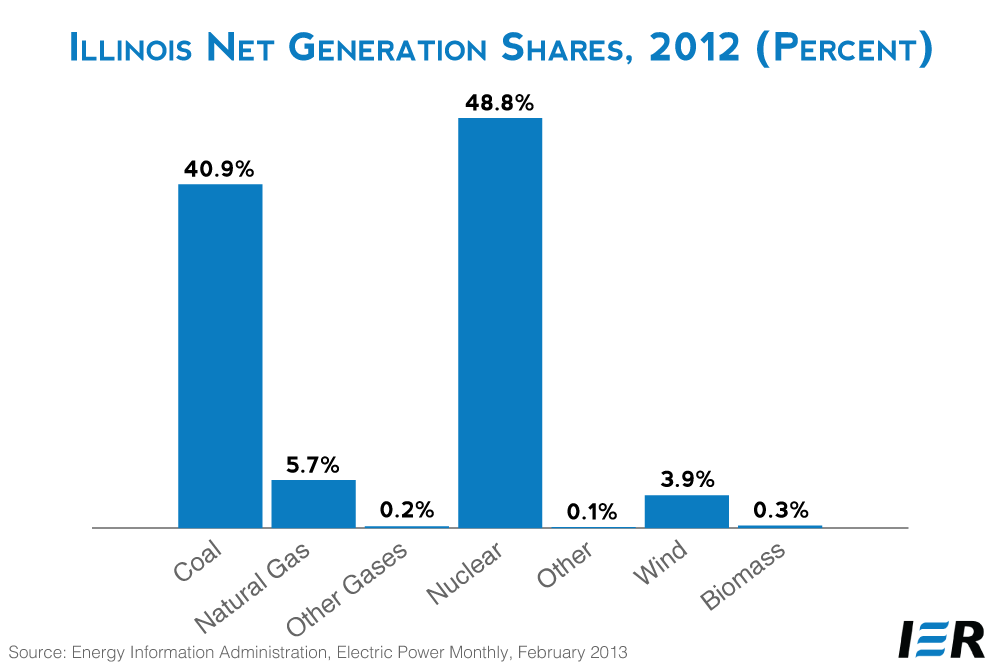 Source: Energy Information Administration, Electric Power Monthly, February 2013, http://www.eia.gov/electricity/monthly/
Because Illinois generates considerably more electricity than it consumes, it exports power to other states via two electrical grids. One spans across the northern portion of the state and includes the major urban areas in and around Chicago. The second grid serves the remainder of the state, including much of the southeastern portion of the country.
The commercial sector leads the states' retail electricity sales, followed by the residential sector. Almost 15 percent of Illinois households use electricity for home heating and 90 percent of Illinois households have air conditioning.
Illinois has a renewable portfolio standard that requires that investor-owned electric utilities with more than 100,000 Illinois customers to obtain 25 percent of their retail sales from renewable resources by the end of May of 2026, with at least 75 percent of the requirement coming from wind and 6 percent from solar photovoltaics. Alternative retail electric suppliers and investor-owned electric utilities that sell outside of their service territories must also comply with the renewable portfolio standard, obtaining 60 percent of their annual requirement from wind by 2026 and 6 percent from solar photovoltaics.
Biofuels
Illinois is a leading producer of both ethanol and biodiesel because the state is a leading corn and soybean producer. Corn is the feedstock for Illinois' ethanol plants and soy is the primary feedstock for biodiesel.  Illinois is the third largest producer of ethanol in the nation, and has the second largest production capacity of biodiesel, second to Texas.
Air Pollution Changes
The Environmental Protection Agency (EPA) reports pollution levels for the criteria pollutants (e.g. carbon monoxide, nitrogen oxide, PM10, lead, sulfur dioxide) by city and state for the years 1990 and 2012. The following graph shows the average reduction in the criteria pollutants over the 12-year period for Chicago. The average reduction between 1990 and 2012 was 44 percent. The reductions for the various criteria pollutants over the 12-year period ranged between 17 percent and 67 percent, depending on the criteria pollutant.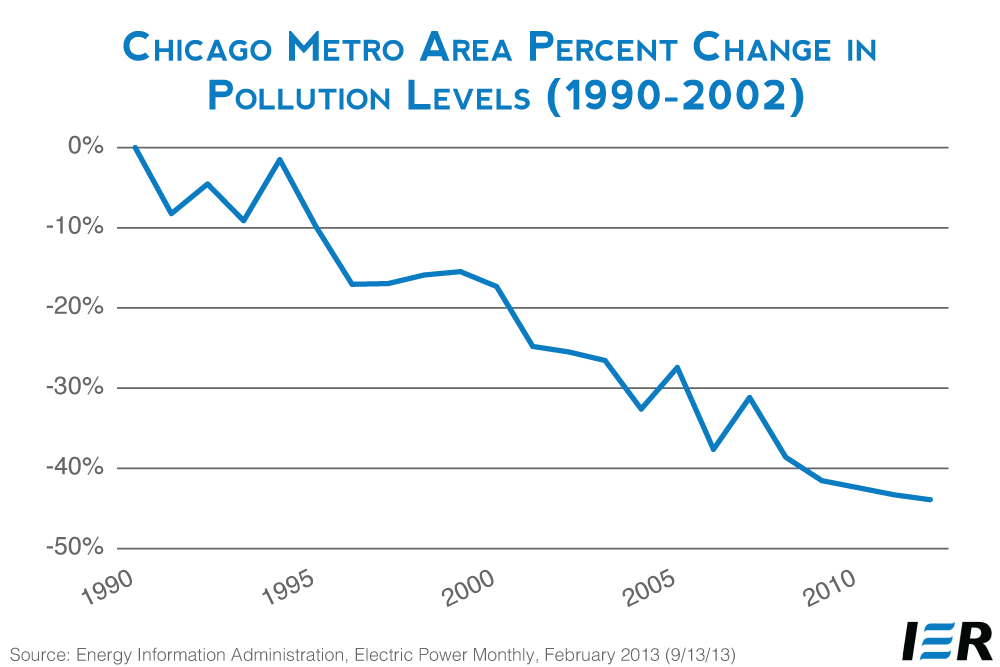 Source: Environmental Protection Agency, http://www.epa.gov/airtrends/pdfs/AirQualityTrendsbyCity1990-2012.xlsx  
Illinois  Regulatory Environment
Below are some facts about Illinois' regulatory environment that are likely to affect the cost of energy or the cost of using energy. Although affordable energy is a vital component of a healthy economy, regulations frequently increase energy costs, and Illinois has become increasingly aggressive in the regulation and micromanagement of electricity markets, as seen below.
Illinois does not provide a cap on greenhouse gas emissions. But, Illinois is a member of the Midwestern Regional Greenhouse Gas Reduction Accord, a regional agreement among six American governors and one Canadian premier to target greenhouse gas reductions. The central component of the agreement is the eventual enactment of a cap-and-trade scheme, which may be supported by low-carbon fuel standards and other supplemental policies. Though the accord has not been formally suspended, participating states are no longer pursuing it.
Illinois has a renewable portfolio standard (RPS). In August 2007, Illinois enacted legislation (Public Act 095-0481) that created the Illinois Power Agency. The agency's purpose is to develop electricity procurement plans for investor-owned electric utilities that supply over 100,000 Illinois customers to ensure "adequate, reliable, affordable, efficient, and environmentally sustainable electric service at the lowest total cost." The Agency plans and administers the competitive procurement processes that result in bilateral agreements between the utilities and wholesale electric suppliers. The procurement plans must include procurement of cost-effective renewable energy resources.
Originally, the RPS applied only to electricity sold retail under the bundled, fixed-price tariff for qualifying utilities. However, amendments within Public Act 095-1027 that were later replaced with Public Act 096-0159 extended the scope of the RPS by requiring alternative retail electric suppliers as well as investor owned utilities that sell outside their service territories to comply with the RPS starting June 1, 2009. Municipal and cooperative utilities are exempt from the RPS. HB 1865, enacted in August 2011, allows multi-jurisdictional utilities with less than 100,000 Illinois customers to request a procurement plan from the Agency, subjecting them to the RPS requirements.
The requirement is for 25 percent of retail sales to be from renewable sources by compliance year 2025 – 2026, beginning with a 2 percent share in compliance year 2008-2009 and increasing until reaching the 25 percent requirement. Investor-owned utilities must get 75 percent of the annual requirement (18.75 percent of sales in compliance year 2025-2026) from wind power. Alternate retail electric suppliers must get 60 percent of the annual requirement (15 percent of sales in compliance year 2025-2026) from wind power. Both suppliers must get 6 percent of the annual requirement in compliance year 2015-2016 and thereafter from solar photovoltaics (1.5 percent of total sales in compliance year 2025-2026). Investor-owned utilities must also get one percent of the annual requirement in compliance year 2015-2016 and thereafter from distributed generation (0.25 percent of sales in compliance year 2025-2026).
Illinois requires new residential and commercial buildings to meet energy efficiency standards defined by the Illinois Energy Conservation Code. Residential and commercial buildings must comply with the 2009 International Energy Conservation Code (IECC). Commercial buildings must also comply with ASHRAE 90.1-2007. The IECC (developed by the International Code Council) and ASHRAE (developed by the American Society of Heating and Refrigeration and Air Conditioning Engineers) are model codes that mandate certain energy efficiency standards. An automatic update provision directs the Illinois Capital Development Board to adopt each new version of the IECC within nine months of its publication, with an effective date three months afterwards. The latest code change became effective January 29, 2010. As required by law, the 2012 IECC will take effect on January 1, 2013.
Illinois has an Energy Efficiency Standard. The 2007 Illinois Power Agency Act requires electric and natural gas utilities to establish annual energy-savings goals and reduce energy delivered and peak demand. Utilities are required to file an energy efficiency and demand-response plan with the Illinois Commerce Commission every three years, beginning in 2007.
The electricity reduction goals apply to utilities that had 100,000 or more customers on December 31, 2005. The Act established an electricity savings goal of incremental annual sales reduction over the previous year's consumption rate with a goal for compliance year 2015 of a 2.0 percent reduction of 2014 electricity sales. (In compliance year 2009, it was a 0.2 percent reduction.) Each year's benchmark is set by the preceding year's energy consumption, commencing on June 1 of that year. The electricity sales reduction percentage holds at 2.0 percent for every year thereafter. Electric utilities must also implement cost-effective demand-response measures to reduce peak demand by 0.1 percent over the prior year for eligible retail customers. Commencing on June 1, 2008, this requirement continues for 10 years, i.e. through compliance year 2019.
Natural gas utilities that served 100,000 customers or more on January 1, 2009 must implement cost-effective energy efficiency measures with the goal of meeting annual incremental reduction benchmarks, starting with a 0.2 percent reduction of 2011 natural gas sales in compliance year 2012. The natural gas annual sales percentage reduction increases annually until compliance year 2019 for a total savings of 7.1 percent by May 31, 2019. Each year thereafter, utilities must continue to increase efficiency reductions.
Illinois state buildings must meet energy efficiency standards. Illinois requires that all new state-funded construction or major renovations are required to seek LEED, Green Globes, or equivalent certification. The Green Buildings Act (July 2009) defines major renovations as projects with a budget of at least 40 percent of a building's replacement cost. Based on the U.S. Green Building Council's Leadership in Energy and Environmental Design (LEED) rating system, new buildings and major renovations of less than 10,000 square feet must meet the highest LEED standard (or equivalent standard) that is practical, and new buildings and renovations of 10,000 square feet or larger must be LEED Silver (or two-globe rating in the Green Building Initiative's Green Globe program) certified. Agencies may apply for waivers from the requirements if they can demonstrate that the adhering to the standard would result in unreasonable financial burden; an impediment to construction; a functional impairment to the building; or would compromise the historic nature of the building.
Illinois enacted S.B. 680 in August 2007 requiring investor-owned utilities and retail suppliers to offer net metering by April 1, 2008. In May 2008, the Illinois Commerce Commission adopted final rules for net metering, effective May 15, 2008. (The state's municipal utilities and electric cooperatives are not required to offer net metering.) Net metering is available to electric customers that generate electricity using solar energy, wind energy, dedicated energy crops, anaerobic digestion of livestock or food processing waste, hydropower, and fuel cells and micro turbines powered by renewable fuels. Under the original rules, to be eligible, systems cannot exceed 40 kilowatts (kW) in capacity and need to be primarily used to offset the customer's own electrical requirements. Excess generation is credited to the customer's next bill at the retail rate.
Under the original rules, each investor-owned utility and retail supplier must provide net metering and dual metering until the load of its net-metering customers and dual-metering customers equals 1 percent of the total peak demand supplied by the utility during the previous year. For residential customers, net metering is "typically" accomplished through use of a single, bi-directional meter. For non-residential customers, net metering is "typically" accomplished through the use of a dual meter. Under new rules enacted in 2011 and 2012, dual metering is required for non-residential customers with systems greater than 40 kW but not greater than two megawatts (MW). The utility must provide the necessary metering equipment for systems up to 40 kW in capacity, while customers with systems greater than 40 kW but less than 2 MW must pay for the costs of installing the metering equipment.  Under the new rules, the 1 percent requirement is increased to 5 percent of the utility's peak demand in the previous year.
Illinois does not allow electric utilities to "decouple" revenue from the sale of electricity but does allow gas utilities to decouple revenue from the sale of natural gas. Some states decouple electricity revenue from actual sales, allowing utilities to increase their revenue by selling less electricity and natural gas.
Illinois does not require gasoline to be mixed with renewable fuels. However, the St. Louis metropolitan area and the Chicago metropolitan areas are required to use specially formulated motor gasoline that includes ethanol.
Conclusion
Illinois has major coal resources that are high in sulfur content and that are mixed with other low sulfur coal before being used at electric utilities, who must meet the requirements of the Clean Air Act. Coal generates a major portion of the state's electricity—41 percent and is exceeded only by nuclear power, which generates almost 50 percent of the state's electricity. The state's 11 nuclear reactors supply one-eighth of the nation's nuclear power generation. Illinois leads nuclear power generation in the nation. Other generation sources, primarily natural gas and wind, supply about 10 percent of the state's electricity generation. While the state does produce oil and natural gas, those volumes are very small.