At the turn of the 20th century, Ohio was the largest oil producer in the United States. With the Appalachian Basin, which crosses the eastern part of Ohio, the state may return being a large oil and natural gas producer. The Basin's Marcellus shale formation contains shale gas and the Utica shale formation contains both shale oil and gas.  While production is just beginning in these shale formations in Ohio, it is expected to increase substantially by 2015. Currently, the shale wells account for less than 1 percent of the almost 51,000 gas and oil wells in the state. However, their output in 2012 represented 12 percent of the state's total oil production and 16 percent of the state's total gas production.
Besides oil and natural gas production, Ohio has long been a coal producer as well. Ohio is currently the 10th largest coal producing state in the United States.
Because of Ohio's energy resources, the state has had a heavily industrial economy. Today's Ohio's energy consumption is among the highest in the nation. It ranks 21st in energy consumption per capita. The industrial sector dominates energy consumption, largely due to several energy-intensive industries, including chemicals, glass, metal casting, and steel.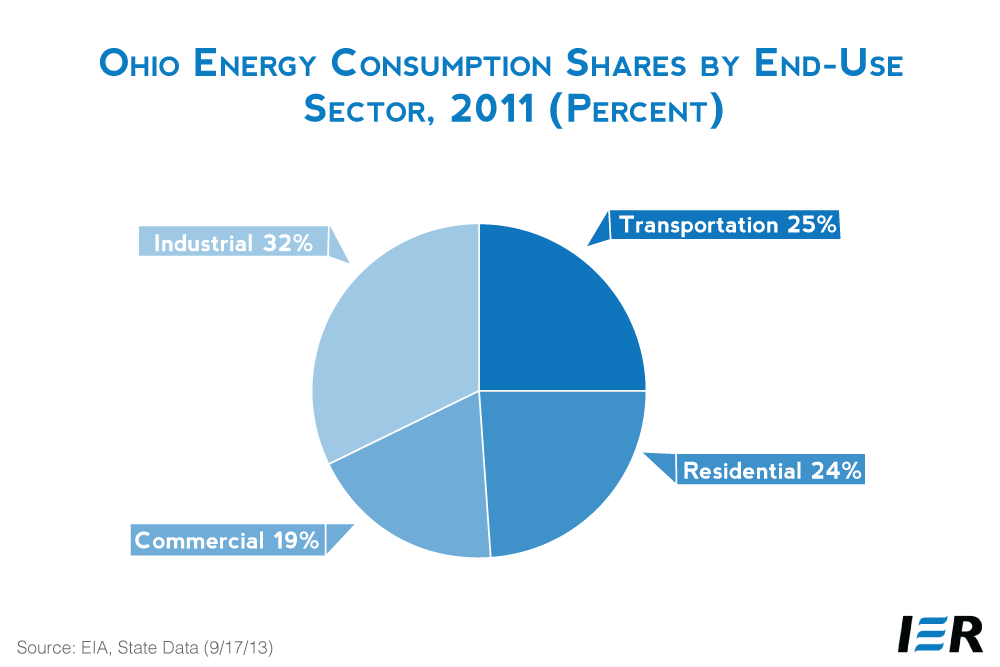 Source: Energy Information Administration, http://www.eia.gov/state/data.cfm?sid=OH#Consumption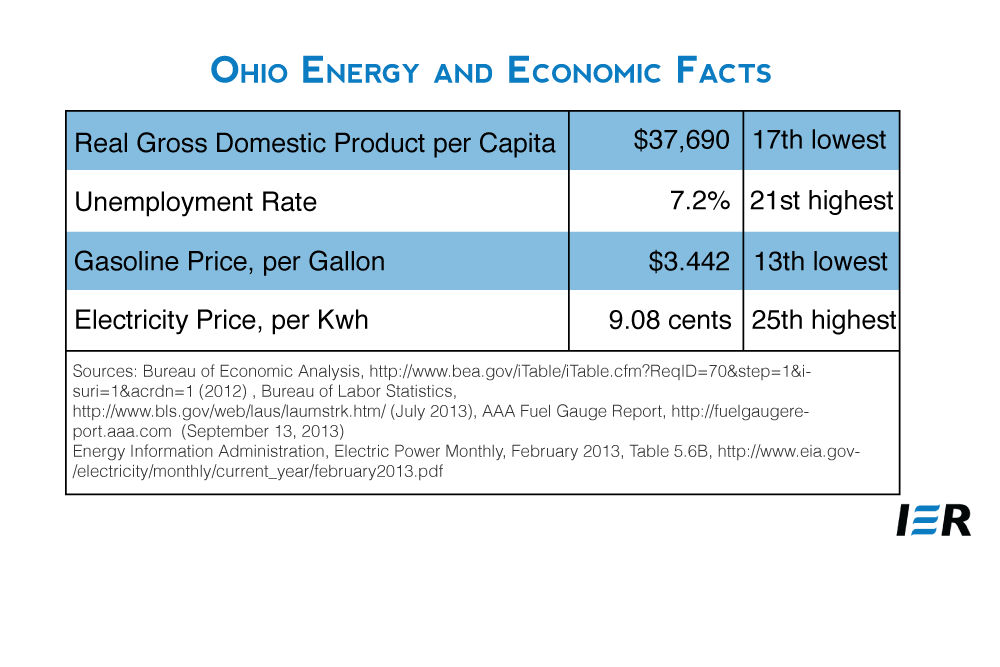 Ohio State Rankings
In 2011, Ohio ranked 20th among the states in total energy production, producing 1,066 trillion Btu of energy.
In May, 2013, Ohio ranked 18th in oil production, producing 413 thousand barrels.
In 2011, Ohio ranked 20th in natural gas production, producing 78,858 million cubic feet.
In 2011, Ohio ranked 10th in coal production, producing 28,166 thousand short tons.
In May 2013, it ranked 8th in electricity production, producing 10,878 thousand megawatt hours of electricity.
In 2012, Ohio had the 25th highest average electricity retail price in the United States.
In 2011, Ohio ranked the 21st highest in total energy consumed per capita, consuming 332 million Btu per person.
In 2010, Ohio ranked 4th highest in carbon dioxide emissions, emitting 249.1 million metric tons of carbon dioxide.
Natural Gas
Ohio's natural gas reserves at the end of 2011 were 758 billion cubic feet, 0.2 percent of total U.S. natural gas reserves.  The state currently produces a small amount of natural gas. In 2011, Ohio produced 78,858 million cubic feet of natural gas, 0.3 percent of the total natural gas produced in the United States in that year. Natural gas production in Ohio has declined by 58 percent from its peak in 1984, but shale gas production in the Marcellus shale that extends from New York to Ohio and the Utica shale formation is expected to boost natural gas production in the state again.
Because the Marcellus shale is much thinner on its western edge, Ohio is experiencing far less Marcellus Shale drilling than other states. However, Ohio will likely see a significant increase in future drilling since much of the state sits over the Utica Shale formation, which experts predict holds large natural gas reserves. In 2012, producers in Ohio drilled 215 shale wells, with 87 producing gas or oil. More than 12.8 billion cubic feet of gas was produced from the shale gas-producing wells. Based on production results and the number of new permits issued, the state predicts that the shale wells will produce about 82 percent of Ohio's natural gas by 2015. Thus, while shale gas production in Ohio is in its beginning stages now, it is expected to grow substantially in 2014 and 2015.
Ohio supplements its current natural gas production with natural gas from western Canada and the Gulf Coast region, and other states via pipeline. The state has major natural gas storage capacity in depleted oil or natural gas reservoirs that is used to meet peak demand during the winter.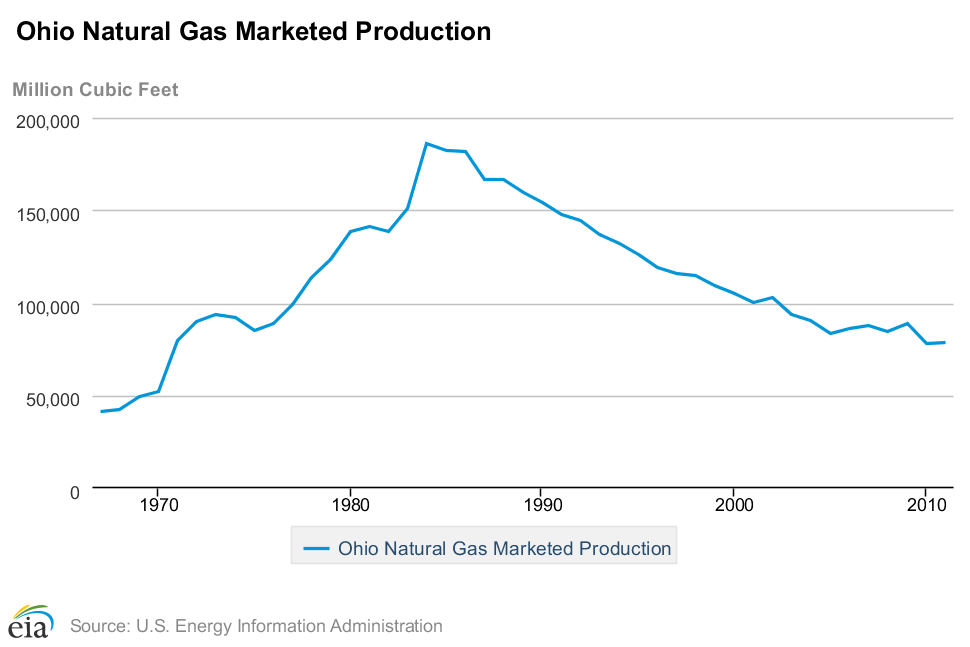 Source: Energy Information Administration, http://www.eia.gov/dnav/ng/hist/n9050oh2a.htm
The Rockies Express Pipeline , a 1,679-mile long high-speed natural gas pipeline system, extends from the Rocky Mountains in Colorado to Clarington in eastern Ohio with a capacity of 1.8 billion cubic feet per day. When it was completed in November 2009, it was the largest natural gas pipeline built in the United States in more than 20 years. Because of shale gas production coming from the Marcellus and Utica shale formations, the owners of the pipeline want to reverse the flow of the pipeline, moving natural gas from the Marcellus and Utica formations westward to midcontinent markets. The pipeline owners, however, are currently in a dispute with other shippers in the Rockies, who are against the pipeline reversal. The dispute is before the Federal Energy Regulatory Commission.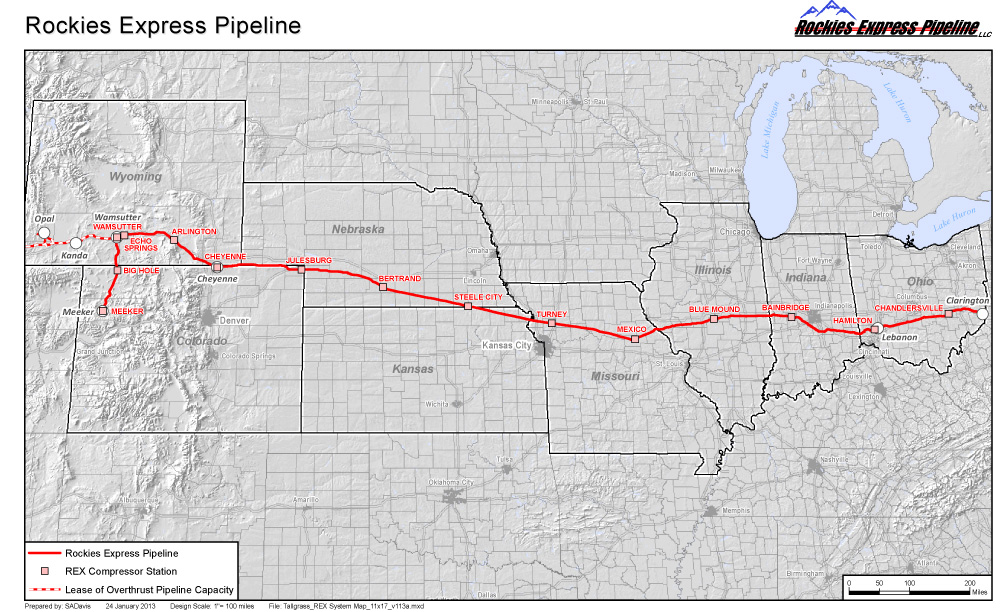 Source: EE News, http://www.eenews.net/assets/2013/07/26/map_ew_01a.jpg
Natural gas consumption in Ohio is high, led by the residential and industrial sectors. Nearly seven-tenths of Ohio households use natural gas as their primary source of energy for home heating.
Petroleum
Ohio's current crude oil production is minor, producing 0.2 percent of the total oil produced in the United States in 2012.  Most of Ohio's current crude oil output is derived from stripper wells (wells producing fewer than 10 barrels per day) in the eastern part of the state. This, however, is expected to change as shale oil production in the Utica shale formation is expected to increase, particularly in 2014 and 2015. Almost 636,000 barrels of oil were produced from the shale oil-producing wells in the Utica shale formation in 2012. By 2015, it is expected that shale wells will produce about 73 percent of Ohio's oil.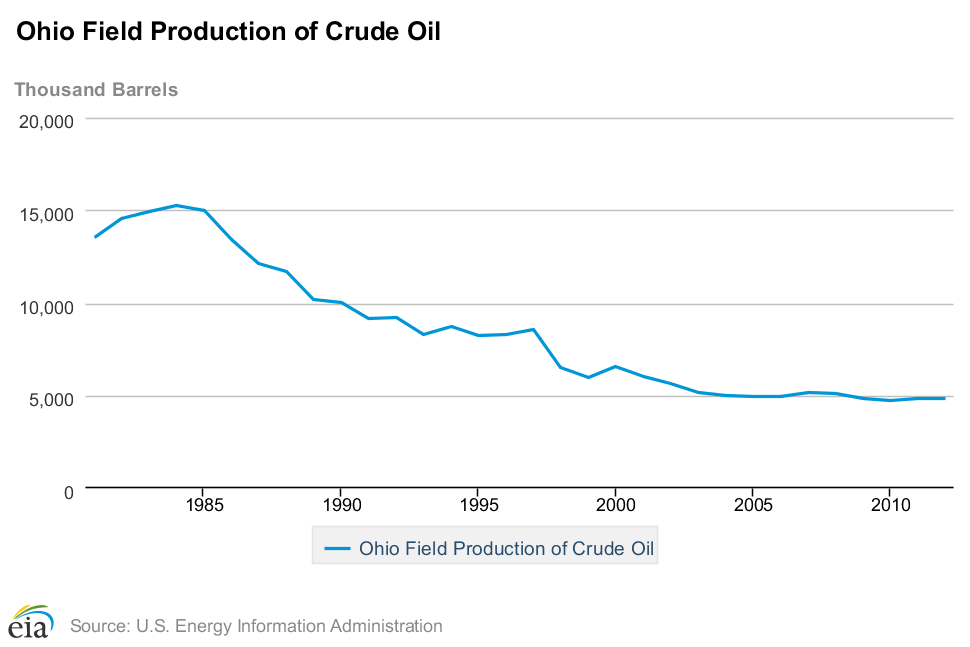 Source: Energy Information Administration, http://www.eia.gov/dnav/pet/hist/LeafHandler.ashx?n=PET&s=MCRFPOH1&f=A
Ohio has the second-highest refining capacity in the Midwest with a capacity of 528,000 barrels per day. Its four refineries primarily depend on crude oil delivered by pipeline from the Gulf Coast and through an oil transportation hub in central Illinois. Ohio has a large network of product pipelines that connect its refineries to markets in Ohio and adjacent states.
Ohio's total petroleum demand is high, particularly its consumption of motor gasoline and distillate fuel. Ohio allows the use of conventional motor gasoline throughout most of the state, but requires gasoline to be reformulated to reduce emissions that contribute to ozone formation in the area surrounding Cincinnati, adjacent to the southwest border with Kentucky.
Ohio has substantial ethanol production with 7 ethanol plants and a capacity of 538 million gallons per year.
Coal, Electricity and Renewable Energy
Although Ohio is a moderate producer of coal, it is a substantial consumer, ranking fourth in the United States in coal consumption. Ohio's coal mines, concentrated in the Appalachian basin in the eastern part of the State, typically supply less than one-third of the state's coal consumption. The remaining coal is imported primarily by rail and barge from West Virginia, Wyoming, Kentucky, and Pennsylvania. Although large amounts of coal are used by industry, its primary use is for electricity generation. Coal supplies nearly 67 percent of the state's electricity generation. Natural gas supplies nearly 18 percent and two nuclear power plants (Perry and Davis Besse) located along Lake Erie supply most of the remainder of the state's generation (13.2 percent). Renewables contribute less than 2 percent, with wind supplying the largest renewable share, 0.8 percent.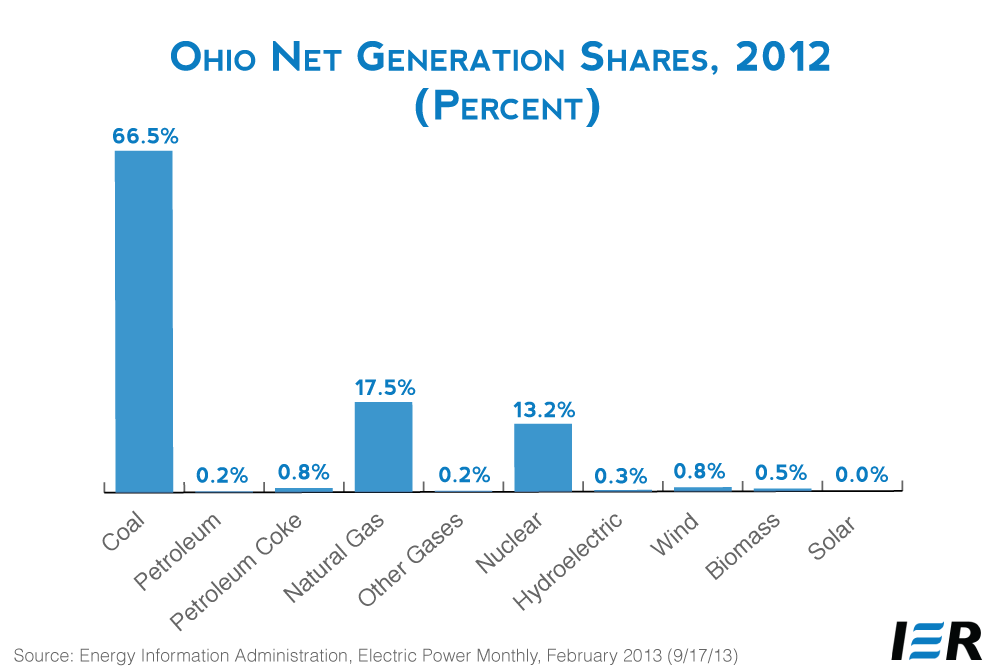 Although it is one of the Nation's top generators of electricity, Ohio is also among the major importers of electricity. Ohio's total electricity consumption is high due primarily to the state's energy-intensive industrial sector, which accounts for more than one-third of the state's electricity consumption. The residential sector consumes around one-fourth of the state's electricity, with over one-fifth of Ohio households relying on electricity as their primary source of energy for home heating.
In August 2003, a transmission failure in northeastern Ohio led to the largest blackout in North American history, affecting an estimated 50 million people in the northeastern United States and Canada. Over half a million Ohio homes and businesses lost power during the blackout.
Ohio established an alternative energy portfolio standard in 2008, mandating that at least 25 percent of all electricity sold in the state come from alternative energy resources by 2025. At least half of this electricity must be generated in Ohio itself. Renewable sources such as wind, solar, hydroelectric power, geothermal, and biomass must account for 12.5 percent of electricity sold, with 0.5 percent coming from solar energy. The other half of the standard can be met through alternative energy resources like third-generation nuclear power plants, fuel cells, energy-efficiency programs, and clean coal technology that can control or prevent carbon dioxide emissions. (More information on the state's alternate energy portfolio standard is found below.)
Ohio's electric utilities produced 1.6 percent of the state's generation from renewable energy in 2012, of which the wind share was 0.8 percent.  Ohio almost quadrupled its ability to generate power from wind in 2012; mainly from one project, the 305-megawatt Blue Creek Wind Farm in Paulding and Van Wert counties, resulting in a total wind capacity in the state of 428 megawatts at the end of 2012. Ohio's ability to produce energy from wind ranks 26th out of the 40 states that have at least one utility-scale project. There are about a dozen wind projects that have been approved by the state but have not yet been built, and still others that are in the process of applying for approval. But, some of the neighbors of the Blue Creek wind farm have concerns about the noise and other environmental factors coming from it. Further, the Ohio General Assembly is considering changes to the state's alternate portfolio standard and Ohio Senate's Public Utilities Committee is holding hearings about the 2008 law. Changes to the law in Ohio and possibly other states could impact Ohio's 62 wind-energy manufacturing facilities since the state ranks 12th in the country in direct and indirect jobs related to the wind industry, with over 2,000, according to the American Wind Energy Association.
Ohio Regulatory Environment
Below are some facts about Ohio's regulatory environment that are likely to affect the cost of energy or the cost of using energy. Although affordable energy is a vital component of a healthy economy, regulations frequently increase energy costs.
Ohio does not provide a cap on greenhouse gas emissions. But, Ohio is an observer of the Western Climate Initiative (WCI), a regional agreement among some American governors and Canadian premiers to target greenhouse gas reductions. The central component of this agreement is the eventual enactment of a cap-and-trade scheme to reduce greenhouse gas emissions 15 percent below 2005 levels by 2020. As an observer of the WCI, Ohio would not be bound to agreements made by WCI members. In 2011, many of the states left the WCI leaving only California and the Canadian provinces British Columbia, Manitoba, Ontario, and Quebec as full members.
In May 2008, Ohio enacted electric industry restructuring legislation (S.B. 221) containing advanced energy and renewable energy generation and procurement requirements for the state's electric utilities, which encompasses all retail electricity providers except municipal utilities and electric cooperatives. Under the standard, utilities must provide 25 percent of their retail electricity supply from alternative energy resources by 2025, with specific annual benchmarks for renewable and solar energy resources. Because half of the standard can be met with "any new, retrofitted, refueled, or repowered generating facility located in Ohio," including fossil fuels, the renewable energy requirement is 12.5 percent by 2024, of which 0.5 percent must be solar. The renewable benchmarks are provided below, showing a slow but continuous requirement for increased renewables as part of the state's retail electricity supply.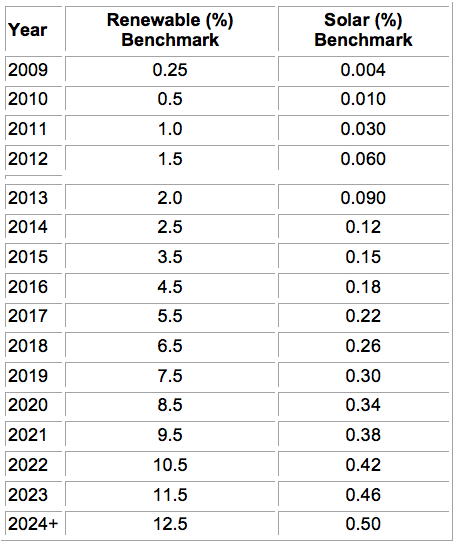 All advanced energy and renewable energy facilities must have a placed-in-service date of January 1, 1998, or later. Eligible renewable resources include: solar photovoltaics, solar thermal, wind, geothermal, biomass, biologically derived methane gas, landfill gas, certain non-treated waste biomass products, solid waste, fuel cells, certain storage facilities, and qualified hydroelectric facilities. In 2012, S.B. 315 and S.B. 289 added certain cogeneration and waste heat recovery system technologies that meet specific requirements.  Advanced energy resources are defined as any process or technology that increases the generation output of an electric generating facility without additional carbon dioxide emissions. Advanced energy resources include clean coal; generation III advanced nuclear power; distributed combined heat and power; fuel cells that generate electricity; certain solid waste conversion technologies; and demand side management or energy efficiency improvements. In 2012, S.B. 315 allows any new, retrofitted, refueled, or repowered generating facility in Ohio to qualify as an advanced energy resource.
In May 2008, Ohio enacted electric industry restructuring legislation (SB 221) containing energy efficiency requirements for investor-owned utilities. Electric utilities are required to implement energy efficiency and peak demand reduction programs that result in a cumulative electricity savings of 22 percent by the end of 2025, with specific annual benchmarks. In addition, utilities must reduce peak demand by 1 percent in 2009, and 0.75 percent annually through 2018. In 2018, the legislature must make recommendations for future peak demand reduction targets.
Ohio does not require gasoline to be mixed with renewable fuels. However, Ohio does require the use of reformulated gasoline in the Cincinnati metropolitan area.
Ohio requires new residential and commercial buildings to meet energy efficiency standards. Residential buildings must meet the 2013 Residential Code of Ohio, a state-developed code based on the 2009 International Energy Conservation Code (IECC) and the 2009 International Residential Code (IRC). Commercial buildings must meet the 2011 Ohio Building Code, based on the 2009 IECC, the 2009 International Building Code (IBC) and the ASHRAE 90.1-2007. The IECC (developed by the International Code Council) and ASHRAE 90.1 (developed by the American Society of Heating and Refrigeration and Air Conditioning Engineers) are model codes that mandate certain energy efficiency standards.
House Bill 251, enacted in 2007, requires institutions of higher education to impose minimum efficiency standards for new buildings and leased buildings larger than 20,000 square feet. The Ohio School Facilities Commission requires all new school construction, which is not yet in the design state, to meet the LEED silver standard, with the non-binding goal of meeting the LEED gold standard. LEED silver and gold are certifications from U.S. Green building Council's Leadership in Energy and Environmental Design (LEED) Green Building rating system. Senate Bill 221, enacted in 2008, also requires the adoption of requirements for new schools to accommodate the eventual installation of roof-top, solar photovoltaic equipment. Institutions of higher education also have a goal of reducing energy use by 20 percent from 2004 levels by 2014. In buildings owned or leased by state agencies, an energy use reduction of 5 percent from a fiscal 2007 baseline must be met by fiscal 2008 and 15 percent by fiscal 2011.
Ohio's net-metering law was enacted in 1999 as part of the state's electric-industry restructuring legislation. The Public Utilities Commission of Ohio later revised its net metering rules in March 2007. Initially, the Public Utilities Commission of Ohio required utilities to credit customer net excess generation at the utility's full retail rate. However, in June 2002, the Ohio Supreme Court decided that this exchange was illegal (Case No. 01-0573) and ruled that each utility must credit the excess generation to the customer at the utility's unbundled generation rate. Legislation enacted in May 2008 (S.B. 221) further amended Ohio's net metering law, removing all limitations related to energy generation technology and system size on systems sited at hospitals.
Ohio does not allow electric utilities to "decouple" revenue from the sale of electricity but does allow natural gas utilities to decouple revenue from the sale of natural gas. Decoupling allows utilities to increase their revenue by selling less electricity and/or natural gas.
Conclusion
Ohio currently produces some oil and natural gas, but is expected to increase its production of these fossil fuels substantially over the next several years as the Marcellus and Utica shale formations increase drilling and production using hydraulic fracturing technology. Coal and natural gas generate almost 85 percent of the state's electricity. Nuclear power generates most of the remainder with renewable energy only providing less than 2 percent. Its average retail electricity price is moderate and below the national average. Ohio's alternate energy portfolio standard requires investor owned utilities to generate 25 percent of their electricity from alternate forms of energy with 12.5 percent coming from renewable energy by 2024, 0.5 percent of which must be solar.