In his 2011 State of the Union Address, President Obama called for 1 million electric plug-in vehicles on the road by 2015, but that vision is not likely to happen for Americans prefer the lower cost and greater flexibility of petroleum powered vehicles, and the larger size of light duty trucks and SUVs. This is despite the fact that gasoline prices are averaging over $3 per gallon.  In 2013, the U.S. auto industry had its best sales year since 2007. U.S. consumers bought 15.6 million vehicles in 2013, an increase of 7.6 percent from 2012 sales, and purchases of light trucks including sport-utility vehicles exceeded those of cars.[i] While full electric and plug-in electric vehicles increased in 2013, they tallied only 96,600 vehicles, or 0.6 percent of total sales. [ii]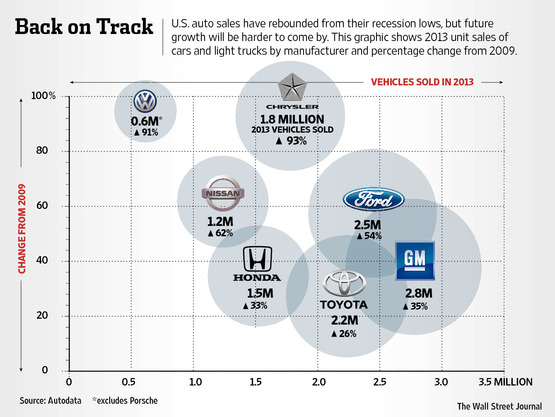 Source: Wall Street Journal, http://online.wsj.com/news/article_email/SB10001424052702303870704579298142769322998-lMyQjAxMTA0MDAwNDEwNDQyWj
Manufacturer Sales
In 2013, consumers in the United States gave up their older vehicles for pickup trucks, SUVs and luxury cars. Ford increased sales of its popular F-150 pickup by 8.4 percent in December over a year ago. For the 32nd year in a row, Ford's F-series was the best-selling U.S. model line, delivering 763,403 vehicles in 2013, and selling for an average price of $38,000. Chrysler reported sales of its Ram pickups up by 11 percent in December to 33,405 and an increase in its 2013 truck sales of 21 percent to 355,673. Large pickup trucks accounted for 13 percent of total industry sales in December, an increase from a 12 percent share in December 2012. For the entire year of 2013, pickup trucks were 12 percent of industry sales, an increase from 11 percent in 2012. Pickup truck sales have risen due to relatively stable gasoline prices and a recovery in the nation's housing market.
Consumers are also buying more luxurious models, driving the average new-car selling price to $32,077 in 2013, an increase of 1.4 percent from 2012 average prices and 10 higher than 2005 prices.  Premium vehicle sales are projected to reach 12 percent of the U.S. market in 2014 from 10 percent in 2013 as Audi and Daimler Mercedes-Benz offer new entry-level cars priced under $30,000.
In contrast to Ford's F-150 sales, its sales of the subcompact Fiesta and compact Focus cars in December dropped by 20 percent and 31 percent, respectively.
Electric Vehicle Sales
According to the Electric Drive Transportation Association, plug-in vehicle sales since 2010 totaled less than 160,000 cars.[iii] For example, in 2013, Ford sold just 35,210 of its C-Max hybrid models and GM sold just 23,094 plug-in hybrid Chevrolet Volts.[iv]
Further, demand for electric vehicles is expected to remain at that level for the next 25 years. The Energy Information Administration (EIA) projects that by 2040, new electric vehicles and new hybrid electric vehicles will comprise only 1 percent each of new car sales.[v] That is an increase from a negligible share currently. If new electric vehicle sales can increase to 1 percent of the new car market, they would still represent only about 160,000 new cars annually if vehicle sales in the United States return to their average historical volume of 16 million that was reached between 1998 and 2007.
Electric cars have not taken root in the United States due to their cost, limited driving range, the inconvenience of charging them at home or elsewhere, their small trunk space and the increased efficiency of gasoline powered vehicles. Due mainly to fuel economy mandates from the Obama Administration, the EIA's Annual Energy Outlook 2014 expects gasoline consumption to decline by  1 percent per year through 2040, that is, the Outlook expects U.S. gasoline consumption to be about 25 percent less in 2040 than it is today.[vi]
Electric vehicles are more expensive than their gasoline counterparts due largely to the cost of batteries. Despite their higher cost, their manufacturers are losing money on each one sold. For example, as of 2012, Chevrolet was losing almost $50,000 on each Volt it sold.[vii] While it is touted that the fuel savings from driving electric vehicles over gasoline-powered vehicles compensates for the higher upfront cost, some studies have found that not to be the case.[viii]
Federal Government Subsidies and Loan Guarantees
To advance Obama's goal, purchasers of electric vehicles get a $7,500 federal tax credit (he has proposed increasing it to $10,000[ix]) and electric vehicle manufacturers receive guaranteed loans from the Advanced Vehicle Technology Manufacturing loan program, both of which are funded by taxpayers. For example, Fisker Automotive was awarded $192 million from the loan program to produce its electric vehicles. The company declared bankruptcy last November owing taxpayers $139 million. In its Chapter 11 petition, Fisker listed assets of as much as $500 million and debt as much as $1 billion. The company has not built a car since November 2012, but that did not stop it from awarding its executives high salaries equaling $4.5 million in about a year.[x] If all goes well, however, Fisker's assets may be purchased by Hybrid Tech LLC, a Hong Kong company.
Lastly, electric car makers receive a hidden subsidy for the sales of electric vehicles. During the first quarter of 2013, for example, Tesla, another electric car manufacturer, received about $68 million (12 percent of revenue) from the sale of zero vehicle emission credits in California. Note that without the sale of these credits, the company would have lost over $50 million during the first quarter of 2013. While Tesla expects the credits to decline, according to a Wall Street analyst, Tesla could have earned as much as $250 million in 2013 on the sale of credits. Translated into dollars per vehicle, Tesla can make as much as $35,000 extra on each sale of its luxury Model S electric sports sedan through state environmental credits that it can sell to other auto manufacturers who need to buy credits to satisfy California regulations. Adding in the Federal tax credit of $7,500 per vehicle and a state rebate of $2,500 per vehicle, the state and federal incentives total as much as $45,000 per vehicle.
The current and expected sales of electric vehicles show that setting goals for technologies and vehicles that Americans do not want is just a waste of taxpayers' money.
Conclusion
Americans are again buying pick-ups and SUVs instead of the electric cars that the Administration has lavished billions of dollars upon. The reason is simple—pick-ups and SUVs provide Americans with far greater comfort and flexibility at a much lower price than electric vehicles. This is true despite gasoline prices averaging over $3 a gallon. Vehicle sales of these and luxury vehicles are on the rise, but electric vehicle sales are stagnating due to their cost and limited vehicle attributes. These sales are expected to remain low through 2040 despite President Obama's goal and subsidies.  Americans, if given a choice, will choose those vehicles they believe meet their needs, no matter what Washington D.C. thinks about those choices.  They are still, after all, citizens rather than subjects.
---