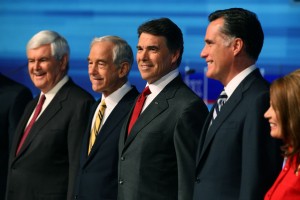 FOR IMMEDIATE RELEASE
NOVEMBER 22, 2011
IER poses questions to GOP candidates about a pressing issue of America's national security
WASHINGTON, DC – Hours before tonight's GOP Presidential Debate, hosted by The Heritage Foundation in the nation's capital, the Institute for Energy Research has released questions for the candidates that should be asked in light of the current administration's failure to unleash America's domestic energy potential.
"For 40 years, US energy policy has been guided by the belief that our nation was running out of energy and therefore subject to increasing imports, especially from political unstable regions like the Middle East.  Tonight's debate offers an important moment for candidates to explain how their respective plans for greater energy independence will strengthen our nation's security," said Dan Kish, IER's vice president for policy.
"Even the Saudis now recognize the new age of domestic shale oil and gas that will mark America's energy future.  It is critically important for every presidential candidate – including Barack Obama – to offer economically viable and environmentally sound free market solutions to protect our national interests by tapping these vast shale resources," Kish added.
IER has posed these critical questions to the participants in tonight's debate:
1.  Do you believe the US can produce much more of its own energy, and if so, what are the implications for our foreign policy and national security?
2.  Are you aware that on private and state lands, energy production is increasing while production is decreasing on federal lands because of green tape and other administration delays?  What would you do to change this?
3.  Do you agree with President Obama's decision to delay a decision on the Keystone XL pipeline until after the 2012 election?  What does this decision mean for US relations with our #1 trading partner and our close ally in protecting US soil from the constant terrorist threat?  Does it serve our national security interests if Canada defaults into a new trade agreement with China to sell oil that was originally intended for US markets?
4.  Is it in our nation's best security interests for the federal government to make it harder to produce natural gas and oil in the US by usurping states' powers to regulate hydraulic fracturing, the source of these new supplies of oil and gas?
###
IER is a not-for-profit organization that conducts intensive research an analysis on the functions, operations, and government regulation of global energy markets.  As a non-partisan public foundation under Section 501(c)(3) of the Internal Revenue Code, IER is funded entirely by tax-deductible contributions and does not receive any government support.