"Because we're going to put a lot of coal companies and coal miners out of business." Hillary Clinton, Columbus, Ohio, March 13, 2016
The Energy Information Administration (EIA) is expecting coal to generate 32 percent of U.S. electricity this year; down from over 50 percent in 2000, with natural gas generation surpassing it with a 33 percent share. Even Germany, who is phasing out nuclear power, has a larger share of coal generation at 44 percent. At one time, coal was believed to be the mainstay of electric generation in the United States, affording U.S. families with inexpensive electricity and providing miners with lucrative jobs. With the Obama Administration's war on coal, onerous regulations have resulted in coal plants being prematurely retired, coal companies in bankruptcy, and coal miners out of work. Hillary Clinton recently touted the same spiel against coal in an Ohio town hall meeting where she said, "… we're going to put a lot of coal companies and coal miners out of business."[i]
EIA's Generation Forecast
In EIA's most recent Short Term Energy Outlook, natural gas is expected to fuel the largest share of electricity generation in 2016 at 33 percent, compared with 32 percent for coal, which is the first time that natural gas provides more electricity generation than coal on an annual basis. In 2017, natural gas and coal are both forecast to provide 32 percent of electricity generation. Renewables, including hydroelectric power, increase their share from 14 percent expected by EIA in 2016 to 16 percent in 2017.[ii]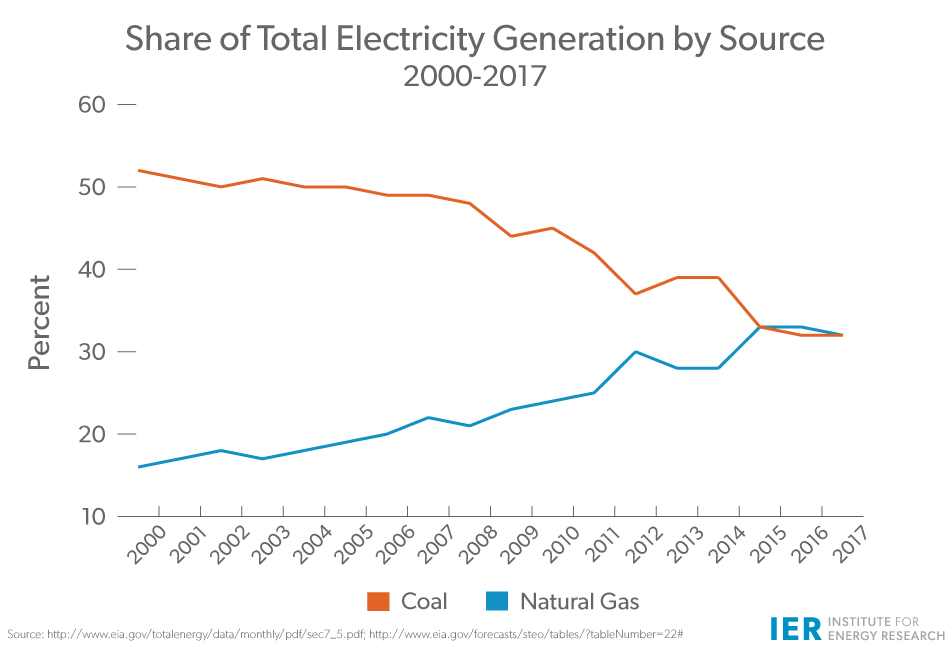 Sources: http://www.eia.gov/totalenergy/data/monthly/pdf/sec7_5.pdf;
http://www.eia.gov/forecasts/steo/tables/?tableNumber=22#
The falling demand in the generation market has caused coal prices to fall 62 percent since 2011, and 18 percent in the past 12 months, resulting in coal companies filing for bankruptcy. Peabody Energy Corp., the largest coal company in the United States, warned this week that it could seek bankruptcy, joining Arch Coal Inc., Alpha Natural Resources, Patriot Coal Corp. and Walter Energy—major companies that have already filed for Chapter 11 protection. Beside low prices, U.S. coal companies are confronted with high debt levels, environmental regulations, declining steel production, and premature retirement of coal-fired power plants.[iii]
Coal Company Bankruptcies
Peabody is the world's largest private-sector coal company by volume, operating 26 mines in the United States and Australia. The company has lost money in nine straight quarters and posted a deficit of $2 billion in 2015. Factors affecting Peabody's profitability include slowing orders for its metallurgical coal from China's steel mills that have slowed production and low natural gas prices that are competing for the electric generation market in the United States, as well as a hostile regulatory environment from the federal government for coal generation and production.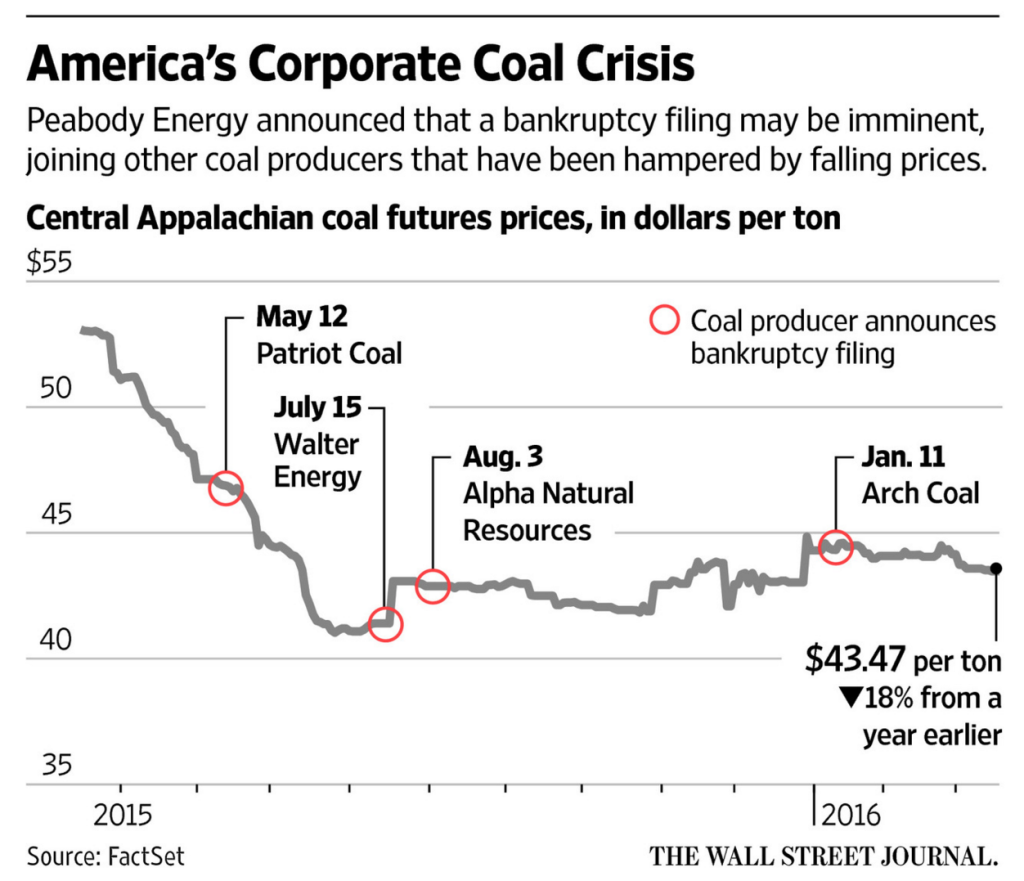 Source: http://www.wsj.com/articles/peabody-energy-says-it-may-have-to-seek-bankruptcy-protection-1458129308
West Virginia has lost more coal miners than any other state with coal mines closing following the bankruptcies of Patriot Coal and Alpha Natural Resources. According to the West Virginia Office of Miners Health Safety and Training, there are about 12,000 coal miners employed in the state, down from more than 22,000 in 2011. The number of active coal mines in West Virginia is now at 90, down from over 200 in 2011. These jobs typically pay more than twice the wages of other jobs in West Virginia, so their loss is especially harmful, affecting whole communities that lose their best-paying jobs.[iv]
According to the Bureau of Labor Statistics, Wyoming, where Peabody has its largest mining operations, had the highest jump in unemployment in the nation over the past year–4.7 percent in January, up from 3.8 percent a year earlier. Peabody and other coal companies operating in Wyoming's Powder River Basin have not yet caused the widespread coal miner layoffs seen in other parts of the country. However, coal miners with pensions are particularly worried.  Wyoming's mining jobs also typically pay almost twice as much as other jobs in the state.
Germany's Coal Use
Germany now exceeds the United States in its share of coal-fired generation at 44 percent to 33 percent expected for the United States in 2015. Coal has increased its share in Germany as the country is phasing out its nuclear plants in favor of wind and solar power. However, intermittent renewable technologies such as wind and solar need to be backed up by power that is available 24/7. Because natural gas is expensive in Europe, with Russia being the dominant supplier of pipeline gas and the higher cost of LNG compared to natural gas that does not need to be liquefied for transport, coal is the fossil fuel of choice.
Germany's energy transformation to shut down its nuclear units has not only aided coal, but it has done enormous damage to utilities and consumers, destroying utility companies' main sources of profit and increasing the price of residential electricity. The estimated cost of replacing the country's nuclear reactors with wind and solar power is over $1.1 trillion. German utilities are now suing the government for $21 billion in damages because of lost revenues from closing the nuclear plants and the need to keep back-up plants running without proper compensation.[v]
The German energy transformation is certainly not a model for the rest of the globe.
Hillary Continues Obama's War on Coal
According, to Hillary, "I'm the only candidate which has a policy about how to bring economic opportunity, using clean, renewable energy as the key, into coal country. Because we're going to put a lot of coal companies and coal miners out of business." While Hillary wants to replace coal jobs with renewable energy jobs, it is unclear how she intends to do it. If she continues with President Obama's onerous environmental regulations, particularly EPA's so-called "Clean Power Plan" that forces the premature retirement of coal-fired power plants in favor of renewable plants, she will be well on her way. In fact, Hillary has said, "Of course, the Clean Power Plan standards set the floor, not the ceiling. We can and must go further."[vi] However, from Germany's experience, the end result is high electricity prices for consumers and a change in electric utility operations that are causing their demise.
Conclusion
The U.S. coal industry is facing troubled times, and our government seems oblivious to the heartaches that it is causing, caring only about reducing greenhouse gas emissions in pursuit of the non-binding commitments President Obama made to the U.N. in Paris in 2015. There are sufficient examples of the problems of trying to go the renewable route; one need only pick a European country to find skyrocketing energy prices and increasing unreliability. Germany's energy transformation is just one. U.S. consumers need to be conscious of what is ahead if Obama's environmental regulations continue to get implemented by his administration or its successor.
---
[i] Washington Examiner, GOP, Miners Battle Clinton in Ohio Coal Country, March 14, 2016, http://www.washingtonexaminer.com/gop-miners-battle-clinton-in-ohio-coal-country/article/2585813
[ii] Energy Information Administration, Short Term Energy Outlook, March 8, 2016, http://www.eia.gov/forecasts/steo/index.cfm
[iii] Wall Street Journal, U.S. Coal Sector Faces Reckoning, March 16, 2016, http://www.wsj.com/articles/peabody-energy-says-it-may-have-to-seek-bankruptcy-protection-1458129308
[iv] NMA, Annual Coal Mining Wages vs. All Industries, 2013, http://www.nma.org/pdf/c_wages_state_industries.pdf
[v] Daily Caller, Germany Sued for $21 Billion Over Nuclear Shutdown Plan, March 16, 2016, http://dailycaller.com/2016/03/16/germany-sued-for-21-billion-over-nuclear-shutdown-plan/#ixzz435RMiCK1
[vi] Statement from Hillary Clinton on President Obama's Clean Power Plan, https://www.hillaryclinton.com/briefing/statements/2015/08/02/obama-clean-power-plan/